The last quarter of the year is synonymous with being a holiday season with all the holidays and festivities lined up after summer. The first of these festivities in the lineup is the spooky and scary Halloween. Though not much recognition is accorded to it to a point of warranting a day off from the office or workplace and school, the impact it has both in culture and creativity cannot be wished away.
As a norm with most festivities, there is the accompanying hype that helps bring its essence out. This includes the gifts, decorations and not to be forgotten is the music. Music is a huge determinant in bringing out the Halloween theme. Here are among the best Halloween music playlists from Spotify.
View also: Top 20 Best Halloween Songs Ever Created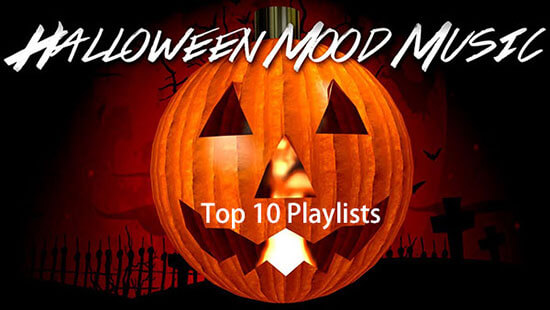 Top 1. The Halloween Party Playlist
Nothing screams celebratory mode such as an accompanying party playlist. The Halloween party playlist will lift up your spirits during this awesome day. The Halloween party music playlist contains joints such as the epic 'Thriller' by Michael Jackson and the ageless 'Ghostbusters' theme song that will bring about an air of nostalgia. It has a vast collection of house and electro music joints and will definitely liven up the day. This is a playlist of the best Halloween party music that you need to stream while having fun.
Top 2. Halloween Scary Music Playlist
This playlist provides the scary music for Halloween party. The music contributes to the eerie theme that Halloween is best associated with. The collection of more than 30 joints will keep you hooked to the festivity for almost 2 hours nonstop. The effects used so amazing and have a thrilling aspect to them.
View also: Top 20 Halloween Songs for Kids
Top 3. Halloween Teens
A Halloween music mix is not complete without the inclusion of something fit for the teens. Teenagers and Halloween have a very close relationship and they will push the limits to enjoy this day. To make the experience more appealing, throw in this mashup that contains joints from all genres from rock to pop and electro music. This playlist contains the best Halloween party songs and will have a play time of up to 2 hours 30 minutes.
View also: Top 10 Best Audiobooks for Running
Top 4. Disney Halloween Playlist
This is one of the best children's Halloween music playlist that will put them in the go-getter mood to go treating for candy. The music played is family friendly and most are derived from Disney's music collection from the 'Nightmare Before Christmas', 'Monster Mash' by Goofy among others.
Top 5. The Classic Halloween Playlist
A specially designed Spotify playlist that will have the old-school heads streaming Halloween music with nods. This playlist contains classical musical joints of this season that were the cool thing decade's back. This playlist comes with that nostalgic aspect that even despite its spooky theme will have one feeling relaxed in a moment of reminiscing the past ages. This playlist contains timeless joints such as 'Thriller' by Michael Jackson, 'The Haunted House Of Rock Whodini' and 'Bad Moon Rising' among other classics.
View also: Top 10 Best Halloween Movies from iTunes
Top 6. Halloween By Ryan Willey
A music playlist designed to suit all from young to old with a vast collection of tracks. These awesome Halloween music playlist will put you in a spooky musical trance for an amazing 11 hours and contains tracks that are fit for both ages and will impress the whole party. This is a suitable Halloween party music mix for a large gathering who may be in for a Halloween barbeque or pool party. This is a top Halloween music selection that should not miss from your picks on the scary day. The collection contains joints such as the 'Ghostbusters' theme, 'Burn The Witch', 'Howl' and 'Out Of The Fire'.
Top 7. The Sexy Halloween Playlist
Halloween should not be all that scary themed. A touch of some glam will make it have the lush feel that is suitable for couples on this day. The music collection is excellent and goes a long way in bringing the beautiful fusion of the scary Halloween feeling as well as the theme of love and belonging.
This playlist will have you feel vulnerable at one moment then at peace almost at the same time. The selection contains mouth-watering joints such as 'Black Magic', 'Gods And Monsters' and 'Ghosters' among many others. This is a must-have playlist for a couples Halloween out or for a date set on this day.
Top 8. The Ultimate Halloween Playlist
This is a very versatile playlist that contains music selections from a range of artists and contains almost 100 tracks. These tracks can be listened to by anybody and are derived from a lot of genres hence it has everything tendered for everybody in respect to their different musical tastes.
This playlist is suitable for an occasion set on this day that will have different people in terms of age and also preferences and is guaranteed to leave everyone awed. This is courtesy of its vast music collection and also to its sticking to the spooky theme.
View also: Tips to Throw a Cheap Holloween Party
Top 9. Halloween A Trick Or Treat Mix
This is one of the best Halloween playlists that you can come across with the best track selection. The eerie and spooky theme has been ensured in keeping up with Halloween as can be witnessed in the tracks and also the effects that have been used at the right time to induce the creepiness factor. The vast collection of joints will keep you hooked for a good time while presenting a new twist as time goes.
View also: Top 10 Best Hip Hop Playlists on Spotify
Top 10. Stranger Things Soundtrack
If you are a fan of the stranger things program then you will get more than bargained for in this smooth but very creepy playlist. The playlist contains all tracks used in the themes of this program and just like the program, this playlist is so spooky and thrilling at the same time. It gives you the feeling of some creepy surroundings and you may feel as if you are being followed.
This playlist has all great features to make it the theme of a Halloween party and can be recycled for years.
Conclusion & Suggestion
These are the top Halloween music playlists that deserve some playtime in your house or at a party that you are throwing this Halloween.You can simply stream the playlists from Spotify for free. If you don't have an account, you can sign up one.
The difference between the Spotify free and premium is that on the premium account it allows offline listening and doesn't show ADs. If you don't want the Ads, you can pay $10/month to get a better listening experience. Or you can try the once and for all solution to remove DRM and download all songs from Spotify. All you need is a Spotify music converter.
DRmare Spotify Music Converter for Windows/Mac is a convenient music downloader. It supports to extract music from the links of Spotify music and convert the original OGG formats to MP3, M4A, M4B, AAC, WAV, FLAC. To find out how does it work, you can also download the free trial version to evaluate it out.