"How can I Chromecast Spotify to the smart speaker via the Chromecast or Chromecast Audio? I bought a Bose stereo speaker to enhance the audio effects on my home theatre. I want to know it is possible to use a Chromecast with Spotify? And then I can listen to Spotify through Bose speaker. I have tried it but not sure how it works. Help, please."
Spotify was not supported in the first generation of Google Chromecast. This is why you can't find this feature. But things are changed on the new Chromecast dongles. They have full support for many streaming media services, also including Spotify.
Based on this situation, it is not difficult to cast Spotify on Chromecast. If you are new to this, please continue to read this article to find the best way.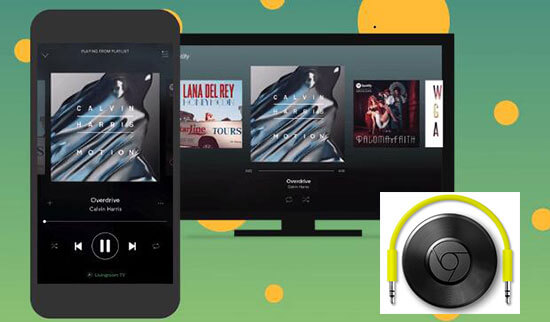 Part 1. How to Connect Spotify to Chromecast from Android / iOS
From what we noted above, we all know that Spotify and Chromecast work well together. Speaking of Spotify Chromecast, the best way is to use the Spotify app. Especially for a regular Spotify Premium listener. You can play Spotify on Chromecast via Android or iOS mobile phones, tablets, and so on. They work exactly the same. Let's check the detailed steps out.
How to Play Spotify on Chromecast
Step 1. Hook up the Chromecast Audio to your smart Hifi speakers.
Note: Please make sure all the devices are connected to the same Wifi network. And then they can detect each other well.
Step 2. Launch the Spotify app and start playing a song with it on your devices. Such as iPhone, iPad, iPod touch, or any Android devices.
Step 3. On the bottom of the playback window, you should see the "Spotify Connect" feature. It offers you the option to link Spotify to a list of compatible devices on the same network. Sometimes if some devices don't appear, you can try to restart them.
Step 4. Please click the option and select the device "Chromecast". It should help you stream the music from Spotify to the speaker immediately.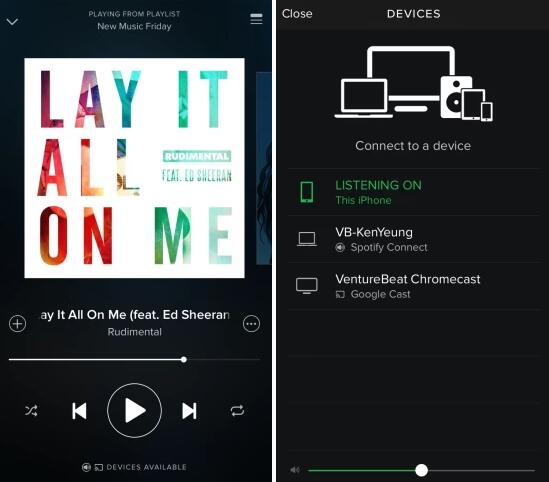 Bottom Line
This is the official way to connect Spotify to Chromecast. Without a doubt, it's easy to operate. But some users complained about the way on the forum. For example, Spotify Chromecast not working. Spotify won't connect to Chromecast. And there is no sound from Chromecast.
See also: Fix Spotify No Sound Issue
This is because music is playing through online streaming, not offline playback. Nonetheless, this way does work very well as long as you do the right settings on your network.
Part 2. How to Cast Spotify to Chromecast from Computer without Premium
Because of the instability of the above way, some users keep asking if there is an alternative way to do it. It could be the icing of the cake. It can cast Spotify to Chromecast from the computer without Premium.
It's well noted that until now, the free account still doesn't support Chromecast. Yet, even if you subscribe to the Premium, you can only Chromecast Spotify via the Android / iOS app. It's no soup for the Spotify desktop version.
But there are still many people focusing on doing everything through computers. Though there is not an official way to do that, we can try the third-party tool. Only if it can download Spotify music offline well. And then it's able to cast them anywhere through the Chromecast.
DRmare Spotify Music Converter for Windows / DRmmare Spotify Music Converter for Mac is such a tool. What makes this better is that you don't need the Premium membership to convert music files.
DRmare Spotify Downloader for Windows/Mac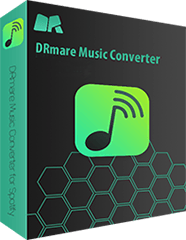 Dedicated for downloading Spotify tracks, playlists, radio and so on
Keep original quality with up to 320Kbps and run at 5X faster speed
Convert Spotify songs to many formats such as MP3, M4A, AAC, M4B, FLAC, WAV
One-stop solution to download, convert and archive the music by album/artist
How to Cast Spotify to Chromecast
The following part is the detailed steps on how to cast Spotify to Chromecast from computer.
Step 1

Import Spotify tracks for Chromecast

You can drag & drop any files you want from the Spotify desktop app to the DRmare software. Note: You'd better turn off the Antivirus or Firewall to make the conversion speed more stable.
Step 2

Set output streaming format for Chromecast

"MP3" is a second to none audio format for streaming. Because it not only has high quality but also its own small size, wide compatibility. Hence I will highly recommend it for streaming on Chromecast. If you are using Spotify free account, please adjust the output bit rate to 320Kbps. It can enhance the output quality.
Step 3

Save Spotify Music as MP3

Finally, you can select an output folder and press the "Convert" button. Your Spotify songs will start to be downloaded to the local computer. When it is done, you will have all the music files offline.
Step 4

Stream Spotify to Chromecast via Chrome

Turn on the Chrome browser from your Windows or Mac computer. Drag a converted Spotify song to it to start the playback. Then click the "Cast" icon from the browser. it will show up the Chromecast compatible device on your Wifi network. Finally, please select your Chromecast Audio.
Besides the Chrome browser, there are other apps that can mirror Spotify to Chromecast. For example, you can upload the Spotify songs to Google Play Music, Plex Media Player. The instruction is more or less the same, so I won't illustrate it anymore. If you still have any questions, feel free to leave them on the comment section below, I will help you in person.
Part 3. More About Spotify and Chromecast
Google Chromecast is a series of streaming media players. The latest Chromecast models of all integrate many online audio apps. Such as Spotify, Pandora, Tidal, and Google Play Music. The main difference is that Chromecast's second-generation and Ultra are available for TVs. While Chromecast Audio is special for Speakers. You can either stream content from compatible apps or mirror media files from the Chrome browser through one of them.
Spotify is one of the oldest yet the most popular streaming audio service in the world. Thanks to its free tier service, any users can sign up for free to enjoy high-quality music online. Everyone can listen to Spotify on a computer or mobile device with some random pictures or sound ads. It has a super big music category. You can find any songs you need in theory.
Spotify and Chromecast: We all know the advantages and disadvantages of Chromecast models and Spotify tiers. Speaking of Spotify Chromecast, you can choose the right way regarding the features of Spotify and Chromecast.