Soon after Cortana was launched, it took the world by storm, and everybody started talking about its impressive features. This program is pretty useful to use at home. Cortana is a digital assistant that will let you give multiple commands depending on what you want Cortana to do. To get started, Cortana will get to know you, and you will have to log your voice so that it can process it whenever you give it a command.
Cortana is Microsoft's product and has recently integrated with Spotify. Now that Cortana and Spotify have been integrated, it means that you can give Cortana Spotify commands to play your favorite songs. Sounds interesting, right! If you want to control Spotify with Cortana and but want to learn how to add Spotify to Cortana, you have come to the right place. In this post, we will tell you how to get Cortana to play Spotify. Keep reading!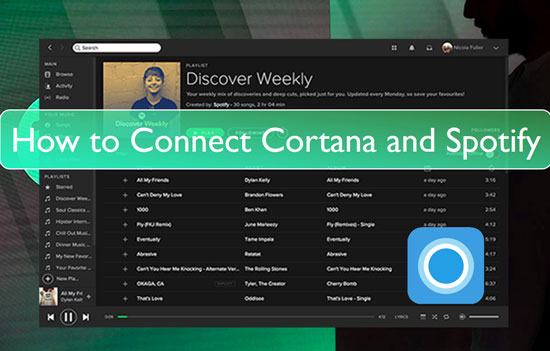 Part 1. How to Connect Cortana and Spotify
Before you learn the steps to connect Cortana to Spotify, there are a few things that you will have to take care of first. Once you are done with Spotify Cortana integration, you can quickly start giving it commands to play songs you want to listen to. Here are the steps that you will have to follow.
Step 1. Set up a Spotify Account
To play Spotify songs through Cortana, you will have to set up a Spotify account. Spotify is loaded with millions of songs and is ready to be played. If you already have it, you can move on to step 2, but for those who don't have Spotify, please download the application and create an account.
We will recommend going for the Spotify Premium account. It won't cost you much, and you will find more songs with the Premium subscription. So, download Spotify and create an account.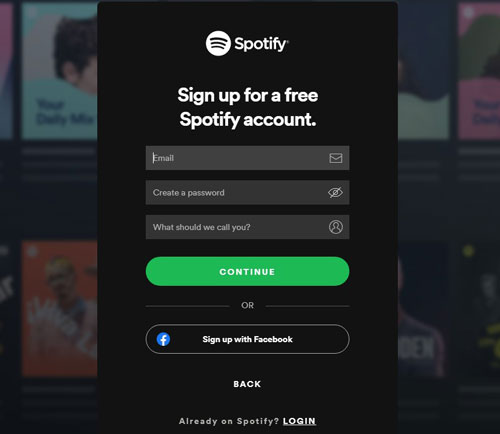 Step 2. Link Spotify and Cortana
To link Cortana to Spotify, there are a few steps that you will have to do. However, once you are done linking it, using Cortana to play Spotify songs will become easy.
Close to the Start menu, you will see a search bar. Please type Cortana. If you are using Windows 10, you need to click on the Start Menu and All Apps.
Once you see Cortana, please click on it.
Sign in using your Microsoft account. Enable speech command.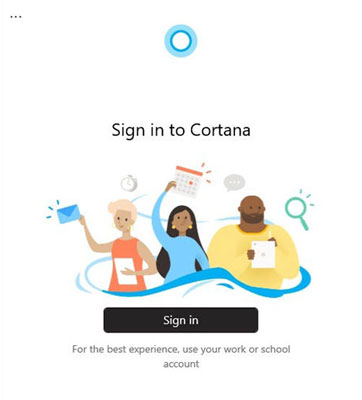 That's all. Cortana is all set, and you can now use it to give commands to play Spotify songs.
Step 3. Play Spotify Songs via Cortana
Now, you may wonder how to make Cortana use Spotify! Easy! Launch Cortana and choose Notebook. Once the Notebook opens, click on the Music option. Now, turn on Spotify. The integration is completed. To start giving commands, all you need to say is, "Hey, Cortana".
To play Spotify songs, use the following commands:
Hey Cortana, play (song name) on Spotify.
Hey Cortana, play (genre) music on Spotify.
You can also pause, play, skip track, and play the previous track by using these commands right after saying Hey Cortana.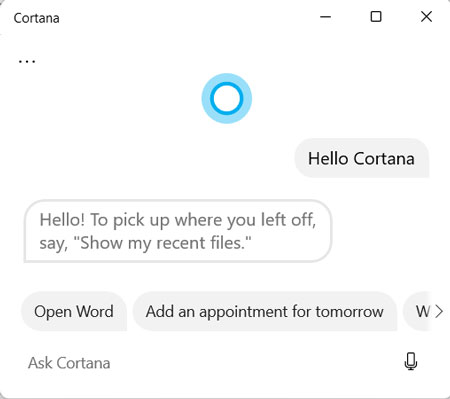 Part 2. How to Add Spotify to Cortana Offline
Can Cortana play Spotify? Now that you know how to make Cortana play music on Spotify by linking Cortana and Spotify. Then how about learning an alternative method to play Spotify music by giving commands? Cortana can play local music files that you have on your computer. This means you can download Spotify songs as local files on your computer, and once done, you can start giving a command to Cortana.
To be able to do that, the recommended tool to use is DRmare Spotify Music Converter. This is an all-round music converter that can convert an unlimited number of Spotify songs. It can not only convert and download Spotify songs, but audiobooks, playlists, podcasts, and even the whole album of your favorite artist. It can download Spotify podcast to MP3, AAC, FLAC, and more. You can download it on your Windows and Mac computer.
DRmare Spotify Music Converter for Cortana
How to Use DRmare Music Converter to Download Music from Spotify
Before you follow the steps, we will recommend downloading and installing DRmare Music Converter. Once downloaded, you will see a shortcut icon. Now, follow the following steps to complete the downloading process.
Step 1

Upload Spotify songs on DRmare Music Converter

Launch DRmare Music Converter on your computer. Spotify music application will be launched on its own. Go to Spotify and find the songs that you want to download. Once you find it, drag the song to DRmare Music Converter. Alternatively, you can copy the URL and paste it to DRmare Music Converter's search bar.
Step 2

Customize the audio parameters for Spotify music

Click on the menu bar and hit the Preferences option. Next, click on the Format option, and from the drop-down option, pick the one you want to convert Spotify to MP3, etc. Then, select the channel, set the bit rate, codec, frame rate, and more. You can also choose the speed of the conversion. Also, choose the output destination.
Step 3

Download the Spotify songs

After you are done customizing the setting, you need to click on the Convert option. Once you do that, the songs will begin to get converted. When the songs get converted, they will be downloaded and saved on the output destination that you have chosen.
Step 4

Give commands to Cortana to play the songs

The songs are ready and saved. All you will have to do is launch Cortana, select music, and give it a command. Say Hey Cortana, play (the song name). It will look for the song in the local folder and play it.
Part 3. Conclusion
Now you know how to add Spotify to Cortana. You can try the first method, which is the direct method. But if you want to save Spotify songs and play them not only on your computer where the songs are saved but on many other devices, get DRmare Music Converter. With it, you can download and play Spotify music on multiple devices offline without any limit.