Music has all the magic in it and to many people, it's like the backdrop of life. And when it comes to Spotify music streaming service, everyone wants to be on board. It's obviously due to the never-ending tones of millions of songs that keep on dropping on its home screen like hot potatoes. The only hindrance is how to discover that hottest hit that has just landed. Most users are mostly aware of the Spotify discover weekly. But again, this feature depends on Spotify's algorithm song line-up. There is more to that!
Other creative ways to discover awesome new hits have emerged. From browsing, discovery on Radio stations, and social media, you get your freedom to the huge amount of music from its database. Here are 4 proven ways to get new music on Spotify.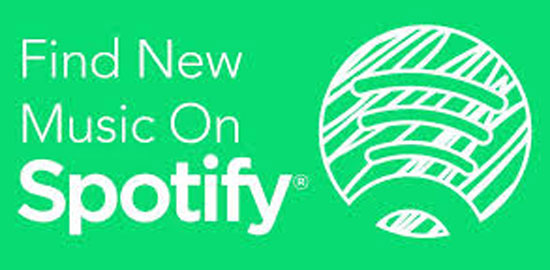 Part 1. How to Find New Music on Spotify in 4 Ways
1. How to Use Spotify Browser to Find New Music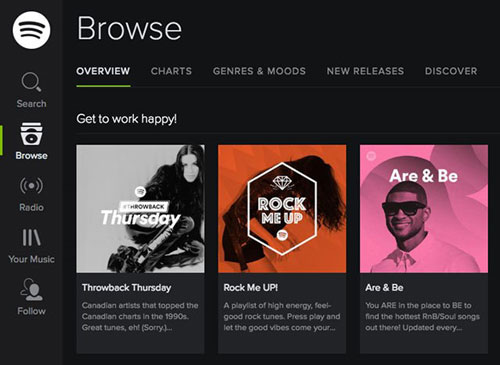 The first place to start your Spotify music discovery is from the Spotify Browser. This is a small tab located on the left sidebar of the App's screen. The 'Browse' has five subsections from which you can uniquely explore new music.
New Releases – this subsection is loaded with tons of albums from the newest in the market. Look through to the previously missed hits.
Charts – the charts are organized by both individual countries and globally. Your search can take either direction. It offers stats of the Top 50 and the Viral 50 songs, covering all the countries where Spotify is accessible.
Genres& Moods – Here, you have a variety of song categories to choose from. Be it jazz, pop, country, and much more. You'll find dozens of playlists to choose from.
Discover – This subsection will analyze your listening habits and give you suggestions that match your tastes.
New Music Friday – This is a personalized playlist featuring newly released tracks that are updated every Friday.
2. How to Use Discovery Weekly to Find New Music on Spotify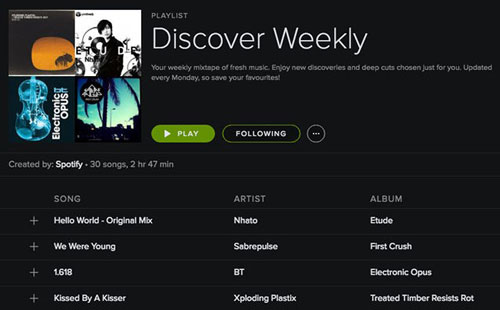 The Spotify Discover Weekly gives new collections every week. The feature automatically generates new playlists every Monday. It carefully looks at your taste profile and gathers that which is your preference. With a playlist of 30 songs, you are good to go onto the discovery of your newly generated collection.
And the bit doesn't stop there! Did you know that Spotify lets your Discover Weekly become more personalized if you engage with it more for the better? Here are a few ways to tip the system along your lines.
Add what you love – if you really like a track, add it to your own personally curated playlist. Then relax and wait to be served up with songs within the same vein.
Follow – Yes, follow your favorite artists and the curator will be sure to pull along songs from other similar artists.
Heart This – Use the small 'heart' icon that's next to your favored track. The system will factor that in and generate more of the sort.
3. How to Discover New Music on Radio Stations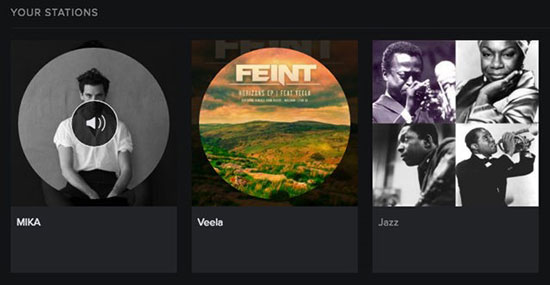 Spotify has a radio feature that mimics a real FM radio. This is another best way to discover new music on Spotify. This Radio Station lets you listen and hear the latest songs. Via this, you can identify all the hidden gems. However, it comes in three forms – artist, song and genre radio.
Here Is How It Works
Right-click on your favorite artist's and chose the 'Go to Artist Radio' option. You can also, select a song or genre of choice.
For a genre, click on the 'Radio' option, found at the left side-bar of the screen. Then head to the screen bottom to find up to 25 different genres.
4. How to Use Social Networking to Find New Spotify Music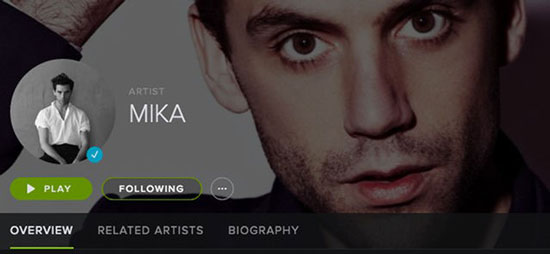 Social Networking is another best way to discover new music on Spotify.
Related artists – with this option, you need to visit your selected artist's page under the 'Related Artists'. You'll get a chance to find other related artists and start the journey of new music discovery.
Follow Artists and Friends – In most cases, you'll find a friend who is always ahead of time. Following your friends is like a gate-pass to your new music discoveries. You can see what your friends have recently discovered and have a good taste too.
Part 2. Download Spotify New Music as MP3
You can Spotify browse, find the perfect music and then download it. But such a version cannot be played offline or in other formats. You, therefore, need a converter to aid in the conversion of the files. Use DRmare Spotify Music Converter to download Spotify new music as MP3 for offline playback is the best choice for you.
It is a second to none professional software with highest music quality and 5X speed. With it, you can get the job done in a much easier way. It can help you convert Spotify music to MP3 and other audio formats with original ID3 tags kept. After that, you can listen to Spotify music on any other devices with ease.
Best Spotify Music Downloader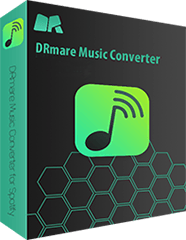 Capture lossless music from all the Spotify songs, playlists, artists, albums
Retain all the other ID3 tabs, metadata of Spotify new music files
Convert Spotify OGG to common formats for mobiles, speakers, portable players
Support lot of output formats MP3, AAC, M4A, M4B and parameters codec, bit rate
Now you can follow this tips to download Spotify new music as MP3.
Step 1

Add songs or playlist from Spotify

First, launch Spotify music converter and then sign up on Spotify. Once open, drag the playlist or songs to the DRmare home screen window. You can also copy and paste the URL of the playlist. Remember to click the 'Add' button if there are many URLs to be included.
Step 2

Choose the format and parameters

Choose the preferred format MP3 plus other parameter settings. Other formats that this App supports include MP4, FLAC, M4A, and many others. Besides, you can customize other settings like the code, beat rate, conversion speed, and many others.
Step 3

Convert Spotify new music

The last step is to hit the 'Convert' button and let the App produce the desired version. The output will be DRM free. By this, you can download Spotify's new music as MP3 for offline playback. Besides, you get all your freedom to play songs from any device including within the car and other devices.
Part 3. The Bottom Line
If you have been wondering how to find new music on Spotify, then this article has exhausted all the best ways. Unleash your music freedom and get all the new tracks you ever wanted. Thanks to third-party converter software such as DRmare Spotify Music Converter. Use any of the methods to discover and then convert your tracks to your preferred output format for offline listening.