Although most streaming music services have the features to discover and share music, Spotify is just the best for its friendly user experience. To share music, playlists, artists, albums, you just need to do several clicks. Then you will find enough ways to share via Facebook, Messenger, Twitter, Telegram, Skype, Tumblr, playlist link, embed code, Spotify URI and so on. And the fantastic "Discover Weekly", "Release Radar" will help you find the similar style music that you already like perfectly. What is even better is that Spotify have designed another new way to share tracks with the Spotify code. It is as easy as taking a photo. You can read on to find out the details about it.
View also: How to Share Spotify Songs and Playlists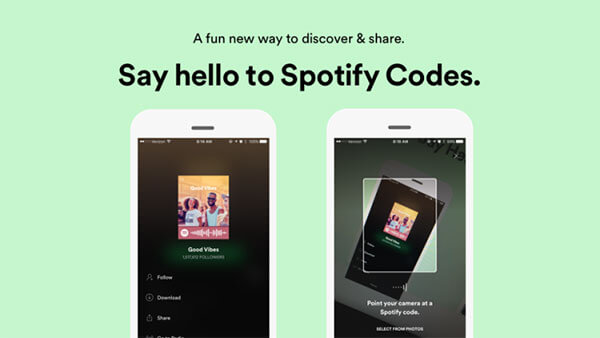 Part 1. How to Access and Scan Spotify Code to Share Music
If you share a playlist by name, your friend who receive this may have problem locating it because the playlist with a low number of followers is not likely to show up. Spotify code is designed to make it more accessible to promote songs. It is a bar code works in the similar way like traditional QR-code. Users can simply use the integrated camera to scan it to start streaming music without any hassles. Spotify get this inspiration from the Snapchat which has the similar function to grab contacts for users. It is as easy as taking a photo. You don't need to go through the original slow and outdated way to copy and paste the link to locate the shared tracks easily.
How do I Find Spotify Code
The code works well for songs, playlists, albums, artists and both free and premium subscription users. It is not difficult to pull up a Spotify code.
Step 1. Just open the page of the songs/playlists which you want to share, you will see the three-dot icon.
Step 2. Click the three-dot icon, it will prompt you the options such as "Save", "Add to Queue", "Share", please click "Share" menu.
Step 3. Click "Share" and you should see the Spotify code which looks like a picture with the sound waves.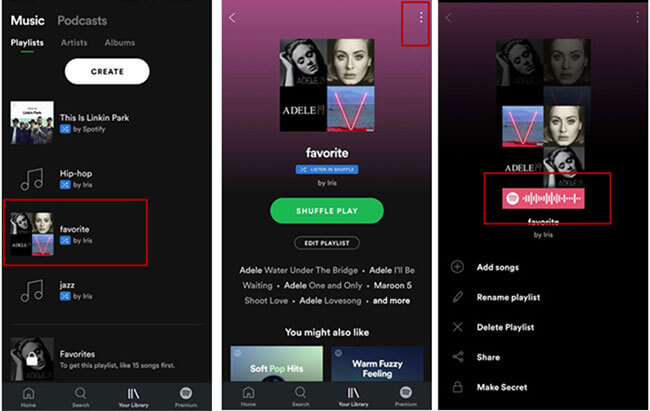 How to Scan Spotify Codes
Spotify has added the camera integration with your mobile devices to read the codes. If you friend is around you face to face, he/she can go ahead to scan it.
Step 1. Go to the search box of your Spotify app, you will see a small camera icon to the right side of it.
Step 2. Click the icon, it will launch your built-in camera and put it near to scan the Spotify code easily.
Step 3. The tracks, albums you shared will be played instantly without any delay.
Ways to Promote Spotify Playlists
If your friends who you want to share the songs with are not around you, then you can also send the Spotify code to your friends as pictures. You friends who received this code can scan it to play quickly. Besides for sharing and discovering music from friends, Spotify code is already a great way for artists to promotion their playlists, albums. They can simply print the Spotify code to their vinyl stickers, merch booths, concert posters and much more.
Part 2. Download Spotify Albums/Playlists before Sharing with Others
Spotify code makes it easiest to share streaming music like never before. But it is not perfect due to the digital right protection compared to the traditional downloaded tracks which can be copied and pasted anywhere for any purposes. Sometimes we just don't feel safe to put our playlists online and want to backup our favorite offline. Do you feel the same way too? If so, why not use a this leading software to break any limitations from Spotify playlist?
DRmare Spotify Album Recorder for Mac/Windows is a smart and high performance software which can remove DRM protection from Spotify and transcode tracks to universal formats in batch. It focus on the technology of keeping the original quality of music. So believe me, you won't get any better quality from other similar application in the same category. You can download the totally free trial version to evaluate it too.
View also: Top 5 Ideal Spotify to MP3 Converters
Best Program to Share Spotify Music Library Online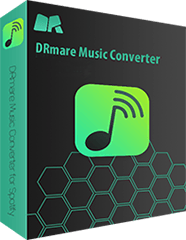 Convert Spotify songs to play on multiple devices like desktop computers, mobiles
Support to keep meta data, ID3 tags, artists including album tile, artiest name
Supports the output profiles MP3, M4A, M4B, AAC, WAV, FLAC with 5X speed
Download and organize your Spotify music library in a much easier way
Can't wait to share your tracks with your friends by copying and pasting? Now let's see how does DRmare converter work step by step.
Step 1

Load Spotify playlists/artists

DRmare program is designed to extract Spotify songs online. To get started, please let the software know what files you want to convert. You can either copy the link of the songs or simply drag the playlists, artists to the main screen of the DRmare software.
Step 2

Choose an output format for sharing

If you share Spotify tracks to many friends with different devices, one thing you need to pay attention to is the audio format. It affects the audio quality and compatibility. To make sure the songs works for anyone, you'd better choose the music format as MP3 which is an universal format. And you can choose the audio bit rate, frame rate, output path etc. if you want.
Step 3

Save Spotify songs offline

Finally, you just need to click "Convert" button from the bottom right and wait some time for it to convert the tracks completely. When it is done, you will have the privilege to move and share Spotify music freely.
Part 3. Spotify Code vs Downloading Songs Offline
All in all, Spotify code provides a straight way for users to share and discover new Spotify new music face to face. And it is totally free. The drawback is that you can't get the songs offline for playback. On the other hand, if you download the Spotify playlists and remove the DRM protection, you won't have any other trouble for copying and pasting songs to your friends. In this way, it is not only easy but also help you keep the songs forever. It will cost you a few dollars, but it is totally worth considering the benefits it will provide to you.
What do you think about this? Please do not hesitate to let's know your thoughts by comments below.