There is no doubt that music can bring people closer and that music is a form of self-expression. As one of the music streaming giants, Spotify is rising as a social media platform as well. Spotify is quite well integrated into the other social networks such as Facebook, Instagram, and Twitter, so people can easily check out what friends are listening to, share playlists, or suggest music to others.
However, for some new users, they may not know how to add friends on Spotify. So today, this tutorial is going to share some different ways to find your friends on Spotify.
Part 1. How to Find Friends on Spotify Using Facebook on Desktop/Mobile
With millions of members, Spotify is the largest and hottest streaming service, which provides three kinds of memberships: Free, Single Premium and Family Premium. Users who access to Spotify songs for free can enjoy music online with advertisements and lower quality. The Spotify individual Premium can get 'Available Offline' mode with better ad-free audio quality for paying $9.99 per month. As for Family Premium, it's like the single premium, but it's available for up to six users.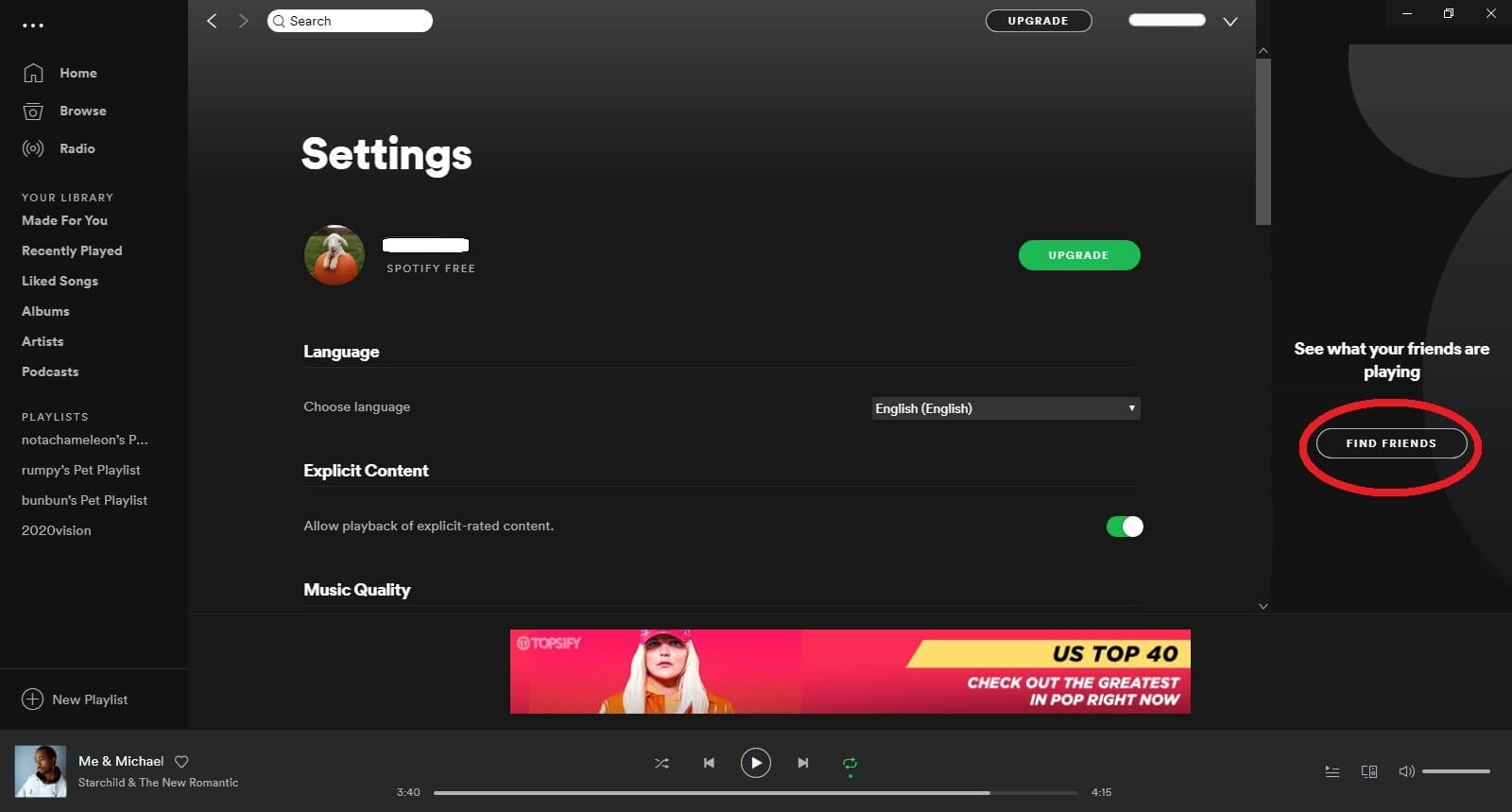 First, launch the Spotify Desktop Program instead of the web player, and you will see the "Find Friends" button on the right of the interface. If you don't see it, maximize your program windows to be at least 1190pixels. You can also go to "Settings" and scroll down to find the "Connect to Facebook" button.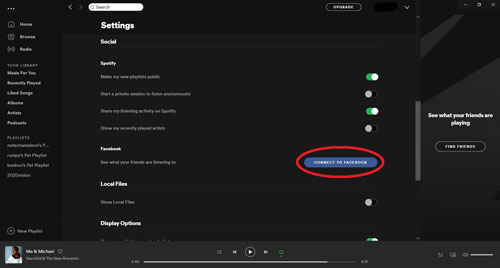 After logging into your Facebook account, you will see a list of your friends who are using Spotify. Simply click "Follow" and you will be able to "track down" your friend's music taste. Any time a new friend is on Spotify, they will automatically appear in the list, no friending required.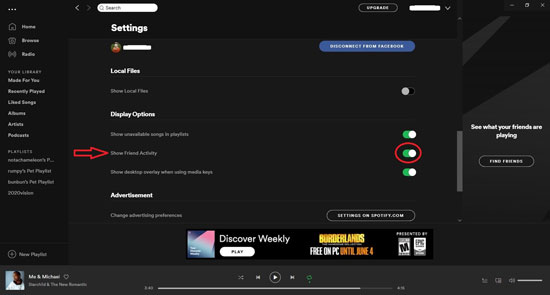 Where to find your newly following friends? Use the desktop app's Friend Activity pane on the right column to see what they're listening to. If you can't see the Friend Activity pane on the right column, probably you haven't turned it on. Just go to Settings, find the Display Options section and enable "Show Friend Activity". Then your friends' activity feed will show.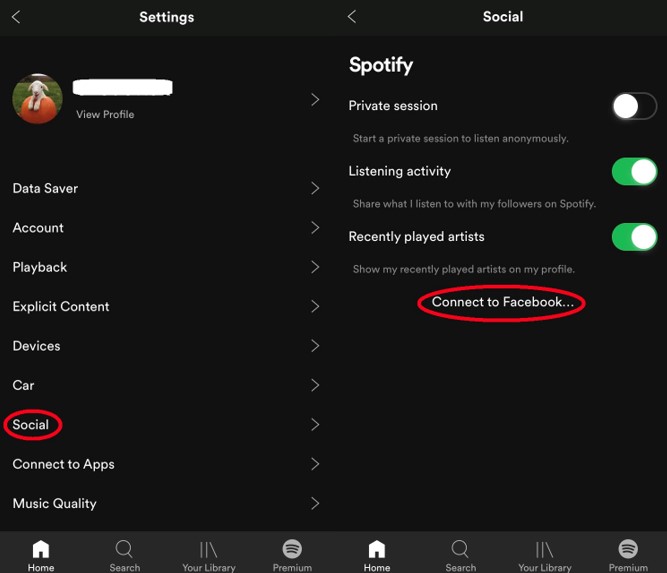 If you want to add friends on Spotify while using the mobile app, just go to "Settings > Social > Connect to Facebook".
Part 2. How to Add Friends Without Facebook Accounts
For whatever reasons you don't want to connect your Facebook accounts to Spotify, there are other ways to follow your friends. You can enter your friend's Spotify username directly in the search bar each on the desktop app or your mobile phone, and then you can find your friend in the profile results.
Or, you can ask your friends to share their profile with you, and vice versa. If you are using a desktop app, just go to your profile page, select "Share > Copy Profile Link". and then share the link to your friends so that they can add you on Spotify.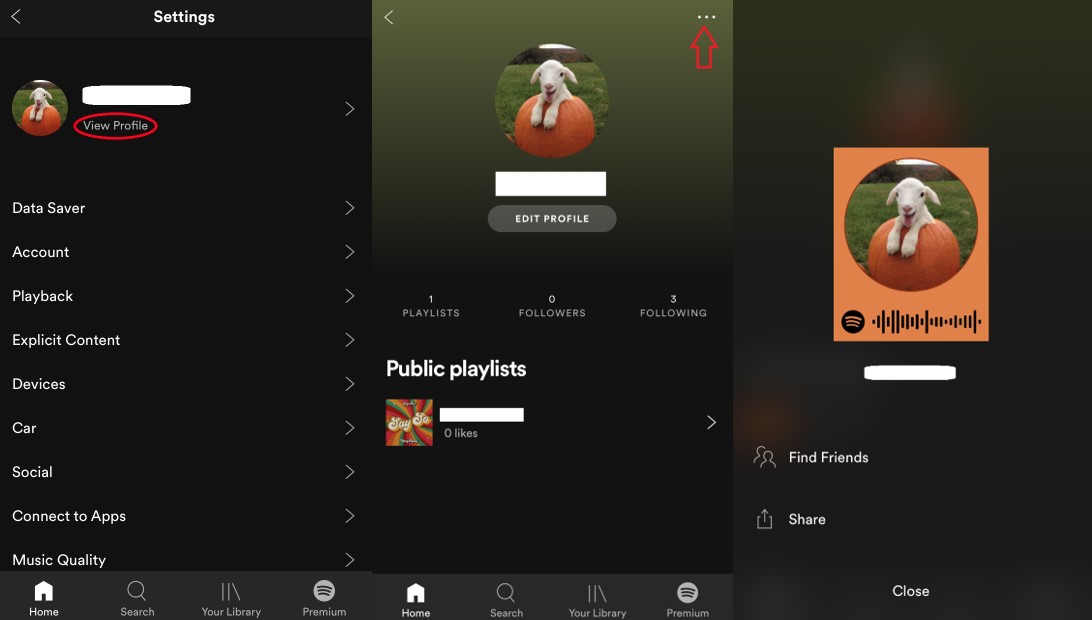 As for mobile users, it is basically the same. Besides, Spotify can generate a person ID for you, so you can add the ID picture to photos and then share it with your friends. It is way more stylish than just sharing the link, right?
In case you are wondering, you can also remove a friend by simply unfollowing them.
Part 3. Make and Share a Collaborative Playlist with Your Friends
When you have added your friends on Spotify, there are plenty of things you can do besides from viewing your friend's activity. For example, anyone who follows you on Spotify can see what you're listening to with Friend Activity. Also, by starting a Private Session, you can hide what you're listening to from your friends.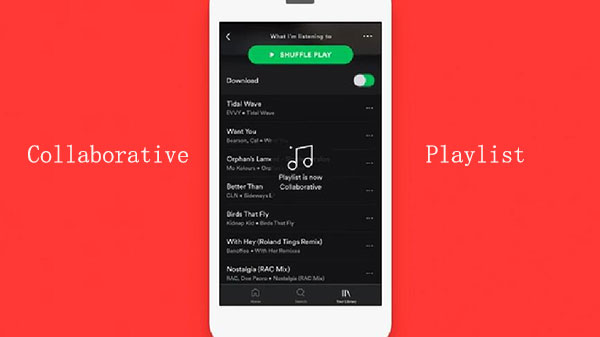 Moreover, if you are going to have a family road trip or DJ party with your friends, creating a collaborative Spotify playlist would be so much fun. Everyone gets to put their favorite songs into this playlist. But you can also share the collaborative playlist via Facebook, Twitter, Skype, and so on, anyone who gets the link will be able to edit the playlist, even though they are not friends on your Spotify yet.
If you want to know how to make and share a joint playlist on Spotify, go check out this article: How to Make Spotify Collaborative Playlist
Part 4. How to Share Spotify Songs with Your Friends Without Limitations
Though Spotify has a great number of users globally, it is also possible that some of your friends might not be using this music streaming service. So here comes the question: How to share Spotify music with your friends?
You'll need a Spotify Music Converter. It is an excellent tool, which is well-designed for Spotify users to perfectly download Spotify music to MP3 with 100% lossless quality at up to 5X speed. After you get the common audio files by using this software, you can share Spotify songs with your friends by Email, Facebook, Chat, or any other ways you can think of!
After reading this tutorial, I believe you have now learned different ways to add friends on Spotify. Leave a comment down below to tell us what you'd think!