Spotify has introduced a new feature to excite users. The Spotify AI DJ is a stunning module that predicts the user's tastes and recommends their favorite genres while listening. It serves more like a DJ playing the desired songs of the users as a playlist by implementing AI techniques. This feature assists users to listen to their favorite soundtracks without wasting their valuable time. The streaming of the perfect genre songs is performed by this innovative module on the Spotify platform.
So, how to get AI DJ on Spotify and how to use Spotify AI DJ? In this article, you will be learning about the DJ feature in the Spotify app. Now, check the below content for a better understanding.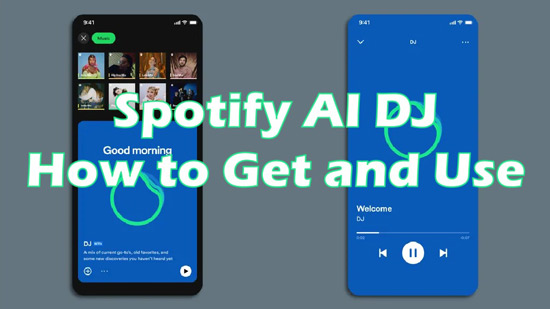 Part 1. Spotify AI DJ: All You Need to Know
The Spotify AI DJ is an automated feature that senses the music taste of the users through analysis. The in-built program analyses the history of the user's playlist and tracks his/her interest. Using the results obtained from the analysis are used in creating a playlist for the users. It is an efficient way to generate favorite music tracks for users from millions of song collections on Spotify. Users no longer search for their favorite from the list instead use the AI DJ feature to grab their desired song list effortlessly.
The AI DJ in Spotify will work on the newly released songs and include them in the favorite list of the users if it is matched the user's taste. Spotify uses Open AI technology to create the playlist for users. It assists the existing AI techniques in Spotify and performs extra tasks in analyzing the user's music taste for accurate results. A similar technology is found in many recent AI applications like ChatGPT.
Part 2. How to Get AI DJ on Spotify
Where to find Spotify AI DJ? To access the AI DJ feature on Spotify, you need to check its requirements first. To get it, you need to be a Spotify premium subscriber. And it is only available in the latest Spotify mobile app on Android or iOS device. Besides, it only works in the US and Canada.
After that, now follow up the below guidelines to see how to get AI DJ Spotify on mobile devices.
Step 1. Sign in to your Spotify premium account on your mobile device.
Step 2. And then press Music Feed on the home page. 
Step 3. Next, touch the 'Play' button on the DJ card. Then DJ will stream music to meet your taste. If you are not satisfied with the streaming music, you can again tap the DJ card to select another collection.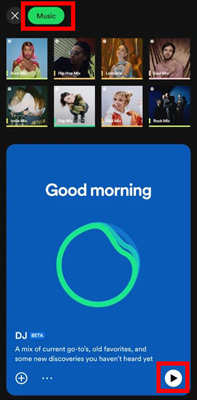 Step 4. On the 'Now Playing' screen, click on the 'DJ' button to browse kinds of mood, genres and others.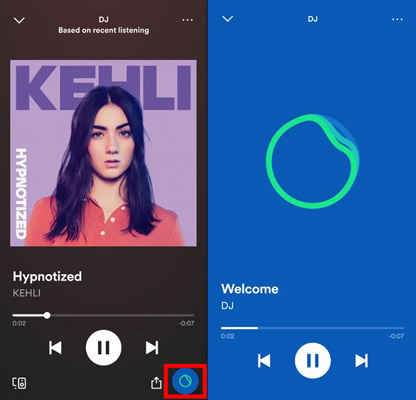 Part 3. How to Solve Spotify AI DJ Not Showing Up
Currently, the AI DJ on Spotify is still in the beta test. And it has some limitations. That's it only works for Spotify premium users in the US and Canada. If you can't get Spotify DJ AI, then you can follow the fixes below to see how to solve this issue.
Fix 1. Update the Spotify app on mobile devices: Ensure the Spotify app is up to date on your device. If you use the older version of this tool, then it does not show up the AI DJ option.
Fix 2. Login again: Log out and then log in again to your Spotify app to fix this issue.
Fix 3. Check the internet connection status on your mobile devices.
Fix 4. Check whether your Spotify premium account is still valid or not.
Fix 5. Check the status of the Spotify server.
Fix 6. Try to clear Spotify app cache on your mobile device.
Part 4. How to Download Spotify DJ Songs without Premium
By following the steps on how to use AI DJ on Spotify, you will get some DJ tracks on Spotify. Also, you can download DJ music tracks from Spotify with your premium account. Yet, if you are interested to download Spotify DJ songs on your local drive without a premium subscription, you can try DRmare Spotify Music Converter. This program will help you access your favorite Spotify songs anytime without restrictions.
It is an easy-to-use software that allows you to convert and download any content from Spotify. With it, Spotify music files can be converted and saved as plain audio formats like MP3, and more. Also, the full ID3 tags and the original quality will be kept.
Besides, this tool can work fast and save you time to download music from Spotify. After that, you will get Spotify AI DJ songs and other content on your computer as local audio. Then you can move and listen to them anywhere and anytime offline.
DRmare Spotify Playlist Downloader
Here are the steps to download Spotify DJ songs via DRmare Spotify Music Converter. Please check them out and follow.
Step 1

Install and open DRmare Music Converter

Download the correct version of this tool and install it on your computer by following the instruction wizard. Next, launch the program on your PC. Also, you will see the Spotify app.
Step 2

Drop Spotify DJ tracks to DRmare

Find and add the link to your desired Spotify DJ songs from the Spotify platform to the search bar of the DRmare tool. Then click on the '+' button near it. You can either drag and drop the playlist from the Spotify app to the DRmare program.
Step 3

Personalize output settings for Spotify DJ music

Press the Menu icon > Preferences and then customize the bit rate, sample rate, conversion speed and file type according to your needs. To make Spotify music be compatible with most devices, you can choose to convert Spotify to MP3. Then, save the settings by hitting on the 'OK' button.
Step 4

Convert and download DJ songs from Spotify

Now, hit the 'Convert' button to start the conversion process. After that, you will get the local Spotify DJ music tracks on your computer. You can head to the 'converted' icon on the DRmare tool to check them out on your PC. And then you can move and use these songs on any device you like without any limitations.
Part 5. Conclusion
In this post, you learned what is Spotify AI DJ. And you know how to get AI DJ Spotify on your mobile device. Besides, you get tips how to fix AI DJ on Spotify not working issue. What's more, we introduced the DRmare Spotify Music Converter to help you download DJ songs from Spotify as local files on your computer. Then you can add Spotify songs to other devices for playing offline with ease.