Every year, most tech giants will release kinds of annual wrap up stats to interact with their customers.
As the most popular streaming music platform, Spotify rolled out the Spotify wrapped feature which tells you what are the songs you listen to most and other top rated artists, playlists that ruled the year 2018.
Although it has been several months past, many Spotify fans still find the wrapped list fun and interesting. They share Spotify wrapped playlist with friends on Facebook, Instagram, relive the songs again and download them offline.
If you are one of such persons, then this post is definitely for you. You can learn and download Spotify year in review playlists with a best way.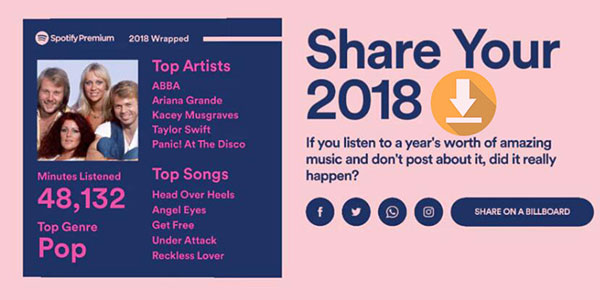 Part 1. Spotify Annual Songs and Playlists for You
Spotify Wrapped Introduction
Spotify Wrapped is a sleek website developed by Spotify.
It pulls the listening data from your account and use it to generate the top 100 tracks you were listening to in the year and a tastebreakers playlist you may like.
It will also show you listening habit such as your favorite artist, song, genre and the time you spend on the songs.
In addition, you can find out the podcasts of 2018 and who ruled Spotify in 2018 such as the top artists of 2018, top tracks of 2018, top female artists of 2018, top male artists of 2018, top groups of 2018, top Latin tracks of 2018 and so on.
Drake tops the list as the most streamed artist of 2018 and Ariana Granda claimed the spot for most-streamed female artist.
How to See Your Spotify Wrapped List
There are 3 ways to find your spotify year in review songs and playlist of 2018.
1. Open Spotify wrapped website and login with your account, you will see all the data.
2. On the Spotify desktop app, you can scroll down to "Genre & Moods" and then select "Wrapped".
3. On your Spotify mobile app, just need to go to the "Made For" tab from the top.
Part 2. How to Backup the Spotify Wrapped 2018 Playlists
If you are a premium subscriber of Spotify, you can directly download Spotify wrapped playlists to your devices.
On a computer, you can add the playlist to the library of your Spotify desktop app and then switch the "Download" button. On a mobile phone, you can add the playlist and then turn on the option "Make available offline".
But what if you don't have a paid membership? Can you still enjoy the offline listening?
The answer is no. Yet you can't distribute the wrapped songs elsewhere for playback or backup officially.
Downloaded Spotify Wrapped Playlists as MP3
If you want a better way to enjoy the annual Spotify playlist for free, I'd suggest you download them as MP3 by a third-party software. You just need the DRmare Spotify Playlist Downloader for Mac/Windows which is a best converting tool to download and convert Spotify as MP3, M4A, M4B, AAC, WAV, FLAC with surprisingly great performance.
Brilliant Spotify Music Downloader of 2019
Step 1

Import Spotify wrapped songs

You can simply drag the "Your Top Songs 2018" playlist from Spotify to the DRmare screen directly.
Step 2

Choose an output format

You can choose a new output format such as MP3 and the parameters of the output music you like.
Step 3

Start downloading

Just one click on "Convert", it will convert all the songs to the new songs you have set. Please just wait a little while. When it is done, you can listen to the Spotify songs and playlist from your most played artists freely and you can share them with your friends via USB too.
Part 3. FAQs
A1. What Is the Tastebreakers Playlist?
Q1. That is an additional new song playlist recommended to you based on the genres, artists, music tastes you have been listening to the most. It is part of the Spotify wrapped experience.
A2. How can I share my top Spotify songs of the year?
Q2. You can click the share button to share the playlist to your Facebook, Twitter or Instagram. Also, you can download Spotify as MP3, then you can share the songs anywhere as you want.
A3. How to check how many minutes you've listened to?
Q3. On the page of the wrapped roundup, there is an option for you to get the time you spent and it will reveal the correct answer.
A4. Will the Spotify wrapped playlist disappear at some point?
Q4. The playlists won't disappear but to play it safe, you can also save the playlists offline by using DRmare Spotify Music Downloader.
A5. What date range does the data in the Spotify wrapped website cover?
Q5. It recaps the listening data from January 1st to October 31st.