2023 is coming to an end and Spotify lovers are in for the best time of the year with Spotify Wrapped 2023. It collects the songs, artists, genres, and podcasts users listened to the most from January 1 to October 31 and provides a personalized Wrapped user experience. It also reveals the top songs, artists, albums, podcasts, and listening trends of 2023 according to more than 574 million fans around the world who listened.
The feature has evolved over the years and has become easier to check the receipts on your year of listening in review and share on social media sites. You can show off your listening habits and show how your listening journey has changed over the years.
Read on to learn more about Spotify Wrapped 2023, and learn how to find and see Spotify Wrapped stories and playlists, and how to download and share your Wrapped card. You will get everything you want to know about Spotify Wrapped.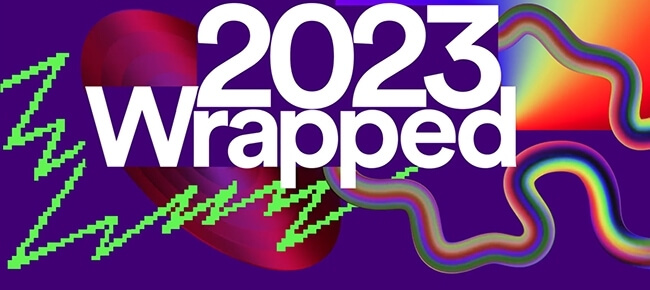 Part 1. What Is Spotify Wrapped?
What Is Spotify Wrapped?
Every December since 2016, Spotify has sent a summary of listening stats between January 1 and October 31 to its users. This campaign has grown to include the most popular songs, artists, playlists, albums, and podcasts each year. It's called Spotify Wrapped.
Spotify Wrapped provides users with a personalized summary of their music listening habits. It shows you a slideshow (or "story") of the songs and artists you listened to the most over the past year. Also, what new music you discovered and how much time you spent listening to music will be tracked. You'll also get a playlist of the 100 songs you listen to most, along with a few other goodies that depend on the year.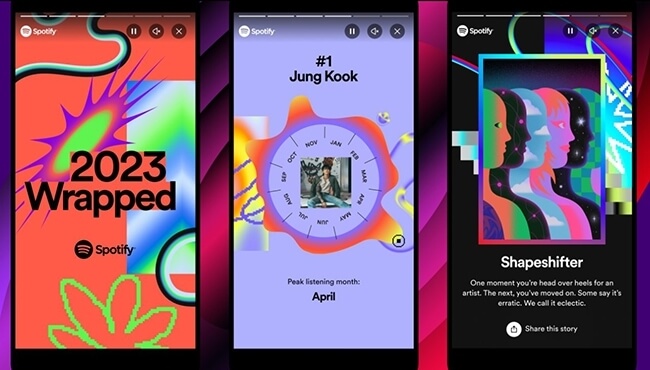 When Does Spotify Wrapped 2023 Come Out?
Spotify Wrapped typically becomes available towards the end of each year. So when is Spotify Wrapped 2023? It was released on November 29, 2023, which was earlier than the previous year's release, which was on November 30, 2022. That's to say, now, you can see your streaming music habit throughout the year.
When Does Spotify Wrapped Stop Tracking?
In general, Spotify tracks data from January to an unspecified date before the Spotify Wrapped releases. Spotify Wrapped 2023 stopped tracking data before November 29.
Key Features of Spotify Wrapped 2023
Spotify Wrapped shows you your many listening habits between January 1 and October 31. The Wrapped on Spotify usually includes:
Me In 2023:
Top Songs: You can see the list of most-played songs.
Top Artists: A compilation of the artists you listened to the most.
Top 5 Genres: Information about the 5 genres that dominated the your listening experience.
Total Listening Time: The total number of minutes you spent listening to music on Spotify.
New Discoveries: Introduces you to new artists or songs they might enjoy based on their listening history.
Podcast Insights: Spotify Wrapped may also include data on top podcasts and total podcast listening time.
listening Character: Spotify created 12 possible Me in 2023 characters based on different listening types. You can get your special listening character according to your tastes and habits on Spotify.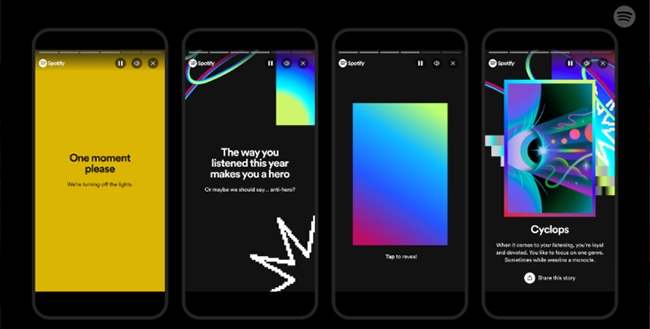 Spotify Sound Town
A new feature to match users with a city called 'Sound Town' by Spotify based on the listening history, including the most-streamed artists and songs you enjoyed this year. The city has a similar taste in music to yours.
A new feature introduced in Spotify Wrapped 2023 to find the top songs in different countries, from England to Indonesia, with an interactive map.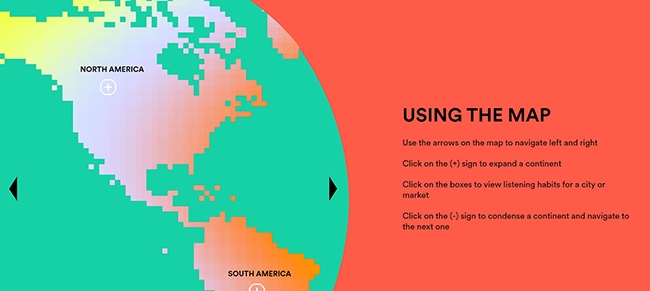 See Spotify 2023 Wrapped U.S./Global Top Lists
It will track, analyze, and conclude the top lists of the most-streamed songs, playlists, albums, and artists globally or in the US.
You can then share your Spotify Wrapped results on social media, creating a sense of community as people compare their music preferences and discover new tracks or artists. It has become a popular year-end tradition for Spotify users to reflect on their musical journey over the past 12 months.
Part 2. How to See Spotify Wrapped 2023
Can't wait to see your Spotify Wrapped 2023? Users can access this through the Spotify mobile app or website. Please make sure you are using a Spotify app running 8.8.80 or above and Spotify Wrapped is available in your country. You can then follow the steps below on how to check Spotify Wrapped 2023.
How to Find Spotify Wrapped 2023 via Banner on Mobile Using App:
Step 1. On your iOS or Android device, launch Spotify app and log in your account details.
Step 2. Find the Spotify yearly Wrapped 2023 banner (Your 2023 Wrapped is ready) from the homepage.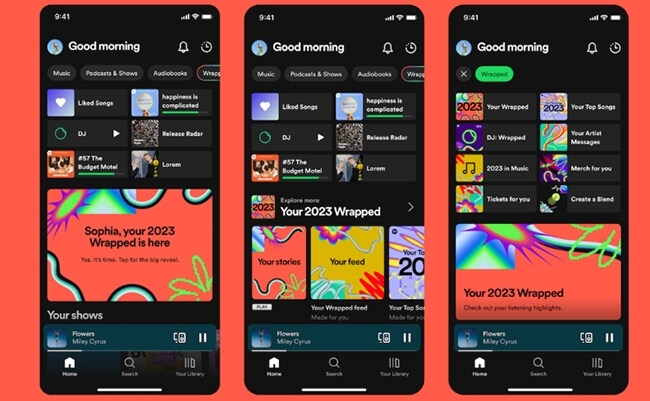 Step 3. Now you can click the banner to access 2023 Spotify Wrapped freely and get your personalized Wrapped.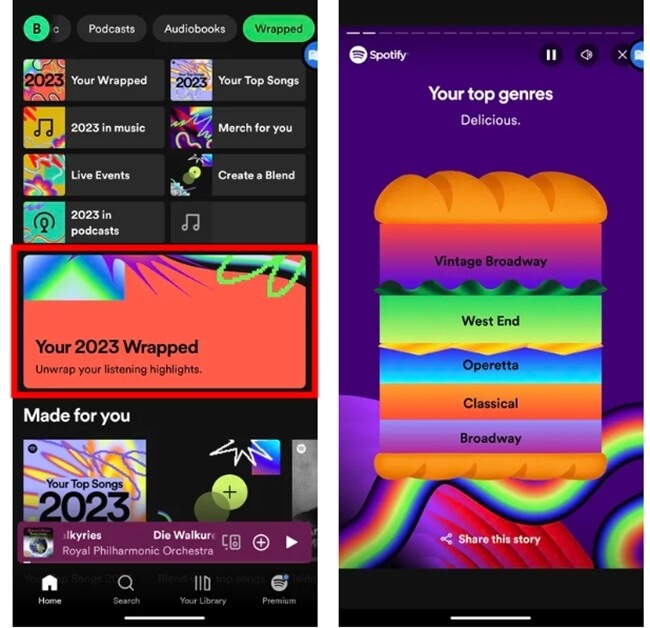 How to Get Spotify Wrapped 2023 on Computer through Website
Step 1. On your Spotify desktop app and you will see "Your 2023 Wrapped" banner at the main interface.
Step 2. Click the "Check it out" button, it will bring you into the spotify.com/wrapped website, where you can get your personalized Wrapped slideshow. View them one by one.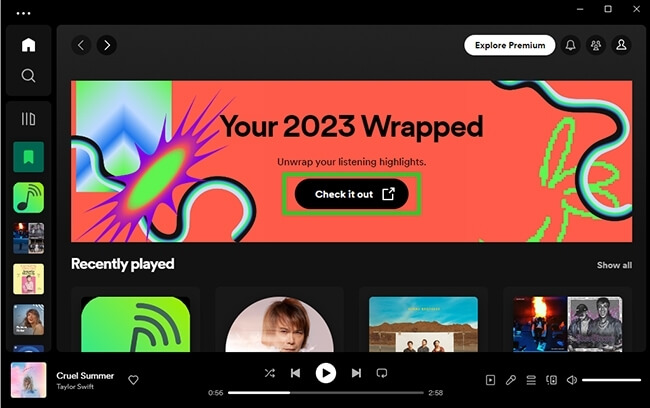 Notes: You can also directly navigate to spotify.com/wrapped and authorize your Spotify account. It will open your Spotify year in review directly on the website.
How to View Spotify Wrapped 2023 via Search
Step 1. Fire up your Spotify app on your device and sign into your Spotify account.
Step 2. Click the "Search" icon from the toolbar of Spotify app, and then type the "2023 Wrapped" or related keywords. Now, you can tap the results to look at your personalized Wrapped user experience.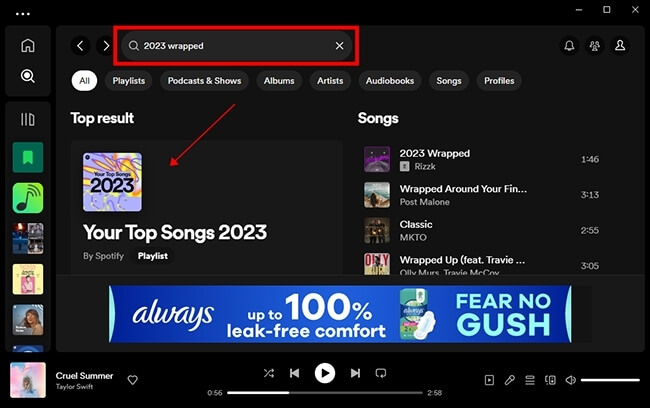 Why Can't I See My Spotify Wrapped?
If you use a Private Session, anything you listen to in that mode will not be recorded in your Spotify year in review. No one will have access to your listening activity during a private session.
If you have been uploading music to Spotify and listening to it, those songs will not appear in your Spotify Wrapped statistics either. Only songs provided from the Spotify platform count.
The Wrapped on Spotify is not displayed to all users at the same time. It may take longer for it to update and then appear.
You can only get your Spotify's year-end review in the Spotify app. You are not allowed to access it on the Spotify web player. But you can look at Spotify Wrapped on your web browser.
You should listen to a minimum of 30 songs on Spotify, each for at least 30 seconds, from at least 5 distinct artists.
See Also: How to Fix Spotify Wrapped Not Working
Part 3. How to Share Spotify Wrapped Story
"How do I share my Spotify Wrapped with friends or on social media, like Instagram?" Fortunately, Spotify makes it super easy to share your Spotify Wrapped.
The Wrapped on Spotify presents itself in a format that looks like an Instagram story. For each stats card, there is a sharing option. You can share it on TikTok, Line, Twitter, Snapchat, Instagram, WhatsApp or Facebook.
How to Post Spotify Wrapped Story
Step 1. Open the Spotify mobile app and go to the Wrapped card you want to share.
Step 2. Press and hold the middle of the card.
Step 3. Tap on 'Share this Story' at the bottom.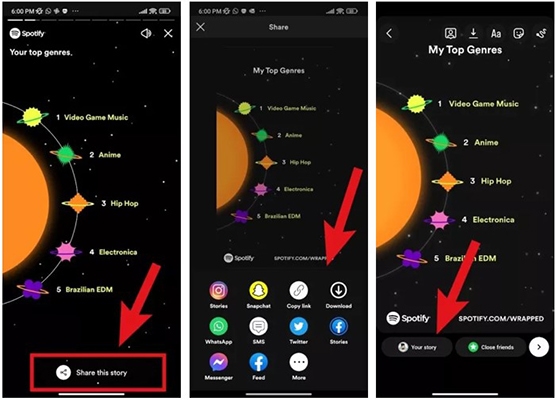 Step 4. Choose the platform you want to share on and tap 'Your Story' to post.
Part 4. How to Find Old Spotify Wrapped Stories
Can you see old Spotify Wrapped? Yes, you can view your Spotify's year-end review through the Spotify website even if it is not this year. Each Wrapped playlist is saved to a specific URL so you can directly open it to access your Wrapped. If you can't find a Wrapped playlist, it probably means you didn't do it that year.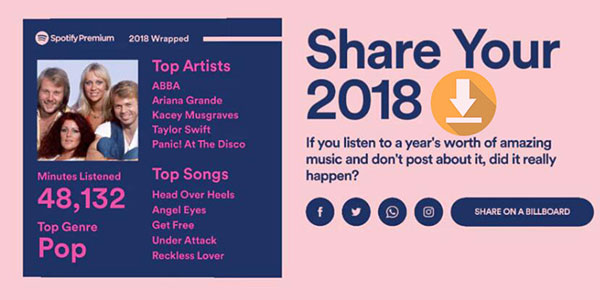 You can check old Spotify Wrapped here: Spotify Wrapped 2022, Spotify Wrapped 2021, Spotify Wrapped 2020, Spotify Wrapped 2019, Spotify Wrapped 2018, Spotify Wrapped 2017, Spotify Wrapped 2016.
Part 5. How to Download Spotify Wrapped Playlists
If you are a Premium subscriber of Spotify, you can directly download Spotify songs to your computer or other devices from your Spotify Wrapped 2023.
On a computer, you can add the playlist to the library of your Spotify desktop app. Then switch the "Download" button. On a mobile phone, you can add the playlist and then turn on the option "Make available offline".
But what if you don't have a paid membership? Can you still enjoy offline listening?
Yes, all you need is a DRmare Spotify Music Downloader. It allows you to download music from Spotify without Premium. The download speed is up to 5X faster. And it will retain the lossless sound quality as well as all the metadata. Not only this, it is able to convert Spotify music to MP3, M4A, M4B, AAC, WAV, and FLAC. After conversion, you can enjoy Spotify on any device without restriction.
DRmare Spotify Music Downloader
Step 1

Import Spotify Wrapped songs

Download and install the DRmare Spotify Music Downloader via the 'Download' button above. Then you can directly drag the "Your Top Songs 2023" playlist from 'Your Library' on Spotify to the DRmare Spotify Downloader.
Step 2

Choose output format for Spotify Wrapped

The default output format of this downloader is MP3 and it's the most popular one. But you can still change it and other parameters by clicking 'menu' > 'Preferences' > 'Convert'.
Step 3

Start downloading Spotify Wrapped playlists

Just one click on "Convert", it will download and save all the Spotify Wrapped songs you have added. Please just wait a little while. When it is done, you can listen to the Spotify Wrapped playlist offline without Premium. You can also share them with your friends without issues.
Part 6. FAQs about Spotify Wrapped 2023
Q1: How to Save Your Spotify Wrapped?
A1: Open the Spotify mobile app and find your Wrapped. Simply tap 'Add to Your Library' and it will save your top 100 songs. Then you can open it and listen to it freely. You can download it with Spotify Premium for listening offline. Or, you can download it without Premium with DRmare Spotify Downloader.
Q2: How Can I Share My Top Spotify Songs of the Year?
A2: You can click the 'share' button to share Spotify playlist to your Facebook, Twitter, or Instagram. Also, you can download Spotify as MP3, then you can share the songs anywhere you want.
Q3: When Does Spotify Wrapped Stop Tracking?
A3: It tracks your listening habits from January 1 to October 31.
Q4: Can You See the Wrapped on Spotify from Previous Years?
A4: Yes. All Spotify yearly Wrapped playlists for a specific year are accessible. In your browser, go to https://open.spotify.com/genre/insert year-page. For example, to view Spotify Wrapped 2022, you can go to https://open.spotify.com/genre/2022-page.
Part 7. In Conclusion
Spotify Wrapped is more than just statistics. It encapsulates the emotions, memories, and different experiences that music brings to our lives. Spotify Wrapped 2023 is here, and you can get all the information about it in this article. Now, you can unveil your personalized musical retrospectives through the annual feature.