The time of the year is finally here when Spotify listeners share their unique musical tastes with the world around them and have their Instagram stories or social media bursting with screenshots of their top 5 or most listened-to songs. It is clearly a rewarding gig for the listeners as well as a well-versed marketing trick for the company to gain a following.
Every year, users look forward to this tradition of receiving an annual wrap-up of their listening statistics from Spotify. With the overwhelming response to the annual gig, there seem to be problems in troubleshooting the site where users can't access their Spotify annual stories and are left wondering, "Why is my Spotify Wrapped not working"? Issues like the page not loading or the Spotify-wrapped video not working on Android or iPhone alike are distressing the usability of the app as well as heightening the FOMO of the users.
But don't worry, here we have solutions to fix Spotify Wrapped is not working issue, whether you're using an Android or an iPhone. Go through the article below and you'll discover the easy-to-fix steps we've provided in detail!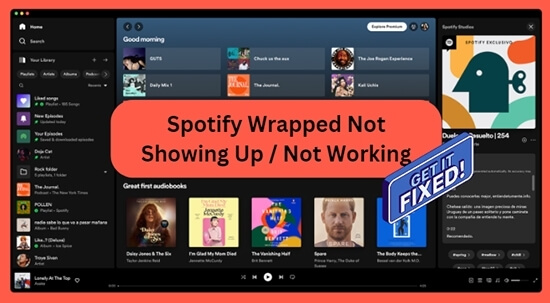 Part 1. What Is Spotify Wrapped
Spotify Wrapped is the direct descendant of its less famous predecessor, 'Year in Music', a campaign that was launched by Spotify in 2015. It included stats like the user's most played songs and the totality of hours they have enjoyed listening to music on the app. The 'Year in Music' didn't go as viral as its successor did two years later, but was still popular enough.
Spotify Wrapped lets you revisit all the tracks you've enjoyed listening to in the past year as well as the musical ventures you've taken on, whether it be with a new artist or a different genre. It is more or less a year-end review of your playlist showcased as a slideshow where your favorite artists, top songs, favorite genre, and the number of minutes you've devoted to music are included.
Spotify can tell you what top percentile of listeners you are for specific artists, such as how close you are to becoming a super fan or if you are already one. It provides a flashback of your listening history throughout the year and the journey seems enticing enough for all, as is proven by the jam-packed social media feeds brimming with screenshots as such. It also offers the artists a glimpse of the number of streams they received, the hours they listened to, and the number of listeners they have, and they are encouraged to share these stats with their audience.
Spotify Wrapped gets updated in December every year, and you can always look it up on the mobile app as well as its website.
Part 2. How to Find Spotify Wrapped
In this part, we will show you how to find Spotify Wrapped in detail. To view your Spotify Wrap of the year, you first need to open the Spotify app on your Android or iPhone device.
Step 1. Select Home from the bottom toolbar on the home screen of the Spotify app.
Step 2. Tap on the search box at the top and type 'Spotify special'. The first result that comes up is your Spotify Wrapped list.
Step 3. Otherwise, go to spotify.com/wrapped, which will open up to the Wrapped screen for both the iOS and Android Spotify apps.
Part 3. How to Fix Spotify Wrapped Not Working Issue
It's really not fair when everyone is sharing their Spotify Wrapped lists on social media and you're not even able to access them on your mobile! Well, we have more than one fix for your Spotify Wrapped video not working. You can try one or the other to get your Spotify Wrapped working properly.
Fix 1. Check Internet Connection
Spotify, including the Spotify Wrapped function, requires internet access to work, and the Internet is bound to fluctuate at times. During such fluctuations, the app may crash without warning or stop reloading, with an error message appearing regularly.
The best way to tackle such an issue is by connecting and disconnecting the Internet connection to observe the change. Follow the steps provided below before checking if the app is back online or not:
Step 1. Close the Spotify application on your device.
Step 2. Log out of your internet connection.
Step 3. Turn the WiFi or your mobile data off and then on. (Check on whether all the lights that were previously present in your router are still present or the data on your mobile shows activity or not.)
Step 4. And then connect to the Internet.
Step 5. Refresh the Spotify app.
Step 6. Now, check if your Spotify Wrapped is working properly.
Also, check with your Internet Service Provider (ISP) if problems persist and you are unable to fix Spotify Wrapped slideshow not working issue. You can rely on them to give you the right solutions.
Fix 2. Force Close Spotify App
You can also try to force close the Spotify app once to solve Spotify Wrapped not working on app issue. It is one way of dealing with the crashing of apps.
Step 1. Go to Settings on your mobile phone.
Step 2. Select the Apps option from the list.
Step 3. Click on the More button.
Step 4. Now, tap on Show System Apps.
Step 5. Look for the Spotify app and tap on it.
Step 6. Tap on the Force Click option.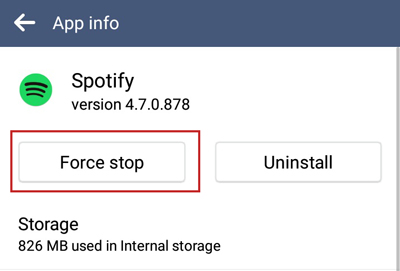 Fix 3. Log out and Log in Back Spotify
You might not see Spotify Wrapped on the app due to an issue with your Spotify account. It might be helpful to log out of the account and then log back in. The steps below will help you achieve this:
Step 1. Open your Spotify account.
Step 2. Tap on Settings, which is present in the top right corner of the screen.
Step 3. Scroll down and select the Log Out option.
Step 4. A pop-up on the screen will confirm your action.
Step 5. Tap on Log Out again.
Step 6. After this, enter the details of your phone number or email address, with which you created the account in the first place.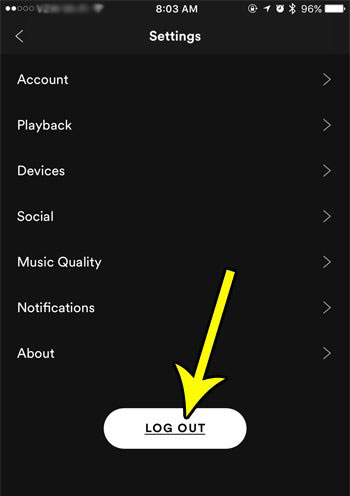 You can check again if Spotify Wrapped is available on your device after you've followed the above steps.
Fix 4. Clear Spotify Cache
Cache is hardware or software used to store a bunch of additional data in hidden places. Many issues regarding an application can be resolved by clearing away the cache memory. If the hidden place gets brimmed with cache, it might result in the crash of the Spotify app, which leads to the Spotify Wrapped story not working problem. So, make sure to clear the cache for the Spotify app. Clearing Spotify cache will remove your playlists and downloaded tracks, but you can always recover them later once the Spotify Wrapped not working issue is resolved.
Follow the steps below to clear the cache from your Spotify app and have it working again!
Step 1. Go to Settings on your Android mobile device.
Step 2. Tap on the Applications option.
Step 3. Select the Spotify option.
Step 4. Go to the Storage option.
Step 5. Tap on the Clear Cache and Clear Data buttons.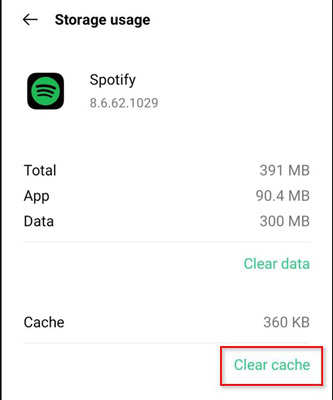 For iOS users, you'll have to delete the app and reinstall it again to clear the cache.
Fix 5. Reinstall and Update Spotify App
The Spotify app has launched multiple minor updates after the new Wrapped features. So, the pop-up error has mainly been fixed on the majority of devices. Ensure that your Spotify app is updated to its latest version. If you haven't, you can update the app by following the given steps.
Step 1. Open Google Play Store on your Android device.
Step 2. Go to the Profile icon.
Step 3. Tap on Manage apps and devices option.
Step 4. Select the Updates available option.
Step 5. Go to the Spotify app.
Step 6. Tap on the Update button. Then the Spotify will be updated.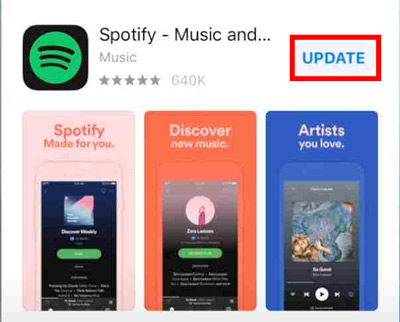 If the app is still crashing after updating it, then you'll need to uninstall and reinstall the app again.
Follow the steps below on how to uninstall and reinstall the Spotify app:
Step 1. Open your phone's Settings.
Step 2. Go to Apps/App Manager.
Step 3. Tap on the Spotify app.
Step 4. Tap on the Uninstall button.
Step 5. Go to the app store, find Spotify and them click on it to download Spotify on iPhone and Android.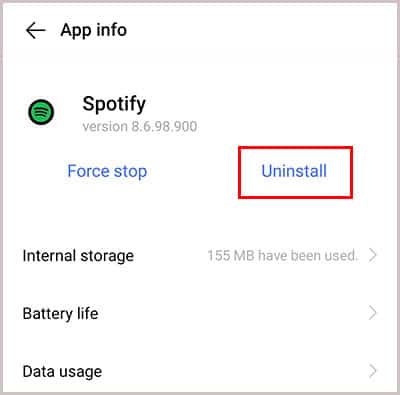 Fix 6. Update Your Device
You may come across numerous issues with Spotify Wrapped not working Android if your Android is working on an outdated version. Updating an Android device can resolve bugs, which can fix the issue of Spotify Wrapped is not working issue. Due to the lack of some certifications on your device's operating system, the Spotify app could crash and some features like Spotify Wrapped will not work. Phone manufacturers often fix such issues with periodic software updates. So, make sure that your device is always up to date with the latest software.
Step 1. Open your device's Settings app.
Step 2. Look for the Software Updates option.
Step 3. Then click on Software Update to make your device update.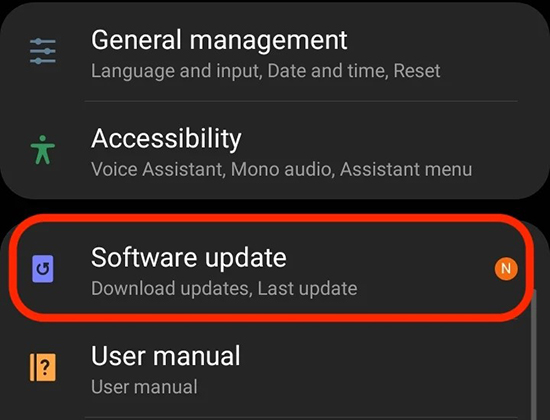 Fix 7. Restart Your Device
One of the oldest handbook tricks to opt for is to simply restart your device. Generally, when an app malfunctions, it is due to some technical glitches. It might arise when too many applications are being used together and are running in the background, which causes an overload on the device. This can lead to Spotify Wrapped not working on mobile phones. Whenever this happens, the first thing you should do is restart your phone.
Step 1. Long press the power button on your mobile phone.
Step 2. Then the power options will show up on the screen.
Step 3. Tap on Restart to restart your mobile phone.
Fix 8. Use a VPN
You can always change the servers by using a free VPN service, as Spotify has launched this service recently. With many users using it at the same time, the servers could slow down exponentially. So, it's best to download any free VPN app from the Google Play Store and fix the Spotify Wrapped not working problem!
Extra Tips: How to Play Spotify Music Offline Anywhere
"Can I download Spotify Wrapped for offline listening?" Some people may wonder how to do that. In this part, here is a tip for you to download Spotify Wrapped list and more content from Spotify for offline use. To do that, you will need a music converter.
DRmare Spotify Music Converter helps you download all Spotify songs, albums, podcasts, and audiobooks for free. In other words, you don't need a Spotify Premium account to download music from Spotify. This is useful for users who have a free Spotify account and are unable to download their songs or podcasts onto their desired devices.
DRmare Spotify Music Converter serves as a powerful Spotify playlist downloader to help you out freely with one click alone. It is easy to use and it can run at a fast conversion speed. Also, it can output Spotify songs to MP3, WAV, FLAC and more plain audio formats. And you can reset the Spotify audio's bit rate, channel and more if you want. After that, you will get the local Spotify audio tracks and listen to them on any platform you like.
DRmare Spotify Music Downloader
Here you can check out how to use DRmare Spotify Music Converter to get Spotify music for offline listening in detailed steps.
Step 1. Download and install the DRmare Music Converter for Windows or Mac on your computer. Once installed, double-click its shortcut icon on your desktop, then DRmare Spotify Music Converter will start and instantly load the Spotify music app for you.
Next, locate the songs, playlists, or albums in the Spotify app and drag them into DRmare's primary conversion window. You can copy and paste the URL of a Spotify audio track into the search box on the DRmare main interface as DRmare Music Converter also functions as a Spotify link downloader. And then, you will need to click on the '+' icon.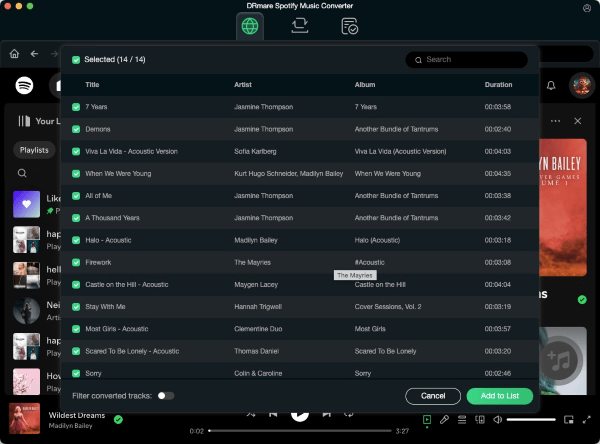 Step 2. After the Spotify Ogg tracks have been added to DRmare Spotify Song Downloader, select "Preferences" from the menu bar. Then you can choose MP3 as the output format in the new window, in addition to WAV, AAC, M4A, FLAC, and M4B. Additionally, you have the option to change the output audio's bit rate, channel, etc. (Note: If you have a slow internet connection, we strongly advise you to set the conversion speed to 1X to make the conversion more reliable.)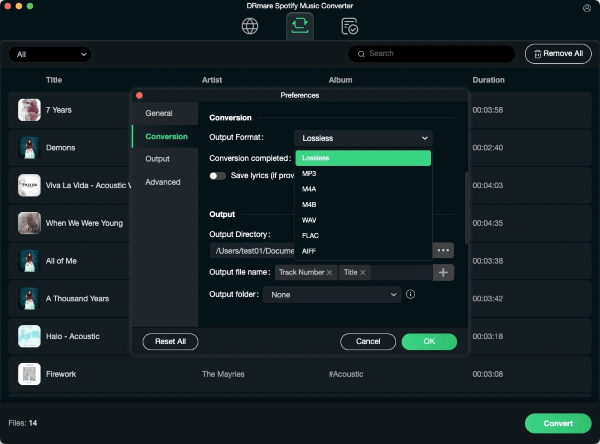 Step 3. Once everything is set up, click the "Convert" button to begin downloading and converting Spotify Ogg Vorbis to MP3 or other popular audio files. Once the conversion is complete, you can find the converted Spotify songs in the target folder on your PC and then you can move them to any player or device for offline listening whenever you like.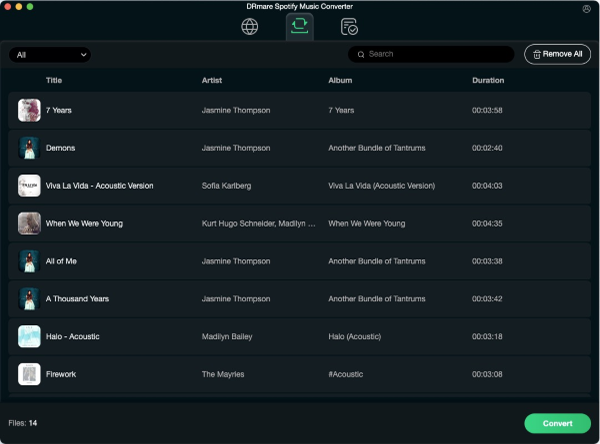 In Conclusion
You will find that the above methods are a few of the most common ones you can use to troubleshoot the Spotify Wrapped not working issue from your end. We hope you get to share your Spotify Wrapped list seamlessly without much trouble and get to hear them without the need for the Internet at the same time! To enjoy Spotify music offline anywhere, you can rely on the DRmare Spotify Music Converter. This tool works for any Spotify users and easy to use. You can use it to convert and keep Spotify audio forever on your device for use.