For music addicts, the music quality may be one of the most important factors that you care. And among music quality, the bitrate is the key factor that should be considered.
What is bitrate? Bitrate usually means the amount of data that are transferred in a certain time. Generally, the higher bitrate of a track, the more details it will kept.
Today, in this post, we will focus on Spotify music and show you more about Spotify bitrate. Moreover, you will learn some tips on how to get Spotify lossless quality, how to change Spotify quality, etc. Now please keep reading and follow this post to find out all the answers.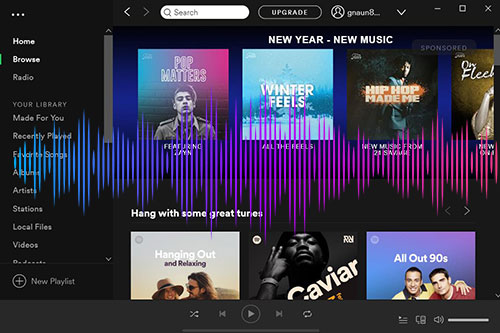 Part 1. What Bitrate Is Spotify Using
Spotify offers different bitrate for different subscriptions and devices. The Spotify quality bitrate varies from low, high and extreme quality for your music. Now let's check as below of Spotify bitrate.
For Desktop App
1. You can stream all music at a standard quality 160Kbps with OGG Vorbis.
2. If you are a premium membership subscriber, you can switch to high quality streaming 320Kbps.
For Spotify Web Player & Chromecast
As for Spotify web player quality and Chromecast quality, the standard quality for streaming online is AAC 128Kbps and Spotify premium bitrate is 256Kbps.
For Mobile Devices including Android, iOS
1. Low - Average 24 Kbps/s with HE-AACv2 format.
2. Normal - Average 96 Kbps with OGG.
3. High - Average 160 Kbps with OGG.
4. Very high - Average 320Kbps with OGG for premium users.
To see the clear comparison of Spotify bitrate quality, you could check out the chart as below.
| | | | |
| --- | --- | --- | --- |
| Bitrates | Platforms | Free or Premium | Audio Quality |
| 24 kbps | Desktop and mobile devices | Both | Low |
| 96 kbps | Desktop and mobile devices | Both | Normal |
| 128 kbps | Web Player (AAC) | Free | Normal |
| 160 kbps | Desktop and mobile devices | Both | High |
| 256 kbps | Web Player (AAC) | Premium | High |
| 320 kbps | Desktop and mobile devices | Premium | Very High |
Part 2. The Bitrate Difference between Different Streaming Services
Spotify is an innovative company, which keeps improving its music service and releasing new features, keeping it stand on the top of the streaming music industry for a long time.
From the last part, we could see that Spotify doesn't offer particularly higher bitrate but the same 320Kbps just like most other platforms.
This is a little bit higher than Apple Music bitrate 256Kbps. But it doesn't matter much because Apple Music uses the AAC codec which are supposed to keep better sound quality compared to other songs with the same bitrate. For more info, you can also visit: How to Increase Apple Music Bitrate.
Compared to the lossless platform Tidal which offers 1411Kbps, Spotify bitrate is low. Does it mean Spotify is not as good as Tidal? Not really. When evaluating a music service, it has much to do with the price, library, music discovery and much more. You can check Spotify vs Tidal to find out the difference.
If you still care about the Spotify bitrate quality, then you could move on reading. In the next part, we will show you how to improve Spotify streaming quality.
Part 3. How to Set Spotify Bitrate to Get Spotify Lossless Audio
In this part, we will show you some tips on how to set Spotify audio quality on desktop and mobile phones.
Solution 1. Set Spotify Music Quality via Spotify App
a. On Desktop
Step 1. Open Spotify app and sign in with your account.
Step 2. Hit on the 'down-arrow' icon next to your name from the top right corner of Spotify main window.
Step 3. Click on 'Settings' option and then hit on the toggle switch next to 'High quality streaming'.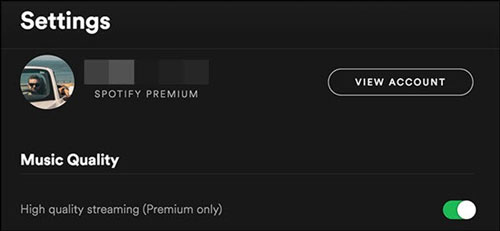 b. On Android Phone
Step 1. Launch Spotify app on your phone.
Step 2. Tap the 'Settings' icon from the upper-right corner of Spotify main screen.
Step 3. Scroll down and hit the drop-down menu next to 'Streaming'.
Step 4. Choose one of the Spotify streaming quality options you want.
Step 5. Hit the drop-down menu next to 'Download' (Premium only) to download Spotify tracks.
Step 6. Choose one of the download quality options you like.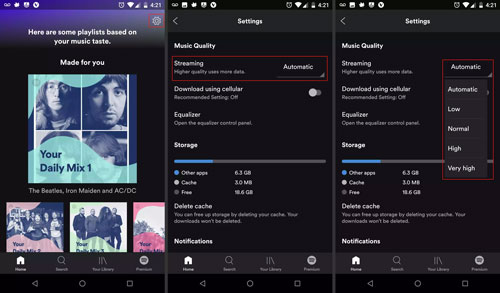 c. On iPhone or iPad
Step 1. Go to your iPhone or iPad and open Spotify app.
Step 2. Click the 'Settings' icon at the top right corner.
Step 3. Hit on the 'Music Quality' from the drop-down menu.
Step 4. Select one of the streaming audio quality options as you like.
Step 5. Tap a download quality if you are a premium user.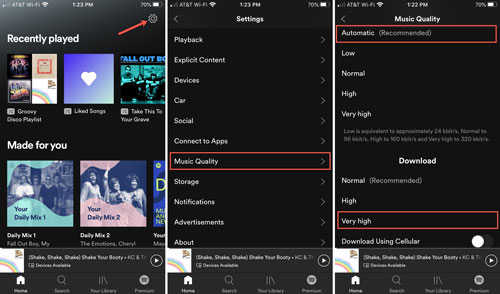 Solution 2. Get Spotify Extreme Quality via Spotify Equalizer
Note: Spotify equalizer only can be used on mobile devices.
Step 1. Run Spotify app on your mobile device.
Step 2. Touch on the 'Settings' icon on Spotify main interface.
Step 3. Click 'Playback' option on the 'Settings' page.
Step 4. Scroll down to 'Equalizer' and then touch the switch button to turn on Spotify equalizer.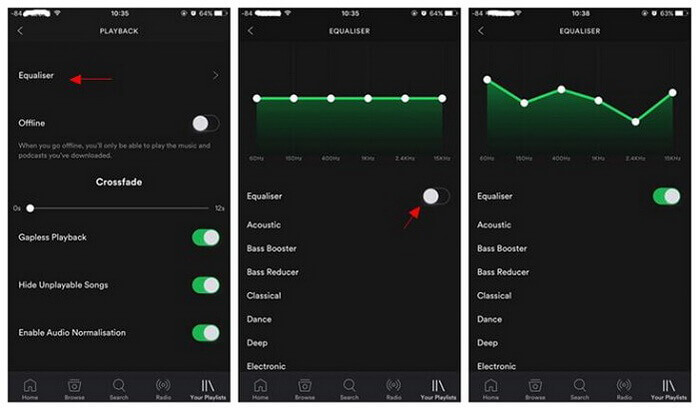 After following the instructions above, you will know how to set the Spotify quality for better listening. However, the Spotify bitrate quality setting is not available for all Spotify users, some require Spotify premium account. So what if you are a free Spotify user and still want to get high Spotify streaming quality?
Please don't worry. In the following part, we will introduce a tip for you to get lossless Spotify quality no matter you are Spotify free or premium users.
Part 4. Extra Tip to Reset Spotify Bitrate to Get Spotify Lossless Quality
As for Spotify, even if you subscribe to the Spotify Premium, the best quality songs you can get is 320Kbps. If you are hurry to listen to Spotify lossless quality songs, you can reset the Spotify bitrate by using a third-party tool.
DRmare Spotify Downloader for Windows/Mac is an ideal software to get Spotify music without Spotify premium. It can break DRM from Spotify songs and convert Spotify to MP3, FLAC, AAC and more audio formats.
In addition, it allows you to reset Spotify bitrate, sample rate, channel, etc. to enhance your Spotify music quality for better listening. Then you can save the Spotify music as local files on your computer and use them on other devices with ease.
DRmare Music Converter for Spotify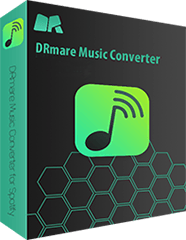 Convert all Spotify playlists, albums, songs, etc.
Customize the files such as format, bitrate, sample rate, codec
Convert Spotify to MP3, M4A, FLAC, WAV while keeping full ID3 tags
Supports 5X acceleration with lossless quality after converting
How to Use DRmare Spotify Music Converter to Get Lossless Spotify Quality
The bitrate is usually related to the audio formats. The lossy formats M4A, MP3, M4B, AAC all supports up to 320 Kbps. The lossless formats like FLAC, WAV support the 1411Kbps. Now you can follow the quick steps to reset Spotify bitrate to lossless quality.
Step 1

Import Spotify tracks

With batch converting support, you can import multiple songs to convert at a time. Just drag & drop the Spotify tracks or playlists from Spotify to the DRmare software directly.
Step 2

Choose lossless format

Lossless formats take up a lot of space the disk. Do you really need it? If yes, just choose the output format as 'FLAC' or 'WAV'. DRmare software will automatically adjust the output quality to 1411Kbps. On the other hand, if you'd like to get low bitrate songs, you may choose the output format as 'MP3' and reduce the bitrate to the value as you want.
Step 3

Output music from Spotify

Click 'Convert' button to start to download Spotify music to computer offline. Within a few minutes, you will have all the Spotify lossless music on your local folder. You could check them on the target folder and listen to them. They will be much better than the Spotify extreme quality 320Kbps files after converting with DRmare Spotify Music Converter.