Q: "I'm a fan of Spotify and have been using Spotify on my iPhone for many years. Recently, Spotify song stutters every few seconds. Why does my Spotify keep stuttering? Can you give me some advice? Thank you!"
Spotify is a very important app for every music lover. As much as we love Spotify, like all things, it can sometimes let you down. When you open Spotify and start playing a song, only to find that every song you want to play stutters. The Spotify stuttering issue has been an ongoing problem for many users for years, as Spotify has yet to release a solution to this glitch.
However, there are still workarounds you can try to fix Spotify stuttering problem. In the following section, we will show you solutions to fix Spotify choppy on Android, iPhone, Windows, and Mac. In addition, this article will end with an ultimate way to enjoy Spotify music permanently without any problems.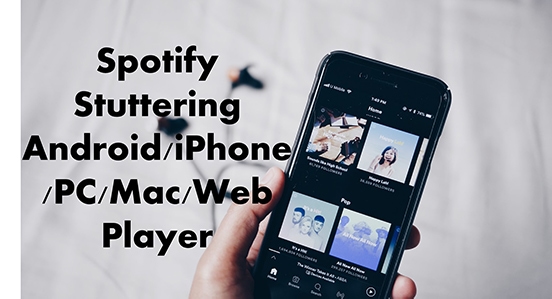 Part 1. Why Is Spotify Stuttering
Why does Spotify keep stuttering? Depending on the device, Spotify keeps stuttering for a number of reasons. If your device is connected to a bad network, Spotify will have stuttering issues. There are other possible causes as well, which we list below.
1. The Spotify app has corrupt cache files.
2. Your computer or phone has low specs.
3. Your phone allows the battery saver option.
4. There is a problem with the Spotify app itself.
5. Spotify has too many cache files.
Whatever the reason, you can try the following solutions to fix Spotify sound stuttering problem.
Part 2. How to Fix Spotify Stuttering on Mobile/Desktop
Above are the possible reasons that may cause Spotify keeps stuttering issue. So, here you may ask: how to fix Spotify stuttering Android? Please don't worry. In this section, we will show you some best solutions. And these solutions are useful to all devices including Android, iPhone, PC, and Mac.
Fix 1. Check Your Internet Connection
If you are using Spotify with a poor internet connection, it may cause Spotify song stutters. So, the first and easiest but most effective way is to check your internet connection. You can disconnect from the network and then reconnect to it. Or, you can switch to another network that is more stable. See if that fixes your problem.
For Windows computers, you need to click on the 'Internet' icon on your Windows computer and then click 'Troubleshoot' the problem.
For Mac computers, you can select 'System Preferences' > 'Network' to check your internet.
Fix 2. Restart Your Device and Spotify
If your device is running too long or you have too many applications running at the same time, then it is normal for the device to run slowly. If this is the problem causing Spotify stuttering PC/mobile, then the best option is to give it a reboot. You can restart your computer or phone first, and then restart the Spotify app.
Fix 3. Turn Off the Battery Saver Option
To save some extra battery power, the phone's battery saver option is usually turned on. But this also comes with cutting off some features. It will stop your processor from running at full power and clear all your background apps the moment you go to the home screen. And this is the reason why you are experiencing the problem of Spotify choppy audio.
Here are the steps to turn off the Battery Saver option.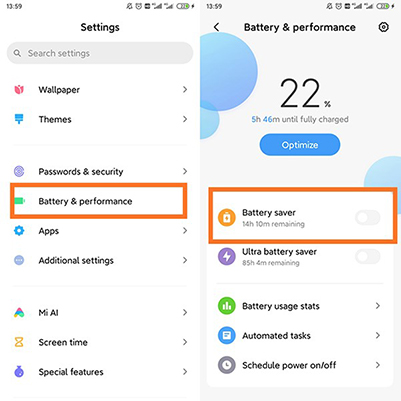 Step 1. On your iPhone or Android phone, open the Settings app.
Step 2. Tap on the 'Battery & Performance' option and then find the 'Battery saver'.
Step 3. Turn off 'Battery saver'.
Fix 4. Enable Hardware Acceleration
Hardware acceleration allows the application to be more efficient than it running on a generic CPU alone. So, if you have got into the trouble of Spotify stuttering Windows 10, Windows 11 or other computers, you can enable Spotify's hardware acceleration feature. This will allow the Spotify app to run faster and has a high probability of solving your problem.
On Windows

Step 1. Open the Spotify desktop app and click on the 'three-dot' icon at the top left.
Step 2. Select the 'Edit' and then 'Preferences' options.
Step 3. Then scroll down and click on the 'Show Advanced Settings' button.
Step 4. Scroll down to the bottom and you will see 'Compatibility'.
Step 5. Turn on the 'Enable hardware acceleration' option.
On Mac
Step 1. On your Mac, click 'Spotify' on the menu bar.
Step 2. Click on 'Hardware Acceleration' to toggle it on.
Fix 5. Clear Spotify Cache
Your Spotify app may be stuttering due to corrupted local cache files. Or, too many cache files may also cause the Spotify stuttering PC/mobile problem. So, you can clear the Spotify cache to fix the problem.
On Mobile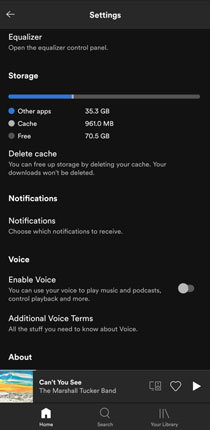 Step 1. Open the Spotify app on your phone and tap the 'Settings' icon at the top right.
Step 2. Scroll down and find the 'Storage' option, tap on it.
Step 3. Then you will see a prompt to confirm 'Delete cache'.
On Desktop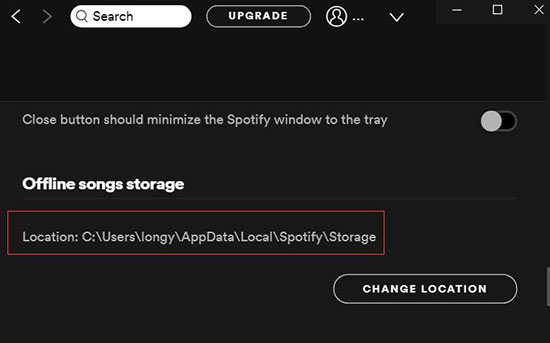 Step 1. Open Spotify on your computer and click your 'profile' at the top right.
Step 2. Select the 'Hardware Acceleration' option.
Step 3. Scroll down and click on the 'Show Advanced Settings' button.
Step 4. Navigate to 'Offline storage location' and you can see where your Spotify cache is stored.
Step 5. Follow the path to the location to delete the Spotify cache on your computer.
Fix 6. Sign Out from Everywhere
Face the problem of Spotify web player stuttering? You can try signing out from everywhere.
Every time you sign in to another Spotify app with the same account, your music will be paused. Also, Spotify limits listening to music to one profile at a time. If this is the reason why Spotify stuttering iPhone/Android/PC, you can log out of your Spotify from anywhere. Then sign in to it on the device you are currently using.

Step 1. Open the official website of Spotify.
Step 2. Log in to your Spotify account.
Step 3. Select 'account' and then click on 'Sign out everywhere'.
Step 4. This will take a few minutes to log out from your current devices. After that, you can log back in and see if the problem is solved.
Fix 7. Reinstall the Spotify App
If you are still facing any trouble with Spotify sound stuttering, then try to reinstall the Spotify app. By doing so, you will get Spotify completely removed and any Spotify playback stuttering will be resolved. Please note that this will remove all the content you have downloaded on Spotify before.
You can first delete the Spotify app and then download Spotify on Windows PC or Mac from Spotify's official website. For Android users, go to Google Play Store. For iOS users, go to App Store.
Fix 8. Turn Off Spotify Connect
If Spotify keeps stuttering when using Spotify Connect to play songs on other devices, you can turn off Spotify Connect and then connect to it again.
Fix 9. Change Permissions for Spotify
If you are experiencing problems with Spotify stuttering Bluetooth, make sure Spotify has permission in your device settings. Go to 'Settings' > 'Apps' > 'Spotify' > 'Permissions' to see if any permissions has been turned off.
Still have problems with Spotify sound stuttering? Keep reading, we have an ultimate solution for you.
Part 3. How to Fix Spotify Stuttering 100%
If you still have problems with Spotify choppy, don't worry. To prevent you from troubleshooting it again one by one in the future, here's a once-and-for-all solution. That is you can download Spotify music as a local file. Then you will be able to play Spotify songs offline without using the Spotify app. And you will need the help of DRmare Spotify Music Converter.
DRmare Spotify Music Converter is designed to download music from Spotify without Premium. You can enjoy Spotify music offline with a free Spotify account. In this way, you can listen to Spotify music without any Spotify stuttering issue.
It is also able to convert Spotify music to several popular audio formats, including MP3, FLAC, etc. Moreover, it can handle the download and conversion at up to 5 times faster. After the conversion, you can move Spotify songs to play on any device.
DRmare Music Converter for Spotify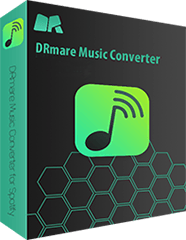 Download Spotify music without Premium in batches
Convert Spotify music to MP3, etc. for playing on other devices
Work 5 times faster without losing any sound quality
Play Spotify music offline without Spotify stuttering issue
How to Fix Spotify Stuttering PC/Mac/Android/iPhone 100%
Now, we will show you how to use DRmare Music Converter to get Spotify choppy audio fixed. Before that, please download the DRmare Spotify Music Converter by clicking the 'Download' button above.
Step 1

Load Spotify songs into DRmare

Open DRmare Spotify Music Converter on your computer. Then you can load the songs you want to listen to from Spotify to this software. You can do it by dragging and dropping. Or, you can copy and paste the song's link and click on '+' to load it.
Step 2

Choose the MP3 output format for Spotify

Go to 'Preferences' under 'Menu' in this software. Then click on the 'Convert' tab to open the output settings window. The default output format is MP3 as it's the most common format. You can customize other parameters as shown above. Finally, don't forget to click on 'OK'.
Step 3

Download Spotify songs to fix Spotify stuttering

Click on the 'Convert' button, and this software will download Spotify songs automatically. After downloading, you can find them by following the red tip. You can also locate them in your computer's local folder. Then you can listen to Spotify music offline on any music player on your device. You can also transfer them to other devices for listening. In this way, the problem of Spotify stuttering is resolved without any problem.
Part 4. To Sum Up
Today we have shown you how to solve the problem of Spotify choppy audio. Just follow the fixes above and you will get your problem of Spotify stuttering Android, iPhone, PC, Mac, or even web player fixed. Actually, you'd better use DRmare Spotify Music Converter to solve your problem. Because it can download Spotify songs and allow you to listen to Spotify without the Spotify app. In this way, you can play Spotify music without any problem with the Spotify app.