You may not have enabled the "Shuffle" feature but will realize that Spotify keeps skipping songs or worse, stops in the middle of a song. This could be a result of several issues. Nonetheless, many users find it annoying not to listen to their loved track to the end without such skips. And in certain cases, you have to hit the "Play" button to move forward or go back by the "Previous" button. All these sound quite hectic, especially when you are in a relaxing mood and just want all the tracks to play as intended.
Wait! That doesn't amount to anything as far as your quality Spotify tracks are concerned. You can still get the privilege to enjoy your tracks without mishaps. However, it is good to learn why is my Spotify skipping every 10 seconds and the best ways to solve them. Just find all these in the next section.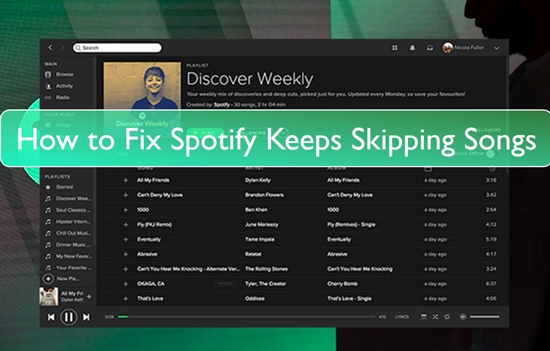 Part 1. Why Does Spotify Keep Skipping Songs?
You may be missing the chance to listen to your Spotify songs as desired for these reasons of why is my Spotify skipping 10 seconds.
Sometimes, it is the web climate that is not adequate and causes a track to stop playing or skip to the next one.
The applications on your device could not be functioning properly, resulting in an abrupt stop of your music.
Poor internet connection is another alarming cause for Spotify keeps skipping to next song.
Your phone memory should be adequate to enable proper streaming. If it's low on memory, then you may experience songs keep skipping on Spotify issues.
Perhaps your Spotify account needs you to log in again for effective functioning.
The Spotify app may also be bugged with malware. You can try uninstalling and reinstalling for effective streaming.
Part 2. How to Fix Spotify Keep Skipping Songs via Common Solutions
Your hands don't need to be tied when Spotify keeps skipping 10 seconds on iPhone or Android device. You can fix the Spotify keeps skipping songs Android/iPhone/Mac/PC issue right away with these common solutions below.
1. Check the Internet Connection on Your Device
The first guess should be to check whether your internet connection is correctly functioning on your device. Start by checking whether there is a connection on your phone. Then check the network wires, cables and routers if properly connected and functional. For WiFi connection, try to disconnect the Internet and then restart the router.
2. Restart Your Device and Spotify App
If it's not the internet connection that is causing an alarm, then the issue could be underlying on your phone device. Simply switch it OFF and then ON again to refresh it.
3. Login and Log out of Your Spotify Account
Perhaps your Premium subscription just expired hence causing the Spotify keeps on skipping songs issue. For this, you require a new premium subscription. Just go to the Spotify app and move to your Account Overview page. Then scroll and go to the below section of your page and hit on the "Sign Out Everywhere" tab. Next, sign again to the "Spotify" app from any of your devices.

4. Uninstall and Reinstall Spotify App
You can try to uninstall your Spotify app and then reinstall it to clear any possible bugs it may have. To do this, go to the "Control" panel and choose the "Spotify" application. Right click on it and hit the "Uninstall" option to remove Spotify app. Consequently, check for the "Spotify" app from the official website to re-install it on your device. Try playing your Spotify songs to see if they don't skip.
5. Clear Spotify Cache
Clearing the cache will create space and renew your device's ability to work efficiently. First, force close Spotify to shut it down. Then go to your Spotify songs cache and rename the storage folder to clear Spotify cache. Finally, restart the "Spotify" application and check whether your songs don't skip anymore.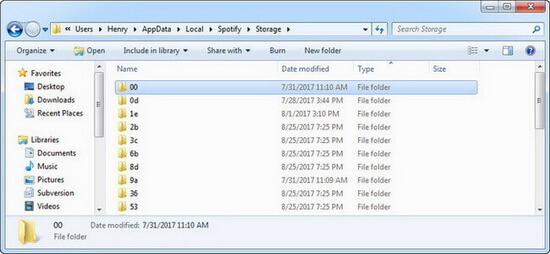 6. Lower Spotify Streaming Quality on Desktop and Mobile Devices
Streaming your Spotify songs in high quality may cause a sudden stop or skip of your songs. Simply stick to a quality that your device can manage well. More so, lowering the Spotify streaming quality will make a great change and curb issues like Spotify keep skipping songs.
7. Turn Off Spotify's Non-pause Playback
If Spotify keeps skipping 10 seconds, then probably the non-pause playback is ON. Check and toggle it OFF to see if you solve the skipping song problem.
8. Try to Downgrade Spotify App to the Previous Version
Sometimes, you got a higher version of Spotify than your device can manage. This may make it to underperform when it comes to functions like playing tracks. You can download and install a much lower version than what you currently use.
9. Go to Offline Mode
Online mode is quite challenging as you need an internet connection. To curb the Spotify skipping songs problem, you can download songs when offline and then stream them in offline mode.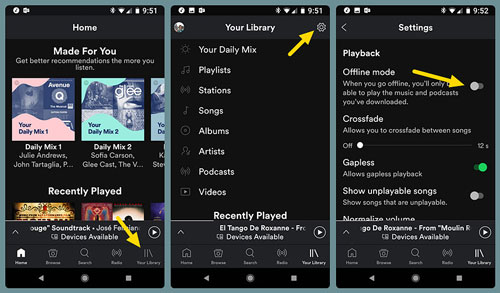 Part 3. Fix Songs Keep Skipping on Spotify Issue by Ultimate Solution
If the above options still can't solve the Spotify keeps skipping songs problem. Well, there is an outright solution via the best program without the Spotify Premium version. Consider playing your tracks offline forever with DRmare Spotify Music Converter. This tool can download and convert Spotify songs, podcasts, audiobooks, and many more to common output audio formats. It supports the Spotify audio conversion to WAV, MP3, AAC, M4B, M4A, etc.
Also, there is no worries about the quality of your Spotify audio tracks. DRmare Spotify Converter will keep the ID3 tags and metadata information of your tracks, retaining 100% of the original music quality. More so, you can easily customize the output Spotify song quality by changing the bit rate, sample rate, etc. And once the conversion process is completed, simply enjoy your Spotify songs on any device or media player freely.
Key Features of DRmare Spotify Music Converter
How to Download Spotify Music for Playing Offline to Fix Spotify Keeps Skipping Songs Issue
DRmare Spotify Music Converter is simple to use and solve the Spotify keeps on skipping songs problem. It will convert your favorite Spotify music to common audio formats in a few clicks and let you listen to Spotify offline without premium. To begin, please ensure you have installed the Spotify app first.
Step 1

Add Spotify songs to DRmare Music Converter

Once you download and install the DRmare Spotify Converter on your computer, open it and wait for the Spotify app to open automatically. Next, find the Spotify songs or playlists that you wish to convert. Drag and drop them into the DRmare's conversion window. Alternatively, you can copy and paste the URL link of the Spotify playlist to the search box of DRmare's main interface.
Step 2

Adjust the output parameters for Spotify songs

Go to the "Menu" tab and choose the "Preferences" option. And then you can begin to set the output format of Spotify music to a common format. You can set it from the six output audio formats options on the DRmare program. Likewise, you can customize the parameters like channel, frame rate, etc. for the Spotify music files.
Step 3

Convert Spotify songs to fix Spotify keeps skipping to next songs issue

Finally, check that all the entries you set are as desired and then click on the "Convert" button. DRmare Music Converter will then download and convert your Spotify playlist to common formats. Next, locate them on the destination folder on your computer and then transfer them to any device for offline playback. This will eventually solve the Spotify keep skipping songs issue and let you play them in any order you want.
Part 4. In Conclusion
It is so disappointing to want to play the songs you like and then realize that they occasionally stop or skip to the next song. In this post, we had listed several reasons that may lead to this issue. However, you can resolve them once you know the root cause.
These quick fixes will resolve the quest of why Spotify keep skipping songs. Nonetheless, you can have your Spotify songs play in offline mode by converting them to common output formats with DRmare Spotify Music Converter. The steps are easy and the process painless. You can follow it at Part 3, then you can get the local Spotify music and won't meet the songs keep skipping on Spotify anymore.