"Why does Spotify say waiting to download?" Spotify premium can download songs from Spotify on their devices. Yet, sometimes they will meet the Spotify not downloading songs issue. Why does this happen and any fix for it?
Please don't worry and read this post. Here we will explore the reasons and solutions for you to fix Spotify waiting to download. You can now move on and learn how to do that in detail.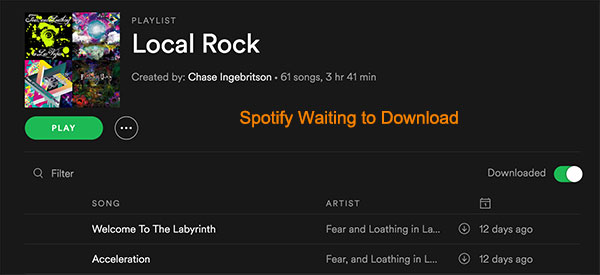 Part 1. Why Is Spotify Waiting to Download
Why won't Spotify download? There are some simple reasons that will cause the 'Spotify stuck downloading' error. Now let's check the reasons below.
1. There is a download limit of Spotify for each device even with a Spotify premium subscription. In general, with Spotify premium, you can download up to till 10,000 songs on up to 3 devices. If you had reached the limitation, then Spotify will prevent you from downloading any more songs.
2. Your firewall software is opened and reported the application as dangerous. Then your OS may prevent the application from downloading songs. And then you will face the Spotify not downloading issue.
3. Your network is not stable enough or others. This will also cause the Spotify download just spinning problem.
4. If your device is run out of storage, then you won't download songs.
5. The update of the Spotify application will also cause a 'waiting to download Spotify' error, because of the compatibility.
6. Your Spotify premium plan is not valid also will cause the error.
Part 2. Common Solutions for Spotify Not Downloading Issue
From the above, we had known the reasons Spotify stuck downloading songs. In this part, we will show you some solutions to fix Spotify waiting to download Android/iPhone issue. Following are the proven solutions you should try first.
Way 1. Don't Exceed Spotify Download Limit
Spotify only allows to download on up to 3 devices 10,000 songs. So please make sure the total tracks you downloaded are less than 10,000 songs. Also, for each of your iPhone or Android phones, please make sure you download less than 3,333 tracks.
If it is because you have exceeded the downloading limitation, you can try to delete a few old Spotify songs from your device. Then try again to download the new tracks. It should work with Spotify not downloading songs Android/iPhone issue.
Way 2. Uninstall and Reinstall Spotify
We know that Spotify keeps rolling out new features and removing old features. If you are using an old version, it is possible to cause compatibility issues. Many users have tried to reinstall Spotify to fix the issue of Spotify playlist waiting to download. So you can give it a trial to uninstall Spotify once and reinstall it again.
By the way, if you are using a hacked Spotify Premium version, such as the Spotify++. It is normal that you will encounter Spotify++ waiting to download issue. So please make sure you installed the official version.
Also, when you reinstall Spotify on your iPhone or Android device and the Spotify app can't be installed, then it will ask you to clear your phone's storage. Then you need to clear up your phone's storage first.
Way 3. Disable the Antivirus or Firewall
In general, well-known Antivirus and Firewalls won't have such issues. But some less-known firewalls may misreport legal software and operations and block the processes. So, you can try to solve Spotify waiting to download issue by removing security software like McAfee and Avast.
Besides, you could try to disable the Firewall or add the Spotify app as an exception on your computer. Here we will take a Windows computer as an example to add Spotify to the Firewall exception. Here are the steps.
Step 1. Search for Windows Firewall at the Start menu. Then click 'Windows Defender Firewall' to open it.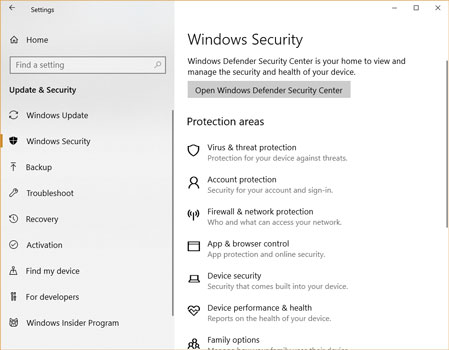 Step 2. Hit on 'Allow an app or feature through Windows Firewall'.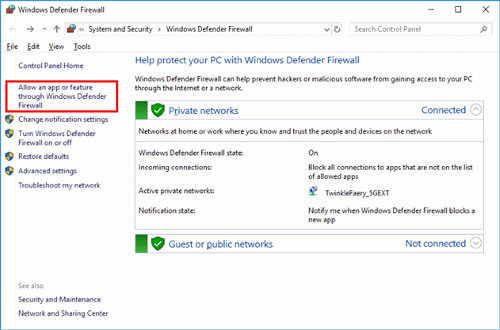 Step 3. Click on the 'Change Settings' > 'Allow another app...' option.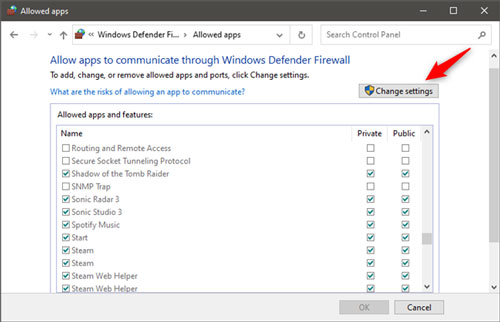 Step 4. Touch on 'Browse' and go to your Spotify folder.
Step 5. Press on 'Add' to add Spotify to Firewall.
Step 6. Then tick both 'Private' and 'Public' to allow it and then click 'OK'.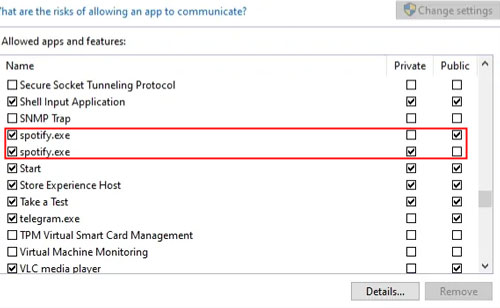 After that, you could open Spotify and see whether the 'Spotify download keeps spinning' issue had been fixed or not.
Way 4. Check Your Network
No matter what kind of network 2G/3G/4G/WiFi you have, it is possible the network has a lockout time. So you can restart your WiFi router or turn on/off the airplane mode to reset the mobile network. Also, please make sure there is no proxy setting else it will affect the Internet connection.
To fix the issue of 'Spotify waiting to download local files', you need to make sure both your computer and phone are on the same network. Then open your Spotify apps on both of your devices. And then go to Spotify on your computer and hit on the 'connect to device' icon. Next, click your phone name.
Way 5. Clean Up Your Phone Space
To download Spotify songs offline, you need to make sure your phone has big enough remaining space. If your phone's internal storage is full, you can also try to save Spotify songs to an SD card.
You could check how much storage you own on your phone in the Spotify app:
Step 1. Click the setting icon in the upper-right corner of your phone's screen.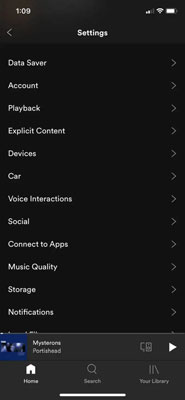 Step 2. Scroll down the list and hit 'Storage'.
Step 3. Then you will see the available space of your phone on the screen.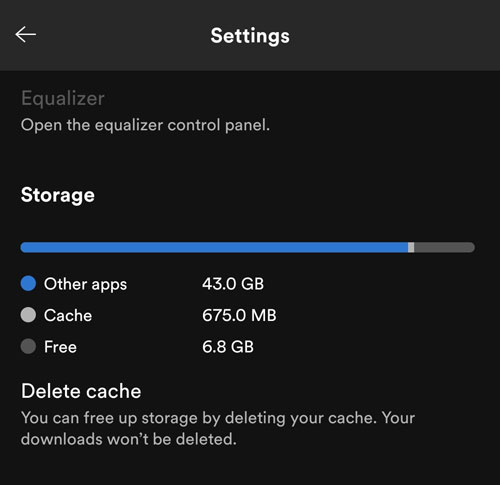 If you run out of storage, then you could delete and clear Spotify cache to free up the storage of your phone. Here is how to do that.
On Android/iOS Devices:
Step 1. Click the 'gear' icon in the top right corner of Spotify's home screen and scroll down to 'Storage'.
Step 2. Hit on 'Delete cache' and hit again to confirm.
Then you can clear the cache of Spotify on your phone.
On Windows/Mac Computers:
Step 1. Touch your profile on the screen of the Spotify app and head to 'Settings'.
Step 2. Scroll down to find and click on 'Show Advanced Settings'.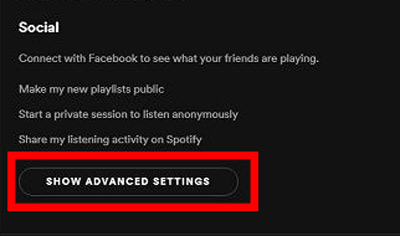 Step 3. Scroll down and locate the 'Offline storage location' path.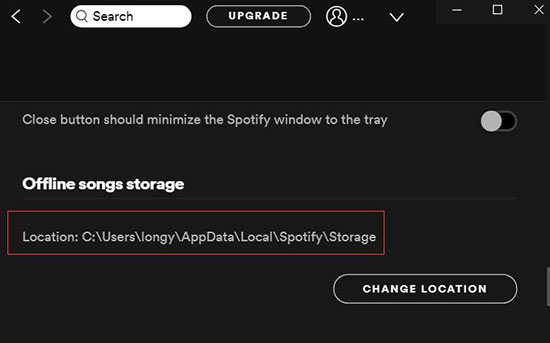 Step 4. Go to the location path of Spotify files on your computer.
Step 5. Navigate to the 'Browser'.
Step 6. Choose the folders 'Cache', 'Code Cache & GPUcache'. Then delete them.
Step 7. Restart the Spotify app and check if Spotify won't download issue is fixed or not.
Way 6. Check Whether Your Premium Plan Is Valid
You should note that only Spotify premium users can download songs. If you are not a premium user, then you need to subscribe to it first. Or if you are already a premium user, then you need to make sure whether your plan is valid or not.
Way 7. Reset Other Settings on Spotify App
If you disable specific settings or activate high-quality audio download on the Spotify app, then you may face Spotify not downloading songs issue. Here you can follow the steps below to reset them.
Step 1. Head to the Settings section on your Spotify app.
Step 2. Locate the 'Download audio only' option. If the switch is in grey, then you can toggle it on and enable it.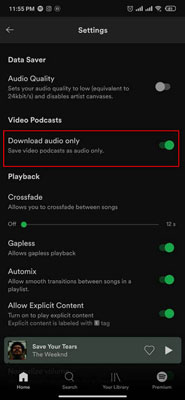 Step 3. Scroll down to find 'Devices'. Then enable 'Spotify Connect in background'.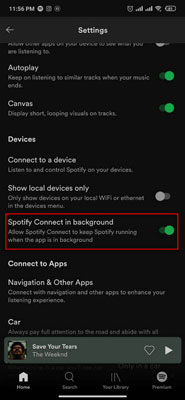 Step 4. In the Audio quality section, set the download quality to 'Automatic'.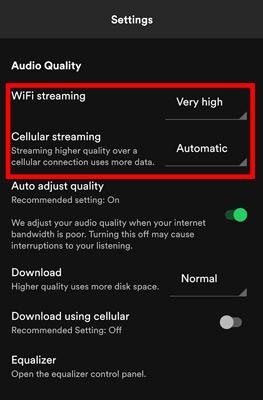 After all these settings, you may get the Spotify playlist not downloading issue resolved.
Part 3. Best Way to Solve Spotify Waiting to Download Issue
Due to the DRM limitation, it is not possible to download songs from Spotify to MP3 files. When you download Spotify songs, they are encrypted from the Spotify server before caching on your local device.
If you have tried all the top 7 solutions above, but still can't fix Spotify stuck on waiting to download issue. Then the most reliable alternative way is to use third-party software to help you. It is DRmare Spotify Playlist Downloader that can solve this issue well.
With it, you can get Spotify music downloaded and converted to MP3, FLAC and more. Also, you can reset Spotify output audio parameters like audio channel and so on. Besides, this tool support batch conversion and save you time. After the conversion, you can save local Spotify songs on your computer. Then you can listen to them offline anywhere.
DRmare Music Downloader for Spotify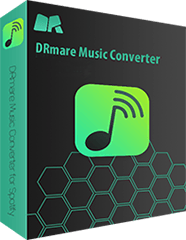 Adopts the most advanced downloading and cracking technology with 5X speed
Keeps the original quality and ID3 tags, support to edit the metadata
Enable you to distribute Spotify songs to iPhone, Android, and more for offline listening
Download Spotify songs without Spotify premium anymore and save your money
Can't wait to do that? Please click the "Download" button to download the software to your Windows or Mac computer. And then follow us to download Spotify music for use offline.
Step 1

Add Spotify music to DRmare Spotify Downloader

Start the DRmare Spotify Music Downloader on your computer. You can then drag & drop songs, playlists or albums from the Spotify desktop app to the DRmare main screen. DRmare will recognize the songs which you want to download at once.
Step 2

Choose output format for Spotify songs

DRmare supports many output formats like MP3, M4A, AAC, M4B, WAV, and FLAC. But the most popular one is MP3. It has good quality and small size. To set the parameters, go to the menu icon and pick up 'Preferences'. Then tap the 'Convert' tab and start to reset the output format for Spotify to MP3 and so on.
Step 3

Download Spotify songs within 1 click

Check to make sure everything is ready and click "Convert". Then you can wait a little while to get all your Spotify songs offline. Then go to the 'history' section to check all the local Spotify playlists and songs.


Conclusion: With the solutions above, you won't encounter the Spotify waiting to download issue anymore. Using DRmare Music Converter would be the best way for you. It can help download unlimited songs from Spotify for free and use them on multiple devices. To transfer Spotify songs to Android, you need to copy and paste them from your computer. For iOS devices, you can import Spotify songs to iTunes and sync them. Or you can move the files to a USB drive or other devices for playing offline.