Since its launch in 2008, Spotify has grown in popularity around the world. Now it's one of the best streaming music services on the market. However, many people report that they can't hear Spotify on PC or mobile phone. Why does this happen? How to fix it? Today we will introduce you to why is there no sound on Spotify and how to fix Spotify no sound permanently. Read on and check them out.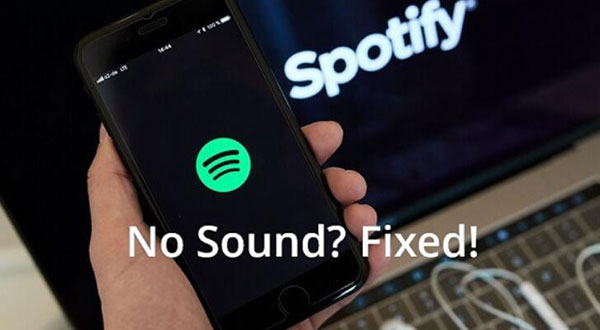 Part 1. Why Is Spotify Playing but No Sound?
"Why can't I hear Spotify on my phone?" Many users complain that they can't hear Spotify on PC, Android, iPhone, or even web players. No matter which device you are using, let's list some factors that can cause Spotify to have no sound.
You are using an unstable or poor Internet connection.
The Spotify application you are using on your device is out of date.
RAM or CPU overloaded.
There are some technical issues with the Spotify app or your device.
There is a problem with the audio system.
The Spotify app is connected to the wrong sound device.
Part 2. How to Fix Spotify No Sound - Common Solutions
Now, we'll walk you through some common solutions to help you fix the issue of no sound on Spotify iPhone/Android/PC/Mac/Web Player. If you think they are too complicated, you can skip to Part 3 to permanently solve the problem.
1. Check the Volume Settings
The first thing most users think of is the volume setting. That's right, you should check and adjust the volume first. Now, let's see how to adjust it in detail.
For PC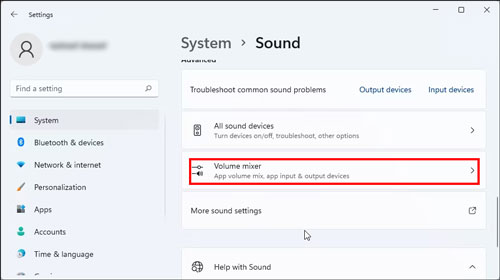 Right-click on the sound icon from the bottom right corner of your Windows Computer.
On the context menu, choose "Volume Mixer".
From there, you can set the volume for your speakers, system sounds and other applications.
Open the Spotify desktop app and make sure the volume is not muted.
For Mobile Phone
If you're trying to listen to Spotify on your phone, try pressing the volume settings icon. Typically, the volume up and down buttons are on the left side of Android phones and iPhones.
Alternatively, you can go to Settings, find the sound and notification settings and change them there. Likewise, you should also check the volume settings on the Spotify app.
2. Check Your Current Playing Device
Spotify Connect enables users to seamlessly stream music to other devices. You can easily switch between devices. So, maybe you're listening to music on another device and that's why there's no sound from Spotify.
You can check to see if you are playing the music on the device you are currently using. To do this, just open the Spotify app and start playing a song. Then go to the "Now Playing" page and tap the "Device" icon.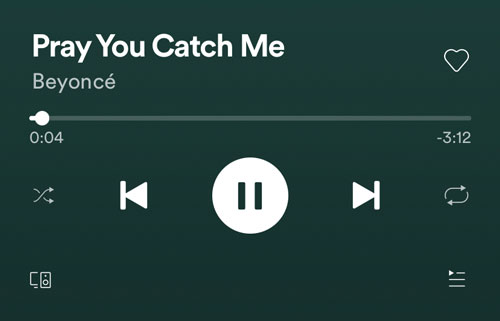 3. Check Your Internet Connection
As an online streaming service, playing Spotify requires data to be requested from a server and decoded using your speaker system. If you have a slow internet connection, data may be delayed or lost during transfer from Spotify's servers to your local computer. Then you may encounter the problem of Spotify playing but no sound.
Therefore, check that you are connected to a stable and strong internet connection. If you use WiFi, we recommend switching to a wired network or using cellular data for portable mobile devices.
4. Change the Default Audio Output Device
On computers like Windows 10, Spotify streams audio using the system's default sound device. If you have more than one audio device connected to your computer, check that the correct audio device is set as the default. If not, you will encounter Spotify no sound PC issue. Let's see how to set the default audio device on a Windows computer.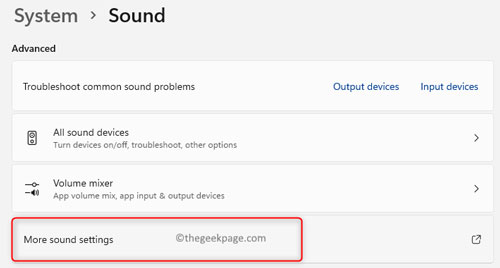 Hold the Win + X keyboard to launch the WinX menu.
Touch the 'Settings' to open the 'Settings' panel.
Click on the 'System' option and open the 'Sound' section.
Scroll down to find and hit on the 'More sound settings' under the 'Advanced' section. It will open the 'Sound properties' window.
Hit the 'Playback' tab and choose the audio device you want to troubleshoot.
Right-click on it and select 'Set as default device'.
Press 'OK' to keep the changes and then quit the 'Sound properties' window.
5. Restart Your Device and Spotify
Spotify is considered a solid app. However, no matter how powerful, there will be times when it is sluggish or bogged down. So, you can try to close the Spotify application and restart it.
Plus, maybe your device is running too many applications and Spotify cannot load, which may cause Spotify to have no sound. Therefore, it is highly recommended that you unplug your devices and turn them on again.
6. Reinstall Spotify
If you use an outdated Spotify app, you will meet the Spotify no sound iPhone/Android/PC/Mac issue. So, go on to uninstall the current Spotify app from your device. And then reinstall it and log in it again to see whether the issue can be fixed.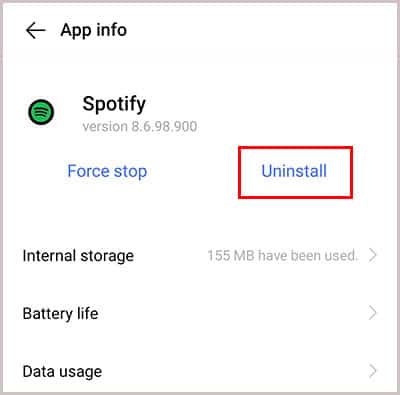 7. Free Up RAM and CPU
Memory and CPU are very important for smooth playback. When playing songs or videos online, real-time decoding is required, which takes up a lot of memory and CPU resources. To prevent Spotify from having no sound on PC/mobile, we recommend that you close other applications to release more hardware resources. Please go into storage settings and clear RAM. Also, you can try to uninstall some apps that you no longer use on your device to solve the problem.
8. Check Bluetooth and Hardware
If you use Bluetooth to stream Spotify audio to other devices, you can turn it off. Then check if the Spotify no sound problem is fixed. Also, you need to check if there are other apps on your device that export sound. If not, there may be a problem with the sound card or other hardware on your device.
9. Use Spotify on Other Devices
If you are having technical issues with your device, you will be facing Spotify is playing but no sound issue. Therefore, you can try to play Spotify on different devices. In the same way, if you encounter the problem of Spotify Web Player no sound, you can try another browser.
10. Play Other Spotify Songs
Maybe that song you are playing has some problems. If so, then you can try to play another song to see whether you can hear sound on Spotify.
11. Clear Browser Cookies
The cookies and cache in your browser will affect the playback of Spotify songs. So, you can attempt to clear your browser's recent cookies and cache. After then, try to play Spotify songs to check whether the Spotify Web Player not playing sound issue is fixed or not.
12. Turn Off Ad Blockers or Whitelist
The ad-blocking add-ons on your browser will interrupt the Spotify Web Player. So, you will get the Spotify no sound Web Player issue. In this case, you need to turn off the ad-blocker on your browser first. Please go to the toolbar icon and access the add-ones menu to turn it off. Or, you can try to whitelist the Spotify domain on your browser.
Part 3. How to Fix No Sound on Spotify - Best Solution
Still have the problem of Spotify no sound Android, iPhone and PC? Then you can try DRmare Spotify Music Converter. It can help download songs from Spotify without Premium and save them as local files. You can also choose to convert Spotify music to MP3, WAV, or other common formats. Then you can play Spotify on other devices with sound without any limit.
This powerful software will preserve the original sound quality and full ID3 tags of Spotify music. Plus, it runs 5x faster, so you can quickly get to your favorite Spotify music. Also, it allows you to change the output audio quality. You can reset bitrate, sample rate, etc. for your favorite Spotify music files.
DRmare Spotify Music Downloader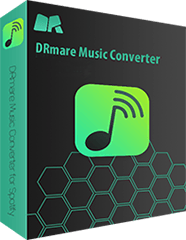 Remove DRM from Spotify songs, audiobooks, playlists, albums, etc.
Convert Spotify to MP3, FLAC, AAC, M4A, M4B losslessly
5X batch converting speed, downloading Spotify music without Premium
Use Spotify on any deviced without facing the Spotify no sound issue
If you are satisfied with it, you can click the "Download" button to try it out for free. And then you can follow the steps below to see how to use DRmare Spotify Music Converter. After that, you will get the converted Spotify music files and move them to other players for playing without the no sound on Spotify issue.
Step 1

Load songs from Spotify to DRmare Music Converter

The easiest way is to drag & drop the songs, playlists or albums from Spotify to the DRmare software.You can also copy and paste the link of Spotify music into the address bar of the DRmare software. And then press "+".
Step 2

Choose a compatible format for Spotify audio

To make sure your Spotify songs play well with most devices, we'd like to recommend you to choose the MP3 universal format. For other parameters like channel, sample rate, or bit rate, you can change them according to your preferences. To do that, click on the "menu" icon and choose "Preferences" > "Convert".
Step 3

Save Spotify songs offline

Now you can click "Convert" to download and save Spotify songs to computer offline. Within a few minutes, you will get the MP3 files. At last, you can play them on any music player you have. You don't need to worry about the Spotify no sound issue.
Part 4. In Conclusion
Here are our 13 solutions to fix the Spotify no sound iPhone, Android, PC, Mac and web player issue. You can follow the common solutions one by one to solve your problem. If you think they are complicated or don't want to solve the problem again, you can use DRmare Spotify Converter. It enables you to download Spotify songs without Premium and listen to Spotify on any music player. Then you will never face the problem of no sound on Spotify anymore.