"Can't hear Spotify on PC/Android/iPhone?" Spotify is one of the best streaming services of music in the market. Since its debut in 2008, Spotify has been available on more devices and countries.
With one click, you can play Spotify on Google Home speakers, car stereo, Windows 10 computers, mobile phones and so on. Literally, you have access to millions of Spotify songs. That is amazing, isn't it?
But have you encountered the issue that your Spotify is playing but no sound? Why does Spotify no sound Android/iPhone/PC? Is there a way to solve it? Now all the solutions you need are here. In the following parts, we will show you how to fix Spotify plays but no sound issue in detail.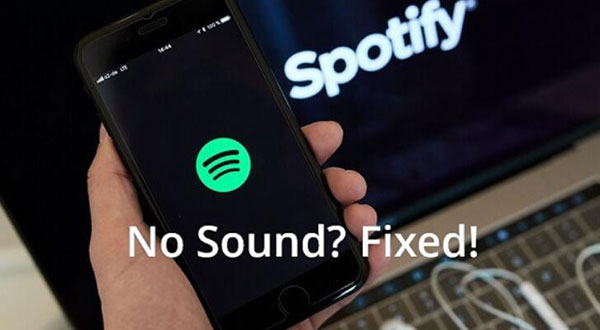 Part 1. Why Spotify No Sound?
Why songs on Spotify is playing but no sound? You may be confused sometimes. And you may go to adjust the volume first. But you will find that it still doesn't work. So, what causes no sound on Spotify? Here we will list some factors that caused it below.
You use an unstable or poor internet connection.
The Spotify app you use on your device is outdated.
The RAM or CPU is overloaded.
The Spotify app or your device has some technical problems.
There is something wrong with the audio system.
The Spotify app is connected to the wrong sound device.
Part 2. How to Adjust the Volume on PC/Android/iPhone
When it comes to Spotify no sound, the first thing most users can think of is the volume settings. That's right, you should check and adjust the volume first. Now, let's see how to adjust it in detail.
Spotify No Sound Windows 10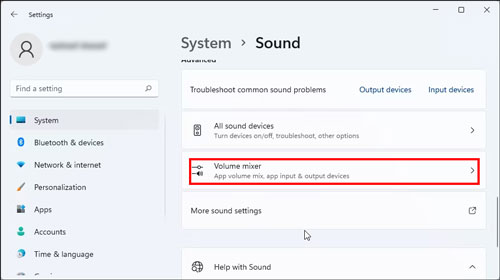 Right-click on the sound icon from the bottom right corner of your Windows Computer.
On the context menu, choose "Volume Mixer".
From there, you can set the volume for your speakers, system sounds and other applications.
Open the Spotify desktop app and make sure the volume is not muted.
Spotify No Sound Android/iPhone
If you are trying to listen to Spotify on your mobile phone, you can try to press the volume settings icons. Usually, the volume up and down is located on the left side of your Android phone and iPhone.
Or, you can go to Settings, find the sounds and notifications settings and change it there.
Similarly, you should check the volume settings on your Spotify app as well.
Part 3. How to Fix Spotify No Sound Issue - Common Methods
If you adjust volume on your device and still can't fix no sound from Spotify Windows 10 and mobile phones issue, then you should try the following best solutions.
#1. Restart Spotify App
Spotify is regarded as a reliable app. Yet, no matter how strong it is, there is a time when it will be sluggish or stuck in a process. The overloaded RAM or CPU of your device will make Spotify stop working. So, to fix no sound on Spotify issue, you can try to close the Spotify app and relaunch it again.
#2. Make Sure You Have a Fast Internet Connection
As an online streaming service, when playing Spotify, it requires to request data from the server and decode it with your sound system. If you have a low internet connection, the data may be delayed or lost during the delivering from the Spotify server to the local computer. Then you may face the Spotify plays but no sound issue. If you are using WiFi, it is recommended you switch to a cable network or use cellular data for portable mobile devices.
#3. Reinstall Spotify App
If you use an outdated Spotify app, you will meet the Spotify no sound iPhone/Android/PC/Mac issue. So, go on to uninstall the current Spotify app from your device. And then reinstall it and log in it again to see whether the issue can be fixed.
#4. Free up More RAM and CPU
Memory and CPU are important for smooth playback. When playing songs or videos online, they need to be decoded real-time which takes up much memory and CPU resource. To avoid Spotify no sound PC/phones, we'd suggest you close other apps so as to free up more hardware resources. Please go to the storage settings and clear RAM. Also, you can try to uninstall some apps that you no longer use on your device to solve the issue.
#5 Restart Your Device
If your device like Windows 10 PC, Android phone or iPhone is freezing, it won't be responding. This means you can't make any changes to it to solve no sound Spotify playback issue. All you need to do here is to force quit your devices and power on them again.
#6 Check Bluetooth and Hardware
If you use Spotify Connect or Bluetooth to stream Spotify audio to other devices, then you can turn it off. And then check whether the Spotify no sound issue is fixed or not. Besides, you need to check whether there are other apps on your device that export sounds. If not, there will be something wrong with the sound card or other hardware on your device.
#7 Use Spotify on a Different Device
You will face Spotify is playing but no sound issue if your device has a technical problem. So, here you can try to play Spotify on a different device. If you meet the issue on your mobile, then try to use Spotify on your computer. But you need to use the same internet connection and play the same song.
#8 Play Other Songs
Maybe that song you are playing has some problems. If so, then you can try to play another song to see whether you can hear sound on Spotify.
#9 Change the Default Audio Output Device
On computers like Windows 10, Spotify streams audio with your system's default sound device. If you connect many audio devices to your computer, please check the correct audio device is set as the default one. If not, you will encounter the Spotify no sound issue. Here let's see how to set a default audio device on your Windows computer.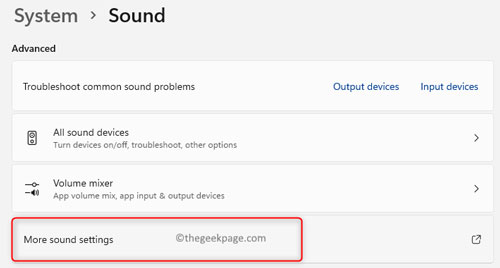 Hold the Win + X keyboard to launch the WinX menu.
Touch the 'Settings' to open the 'Settings' panel.
Click on the 'System' option and open the 'Sound' section.
Scroll down to find and hit on the 'More sound settings' under the 'Advanced' section. It will open the 'Sound properties' window.
Hit the 'Playback' tab and choose the audio device you want to troubleshoot.
Right-click on it and select 'Set as default device'.
Press 'OK' to keep the changes and then quit the 'Sound properties' window.
Part 4. Fix No Sound on Spotify Issue - Best Solution
Still have no sound from Spotify Windows 10, iPhone and Android issue? If you'd like to avoid Spotify playing but no sound Android and other devices issue, you can try to use DRmare Spotify Music Converter. It can help convert Spotify to MP3 songs and other audio formats. Then you can play Spotify on other devices with sound without any limit.
What's more, it can let you alter the output audio quality. You can reset the bit rate, sample rate and so on for the Spotify music files you like. Also, it can retain the original qualify for the Spotify songs after the conversion. At last, you can get the local Spotify music on your computer. And then you can move and play Spotify on other media players and devices. Then you won't meet the Spotify no sound issue on your device.
DRmare Music Downloader for Spotify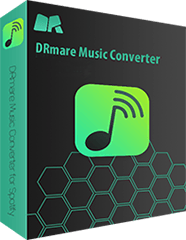 Remove DRM from Spotify songs, audiobooks, playlists, albums, etc.
5X batch converting speed, downloading Spotify music easy and fast
Lossless output quality, ensure you get the best listening experience for free
Support to use Spotify on other devices without facing the Spotify no sound issue
If you are satisfied with it, you can click the "Download" button to try it out for free. And then you can follow the steps below to see how to use DRmare Spotify Music Converter. After that, you will get the converted Spotify music files and move them to other players for playing without the no sound on Spotify issue.
Step 1

Load songs from Spotify to DRmare Music Converter

The easiest way is to drag & drop the Spotify song, playlist or album to the DRmare software. If you get the link to the Spotify songs or playlists, you can also copy and paste to input the link to the address bar of the DRmare software. And then press "+".
Step 2

Choose a compatible format for Spotify audio

To make sure your Spotify songs play well with most devices, we'd like to recommend you to choose MP3 universal format. For other parameters like channel, sample rate, or bit rate, you can change them according to your preferences.
Step 3

Save Spotify songs offline

Now you can click "Convert" to download and save Spotify songs to computer offline. Within a few minutes, you will get the MP3 files. At last, you can play them on any music player you have. You don't need to worry about the Spotify no sound issue.
Part 5. Tips to Fix Spotify Web Player No Sound
If you use Spotify Web Player and face no sound on Spotify Web Player, then you can refer to the tips here.
Way 1: Clear Cookies and Cache of Your Browser
The cookies and cache in your browser will affect the playback of the Spotify songs. So, you can attempt to clear your browser's recent cookies and cache. After then, try to play Spotify songs to check whether the Spotify web no sound issue is fixed or not.
Way 2: Turn off Ad Blockers or Whitelist Spotify
The ad-blocking add-ons on your browser will interrupt the Spotify Web Player. So, you will get the Spotify no sound Web Player issue. In this case, you need to turn off the ad-blocker on your browser first. Please go to the toolbar icon and access the add-ones menu to turn it off. Or, you can try to whitelist the Spotify domain on your browser.
Way 3: Update or Change to Another Browser
Spotify Web Player is not compatible with all browsers. If you use a Mac computer, you can't use Spotify Web Player with Safari. Thus, you can switch to another web browser to use Spotify Web Player. And if you still meet the Spotify Web Player no sound problem, then try to update your browser to the newest version.
Part 6. In Conclusion
In this post, you knew the reasons why Spotify playing but no sound Android, iPhone and Windows 10. Also, you got 11 solutions to fix Spotify no sound issue in detail. Besides, there are three more tips for you to solve Spotify Web Player no sound problem.
Moreover, the DRmare Spotify Music Converter would be the best helper for you. It can convert and download Spotify tracks to plain audio files. And then you can transfer Spotify music to any device and player you want and play. In this way, you won't meet no sound on Spotify issue.