With our online presence being more extensive than ever in today's digital age, we might find ourselves wanting a break from certain platforms. The popular music streaming service Tidal is no exception. Unfortunately, deleting Tidal account isn't just about canceling your Tidal subscription.
The process also demands safeguarding your privacy and personal information. If you want to permanently delete your Tidal account, you have come to the right place. In the following read, you can find the detailed step-by-step process of saying goodbye to Tidal. We will look into various methods that can be used to deactivate Tidal account with ease. Discover all the essential information needed to ensure your Tidal account is erased from all devices and servers.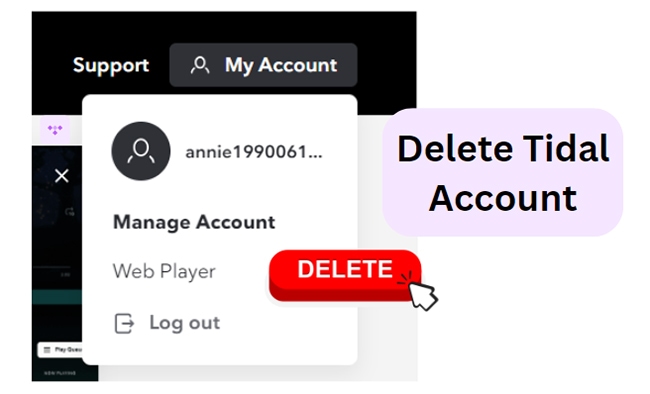 Part 1. What You Need to Do Before Deleting Tidal Account
Before you jump to close Tidal account, you should take care of certain things. Removing an account comes with loads of responsibility. You need to prioritize important tasks such as backups and canceling subscriptions. Here is a list of all the things you need to consider before you deactivate your Tidal account:
A. Backup Tidal Playlists and Music as Local Files via DRmare Tidal Music Converter
The first thing you should ensure before deleting Tidal free or premium account is backing up your music. Tidal is a beloved music streaming service with tons of music files. If you have playlists and music files, storing them locally is a good idea. DRmare Tidal Music Converter is a helpful tool in this regard.
DRmare Tidal Music Converter is a dedicated software for downloading Tidal music files with a free or premium account. The tool is available on both Windows and Mac devices. You can use it to save your Tidal albums, playlists, and favorite tracks locally on your computer. It also offers fast conversions for quick and efficient offline playback anywhere.
B. Cancel Any Active Tidal Subscriptions
Before proceeding to delete the Tidal account completely, it is important to cancel any active subscriptions associated with it. This step ensures that you won't be billed in the future. Be sure to double-check your payment method to ensure it is no longer linked to Tidal. It is a crucial step to avoid further charges.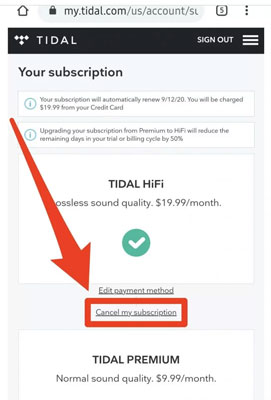 C. Resolve Any Pending Payments or Issues
Before you delete your Tidal account, you should handle any pending payments or issues. This prevents potential inconveniences and also simplifies the deletion process. Unresolved payments could lead to further charges. Tidal may also prevent you from deleting your account if there are disputes or pending issues.
Part 2. How to Delete a Tidal Account with Subscription on a Computer
If you are using Tidal on your computer and wish to know how to permanently delete your Tidal account, you can follow the steps given below:
Step 1: Launch the Tidal website on your computer's browser. Log in using your account and open "Settings" from the drop-down menu in the top-right corner of the screen.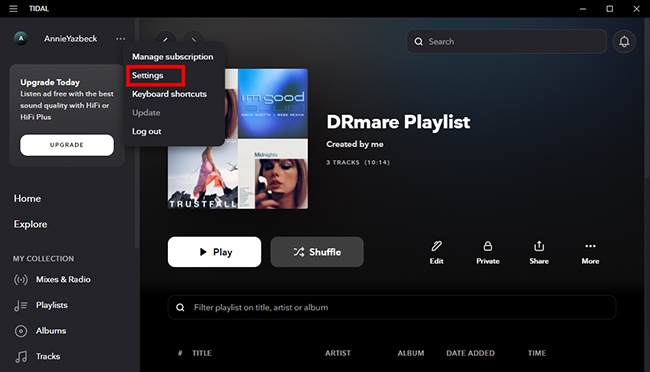 Step 2: Go to the "Accounts" section and tap "Manager subscription." It will bring you into the account.tidal.com/profile web page and please click the 'Help' option.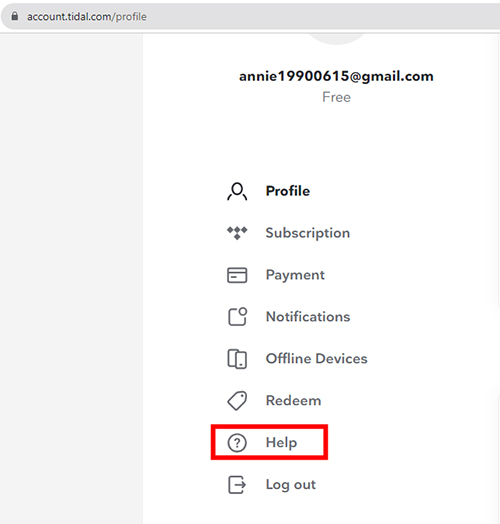 Step 3: Click on "Payment and Accounts" > "Submit a Request" > "I am a subscriber and have a question" option. Then you need to fill in all the information to deactivate your Tidal account.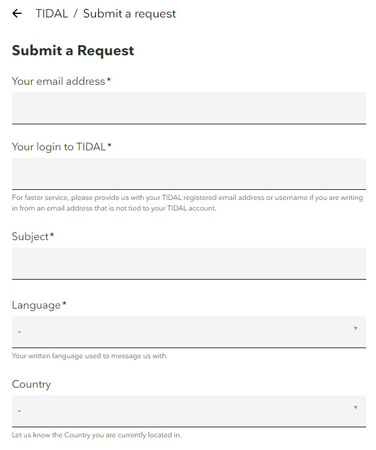 Part 3. How to Delete Tidal Account Completely on Android and iPhone
If you are using Tidal on your Android or iPhone device and wish to delete your Tidal account completely, you can follow the step-by-step directions below:
Step 1: Open Tidal on your smartphone and log into your account. From the bottom-right corner, tap "More" and scroll down to open "Settings."
Step 2: From here, locate and click "Accounts," and look for the "Manage Account" option.
Step 3: Type in the password to your Tidal account and tap "Delete Account."
Part 4. How to Permanently Delete a Tidal Account via Sending an Email
To close the Tidal account once and for all, you can also email Tidal customer support. To know how to cancel a Tidal account via email, refer to the following steps:
Step 1: Open your mail and compose a new email to contact customer support at Tidal at [email protected] or [email protected].
Step 2: Insert "Delete my Tidal account" as your subject line. In the body, include your Tidal account's username and email address. Also, state the reason why you wish to delete your Tidal account.

Step 3: Send the email, and Tidal will get back to you after processing your request.
Part 5. FAQs about Closing Tidal Free and Premium Account
Q1. When does the Tidal account need to be deleted?
Depending upon your circumstances, there can be many reasons why you need to delete your Tidal account. Some common causes include:
You have decided to switch to a different music streaming service and want to delete your Tidal account when your subscription period ends.
You have an inactive Tidal account that you no longer intend to use.
You have concerns about personal information and data privacy or if you suspect unauthorized access to your Tidal account.
Q2. What happens after reactivating your Tidal account?
If you choose to reactivate your Tidal account, you regain access to your saved playlists and albums. Your subscription status will also be reinstated, and billing will resume based on your chosen plan. You can then stream Tidal content on all your authorized devices using your reactivated account.
Q3. How do I remove my payment details from Tidal?
To remove or edit your payment details from Tidal, follow these steps:
Step 1: Log into Tidal account on your browser. Click on your Tidal account icon from the top-left corner of the screen and tap "Manage Subscription."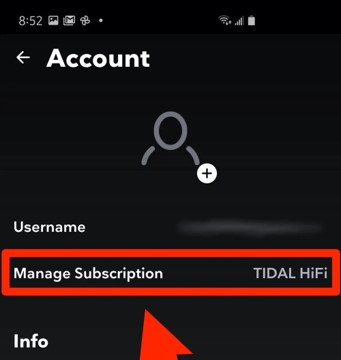 Step 2: Under the "Your Subscription" section, look for the "Edit payment method" option. Here, you can edit or remove your payment details.
Part 6. In Conclusion
There are many reasons why you might want to delete Tidal account permanently. However, the process calls for necessary precautions and protocols. You can use DRmare Tidal Music Converter to keep your playlists and music intact. Then, you can use the various methods mentioned above to close the Tidal account on all your devices.