Audiophiles are seeking platforms that deliver the highest quality audio experience. Tidal is a good choice among music streaming services, known for its HiFi audio quality. Tidal provides its HiFi and HiFi Plus users to explore music up to CD quality (FLAC-based 16-bit/44.1 kHz) and play music through Hi-res FLAC and MQA formats (up to 24-bit, 192 kHz).
This article will delve into the world of Tidal download FLAC, walking you through the best ways to download FLAC from Tidal and convert Tidal to FLAC local audio files. Under this circumstance, you can make the most of this premium audio streaming service.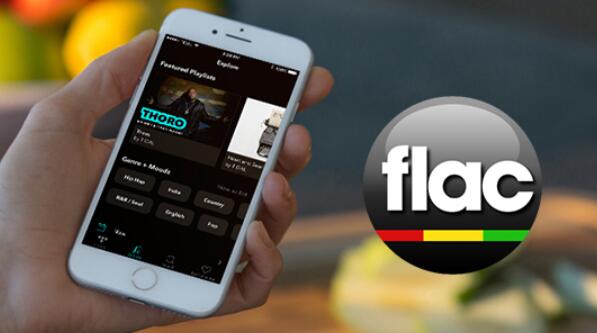 Part 1. Complete Introduction to Tidal FLAC Streaming
Does Tidal Stream FLAC?
FLAC (Free Lossless Audio Codec) is a popular audio lossless compression format that maintains the original quality of the audio. Does Tidal use FLAC? The answer depends on your Tidal subscription. Tidal offers different audio quality with different bit rates and codecs for users using different Tidal tiers.
For Tidal Free: You can get lossy audio in AAC format (Up to 160 kbps).
For Tidal HiFi: You can access CD-quality, lossless audio (Up to 1411 kbps, 16-bit, 44.1 kHz) in FLAC format, delivering an immersive listening experience.
For Tidal HiFi Plus: You can enjoy not only Tidal Hi-Res FLAC music but also MQA/Master songs (Up to 9216 kbps, 24-bit, 192 kHz). If you are using a mobile device for Tidal music streaming, the Sony 360 Reality Audio format is available. If you are using a TV stick, you can explore songs in Dolby Atmos format. It provides listeners with a superior and more detailed sound experience.
How to Let Tidal Download FLAC Officially with Subscription
You can stream Tidal FLAC on various devices and platforms, including computers, mobile phones, tablets, dedicated audio systems, and more. However, downloading from Tidal FLAC can be processed on mobile devices only. Because Tidal Offline Mode is available for mobile users. Let's see how to do it below:
Step 1. Subscribe to the Tidal HiFi or HiFi Plus plan, as they are tiers that provide access to lossless, high-fidelity FLAC songs on Tidal.
Step 2. Open the Tidal app on your mobile devices, including iOS and Android. Log in with your Tidal account credentials, and ensure that your subscription is active.
Step 3. Go to the 'Quality' section under the 'Settings'. Click the 'Download' option to customize the audio quality as HiFi to get FLAC format.
Step 4. Browse the Tidal library and find the Tidal albums or tracks you want to download as Tidal files for offline listening. Click the 'Download' icon next to the album or track to download Tidal FLAC files.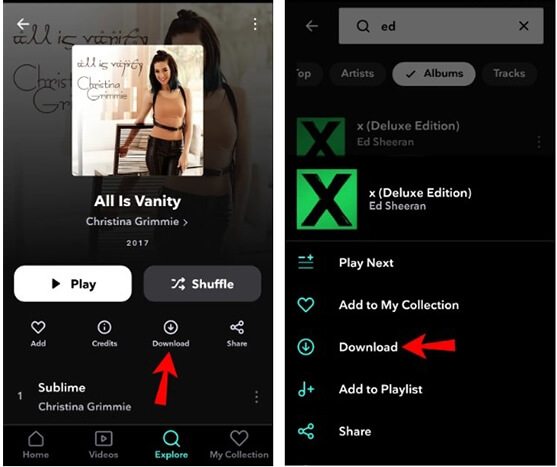 Notes: If you'd like to get a Tidal FLAC download on your computer, please refer to the following parts. It will cover the 5 best Tidal FLAC downloaders for Mac and Windows to make it possible. All Tidal lossless FLAC music downloads are local files. You can transfer and play them through any FLAC media player without Tidal HiFi and HiFi Plus subscription.
Part 2. How to Download FLAC from Tidal with Best Tidal FLAC Downloader
DRmare Tidal Music Downloader is such a powerful and top-leading Tidal FLAC downloader. It is well-designed to download FLAC from Tidal as local files in batches at a rapid speed on PC and Mac with original quality kept. This may be particularly appealing to users who prioritize high-fidelity sound. Besides, it supports other popular audio formats like MP3, WAV, AAC, M4A, and M4B. So, you can also export your Tidal FLAC lossless files to other audio formats. If you are using a Tidal Free, providing AAC files, this software can help you convert them to FLAC.
The DRmare program also supports you to alter output audio parameters. You can customize sample rate, channel, and so on for Tidal music, which helps you embark on a musical journey where every note is heard with pristine clarity. With it, you can enjoy Tidal music offline on any device you want without using a Tidal premium plan.
How to Download Tidal HiRes FLAC Music on PC and Mac
DRmare Tidal Music Converter uses the professional music downloading technology to get FLAC music download. It's also worth mentioning that it is well-designed for personal use only. And the trial version is free. Below, we will show you how to this Tidal downloader for FLAC to download Tidal music locally.
Step 1

Open DRmare program and log in to your Tidal account

To download Tidal FLAC files, please install DRmare TidiKit Music Converter and the Tidal desktop app on the computer. Then open this Tidal FLAC downloader and the Tidal application will show at the same time. You need to log in to your Tidal account with username and passwords.
Step 2

Set Tidal as FLAC output audio format

Click on the menu icon at the top right in the DRmare program. Then hit 'Preferences' > 'Convert' at the new pop-up window. To keep the 100% original quality of Tidal, you can set FLAC as output format from the 'Format' option. Besides, you can customize other audio parameters, like bit rate, sample rate, codec, etc. to get the best Tidal quality.
Step 3

Import Tidal music to DRmare program

Now, find the Tidal playlist that you'd like to convert to FLAC from the Tidal app. Then touch the target playlist and click on the 'three-dots' icon. Next, choose the 'Share' option from the list. Then opt for 'Copy Track Link' to get the link address to the Tidal song. Next, put this link into the search bar on the main screen of the DRmare program. Then touch the plus icon and the Tidal music will be added to the DRmare tool. Or, direct to add Tidal music to DRmare by dragging & dropping option.
Step 4

Download FLAC from Tidal HiFi/MQA songs

Hit the 'Convert' button, and DRmare will batch download and convert MQA to FLAC. And it will save Tidal music as local files to your computer. After the whole conversion is done, you can click the 'history' icon to get all the local FLAC downloads. You can listen to Tidal offline on Mac, PC, and any other devices.
Part 3. How to Convert Tidal to FLAC Free via Best Tidal to FLAC Converters
DRmare Tidal Music Converter works well for Tidal music download. But it's a commercial tool. You need to buy the full version to download the full length of Tidal FLAC file. So, if you'd like to get a free method, you can draw support from two open-source Tidal to MP3 converters.
Convert Tidal to FLAC via Athame Downloader
Released on GitHub, Athame is a free and open-source music downloader and converter for streaming music services. Unlike DRmare Tidal Downloader, Athame can download music from not only Tidal but also Google Play Music. It could be noted that it's only compatible with the Windows operating system. If you'd like to do this on Mac computers, you still need to use the DRmare Tidal Music Converter.
As a tool free of charge, it also comes with some advantages. For example, it can't promise the output audio quality even if your original audio files are lossless HiFi and Master quality. What's more, it takes you a lot of time to complete this conversion. If you can accept them, check out the steps below to see how it works.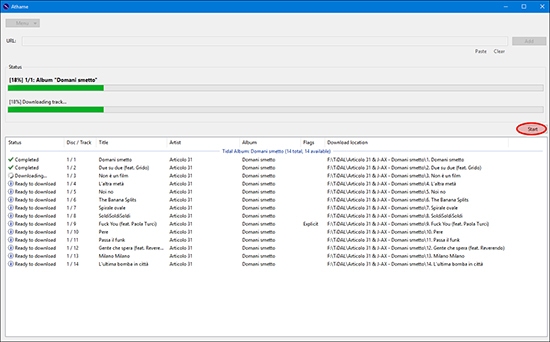 Step 1. Go to the 'Settings' option under the 'Menu' section. And then it requires you to fill in your Tidal name and password.
Step 2. Go to the Tidal app and find the Tidal playlist that you'd like to convert to FLAC.
Step 3. Copy the link of the playlist and paste it into Athame's 'URL' textbox.
Step 4. Hit on the 'Add' button to load the Tidal playlist.
Step 5. You will see Tidal music will show up in the download queue. When you press the 'Start' icon, Athame will start to get Tidal download FLAC.
Convert Tidal to FLAC via Tidal GUI/Tidal DL
Tidal DL and Tidal GUI are two versions of Tidal-Media-Downloader, which is a free Tidal music downloader released on GitHub. It allows users to download any content from Tidal on Windows, Mac, Linux, and Android. To convert Tidal to FLAC for free via this software, you need a Tidal HiFi plan or above.
You can download them on the GitHub website. This converter claims to retain the audio quality of Tidal tracks in Normal, High, HiFi, and MQA during the conversion process. It depends on the audio quality settings in this software and your Tidal app. Here, let's see how to this Tidal converter to FLAC.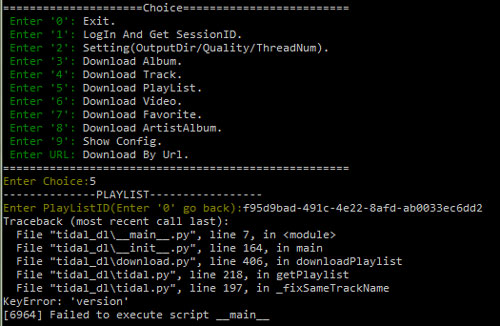 For Tidal-dl: Open it and type '1' to sign in to your account. Then enter '2' and hit 'Enter' to set FLAC as the output format. And then copy and paste the Tidal song's link address to Tidal-dl to download Tidal songs to FLAC.
For Tidal-gui: Launch it and log in to your account. Then copy and paste the link to the Tidal song on the search bar on Tidal-gui. And then it will start to download and convert MQA to FLAC.
Part 4. How to Rip Tidal to FLAC via Tidal FLAC Rippers
To get FLAC files from Tidal, there is another way for you, by adopting music ripping technology. There are lots of free Tidal rippers allowing you to extract FLAC from various sources, like Tidal for the purpose of creating local digital copies of music for personal use. Here, we will introduce two brilliant tools for you to rip Tidal FLAC.
Rip FLAC from Tidal via DRmare Audio Capture
DRmare Audio Capture is also a nice tool to rip and convert Tidal MQA to FLAC on Mac/PC without any limits. It can rip music not only from Tidal but also from Spotify, YouTube Music, Deezer, Amazon Music, and other streaming websites. In short, you can use this tool to get any playing audio files from your computer. The DRmare Audio Capture can keep high audio quality and full ID3 tags. And you can edit and trim the recorded soundtracks you want. Then you can save them to your computer for use anytime. Below is the step-by-step tutorial.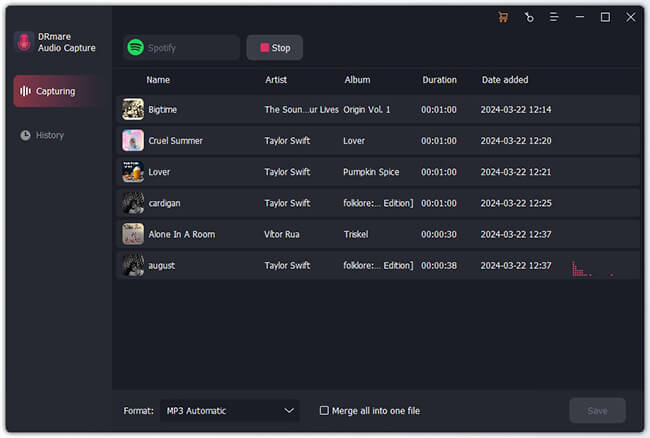 Step 1. Please download DRmare Audio Capture on your computer. Then launch it.
Step 2. You can see some icons on its main screen. Check whether Tidal app is on it. If not, you need to add it in. Just hit on the '+' icon to make it.
Step 3. Hit on the 'audio' icon. Then you can set output format as FLAC before recording. And you can alter other audio parameters you want.
Step 4. Click on the Tidal icon on DRmare main screen. Then play the Tidal FLAC tracks you want to download one by one. And the recording process begins.
Step 5. Once recorded, you can trim the tracks you want, and then save Tidal download FLAC on your computer for use.
Rip Tidal to FLAC via Audacity
The second tool we can use is namely Audacity. It is a free, open-source audio editing software widely used for recording, editing, and producing audio content. Audacity has the ability to record and rip audio directly through a computer's sound card, microphone, or line input with basic editing functions. Today, we will focus on the recording part and use it to rip Tidal music to FLAC.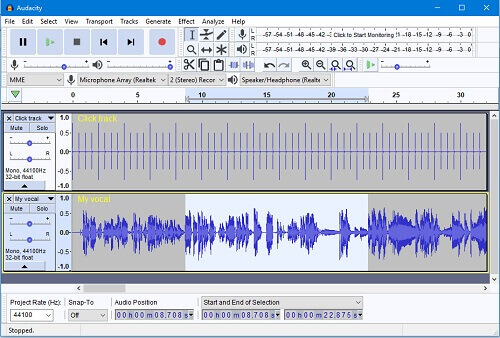 Step 1. Please download Audacity on your computer well. And launch it.
Step 2. You can customize output settings for your Tidal FLAC files. After that, please tap the 'Record' button under the 'Transport Toolbar'. Then it will switch to recording mode.
Step 3. Now, play music on your Tidal app or Tidal web player, and it will start to rip Tidal tracks.
Step 4. To finish the ripping process, simply press the 'Stop' button.
Step 5. Click 'File' > 'Save Project' to save Tidal FLAC songs to your computer.
Note: The music quality might be reduced through recording technology. And it may contain some system noises from your computer.
Part 5. FAQs about Tidal FLAC Lossless Songs
Q1: Does Tidal Sound Better than Spotify or Apple Music?
A1: If you are a general user who listens to songs on standard speakers or so, it is difficult to find out the difference. But if you are a heavy user like an audiophile with HiFi headphones, you will find Tidal MQA audio is much better.
Q2: Which Is the Best HiFi Players to Play Tidal Songs?
A2: Here, we have collected the best HiFi players below for you to play Tidal FLAC music.
#1. Apple iPod Touch: This is a well-known music player from Apple. It offers entertaining sound, good picture quality, and long battery life.
#2. Sony NW-A45: This is an award-winning Walkman. With the Hi-Fi sounding vocals and solid build quality, it has become a popular choice for audiophiles.
#3. Cowon Plenue D2: This HiFi player sounds clearer and subtler. And it is in a pocket-friendly size. You should definitely not miss it.
View also: Top 7 Tidal MP3 Player
Q3: What Are the Differences between Tidal Master vs FLAC?
A3: Tidal MQA streams at 96 kHz/24 bit, while Tidal FLAC only offers 16 bit/44.1 kHz audio quality.
Q4: Deezer FLAC vs Tidal FLAC, Which Is Better?
A4: Both Tidal HiFi and Deezer HiFi stream FLAC at 1,141kbps. Yet, Tidal MQA streams FLAC at 9,216kbps.
Part 6. In Conclusion
There are six ways to download FLAC from Tidal HiFi and MQA in detail. But which one is the best for you? No worries. Here you can check out the comparison table below and choose the right method quickly.
Official Way
DRmare Tidal
Music Converter
DRmare Audio Capture
Athame Tidal Downloader
Audacity
Tidal-Media-Downloader
Supported OS
Android/iPhone
Windows/Mac
Windows/Mac
Windows/Mac/Linux
Windows/Mac/
Linux
Windows/Mac/
Linux/Android
Supported Input
Tidal content
Tidal content
Any sound on computer
Tidal/Google Play Music
Any sound on computer
Tidal content
Supported Output
FLAC, AAC
MP3, WAV, M4A, FLAC, M4B, AAC
MP3, WAV, M4A, FLAC, M4B, AAC
FLAC
MP3, FLAC, AAC, etc.
FLAC
Download Speed
Depend on internet
5X
Real time
Real time
Real time
1X
Adjust Output Quality
✔
✔
✔
✘
✔
✘
Keep ID3 Tags
✔
✔
✔
✘
✔
✘
Price
$10.99/$19.99
$14.95
$14.95
Free
Free
Free
It is obviously that DRmare Tidal Music Converter is a nice way for you. It helps convert Tidal to FLAC with the original quality and complete ID3 tags. Also, you can change output audio parameters for Tidal songs. After converting, you can save and play Tidal music on the HiFi player or other devices offline without any limits.
Now, you can hear the Tidal FLAC music as the artist intended, with no compromise on audio fidelity.