With Tidal HiFi plan, you can enjoy Tidal music with FLAC audio quality. Besides, you can get Tidal download FLAC format on your mobile phone. However, you can't download FLAC from Tidal with Tidal desktop app. And as Tidal music files is protected, you can't play Tidal FLAC audios on other devices. Thus, here you need to convert Tidal to FLAC local files for using.
Years ago, to get Tidal FLAC format, users used TiDown. It requires users to log into Tidal. Then they can download Tidal music to FLAC on PC. However, now, TiDown Tidal downloader is not available anymore.
If you are looking for ways to get Tidal FLAC, then you are lucky to be here. In this article, we will introduce 4 ways of Tidal FLAC download. Now, please check it out and get started.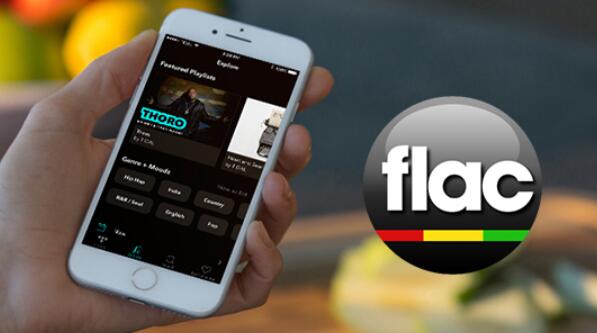 Part 1. Get Tidal FLAC Download with DRmare Tidal to FLAC Converter and Downloader
From the beginning, we know that there is no method to download from Tidal FLAC on computer. With Tidal HiFi subscription, you can stream Tidal FLAC audios online. And if you had downloaded songs from Tidal, you can't use them on other devices. That is because Tidal music tracks is being protected. So, is there any way to get Tidal download FLAC as local files? Of course.
DRmare Tidal Music Downloader is such a powerful tool to help you. It could be the top-leading Tidal FLAC downloader. It can download FLAC from Tidal on PC and Mac with zero quality loss. Besides, it supports other popular audio formats. They are Lossless, MP3, WAV, AAC, M4A, and M4B.
The DRmare program also support you to alter output audio parameters. You can customize sample rate, channel and so on for Tidal music. Besides, it can convert Tidal to FLAC in batch at a rapid speed. After that, all the Tidal FLAC downloads will be saved onto your computer as local files. Then you can enjoy Tidal FLAC on any device as you want.
DRmare Tidal FLAC Downloader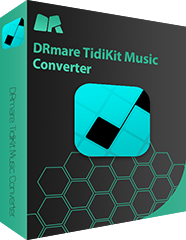 Intuitive and fresh screen, download Tidal songs on computer easier
Batch get Tidal FLAC download with up to 5X speed, faster than any other tools
Keep the lossless quality of Tidal songs just like the CD
Get lifetime free update and technical support
DRmare Tidal to FLAC Converter uses the same music downloading technology like TiDown. But DRmare Tidal Media Downloader is created by the third-party company. It's also worth mentioning that it is well-designed for personal use. And the trial version is free.
Below, we will show you how to convert Tidal to FLAC via DRmare program.
How to Download FLAC from Tidal on PC and Mac by DRmare Tidal Music Downloader
Step 1

Open DRmare program and log in Tidal account

To get Tidal download FLAC, please install DRmare TidiKit Music Converter on computer. Then open it. At its main window, please click on the 'Sign in' button. Then you can log in with your Tidal account. If you don't have a Tidal account, then please click 'Sign up' to get one first.
Step 2

Set Tidal to FLAC output audio format

Apart from a Tidal to FLAC converter, DRmare program is also an audio converter for Tidal. It supports lossy formats, including MP3, M4A, AAC, M4B, Lossless, and other formats. To keep the 100% original quality of Tidal, you can set FLAC for Tidal FLAC download from the 'Format' option.
Besides, you can customize other audio parameters as you like to get the best Tidal quality. To set the Tidal audio parameters, please click on the menu icon at the top right in DRmare program. Then hit 'Preferences' > 'Advanced'.
Step 3

Import Tidal playlist to convert to FLAC

You don't need to prepare anything else ahead. Find the Tidal playlist that you'd like to convert to FLAC. Then touch on the target playlist and then 'Add Files' button will brighten. Just hit on it and the Tidal playlist will be loaded to a new window. Here you can choose to convert the whole Tidal playlist. Or you can only choose some tracks you like. After that, click on 'Convert' button.
Step 4

Download FLAC from Tidal HiFi/MQA

After hitting the 'Convert' button, DRmare will batch download from Tidal FLAC. And it will save Tidal FLAC locally to your computer. After the whole conversion done, you can go to the 'history' icon to get all the local Tidal FLAC downloads. And then you can listen to the music files on any other devices directly.
Video Tutorial

How to get Tidal FLAC download

From this video, you can see how to download and convert Tidal to FLAC clearly.
Part 2. How to Get Tidal FLAC Download with Athame Tidal Downloader
DRmare Tidal to FLAC Converter works well for Tidal FLAC download. But it's a commercial tool. You need to buy the full version to download Tidal FLAC completely. So, if you'd like to get a free method, you can draw support from Athame downloader.
Released on GitHub, Ahtame is a free music downloader for both Tidal and Google Play Music. And it works for Mac, Windows OS and Linux. Unlike DRmare Tidal Downloader, Athame uses the ripping technology. That is to say, you can rip Tidal to FLAC.
So, how to rip FLAC from Tidal via Athame Tidal downloader? To use it, please download the Tidal-Media-Downloader installment file from its official page on PC.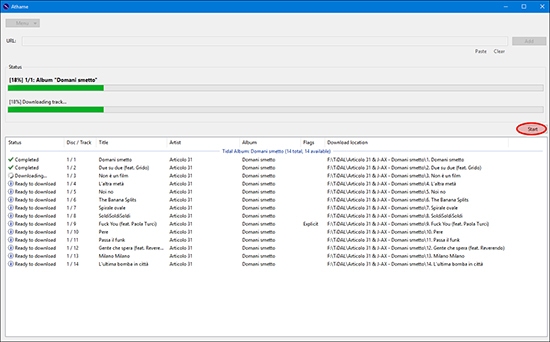 Step 1. Go to the 'Settings' option under the 'Menu' section. And then it requires you to fill with your Tidal name and password.
Step 2. Go to Tidal app and find the Tidal playlist that you'd like to convert to FLAC.
Step 3. Copy the link of the playlist and paste it into the Athame's 'URL' textbox.
Step 4. Hit on the 'Add' button to load the Tidal playlist.
Step 5. You will see Tidal music will show up in the download queue. When you press the 'Start' icon, Athame will start to get Tidal download FLAC.
Part 3. How to Download Tidal to FLAC on PC by DRmare Audio Capture
DRmare Audio Capture is also a nice tool to download FLAC from Tidal. It is also named DRmare Tidal Ripper or downloader. It can rip and download Tidal music to FLAC on PC without any limit. It can not only rip music from Tidal. It also can download music from Spotify, video websites and so on. That is to say, you can use this tool to get any playing audio files from your computer.
The DRmare Audio Capture can keep original audio quality and full ID3 tags. And you can edit and trim the recorded sound tracks as you want. Then you can save them to your computer for using anytime.
Below is the tutorial on how to get Tidal FLAC download and convert Tidal to FLAC.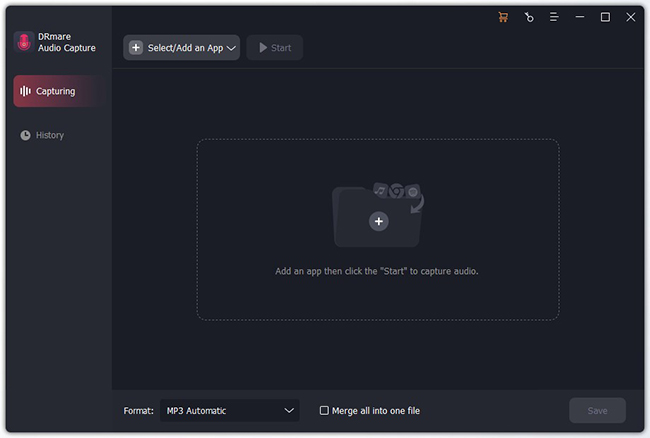 Step 1. Please download DRmare Tidal ripper on your computer. Then launch it.
Step 2. You can see some icons at its main screen. Check whether Tidal is on it. If not, you need to add it in. Just hit on the '+' icon to make it.
Step 3. Hit on the 'audio' icon. Then you can set Tidal to FLAC before recording. And you can alter other audio parameters you want.
Step 4. Click on Tidal icon at DRmare main screen. Then play the tracks you want to download Tidal FLAC one-by-one. And the recording process begins.
Step 5. Once recorded, you can trim the tracks as you want. Then you can save Tidal download FLAC on your computer for using.
Part 4. How to Rip Tidal to FLAC with Audacity
To get FLAC from Tidal, there is another traditional way, which is ripping also. Recording means to play the songs and then capture and encode the music data offline. There are lots of free Tidal rippers like Audacity to rip Tidal to FLAC.
If you prefer to use the traditional method for Tidal rip FLAC, you can't miss this part. Here, we will take Audacity as an example. And we will show you how to rip FLAC from Tidal via Audacity.
Note: The music quality will be reduced through recording technology. And it may contain some system noises from your computer.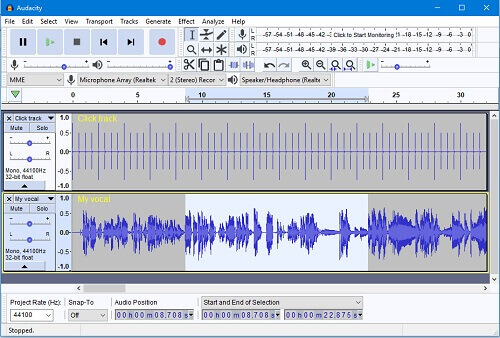 Step 1. Please download Audacity Tidal ripper on your computer well. And launch it.
Step 2. You can customize output settings for your Tidal FLAC files. After that, please tab the 'Record' button under the 'Transport Toolbar'. Then it will switch to recording mode.
Step 3. Now, play music on your Tidal app or Tidal web player, it will rip Tidal to FLAC tracks.
Step 4. To finish the Tidal FLAC ripping process, simply press the 'Stop' button.
Step 5. Click 'File' > Save Project' to save Tidal FLAC songs to your computer.
Part 5. Everything We Know about Tidal Lossless Songs
What Is Tidal?
Tidal is one of the streaming music platforms in the market. Unlike other sources that mainly offer up to 320Kbps songs, Tidal is the exclusive music site. It offers up to 1411Kbps CD-quality audio. And it has become the first choice for most audiophiles. It includes Tidal Premium for $9.99/month and Tidal HiFi for $19.99/month.
What Format Is Tidal HiFi?
To keep the best music quality, Tidal HiFi is in lossless FLAC format. FLAC uses advanced technology to compress the files during storing. And it uncompresses them to keep the original quality. Not only the quality is best, but also the file size is also relatively small.
Does Tidal Sound Better than Spotify/Apple Music?
If you are a general user who listens to songs on standard speakers or so, it is difficult to find out the difference. But if you are a heavy user like an audiophile with HiFi headphones, you will find Tidal MQA audio is much better.
Best HiFi Players for Tidal
Here, we have collected the best HiFi players below for you to play Tidal FLAC music.
#1. Apple iPod Touch
This is a well-known music player from Apple. It offers entertaining sound, good picture quality, and long battery life.
#2. Sony NW-A45
This is an award-winning Walkman. With the Hi-Fi sounding vocals and solid build quality, it has become a popular choice of audiophiles.
#3. Cowon Plenue D2
This HiFi player sounds clearer and subtler. And it is in a pocket-friendly size. You should definitely not miss it.
Now, you can get Tidal download FLAC by choosing one from the above ways. And then you can play Tidal music on one of the top three best HiFi players for Tidal. Hope you can enjoy your favorite Tidal music.