"How do I cancel Tidal?" Now, most people subscribe to Tidal for its high audio quality. But due to the high cost of the Tidal plans, they want to unsubscribe Tidal. Yet, how to get your Tidal membership cancel? Will the Tidal songs lose after canceling Tidal?
You are lucky here because this article will help you stop Tidal subscription on other devices and platforms. Also, this article will show you how to keep Tidal music forever. In this case, you won't lose your Tidal music tracks after the cancellation. Let's find more info here.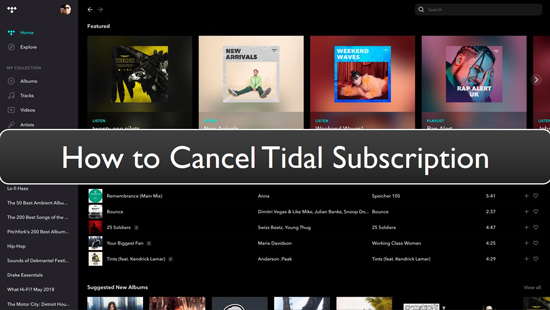 Part 1. How to Cancel Tidal Subscription - 5 Ways
To stop Tidal account, here are 5 ways for you to make it. You can check them out and see how to unsubscribe Tidal on iPhone, Android, desktop, Sprint, and else. Here we go.
Way 1. How to Cancel Tidal Account on Desktop
If you pay for Tidal via credit card or PayPal, you can end Tidal subscription from its website on the computer. Follow the below steps on how to unsubscribe from Tidal on your desktop.
Step 1: Visit the website of my.tidal.com.
Step 2: Sign in it using your account's credentials.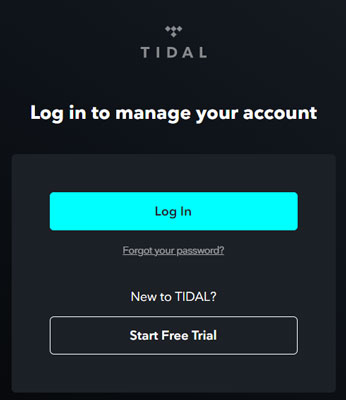 Step 3: Click on the account icon and then choose the 'Manage Subscription' option.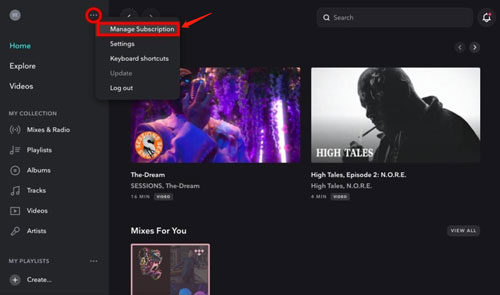 Step 4: Hit on 'Subscription'. Then from the 'Your Subscription' window, click on the 'Cancel My Subscription' button. And then select the confirm cancellation button. At last, you will get your Tidal account canceled.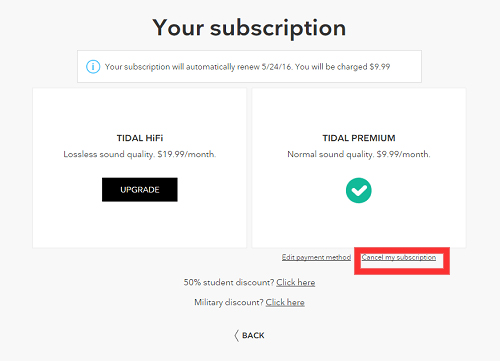 Way 2. How to Unsubscribe from Tidal Sprint
Tidal x Sprint subscription helps you being a Sprint customer to enjoy the Tidal premium free trial. If you have a Tidal subscription via Sprint, you can follow the steps here on how to cancel Tidal free trial subscription.
Step 1: Visit the official website of Sprint.
Step 2: Log in through your account on the Sprint website.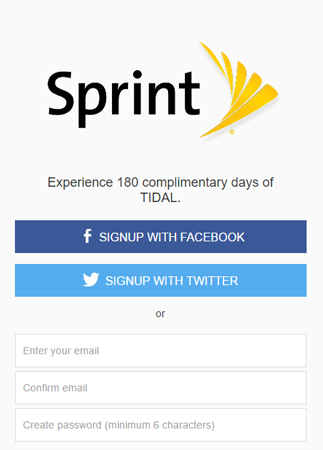 Step 3: You need to open the 'My Sprint'.
Step 4: Choose your device and then select the 'Change my services' option.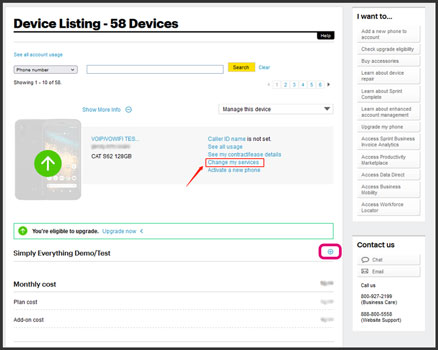 Step 5: Scroll down to find and pick up 'Tidal'. Then click on 'Unsubscribe'.
If you have any problem during the cancellation, you can contact Sprint customer service support to help you cancel Tidal membership.
Way 3. How to Unsubscribe Tidal on iPhone/iPad
If you subscribe to Tidal via Apple Wallet, then you can cancel it on your iOS devices. Now, follow the below steps to stop Tidal account on iPhone/iPad.
Step 1: Open the Settings application from your iPhone or iPad.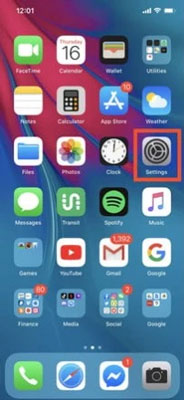 Step 2: Touch your name/account from the list.
Step 3: Click on the 'Subscriptions' section.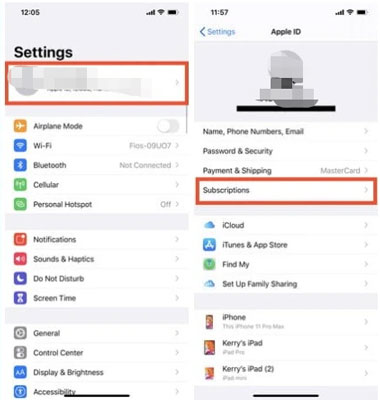 Note: If you can't find the 'Subscriptions' option, then choose 'iTunes & App Store'. And then hit 'Apple ID' > 'View Apple ID'. Next, sign in to your account and scroll down to choose 'Subscriptions'.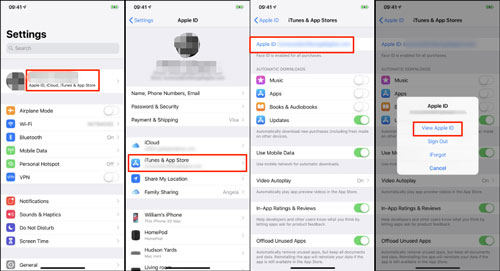 Step 4: From the list of subscriptions, tap 'Tidal subscription' from your device.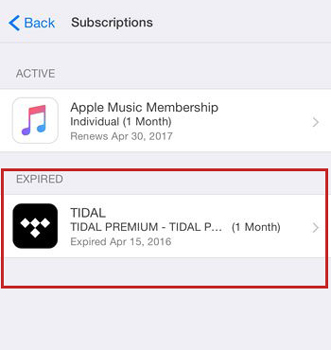 Step 5: Hit on 'cancel subscription', and you will cancel Tidal from your iPhone or iPad.
Way 4. How to Unsubscribe Tidal via Tidal Mobile App
You can also stop Tidal subscription via the Tidal mobile app on your Android/iOS devices. Here follow the steps below to make it.
Step 1: Open the Tidal mobile app on your Android device or iPhone.
Step 2: Hit on the 'My Collection' section at the bottom bar. Then touch the 'gear' icon at the top right corner.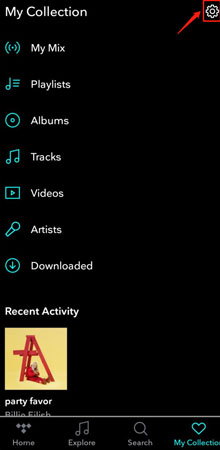 Step 3: Click on your account icon and tap 'Manage Subscription'. Then it will lead you to the Tidal website. You may need to log in to your Tidal account again.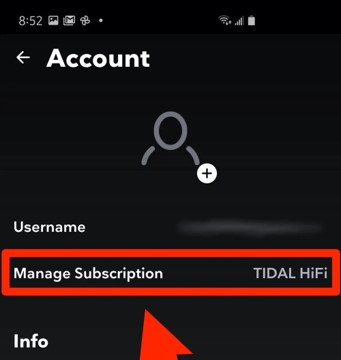 Step 4: Press the 'Subscription' option. Then click on 'Cancel my subscription' to end your Tidal account.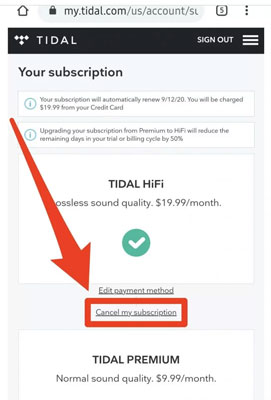 Way 5. How to Cancel Tidal Account from Other Mobile Carrier
Another way to subscribe to Tidal HiFi music is by using your cellphone mobile carrier. You are charged through your mobile carrier for your Tidal HiFi music streaming service when you do that. And don't worry. You can stop Tidal account from any mobile carrier.
The best way to end Tidal through your mobile carrier is to contact or connect with their customer service department. Tell them that you wish to unsubscribe from your Tidal subscriptions, and they will guide you through the process.
Part 2. How to Keep Tidal Music Forever after You Cancel Tidal Subscription
Once you have canceled the Tidal membership, you might wonder how to keep the Tidal music forever. One quick solution is to download Tidal music to a local device to play forever. Yet, due to the protection of Tidal, you can't download and use it in a direct way.
So, the best way to keep Tidal music forever is to use DRmare Tidal Music Converter. It is an awesome tool that helps you convert and download Tidal HiFi music and so on. It can convert and download Tidal music in 100% original audio quality.
DRmare TidiKit Music Converter also provides the conversion formats such as MP3, FLAC, WAV, M4A, and more. Besides, it converts your Tidal music with accuracy and 5X speed. After that, you can store the Tidal music on your device forever and use anytime.
DRmare Tidal Music Converter
Here let's follow the below tutorial to use DRmare TidiKit Music Converter to download Tidal music to computer. And then you can save Tidal music forever after canceling Tidal account.
Step 1

Download DRmare TidiKit Music Converter and install it

Go to the official webpage of DRmare TidiKit Music Converter. Then click the 'Download' button to download and install it on your computer. Then launch the program once installed.
Step 2

Set the output parameters for Tidal music

From the menu bar, you need to select the Preferences option. A new window will appear from which you need to choose the Convert option. After that, you can adjust output parameters for Tidal songs from this section. Here, you should select the output format from WAV, MP3, FLAC, AAC, M4A, and M4B. After that, you can change the sample rate, bit rate, and so on. That will help you adjust the quality and output of your Tidal songs.
Step 3

Add Tidal music into the DRmare software

You need to find the playlist of Tidal that you want to download. You can find it from the pop-up Tidal app. Once found, touch on the playlist and click on the three-dots icon next to it. Then you can get the link address to the Tidal playlist and put it on the search bar on the DRmare program. Next, touch the big plus icon next to the bar to import the playlist to DRmare. Also, you can drag and drop any track from Tidal to DRmare with ease.
Step 4

Convert Tidal music

Now, click on the 'Convert' button to run the Tidal music conversion. After the conversion, all the downloaded Tidal songs will be placed inside your computer in a folder. You can locate the songs by clicking on the Converted icon > search icon to check the downloaded Tidal songs.
After that, you can play Tidal music anywhere anytime. DRmare TidiKit Music Converter solve your problem and help you keep Tidal music forever without the Tidal subscription.
Part 3. FAQs about Canceling Tidal Membership
There are some FAQs about unsubscribing Tidal account. You can check them below in detail.
Q1: How Much Does a Tidal Membership Cost?
A: For the Tidal HiFi plan, it costs $9.99 a month. While Tidal HiFi Plus is priced at $19.99 per month.
Q2: Can I Pause My Tidal Account?
A: Nope. You can't pause your Tidal subscription. But you can delete Tidal account after you cancel Tidal subscription.
Q3: Why Can't I End My Tidal Membership on Tidal App?
A: If you purchased a Tidal subscription via any third-party service or App Store, then you can't cancel Tidal account via the Tidal website or app. In this case, you need to contact the target provider or go to the Settings app on your iOS device to do that.
Q4: Can I Still Listen to Tidal Music after Canceling My Tidal Account?
A: Yes. Tidal offers a Free plan for users so you can enjoy Tidal songs online for free.
Part 4. Conclusion
Above are the tips on how to cancel Tidal subscription on desktop, Sprint, mobile phones and else. There can be numerous reasons you would want to cancel from Tidal. Yet, the big worry while canceling your account is your saved music and playlists are gone.
If you want to own Tidal songs forever after canceling your Tidal account, you need the DRmare TidiKit Music Converter. You can use it to download and convert Tidal music to common audio files for saving. Once you have Tidal songs downloaded, you can play them anywhere and anytime without a Tidal account.