"I have just switched from the Spotify Premium to Tidal Premium. I tried Tidal for two weeks, but I think its audio quality is bit low as compared to Spotify. Now I want to cancel Tidal. But unfortunately, I have no idea how to cancel Tidal subscription. Also, I want Tidal cancel but do not wish to lose my Tidal songs. Is there any way to cancel Tidal membership without losing my songs?" - User question on the Internet.
Looking for ways to cancel Tidal account without losing your songs? You are lucky because this article will help you cancel Tidal iPhone and various other devices and platforms. After canceling the Tidal subscription, this article will also show you how to keep Tidal music forever. Let's find more info here.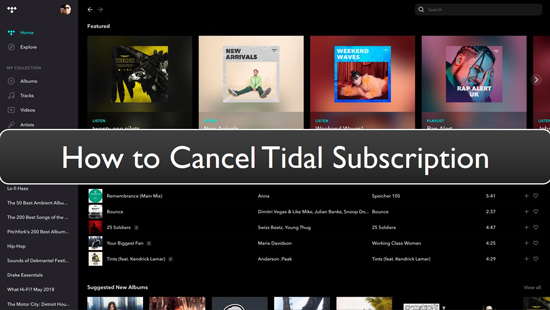 Part 1. How to Cancel Tidal Subscription - 4 Ways
To cancel Tidal account, here are 4 ways for you to make it. You can check them out and see how to cancel a Tidal subscription on desktop, Sprint, on mobile phone and else.
How to Cancel Tidal Subscription on Desktop
If you are a Tidal desktop user, you can cancel Tidal subscription from the desktop. Follow the below steps to cancel Tidal account on desktop.
Step 1: Visit the website of my.tidal.com.
Step 2: Sign in using your account's credentials.
Step 3: Choose the Subscription from the interface.
Step 4: From the subscription window, click on the Cancel My Subscription button and then select the confirm cancellation button.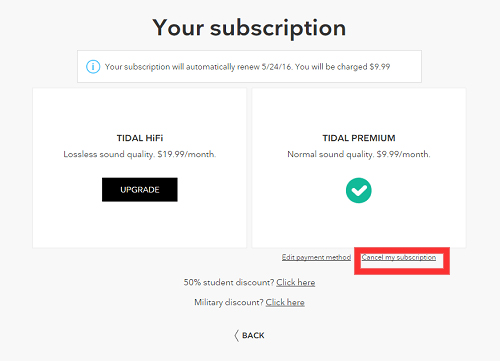 How to Cancel Tidal Membership via Sprint
Tidal x Sprint subscription helps you being a Sprint customer to enjoy Tidal with premium plans. Don't worry if you have Tidal subscription via Sprint, as this guide can help you unsubscribe or cancel the subscription.
Now, follow the below steps to cancel Tidal membership via Sprint.
Step 1: Visit the official website of Sprint.
Step 2: Log in through your account on the Sprint website.
Step 3: You need to open the 'My Sprint'.
Step 4: You have to contact Sprint customer service support to help you cancel Tidal subscription.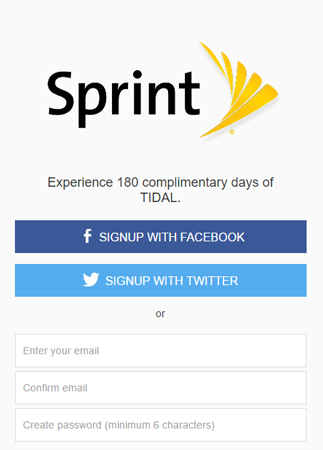 How to Cancel Tidal iPhone/Android Phone
Tidal subscribers can cancel their Tidal easily from iPhone/Android phones. Follow the below steps that can help you cancel Tidal account on iPhone and Android phones.
Step 1: Open your settings application from your mobile phone.
Step 2: Touch on your name/account from the list.
Step 3: Touch on the Subscriptions section.
Step 4: From the list of subscriptions, tap on the Tidal subscription from your phone.
Step 5: Click on the cancel subscription, and you will successfully cancel Tidal from your iPhone/Android phone.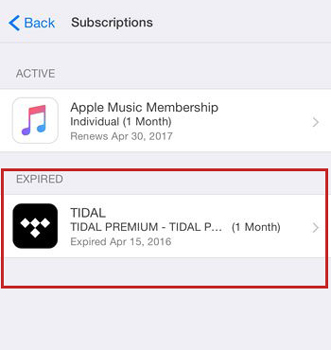 How to Cancel Tidal Account from Other Mobile Carrier
Another way to subscribe to Tidal HiFi music is by using your cellphone mobile carrier. You are charged through your mobile carrier for your Tidal HiFi music streaming service when you do that. And don't worry. You can cancel Tidal account from any mobile carrier.
The best way to cancel Tidal through your mobile carrier is to contact or connect with their customer service department. Tell them that you wish to cancel your Tidal subscriptions, and they will guide you through the process.
Part 2. How to Keep Tidal Music Forever after You Cancel Tidal Subscription
Once you have canceled the Tidal subscription, you might wonder how to keep the Tidal music forever. One quick solution is to download Tidal music to local device to play it forever. However, due to the protection of Tidal, you cannot download it without taking help from any external tool.
So, the best way to keep Tidal music forever is to use DRmare Tidal Music Converter. It is an awesome tool that helps you easily convert and download Tidal HiFi music. It can convert and download Tidal music in 100% original quality.
DRmare TidiKit Music Converter also provides the conversion formats such as MP3, FLAC, WAV, M4A, etc. for you. Besides, it easily converts your Tidal music with accuracy and 5X speed. Then you can keep the Tidal music on your device forever and use anytime.
DRmare Tidal Music Converter
Here let's follow the below tutorial to use DRmare TidiKit Music Converter to download Tidal music to computer. And then you can keep Tidal music forever after canceling Tidal account.
Step 1

Download DRmare TidiKit Music Converter and install it

Go to the official webpage of DRmare TidiKit Music Converter. Then click the 'Download' button to download and install it on your computer. Then launch the program once installed.
Step 2

Set the output parameters for Tidal music

From the menu bar, you need to select the Preferences option. A new window will appear from which you need to choose the Advanced option. After that, you will be able to adjust output parameters for Tidal songs from this section. Here, you should select the output format from Lossless, WAV, MP3, FLAC, AAC, M4A, and M4B. After that, you can change sample rate, bit rate, etc. that will help you adjust the quality and output of your Tidal songs.
Step 3

Add Tidal music into the DRmare software

You need to find the playlist of Tidal that you want to download. You can find it directly from the DRmare in-built Tidal web player. Once found, touch on the playlist and click on the add files button from the right side of DRmare. Then it will add your whole Tidal playlist into the waiting conversion window. After adding the songs, you can click the Convert button, and the software will start converting Tidal songs for you.
Step 4

Find downloaded Tidal music on computer

After conversion, all the downloaded Tidal songs will be placed inside your computer in a folder. You can locate the songs by clicking on the Converted icon > search icon to check the downloaded Tidal songs directly.
After that, you can play the Tidal music anywhere anytime. DRmare TidiKit Music Converter solve your problem and help you keep Tidal music forever without the Tidal subscription.
Part 3. Conclusion
There can be numerous reasons you would want to cancel a subscription from Tidal. The users coming from other music streaming services such as Spotify and Amazon Music do not stick to Tidal for too long.
However, the big worry while canceling the subscription is your saved music and playlists gone. But in this post, you can easily cancel Tidal subscription through your desktop, Sprint, your mobile carrier, or even your Android phone.
If you want to keep Tidal songs forever after canceling Tidal account, you need to download the DRmare TidiKit Music Converter and use it to help you. Its awesome features allow you to convert and download Tidal music easily. Once you have Tidal songs downloaded, you can play them anywhere on any device.