"How to stream Tidal on Devialet Phantom?" Most of the people are curious about it. This article is posted to answer this question. We will tell you 3 specific ways in the next part. In addition, we share a convenient tool with you to enjoy Tidal music without limitations when you are not a premium.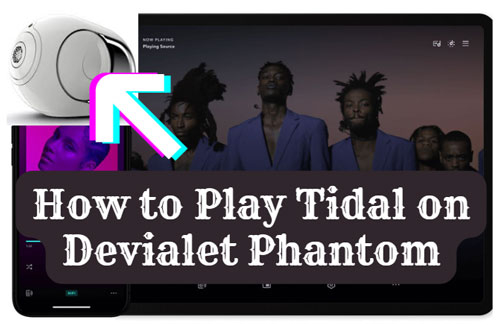 Part 1. What Is Tidal and Devialet Phantom
Tidal is a streaming music platform that provides sound qualities of normal, HiFi and Master. It provides 3 plans which are Tidal Free, Tidal HiFi and Tidal HiFi Plus. Devialet is a powerful speaker with high-end technology. Its products include Devialet Phantom, Devialet Mania, Devialet Gemini and so on. What we are going to talk about today is Devialet Phantom. By connecting Tidal to Phantom, you can launch and play Tidal music conveniently.
Part 2. How to Connect Tidal to Devialet Phantom
You need to download the Devialet Spark Application to help you play Tidal on Devialet Phantom. It enables you to wirelessly control the product and select Tidal to connect in the app settings. From Devialet official introduction, there are 3 ways to connect Tidal to Devialet Phantom: Airplay, Bluetooth or UPnP.
If you are an iPhone, iPad or Mac computer user, you can use all available methods: Airplay, Bluetooth or UPnP. But if you are an Android or Windows user, you are only allowed to choose Bluetooth and UPnP.
Via Airplay
Step 1. Make sure your Devialet Phantom is compatible with Airplay. Then, connect your device or computer and Devialet Phantom to the same Wi-Fi network.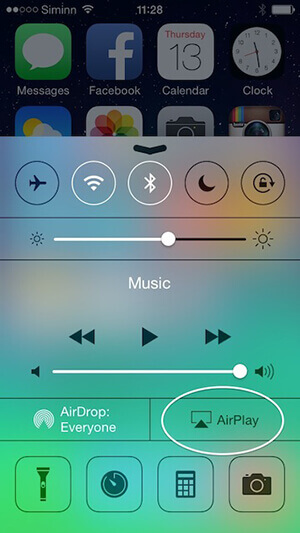 Step 2. Find and open the audio settings of your device or computer. Choose "living room" or "Bedroom" of your Phantom as audio output.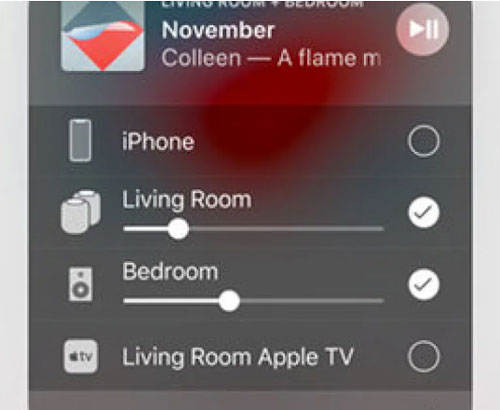 Step 3. Turn on the Devialet Spark app and click "Sources" > "Tidal". Log in to your Tidal account so that you can use Tidal on the Devialet Phantom wireless speaker.
When you successfully finish the steps, Tidal music will be played on Devialet Phantom. The sound will be in 16bit / 44.1kHz CD quality.
Via UPnP
UPnP is a streaming protocol that can connect many devices to the network with zero manual configuration. To use this way, you need to download an Upnp app that is suitable for your devices, like MconnectHD, Audirvana and BubbleUPnP.
Step 1. Connect your Devialet Phantom speaker and your device to the same Wi-Fi network.
Step 2. Launch the UPnP app on your device. Select "Library" > "Cloud" and choose "Tidal". In this step, you need to log in to your Tidal account.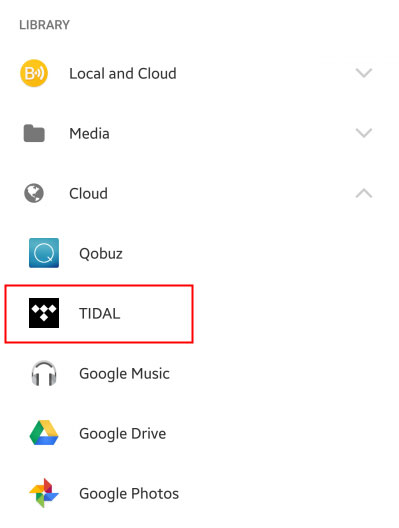 Step 3. Choose your Devialet Phantom as the audio output device. The music will be played and the sound quality from your Devialet Phantom will be 24bit / 48 kHz or above.
Via Bluetooth
Step 1. Install a Devialet app and open it on your device. Go into the room you want to pair with your Phantom. Determine the name of the room that Phantom will play in.
Step 2. Make sure that WIFI and Bluetooth are connected on your device. Tap the "Bluetooth" option.
Step 3. Turn on your Bluetooth device setting and search for devices near you. The app will detect nearby Phantoms automatically.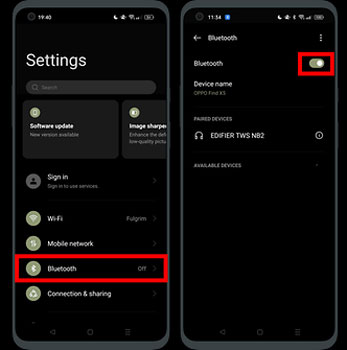 Step 4. Then, your Phantom will emit a sound to tell you that you have finished the connection.
Step 5. Finally, open the Tidal and then you can enjoy its music through Bluetooth.
Part 3. Enjoy Tidal Music on Devialet Phantom without Premium
Streaming Tidal music on Devialet Phantom online doesn't need many complex steps. But if the music is paid only, you only can listen to your favorite music when you are a premium. And the network always can influence your listening experience because you cannot control it as you wish. Therefore, the best way we advise you to deal with that you cannot enjoy paid Tidal music without premium and cannot play it on Devialet Phantom smoothly is to download our DRmare Tidal Music Converter.
You can use this Tidal music downloader to download and convert Tidal music without premium so you are allowed to play Tidal music for free on Devialet Phantom. Also, Tidal supports a sound format MQA which is frequently chosen by users but Devialet Phantom is not compatible with it. So it is very useful to download our product to convert MQA format to FLAC, MP3, WAV, AAC, M4A and M4B.
Appealing Points of DRmare Tidal Music Converter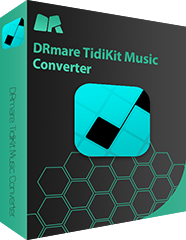 Faster 5X speed to convert Tidal music
Enable you to upload Tidal music to Devialet Phantom freely
Preserve 100% lossless original information of music
Convert Tidal music to FLAC, MP3, AAC, etc.
Save Tidal music to become local resource
Now, we are going to show you how to convert Tidal music for the Devialet Phantom. First of all, you need to convert Tidal music to your computer and then you can sync it to Devialet Phantom.
Step 1. Download and install our converter, and put it in an obvious location on your computer. Open it when you finish this step, and then the Tidal app will launch automatically.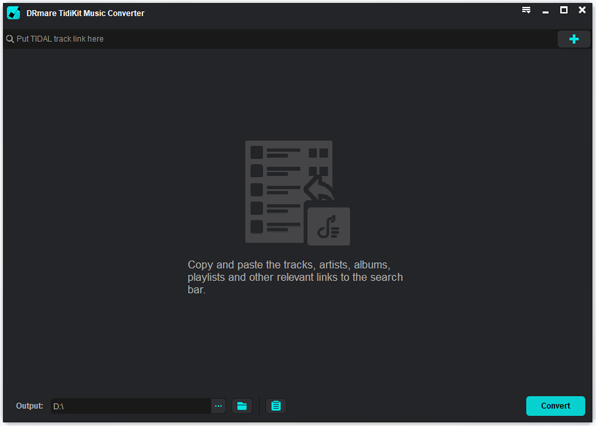 Step 2. Purchase a paid account or use a free trial version of it. You can convert each song to its first one minute. A paid plan supports you to convert the whole funny song.
If you want to buy a plan, you can click the following button. After buying a plan, please go to "Register" to log in to your account.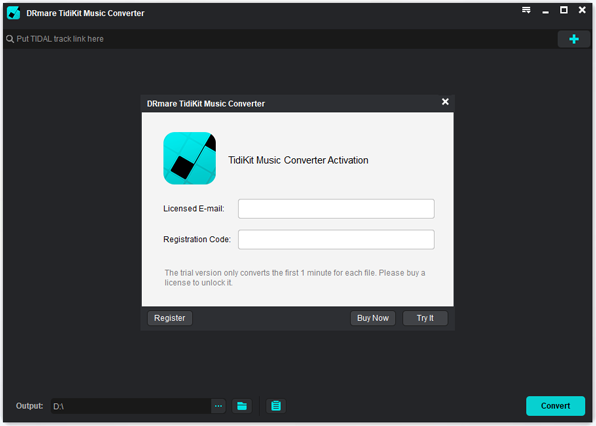 Step 3. Choose your favorite conversion functions. There are format, channel, sample rate and bit rate. From this step, you are able to choose various qualities of Tidal music.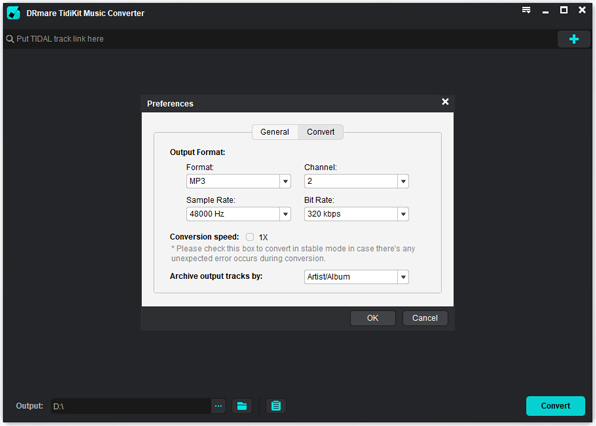 Step 4. Load Tidal music to the converter and convert the music to a computer folder. Finally, you can find converted music through records by clicking the "Converted" icon.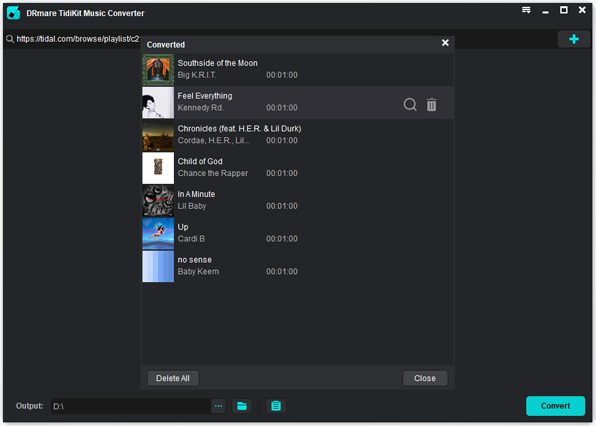 Step 5. You have converted Tidal music to your computer so you can connect music to Phantom via Airplay. When you sync converted music to Phantom, it means you can play them offline.
Part 4. Summary
DRmare Tidal Music Converter occupies a significant place to resolve you cannot use Tidal on Devialet Phantom without premium and play it fluently. Its remarkable functions that output format and lossless sound quality can provide you with a better converting experience.
With a useful converting tool, you can listen to Tidal music in a free method and in unlimited time and place. Streaming Tidal on Devialet Phantom is already easy for you. Hurry to download this converter and try its function. You will play Tidal music on your portable Devialet Phantom without any trouble.