Tidal is one of the best music streaming apps that encourage users to listen to high-quality tracks. This program offers two types of paid plans namely HiFi and HiFi Plus to users. Both plans focus on delivering quality soundtracks to users. But what are the differences between Tidal HiFi Plus vs HiFi and which one to choose?
In this article, you will get a better understanding of Tidal HiFi vs HiFi Plus. Please check the below content to enlighten about these two subscription plans of Tidal in detail. And then you will select the perfect plan that suits your needs appropriately. It is high time to get ready for an interesting discussion on Tidal premium plans. Let's move on.

Part 1. Tidal HiFi and HiFi Plus: More You Need to Know
Tidal HiFi and HiFi Plus are the two subscription plans provided by Tidal to their valuable users. Tidal HiFi vs Plus allows users to download the quality songs and listen to them in an offline mode. You can enjoy ad-free streaming of your favorite songs. It permits the users to access the full library of the Tidal collection. It carries more than 80 million songs and provides videos, and special content to entertain users limitlessly. You can listen to CD quality if you subscribe to the HiFi plan. If you want to add extra flavor to the music tracks, then connect to the HiFi Plus plan.
Both plans offer a 30-day free trial and then you can enroll on the desired plan based on your needs. The plan cost varies because of the quality factors. You can share your playlist on any channel by subscribing to the respective package.
Part 2. Tidal HiFi vs HiFi Plus: Differences
Nothing big difference you can figure out between Tidal HiFi vs Hi Fi Plus. You can enjoy all the features of Tidal using the premium plan. Some users upgrade their subscription from HiFi to HiFi Plus to listen to enrich soundtrack. But, which to choose and what are the differences between them? Here you can check out the detail below.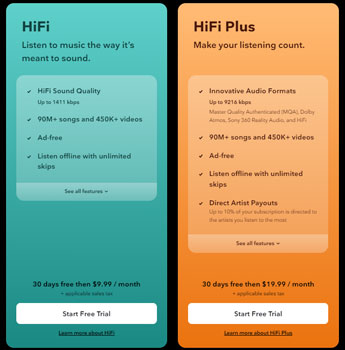 1. Price: $9.99/month for HiFi and $19.99/month for HiFi Plus plan. Tidal offers discounts for students, military person and first responders. They can opt for it if they are eligible for the criteria listed by Tidal. Also, you can enjoy discount to get a family plan. On occasion, Tidal announces exciting discounts to encourage music lovers to enroll with the plan consistently.
2. Music Library: Both plans allow you to access over 100+ million soundtracks. The list grows gradually and permits access to more than 650,000 videos and exclusive content. In the HiFi Plus plan, the artists receive 10% off subscription-based frequent access to their content on the Tidal platform.
3. Audio Quality: Now comes to Tidal HiFi vs HiFi Plus sound quality. Tidal HiFi offers sound quality like CD audio and it streams up to 1,411 kbps. The HiFi Plus pack streams high-quality standards measuring 9,216 kbps. And it also offers MQA, Dolby Atmos and Sony 360 Reality Audio quality to its songs. The audio metrics in HiFi Plus are appreciable compared to HiFi. The HiFi Plus provides audio content like the original recordings by retaining every detail precisely and offers a stereo effect to the Tidal content. 
4. Compatibility: The Tidal app is compatible with kinds of platforms efficiently. It supports Android, iOS, Windows, and Mac operating systems hassle-free. Yet, not all devices support Tidal HiFi and Tidal HiFi Plus. Besides, Tidal HiFi Plus needs a good output audio device.
Part 3. Comparison Table of Tidal HiFi Plus vs HiFi
The below comparison table gives you better knowledge about Tidal HiFi and HiFi Plus. Please check them out in detail.
Tidal HiFi
Tidal HiFi Plus
Price
$9.99/month
$19.99/month
Audio Quality
Like the CD quality, up to 1,411 kbps
Up to 9,216 kbps
Compatibility
Android, Windows, iOS, Mac,
web browsers and smart TVs
Android, Windows, iOS, Mac,
web browsers and smart TVs
Library
100 million songs,
650 million videos
100 million songs,
650 million videos
Offline Listening
Yes
Yes
Tidal Connect
Yes
Yes
Offline Listening
Yes
Yes
Part 4. How to Download and Save Tidal HiFi Music Offline
With a Tidal HiFi or HiFi Plus plan, you can download Tidal HiFi tracks for offline listening. Yet, you can only do that on your mobile device, not desktop device. So, how to download and keep Tidal HiFi tracks on computer?
No worries. Here DRmare Tidal Music Converter can assist you. It is an efficient tool to download and save Tidal HiFi music offline on the computer. It will retain the original quality of the Tidal playlist during the downloading process. And you can use this tool to convert Tidal playlist to your desired file type and store it in the local device for use forever.
Also, this program converts Tidal music tracks at 5X times faster without any data loss. You can try batch-convert and download Tidal music tracks with ease. Moreover, you can reset output audio channel and more for Tidal songs before converting.
DRmare Tidal Music Converter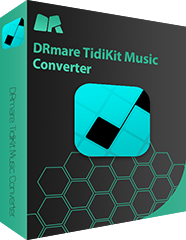 Convert and download Tidal HiFi songs at a faster rate
Retain quality and metadata of Tidal music file for easy access
Store Tidal playlist at the local computer for offline listening
Output Tidal music files to multiple audio formats like MP3
In this section, you will learn how to use DRmare Tidal Music Converter to get HiFi songs from Tidal step by step. Please follow and start.
Step 1

Install and launch DRmare Tidal Music Converter

Go to the official website of the DRmare Tidal Music Converter and download the correct version of it. Then, install it and launch the program on your PC. Next, you will get the Tidal app as well. Then log in to your Tidal account.
Step 2

Customize and add Tidal track/playlist to DRmare

Then, click the Preference menu to alter the conversion settings like file format type, bit rate, and conversion speed. Once set, click 'OK' to save the changes and then go to import Tidal playlist or track into the DRmare program.
Please find the playlist/track you like in the Tidal app and press the three horizontal dots nearby the playlist. And then select the Share option from the pop-up and copy the playlist URL. Next, paste the URL near the + icon at the DRmare Tidal Music Converter tool. Also, you can directly drag and drop the playlist or track from Tidal to the DRmare tool for converting. 
Step 3

Convert and download Tidal HiFi playlist/track

Now, press the Convert button to start the conversion and downloading process of the Tidal playlist. Wait for a few minutes and then you will get the local Tidal music tracks on your computer. Then you can move and stream Tidal songs anywhere and anytime offline even without the Tidal HiFi or HiFi Plus subscription.
Part 5. Conclusion
In a word, this article gives you a better understanding of Tidal HiFi vs HiFi Plus. You can learn more about price, music library, audio quality and so on of HiFi vs HiFi Plus Tidal plans. Besides, you get the DRmare Tidal Music Converter tool to help convert and download Tidal HiFi or other content for offline listening at any time with the original quality. In this case, you can still listen to Tidal music offline even you don't have a Tidal HiFi or Tidal HiFi Plus account. You also don't need to download and install the Tidal app on your device to enjoy Tidal songs.