This world is gifted with all sorts of digital products. And music lovers are blessed with an array of speakers that allow them to listen to their favorite songs efficiently. Speaking of music lovers, Bluesound is one of a kind speaker that enables users to listen to music wirelessly. Now isn't that cool!
This powerful speaker is loaded with features, provides top-in-class performance, and can easily connect to various music streaming services, such as Tidal, Deezer, Spotify, and much more. If you already have a Bluesound and want to learn how to connect get Bluesound Tidal connect, you have come to the right place. In this post, you will learn how to establish Tidal Bluesound connection in three ways. Let's get going!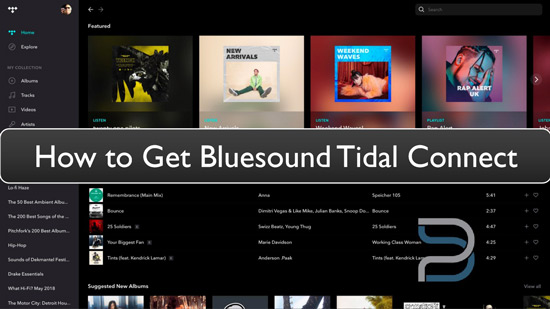 Part 1. How to Connect Tidal Bluesound by Tidal Connect
If you are a Tidal user, you must be already aware of the Tidal Connect feature. This feature lets Tidal users wirelessly connect the music streaming platform with multiple devices for the best music listening experience. And the same goes with Bluesound.
You can connect Bluesound Node 2i Tidal without any hassle. A stable internet connection would be the only thing you would need to establish the connection between Bluesound Node 2i and Tidal Connect. To connect Tidal Bluesound Node 2i by Tidal Connect, here are the steps that you need to take care of.
Step 1: Take your device where you have downloaded the Tidal app and launch the app. 
Step 2: Use the same WiFi connection for the Bluesound Node 2i and Tidal. 
Step 3: Now, search for a song you wish to play on the speaker. 
Step 4: Go to the device connected list and look for Bluesound Node 2i. Once found, choose that.
Step 5: Once the connection is established, your song will begin to play via the speaker.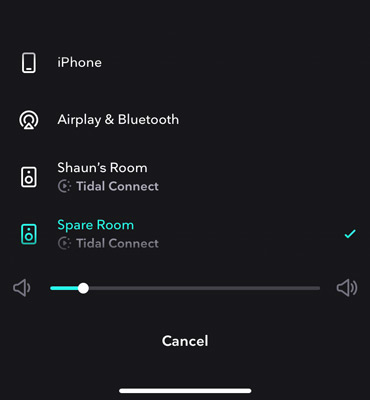 Part 2. How to Use Tidal on Bluesound via BluOS Controller App
Another way to use Bluesound Node 2i Tidal is via the BluOS Controller app. If you didn't know, the BluOS Controller app is by Bluesound, which lets you connect the speaker with different music streaming platforms. Users who have connected Bluesound Tidal HiFi said that the connection doesn't affect the sound quality. So, how to go about it? Follow the steps mentioned below, and you should be ready!
Step 1: First, visit www.bluesound.com/downloads. 
Step 2: Once there, get the latest version of the BluOS Controller app. 
Step 3: After downloading the BluOS Controller app, you need to click on the Configure Player option. Then you need to choose Configure Music Services. 
Step 4: Now, select Tidal. 
Step 5: You will have to log in to your Tidal account; please do that. Then, click on the Update option. 
Step 6: Once done with all the tedious steps, go back to the main menu. 
Step 7: Now, click on the Home menu icon and click on the Navigation Drawer option. 
Step 8: Click on the Tidal option, and now you can begin importing Tidal music files to the speaker and playing them.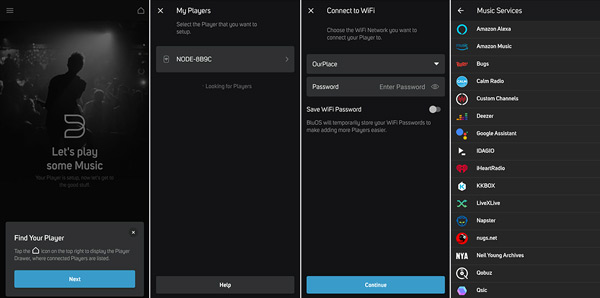 Part 3. How to Convert Tidal Music for Any Tidal Equalizer
If you want to connect Bluesound with MQA Tidal, the best way to do it is to download Tidal songs and then play them offline on Bluesound. And to be able to do that, the recommended tool to use is DRmare Tidal Music Converter.
In the first two parts, you would need a Tidal HiFi subscription to connect Tidal and Bluesound. However, there's another way to listen to Tidal songs without a paid subscription. That's using the DRmare Tidal Music Converter.
Now, how does DRmare Tidal Music Converter allows users to listen to Tidal music on Bluesound so effortlessly? This is a professional all-in-one Tidal converter as well as a downloader. It lets users convert and download an unlimited number of Tidal songs at 5X speed. The songs from Tidal can be converted to multiple audio formats, such as MP3, WAV, FLAC, AAC, etc.
Using DRmare Tidal Music Converter is easy. All you need to do is download DRmare Tidal Music Converter on your computer. Now, follow a few simple steps below, and start downloading your favorite Tidal songs for use on Bluesound or other devices.
DRmare Tidal Music Downloader
Step 1

Download and launch DRmare Tidal Music Converter

First, visit the official website of DRmare Tidal Music Converter and download the tool. Once downloaded, let it get installed. After the two steps are done, launch the DRmare Tidal Music Converter.  
Step 2

Customize audio parameters for Tidal Bluesound

Click on the Preferences option via the menu icon and start customizing the audio parameters when you see the new window popping up. You can change the audio format, channel, sample rate, and bit rate. Not just this, but you can choose the conversion speed as well.
Step 3

Upload Tidal songs to DRmare program

Go to the Tidal app and click on the "Share" option on the target song. There, copy the file link and paste it on DRmare Tidal Music Converter. Once done, click on the "+" icon. You can repeat this step to upload multiple Tidal songs to convert together.
Step 4

Convert Tidal songs for Bluesound

You have finally reached the last step of Tidal music conversion and downloading. After the songs are uploaded, you need to click on the "Convert" tab to start the conversion process.
Step 5

Play Tidal Songs on Bluesound 

The songs from Tidal are downloaded to your computer. Now, take a USB drive and plug it into the computer where you have downloaded the Tidal music files. Next, transfer the local Tidal songs to USB drive, take the USB drive and plug it into Bluesound Node 2i, and start playing Tidal music on Bluesound.
Part 4. FAQs about Tidal Bluesound
Q1: Does BluOS Support Tidal?
A: If you are Tidal HiFi users, then you can use Tidal with BluOS. That's because there is a Bluesound Tidal integration. 
Q2: How Do I Use Tidal on Bluesound?
A: You can use your Tidal HiFi account to do that. If you don't have one, then the best way to do it is by getting a Tidal music converter and downloader. DRmare Tidal Music Converter is such a tool to convert and download the Tidal songs offline. You can use it to get the Tidal audio files, transfer them to a USB drive, and plug the USB drive into Bluesound to start playing the Tidal songs. 
Q3: Do I Need a DAC with Bluesound?
A: The answer is yes. There will be a requirement for DAC if you are trying to use the analog RCA output. If you're finding DAC, refer to some from here: Top 5 DAC for Tidal.
Q4: Can Bluesound Play Tidal MQA?
A: Yes, Bluesound can play Tidal MQA, and the sound quality is good.
Bottom Line
We hope this article has helped you understand how to connect Bluesound Node 2i Tidal Masters or Bluesound Tidal HiFi. Please note that connecting Bluesound with Tidal via BluOS won't be possible if you don't have a Tidal HiFi account. So, download DRmare Tidal Music Converter to listen to Tidal songs on Bluesound without any paid Tidal subscriptions is the best way for you. Moreover, the downloaded Tidal songs can be played on multiple other devices too!