"Can you play Tidal through Foobar2000?" Foobar2000 music player is a free audio player and it is popular among users. That's because it is minimalistic and has a clean UI as well as a small file size. Besides, it is light on resource usage. Foobar2000 can support a wide range of audio file formats, like MP3, AAC, WMA, and so on. In other words, it allows users to get the music for playback with ease.
Yet, some music streaming services, like Tidal, is not supported by Foobar2000. When you add Tidal music to Foobar2000, you will find that you couldn't do that even though you had downloaded the music.
Why would it happen? To know the reason, you can move on and check the following article. In this post, we will explain why you can't play Tidal music on Foobar2000. And we will share a tip with you on how to connect Tidal Foobar2000 music player. Now, let's get started.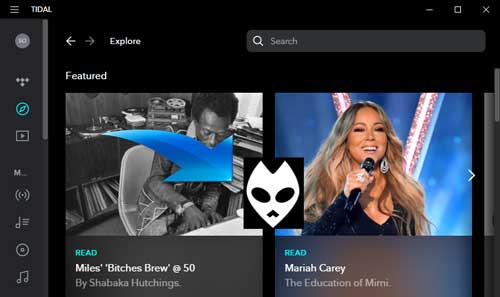 Part 1. How to Get Tidal Foobar2000 Work via DRmare Tidal Music Converter
We need to know that the downloaded music from Tidal is protected by copyright protection. That means users can only use Tidal music in the Tidal app. They are not allowed to play Tidal music on other music players or devices. Also, there is no Foobar Tidal integration. So, this is the reason why you couldn't get Tidal Foobar2000 to work.
But, here comes the question - what to do to make Foobar2000 Tidal streaming? Don't worry. It is very easy. You will need a third-party tool to remove the protection from Tidal music. And then convert the Tidal audio files to be compatible with the Foobar2000 music player.
To help you through, here we would like to introduce a powerful tool to you. This program is DRmare Tidal Music Converter. It is designed to rip the encryption from Tidal music and convert Tidal to AAC, FLAC, and so on with high quality. You could choose the audio format that Foobar2000 supported as we had mentioned above.
Moreover, with this professional tool, you can also define the output audio parameters. You can reset the bit rate, sample rate, channel, and else according to your requirements. And you can save the converted Tidal music to your computer and stream Tidal to Foobar2000 or other devices for offline listening.
Key Features of DRmare Tidal Music Converter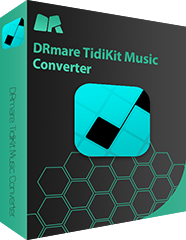 Download and convert music from Tidal to Foobar2000
Batch convert Tidal audio to MP3, FLAC, AAC, and more
Get Tidal Foobar2000 music player and other devices to work with ease
Retain ID3 tags and original audio quality after converting
Part 2. Tutorial to Convert Tidal to Foobar2000 Music Player-Supported Files
Now, let's go on and see how to use DRmare Tidal Music Converter to convert Tidal music for Foobar2000. Before we get started, please make sure that you had downloaded and installed the Tidal app and the DRmare program on your computer. After that, you could follow the detailed steps below to convert Tidal audio files for Foobar.
Step 1

Import Tidal music tracks to DRmare

Please click the icon of DRmare Tidal Music Converter on your computer desktop to open the program. At the same time, you will see the Tidal app will launch automatically. Then go to the Tidal app and discover the playlists, albums, and more that you would like to convert and play on Foobar2000. When you found the tracks, please hit on the 'three-dot' icon > 'Share' > 'Copy Playlists Link' or 'Copy Track Link' to copy the URL of Tidal audio track. Next, paste the copied link to the search box on DRmare main screen and press the '+' button to load the Tidal music.
Step 2

Define output format for Foobar Tidal

Touch the Menu icon at the top right on DRmare main interface, then select the 'Preferences' option. You will see a new pop-up window. Then click 'Convert' to start to set the audio format for Tidal music. Besides, you can also customize the sample rate, channel, bit rate, and others as you want. Then click the 'OK' button to keep the setting.
Step 3

Convert Tidal music files for Foobar2000

After the setting, click the 'Convert' button and begin the conversion. When the Tidal audio files are well-converted, you could touch the 'Converted' icon to locate and check the converted Tidal music files on your computer.
Part 3. How to Connect and Use Foobar2000 Tidal
After following the detailed steps above, you will get the converted Tidal music files on your computer as local files. Now, it's time to add the converted Tidal music to Foobar2000 for use. Here you could check the simple steps below to see how to import Tidal to Foobar2000.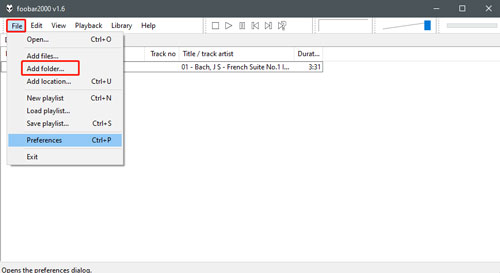 Step 1. Open the Foobar2000 music player on your computer.
Step 2. Click the 'File' icon at the top left side on the Foobar2000 main interface.
Step 3. Then choose the 'Add Folder' option at the list scrolled down. And you will be navigated to the local file folders on your computer.
Step 4. Now choose the music folder that included your converted Tidal tracks. Then hit on 'Select Folder' to import Tidal music to Foobar2000.
At last, you can then connect Tidal Foobar2000 and listen to Tidal music on Foobar2000 music player without any limitation.
Part 4. How to Use Tidal on Foobar2000 by Foobar Tidal Plugin
In this part, here is another way for Foobar2000 Tidal streaming. To do that, you can use the Foobar2000 Tidal plugin. Now, you can check the steps below and learn how to make it.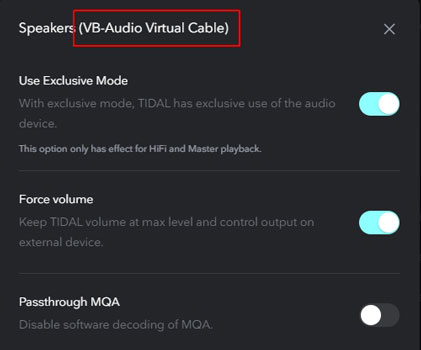 Step 1. Open the Foobar2000 music player and the Tidal desktop app on your computer.
Step 2. Go to download and install both the VB-CABLE program and the foo_record plugin.
Step 3. Head to the Tidal app. Then go to 'HiFi quality' and select 'VB-Audio Virtual Cable' as the input audio path.
Step 4. Define the output audio path as VB-Audio Virtual Cable > foo_record plugin (44k1 24bit) > ASIO USB driver > DAC.
At last, you can begin to play music from Tidal on Foobar2000 without any limit.
Part 5. FAQs about Tidal Foobar2000
Q1: Does Foobar2000 Work with Tidal?
A: Foobar2000 doesn't work with Tidal due to the protection on Tidal songs.
Q2: Is Foobar2000 Free?
A: Yes. Foobar2000 is a free music player for iOS, Android and Microsoft Windows devices.
Q3: Is There Any Way to Play Tidal on Foobar2000?
A: Yes. You can convert Tidal music to plain audio files via the DRmare Tidal Music Converter. And then you can put Tidal music on Foobar2000 music player for playing offline.
Part 6. The Verdict
Now, you got two ways to make Tidal Foobar2000 to work. One is using the DRmare Tidal Converter, the other is using the Foobar2000 Tidal plugin. Compared to them, the first one is quite easy and powerful. With the DRmare Tidal Music Converter, you can convert and save Tidal songs to local audio files. Then you can move Tidal music to Foobar2000 or other music players for offline playing with ease.