Can Sony Walkman Tidal work? Fixed!
"Is Tidal compatible with Sony Walkman?" Unluckily, there is no direct way to get Sony Walkman Tidal work. Sony Walkman is a portable media player. It allows users to store and enjoy music they like offline on the go.
But if you want to play Tidal on Sony Walkman, you can check this post below. In here, you can find the solution to get Tidal Sony Walkman work with ease.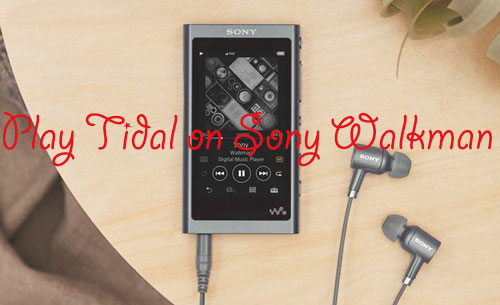 Part 1. Sony Walkman Tidal via DRmare Tidal Music Converter
Why We Can't Use Tidal on Sony Walkman Directly
Firstly, we need to know why Tidal Sony Walkman can't work. For Sony Walkman, it is not an internet-connected device. So, it can't stream music tracks online from Tidal. And it only supports plain audio formats like MP3. However, Tidal music files are encrypted with its own formats and can't be used on other devices.
Best Tool to Fix Sony Walkman Tidal Can't Work Issue
As we mentioned above, due to the special format of Tidal, we can't put Tidal on Sony Walkman for playing. But please don't worry. In this part, we will introduce a tool for you to get Tidal music on Sony Walkman with ease. Let's check it out here.
This tool is DRmare Tidal Music Converter. It can break the encryption from Tidal music files for Sony Walkman. And it can convert Tidal to MP3 and other formats that Sony Walkman allowed. Also, it can batch convert tracks from Tidal in a faster speed. So, you can save your time.
In addition, you can adjust Tidal audio bit rate, sample rate, etc. according to your needs. Then you can convert and save Tidal songs to your computer for using on Sony Walkman offline.
Part 2. Steps to Convert Tidal for Sony Walkman
Above we had learned the main features of DRmare Tidal Music Converter. Now we can go on and see how to convert Tidal for Sony Walkman with it.
Note: Please get the DRmare Tidal Music Converter onto your computer first. You could make it by hitting the 'Download' button. Besides, please check whether your Tidal account is still valid.
Step 1

Load Tidal tracks to DRmare

Here directly open the DRmare Tidal Music Converter on your computer. And the Tidal app will set up at the same time. Now, you can go to the Tidal app to find the tracks you like to listen on Sony Walkman. Once found, please copy its link and put it into the box at the top of DRmare main interface. Then click on the '+' button and DRmare will analyze and load the track for you.
Step 2

Reset output format of Tidal Sony Walkman

Click on the menu bar at the top right of DRmare. Then choose 'Preferences' at the drop-down list. And you will see a new window popped up. Next, hit on the 'Convert' option. And then you are able to modify the Tidal audio format, etc. for Sony Walkman. Once finished, you should hit on 'OK' to save the settings.
Step 3

Convert Tidal for Sony Walkman

At last, you can start the conversion of Sony Walkman Tidal. Please touch on the 'Convert' button and the process will begin. After then, you will see a red dot with number on the 'Converted' button. Then please hit on it to find the converted Tidal music tracks on your computer.
Part 3. Steps to Make Sony Walkman Tidal Work
Now, with DRmare Tidal Music Converter, you had got Tidal for Sony Walkman. Then it is time to make Tidal Sony Walkman work. Here we go.
Solution 1. Get Sony Walkman Tidal Work with Windows Explorer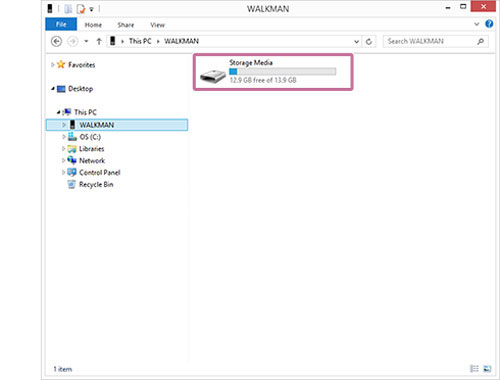 Step 1. Connect Sony Walkman with your computer via the USB cable.
Step 2. Touch on 'Start' and 'Computer'.
Step 3. Double-click on the icon of Sony Walkman at the 'Devices with Removable Storage' panel.
Step 4. Open the 'Storage Media' folder. Then locate and choose the converted Tidal songs in the target output folder.
Step 4. Copy and paste the Tidal tracks to the folder in Sony Walkman.
Step 5. Choose and open a media player to browse and play Tidal on Sony Walkman.
Solution 2. Play Tidal on Sony Walkman by Windows Media Player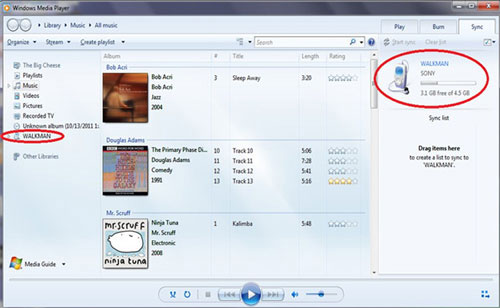 Step 1. Link your Sony Walkman with your personal computer.
Step 2. Open the Windows Media Player. Then you can see your Walkman showed at the right side.
Step 3. Choose the 'Music' option under the Library panel.
Step 4. Select the Tidal songs to sync to Sony Walkman.
Step 5. Hit 'Sync' button. Then drag-n-drop Tidal music to the Sync list.
Step 6. Press on 'Start Sync' button to get Tidal Sony Walkman music together.
At last, with DRmare Tidal Music Converter, you can easily get Sony Walkman Tidal work. Besides, this tool can convert Tidal to FLAC and other plain audios with original quality. And it supports to use Tidal on Sony Walkman and other devices offline.