"Does Tidal Volumio work?" Volumio is a free music player for audiophiles to play high-quality music. It supports to stream music offline so you enjoy music anywhere and anytime. When it comes to high-quality music, you may think of Tidal. It states that it offers high-quality tracks to users. So, now there are lots of users trying to play Tidal on Volumio. But how?
In today's post, we will show you 3 ways how to connect Volumio Tidal. Please follow it and learn how to do that in detail.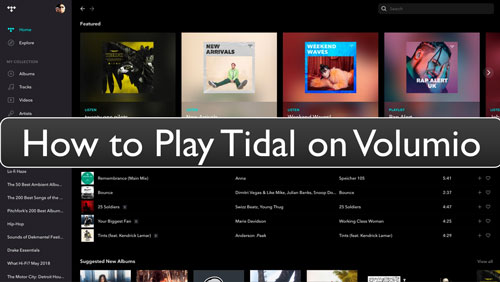 Part 1. How to Play Tidal on Volumio Free via DRmare Tidal Converter
Volumio supports to add local music files for playing offline. So, the best way is to import Tidal music to Volumio. To save Tidal music as local files, a tool is needed as Tidal files are protected.
So, here we will introduce the tool DRmare Tidal Music Converter for you. This tool enables you to get Volumio Tidal work well. It can get Tidal music converted into plain audio formats like MP3, FLAC, and so on. And it supports to alter the Tidal audio channel, bit rate, and more for playing on Volumio. Besides, it can keep lossless sound quality for Tidal songs while working at a rapid conversion speed.
After using this tool, you can get Tidal connect Volumio. Then you can play Tidal on Volumio without any restrictions. Also, you can move and stream Tidal songs anywhere and anytime.
DRmare Tidal Music Converter
How to Convert Tidal Music and Get Volumio Tidal Work
Now you can go to get Tidal for Volumio via DRmare Tidal Music Converter. To do that, please install the DRmare program on your PC. You can choose the Mac or Windows version according to your computer's system. Once done, follow the steps below to start to convert Tidal to MP3, and so on for Volumio.
Step 1

Open DRmare Tidal Converter program

Open DRmare Tidal Music Converter. You can see its main screen in the photo showen below. Then you will also get the pop-up Tidal music app. And then you can log in to your Tidal account.
Step 2

Customize output parameters for Tidal Volumio

In this step, you need to reset the output audio parameters for Volumio Tidal music. There are audio formats, bit rate, and more for you to change. For Windows users, please hit on the menu icon at the top-right corner of the DRmare main screen. Then select the 'Preferences' option. For Mac users, please find the 'DRmare Tidal Music Converter' on the left side of your Mac system. Then click on 'Preferences'. Then, you can see the setting window. You can click on the 'Convert' option. It will enable you to set the audio format, sample rate, and else for Tidal on Volumio.
Step 3

Add Tidal music to DRmare

Once done the settings, you can step to add Tidal music you like to DRmare for converting. Please go and find the Tidal playlist/track/album you like. You can also find and download Tidal MQA through this tool. Then touch it and drag it to the main screen of the DRmare program. Also, you can get the link to the music and put the music link into the search bar on DRmare. After that, click on '+'.
Step 4

Convert Tidal for Volumio

Now, click on the 'Convert' button and wait for the conversion. After then, the Tidal music files are converted. Next, hit on the 'history' icon at the bottom bar. Then you can find all the converted Tidal music files on the tool and your computer
Step 5

Play Tidal on Volumio for free

At last, it is time to access Volumio Tidal MQA. It is quite easy to make it now. Please check the ways below and see how to make it.

Way 1:

Step 1. Go to File Manager on your computer, and enter the '//volumio.local' folder. And drag and drop the converted Tidal audio to the folder.

Step 2. Then launch the Volumio app and click on 'Music Library'.

Step 3. And then hit 'Internal'. At last, you can enjoy Tidal music on Volumio.

Other Ways:

You can move Tidal music to an SD card for playing Tidal songs on Volumio mobile app. Or you can copy Tidal music to a USB drive first. Then you can make Tidal connect Volumio on Volumio OS devices through a USB port.

Note: To use a USB drive or SD card to get Volumio Tidal connect free, you need to install NAS drive shares (CIFS and NFS) and scan media content with Volumio. And then you can add an SD card or USB drive as extra or removable storage.
Part 2. How to Stream Tidal on Volumio by MyVolumio
MyVolumio is a premium feature for Volumio users. You can choose to subscribe to MyVolumio Virtuoso or MyVolumio Superstar. Once upgraded, then you can get Tidal Volumio work with ease. And it no need a Volumio Tidal plugin. Now, let's check how to use Tidal with Volumio by MyVolumio.
Step 1. Download and get the MyVolumio app installed onto your computer. Or you can update the Volumio program to version 2.501 or above.
Step 2. Log in to your MyVolumio account. Or create a new account.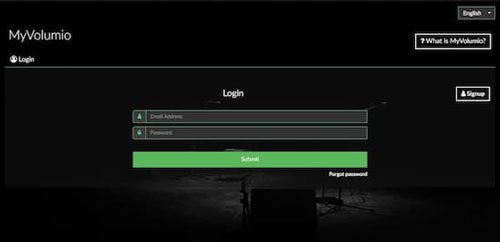 Step 3. Select the 'Upgrade your plan' on the profile page to upgrade.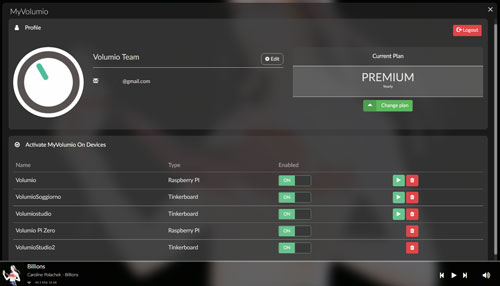 Step 4. Go to the ickStream Music website and log in to the account.
Step 5. Hit on 'Browse' at the bottom left on Volumio. Then click on the 'Home' icon. You can see Tidal or Qobuz there. And then choose Tidal.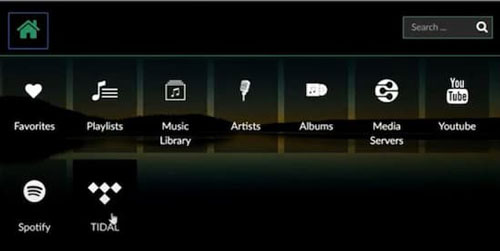 Step 6. Now, you can play Tidal on Volumio with the premium feature MyVolumio.
Part 3. How to Stream Tidal to Volumio via Tidal Connect
With a MyVolumio Virtuoso and Superstar plan, you can use the Tidal Connect feature to enjoy Tidal music with ease. You can make it via the Tidal app or Volumio user interface. Now, let's check how to use Tidal on Volumio by Tidal Connect.
Note: Before starting, you need to update both the Tidal app and Volumio app to the latest version. Also, make sure that your devices are connected to the same network.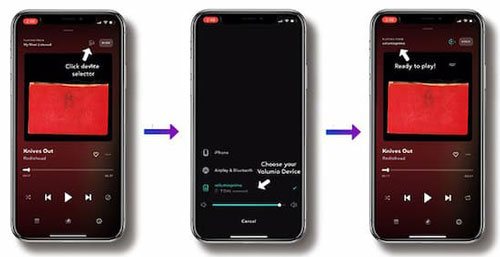 Step 1. Open the Volumio app on your computer. Then sign in with your MyVolumio Virtuoso or Superstar account.
Step 2. Start the Tidal app on your mobile and then log in to your Tidal account.
Step 3. Find and play a song you like on the Tidal music app. Then head to the 'Now Playing' screen. Then touch the 'devices' icon to choose your Volumio from the list. At last, you can listen to Tidal music on Volumio from the Tidal app.
Part 4. FAQs about Tidal Volumio
Q1: What Audio Formats Does Volumio Support?
A: Volumio can support audio formats like MP3, AAC, FLAC and so on.
Q2: Why Is Volumio Tidal Connect Not Working?
A: If you can't access Tidal Connect on Volumio, maybe there is something wrong with the network or else. Here you can try to fix it with the tips below.
Try to connect to a different network.
Make sure that your Volumio app is the latest version.
Check whether you have logged in to your MyVolumio account.
Q3: Does Volumio Support to Play Tidal MQA Audio Format?
A: Yes. But you need to set the volume at 100 or none. Also, you need to have a USB DAC which is compatible with MQA hardware decoding.
Part 5. The Verdict
Above are the 3 ways for you to get Volumio Tidal connect. You can choose one of them to help play Tidal on Volumio. To use MyVolumio or Tidal Connect, you have to upgrade your Volumio account. This is not available for some users. Yet, using DRmare Tidal Music Converter, you can save a lot and you can get Tidal music as local files. Then you can stream Tidal to Volumio and other devices with ease.