At its 2017 event on September 21st, Apple released iTunes 12.7 with some unexpected changes that entirely revamp the iTunes App. According to Apple, the new iTunes is designed to focus solely on music, movies, TV shows, podcasts, and audiobooks. In result, Apple has removed the iOS App Store from this latest iTunes 12.7 version. Therefore, it no longer contains any options for syncing apps or ringtones to your iPhone, iPad, or iPod touch. Starting with the new iTunes, apps can only be downloaded using an iOS device, and the same goes for ringtones.
In addition to the elimination of the App Store, there are some other changes and new features being introduced by iTunes 12.7 you may not know yet. So if you are just getting confused about what's changed and what you can and cannot do with the new iTunes, read on the following content to find out more tips and tricks.
[Update] - If you still want to manage apps and ringtones in addition to the music and movies, etc, you can install the newly released iTunes 12.6.3 that brings back apps and ringtones for iOS 11, iPhone 8, iPhone 8 Plus, and iPhone X. Even if you have already updated to iTunes 12.7, you can still install 12.6.3. But one thing to be noted is that Apple isn't providing technical support for this version, only for 12.7.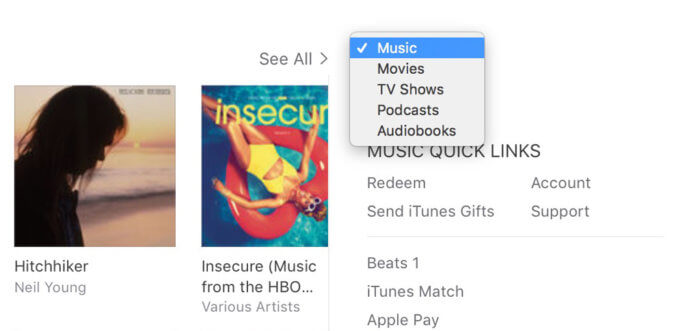 Part 1. Major Changes in New iTunes
From Apple's support document, you'll find the changes and new features in new iTunes 12.7 listed as below:
Apps - iTunes users can no longer browse App Store in iTunes and download iOS apps to their computer for safekeeping. Apple advises that users redownload apps directly on iOS devices.
iTunes U - Collections of iTunes U content now appear in the Podcasts section of iTunes. Search and explore free educational content produced by leading schools, universities, museums, and cultural institutions all in one place.
Apple Music - Now discover music with friends. Members can create profiles and follow each other to see music they are listening to and any playlists they've shared.
Internet Radio - Internet Radio stations appear in music library's sidebar. Users may need to click Edit in the iTunes sidebar to show or hide the Internet Radio section.
Ringtones - Ringtones in iTunes have gone the way of the cuckoo, but iOS 11 now lets you redownload them directly to your iOS device.
iBooks on Windows - Books on iTunes for Windows are no longer supported and customers are advised to use the iBooks iOS app and redownload their books directly to their iPhone or iPad.
Part 2. Useful Tips & Tricks of iTunes 12.7
1. How to Transfer Custom Ringtones to iPhone with iTunes 12.7?
In order to transfer custom ringtones from iTunes to iOS devices like iPhone, you should drag and drop the new tone from the iMac Tones directory under iTunes Media into the Tones section of "On My Device" in iTunes. Once you have transferred, click on Sync so that they are moved to the iOS device. On your iPhone, choose Settings -> Sounds -> Ringtone.
2. How to Locate Purchased iTunes Media Content on iTunes 12.7?
To find your iTunes media files that you previously downloaded or purchased on Mac, use Finder to retrieve these files. Simply navigate to Go > Home > Music > iTunes. On Windows, you can access to those files from C:\Users\username\My Music\iTunes\.
3. Can I Copy iTunes Movies to Play on non-iOS Devices?
Due to DRM copyright protection, all iTunes movies and TV shows are locked to play on Apple's approved platforms only. If you want to copy iTunes videos to Android or other non-iTunes media players like VLC, WMP, etc., you'll need to use DRmare M4V Converter to completely remove the DRM limit from iTunes videos. It will help you bypass the iTunes DRM and convert the protected M4V videos to common MP4, M4V, MOV, AVI, and other formats. For more details, please visit: How to Losslessly Remove DRM from iTunes Movies.