As the one of the biggest media streaming player manufacturers, Roku announced its own streaming movie channel in September, which was expected to roll out in phases over the coming weeks. Now the channel is available to all owners of the current generation of Roku set-top boxes, streaming sticks, and TVs introduced after June 2011. This new channel offers hundreds of movies and TV shows for users to stream for free with commercial ads just like the traditional cable TVs but with much better user experience. These videos are either licensed to Roku directly from studios or aggregated from other publishers.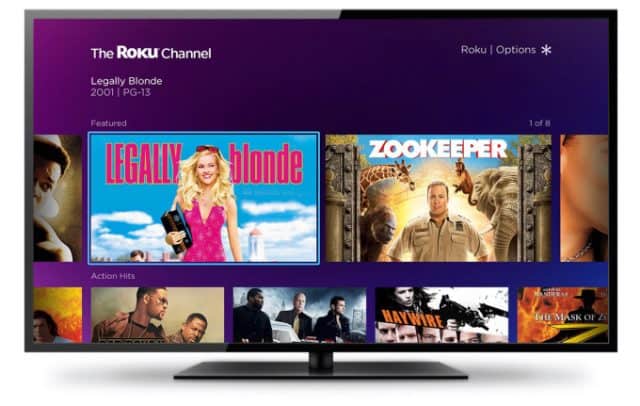 It is not the first time Roku has created its own selections of videos for users. Prior to the new Roku channel, Roku have developed two previous channels, 'Roku Recommends' launched in 2011 and '4K Spotlight' launched in 2015. But both are for curated selections of video content only. Now it is making its own deals to license content from studios like Lionsgate, MGM, Paramount instead of merely aggregating content from other channels such as American Classics, FilmRise, Nosey, Popcornflix, Vidmark, and YuYu etc.
Of course, the Roku channel may not have the latest blockbusters since it is free. At the beginning, Roku users will be able to browse and get access to a hundreds Hollywood hits such as the well-known films like Ali, the Legally Blonde movies, Up in the Air and more with commercial ads. The videos are sorted in a fairly standard format in the Roku channel, users can scroll the rows within the channel to find any videos they want and click it to play.
The watching experience is really seamless though with ads, you don't need to wait for it to play several commercials before seeing the movies like other streaming apps or traditional cable TVs. Generally, you can dive into the movies without interruption of commercial ads until a half hour later. And the ads are all well-organized to display according to every customer's preferences. For example, if you are watching kids' movies, then you are more likely to see the toy ads etc.
"The main things were focused on is limiting the commercial breaks, and the timing and placement when designing the ad experience on the Roku channel." Says the Roku CMO Matthew Anderson. In this way, all the ads will be smartly placed and users surely won't see annoyingly repeated ads on Roku platform.
A small shortcoming is that it lacks some a lot of features and functionality you can find from other streaming app since it is newly released. Currently users only have basic playback controls to play movies but don't have the feature to favorite titles or create a playlist and so on.
The Roku channel is available to all the US users with the Roku devices released after June 2011 now. Customers who are excited about the Roku channel are recommended to add the channel either by going to the channel store on the web or browsing the on-device channel store. When it is done, the Roku channel can be found under the streaming channels section in the 'Featured', 'New & Notable', and 'Movies & TV' categories.
More Tips about Roku
Roku is one of the most powerful media streaming players similar to the Apple TV, Amazon Firefox, Chromecast but with better performance and more channels. According to the statistics, it has over 5000 channels such as Nexflix,YouTube, VUDU, Hulu etc. No matter sports, news or entertainment you want, you can watch them through Roku devices. However, one thing you need to note is that it that it doesn't support the popular iTunes app, so you won't be able to stream iTunes movies or TV shows, extras which are FairPlay DRM protected.
Fortunately, a well-designed DRM software DRmare M4V Converter can help you erase DRM protection from iTunes videos in an easy way, you can simply install the DRmare M4V Converter and then load all the iTunes videos and one click to get rid of the DRM protection. To find out the details, you can read this guide: How to Stream iTunes DRM Movies on Roku.