YouTube Music is gaining popularity, with over 2.6 billion people actively using the platform in 2023. Its widespread appeal can be attributed to its vast collection of music. Additionally, one of the best things about this platform is its convenient accessibility. Its popularity has also opened up new possibilities for music enthusiasts.
People are now more interested in creating DJ songs and playlists. With YouTube Music's extensive library, you have many options to create DJ versions of songs. Moreover, you can create your own DJ versions of your musical preferences. To tackle this specific need, Serato DJ Pro for YouTube Music provides a solution. Additionally, there is also a lite version of Serato DJ available that you can try and use. Then, today, let's see how to download YouTube Music to Serato DJ Pro and Lite for mixing.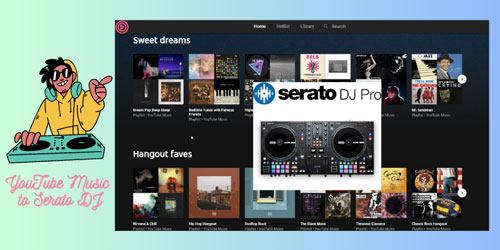 Part 1. Quick Introduction to Serato DJ Lite and Serato DJ Pro
When it comes to mixing and modifying music, good DJ software is what you require. In this section, you will learn specifically about the lite and pro versions of Serato DJ. You can also download audio from YouTube for Serato DJ for customization, which we will discuss in the next part.
Serato DJ Lite
If you're an enthusiast looking to become a DJ, Serato DJ is the tool for you. It is the first step in learning to become a professional DJ. The lite version is free and lets you mix and edit songs with simple adjustments and modifications. This tool doesn't require you to buy expensive equipment for DJing. Download this tool for free and add YouTube Music to Serato DJ Lite to edit them.
Key Features:
Add some unique and amazing audio FX to your music.
Sync different music layers and files to the beat.
You can add similar music surroundings with the Stem feature.
Colorize or name your cue points in your music project.
Serato DJ Pro
Have you learned what it takes to become the next big DJ? Well, now you need professional software to take your DJing to the next level. Serato DJ Pro is a tool that not only lets you edit music files but also lets you record them. You can add music files directly from different platforms like SoundCloud, Tidal, and Beatport.
Key Features:
Jump beats in your music file forward or backward easily.
Trim your audio track in 8 parts in a go.
Add a new MIDI device and modify your project's mapping.
Don't like the darkness? Change it to the Day Mode.
Part 2. How to Download YouTube Music to Local Files Supported by Serato DJ
A DJ must rely on a vast library of music tracks to create unique mixes and tracks. However, downloading audio files from various websites can be risky, as it may expose your computer to viruses and other unwanted issues. This is where a reliable and professional tool like DRmare Audio Capture comes into play.
DRmare Audio Capture is a powerful software that enables you to capture or record music from different websites with ease. It is available for macOS and Windows, providing a versatile solution for music enthusiasts and professionals. This tool lets you download music tracks from streaming websites including YouTube Music, ensuring a safe and stress-free experience.
Not only can you rip audio from YouTube Music, but DRmare Audio Capture can also convert YouTube songs to Serato DJ-supported audio files, like MP3, AAC and other audio formats. In addition, it can capture in-game music, audiobooks, online conferences, and more. It means you can extract high-quality audio files from not only YouTube Music, but also almost any sound available on the internet, expanding your options as a DJ.
DRmare Audio Capture
If you want to use YouTube songs in Serato DJ Pro, first learn to download and convert them to Serato-supported files. In order to download your favorite music tracks from YouTube, follow these simple steps.
Step 1

Set Up DRmare Audio Capture

To get started, launch DRmare Audio Capture on your PC or MacBook. Open the main interface and click on the '+' icon to add YouTube Music or a web browser as your desired platform/app for audio recording.
Step 2

Adjust the YouTube Music Output Settings for Serato DJ

Next, click the 'Format' icon to access the output settings. Here, you can modify parameters of YouTube Music songs such as file format, sample rate, bit rate, and more according to your preferences. Customize the settings to meet your required output specifications. Besides, it's highly recommended to define the output format as MP3 or AAC that can be added to Serato DJ without problem.
Step 3

Play Your Favorite Videos or Music Tracks

Now, open YouTube Music or web browser and select the videos or music tracks you want to capture. As you start playing them, DRmare Audio Capture will automatically detect the audio and begin converting YouTube Music for Serato DJ. The tool will stop YouTube song recording once the video or music ends. Click the 'Save' button and look into the 'History' feature for your saved YouTube Music MP3 files.
Part 3. How to Add and Use YouTube Music in Serato DJ Lite/Pro
You can now play YouTube Music in DJ Serato Pro and Lite versions with ease. Before mixing songs in Serato DJ, learn how to add your music files to it below.
How to Add YouTube Music to Serato DJ from Local Hard Disk

Step 1. Launch the Serato DJ application and navigate to the left side of the screen to find the 'Files' section in the Files panel. Use Windows Explorer (for Windows) or Finder (for Mac) to locate your downloaded YouTube Music files.
Step 2. Open the Serato DJ program on your screen. Make sure to open both the Serato DJ program and the YouTube Music files simultaneously.
Step 3. To import the YouTube Music files into Serato DJ, simply drag and drop the music files onto the 'All...' button within the Serato DJ interface.
How to Use YouTube Songs in Serato DJ Pro/Lite from iTunes Library
Step 1. Access the Serato DJ program on your device, navigate to the 'Library + Display' tab, and select it. After that, locate 'Show iTunes Library' and click it.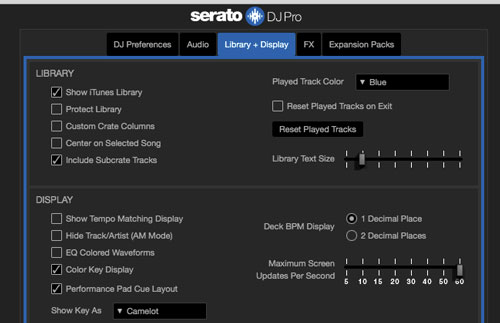 Step 2. Next, access the iTunes app on your system and click the 'File' tab in the top left corner of the window. Continue to select one of the options, 'Add File to Library' or 'Add Folder to Library'. Choose and add all the YouTube Music files to iTunes Library and wait for the import process of YouTube Music files to complete.

Step 3. Once the import is finished, launch Serato DJ. You will now be able to see all the YouTube Music songs in the Serato DJ library. Explore and play your YouTube Music tracks within Serato DJ for a seamless DJing experience.
Part 4. Final Words
Music has long been recognized as the soul's food. However, sometimes you may want to amplify your musical diet. Upbeat songs and energetic music can uplift our moods and energize us. You can create your DJ songs when combined with Serato DJ Pro and YouTube Music. Additionally, you can play YouTube Music in DJ Serato Pro and even the Lite version by downloading YouTube Music songs using DRmare Audio Capture.