Want to become a cool DJ? Just bring Rekordbox to your DJ platform. Rekordbox is a cloud-based DJ platform suitable for DJs of all levels. There are tons of features within the software that makes it easy to access music and create new mixes for music fans. Organize your music library, search through the music files on your computers and create new playlists, the software can easily pave your way for becoming a professional DJ. You will also find some cool DJ features within the app, such as setting hot cues, creating memory loops, and getting song keys and tempo. This can easily make your performance in the DJ booth a thrilling one.
But do you know how to download YouTube Music to Rekordbox? Well, we can enlighten you on this aspect. We have the perfect tool that will make it easy for you to download and transfer YouTube music to Rekordbox for use.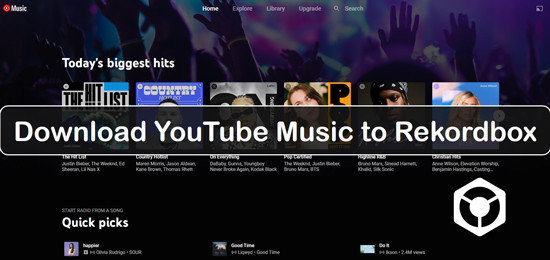 Part 1. How to Get YouTube Music to Rekordbox - Tool Needed
YouTube is the biggest music streaming site. You can listen to every new label and non-league tracks directly on YouTube. However, to transfer YouTube Music to Rekordbox, you need a third-party tool.
DRmare Audio Capture is an audio extractor and converter available for both Windows and Mac users. The tool preserves the original quality of audio files, giving you high-quality music files without any disturbance or noise. The smart technology within the software supports multiple conversions at a time, allowing you to record various music tracks at a time. To further refine your recorded audios, you can edit them after the recording.
The music files recorded and converted through DRmare Audio Capture support all popular file formats including MP3, M4A, M4B, FLAC, WAV, and AAC. So, users can easily transfer the recorded music to any device of their choice.
Features of DRmare Audio Capture
1. Simple to Use
The DRmare Audio Capture tool has a very straightforward user interface. This makes it convenient for beginners in this field.
2. Compatible with Multiple Devices
The output format of the audio file is easily transferred to any device of your choice including MP3 players, and more.
3. Support Batch Conversion
The advanced software allows users to record multiple YouTube songs at a time. Moreover, users can also use other apps on their PC while the conversion is being carried out.
4. Edit ID3 Tags
Edit the recorded music files according to your specification. Trim, cut or merge music files to make them more appealing.
5. High Audio Quality
The best part about using DRmare Audio Capture is you get to enjoy high-quality music. The records keep the quality of music files, giving you original audio quality as the final output.
Part 2. How to Download YouTube Music to Rekordbox
Are you eager to know how to download music from YouTube to Rekordbox? DRmare Audio Capture can make things easier for you. Download and install the software on your computer. Launch it on your screen and follow our guidelines to get started.
Step 1

Open the software on your computer

Launch the software on your computer screen. On the main interface of the app, you have few default options from where you can download music including Chrome, IE Explorer, WM Player, and iTunes. As you want to grab music from YouTube, click on the "+" icon and add the application to the converter.
Step 2

Set the output parameters of YouTube Music to Rekordbox

Now, click on the format icon at the bottom of the page to adjust the output format for your YouTube Music files. The recorder supports all sorts of file-formats that you can convert YouTube Music to FLAC, MP3, M4A, M4B, and WAV. You can also adjust other parameters for your audio files, including channel rate, sample rate, and more.
Step 3

Start recording YouTube Music tracks

Now, open the YouTube Music app from the main screen of DRmare Audio Capture and play the song you want to record. The software will detect the music track and will start to record YouTube Music songs simultaneously. Since the software supports multiple conversions, you can play several songs at a time and the software will record all your music files without destroying the original quality of the music files.
Step 4

Edit recorded YouTube Music audios

As soon as the end of the song, the software will stop the recording. The software also offers some basic editing options, such as cutting, trimming and rearranging. Adjust the start and ending points to trim to create a ringtone. You can also merge tracks to create new music melodies. To edit the audios, click on the edit icon alongside each song to edit them according to your preference.
Step 5

Save the recorded YouTube Music files

At the end, click on the "save" option at the bottom of the page to save the converted YouTube Music to Rekordbox audio files into your system. To navigate the location of the converted songs within your computer, simply click on the song and click on the "search" icon on it.
Part 3. How to Transfer YouTube Music to Rekordbox
After you have converted YouTube Music files saved into your computer, then transferring them to Rekordbox is not difficult at all. You can either use a hard drive or go with the iTunes features to import YouTube Music songs into the Rekordbox.
Here, we will guide you on how to transfer YouTube Music to Rekordbox using the two techniques.
Import YouTube Music to Rekordbox via iTunes
To add music from YouTube to Rekordbox by iTunes, please add the recorded YouTube Music to your iTunes first. Then you can go ahead.
Step 1. Go to the iTunes icon at the left of Rekordbox menu. Click on the arrow to open a new window.
Step 2. Swap through your entire music collection or through your iTunes playlist to find music files of your choice.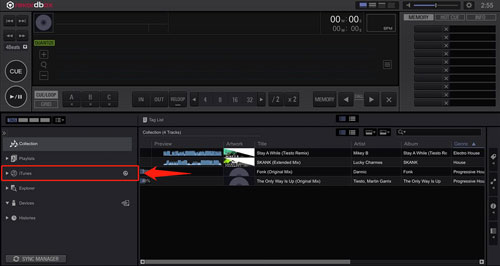 Step 3. When you play the song, Rekordbox will import the playlist into its own collection and you can add the track data and waveforms.
Add YouTube Music to Rekordbox from Hard Drive
Step 1. Open Rekordbox on your computer and find the YouTube Music files that you want to import to the DJ Platform.
Step 2. Click on the Collection option at the left of the Rekordbox software to highlight it.
Step 3. Then drag the YouTube songs into the track window at the bottom of the Rekordbox screen.
Step 4. Rekordbox will analyze these YouTube Music files and will add track data including waveforms, song keys, BPM. Now, these music files are ready to be dragged into the playlist for creating new music audios.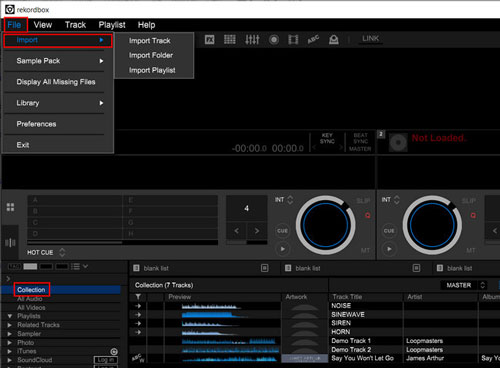 Part 4. Wrapping Up
Rekordbox is often a preferred choice by DJs who want to provide amazing music and tracks for their listeners. With DRmare Audio Capture, you can have a vast YouTube Music collection on your system allowing you to enjoy the best tracks and music. This tool is simple to use and can help you convert hundreds of songs in a short time frame. Then you can easily download YouTube Music to Rekordbox and other platforms for use.