Amazon Music offers millions of songs in its library for users to enjoy and it also designs many innovative features to make itself more competitive. Amazon Music autoplay is a playback function that can play similar songs according to your favorite tastes. If you wonder how to turn on or turn off this feature, here we give you a detailed illustration. In addition, there is a practical tool, DRmare Amazon Music Converter, to help you save your Amazon Music for offline playback forever.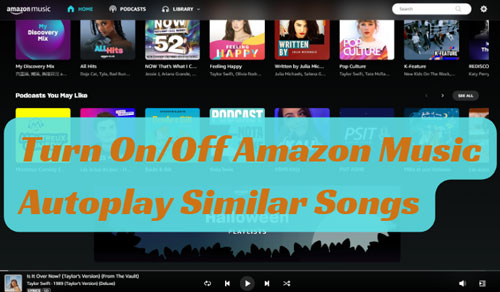 Part 1. How Amazon Music Autoplay Plays Similar Songs
First of all, we will introduce how Amazon Music autoplay works. When you are playing a song or playlist on Amazon Music, turn on this function and you will be recommended uncountable similar songs on the play queue. They follow the current playlist and will be automatically played after the playlist is over. It enables you to enjoy similar favorite songs which you do not need to add by yourself.
But this interesting playback feature has a difference between Prime and Unlimited Music. Prime users only can use it on desktops. However, Unlimited users are able to use it on desktops and mobile devices.
When turn on this function, you can not see a play queue because the recommended songs are random and limitless. It means you are able to listen to them without limitations unless you turn off the setting or it not working. So, learning how to turn on or turn off Amazon Music autoplay can help you apply this playback feature smoothly.
Part 2. How to Enable/Stop Autoplay on Amazon Music
You will get specific operations on how to enable and stop autoplay on Amazon Music in this part. Operating it on desktop, mobile, Alexa and car are all classified as follows.
On PC/Mac
Step 1. Go to your Amazon Music web player and find the "Settings" logo on the top right side. Click it and you can see some settings on the list. Tap the "Autoplay" button to apply it.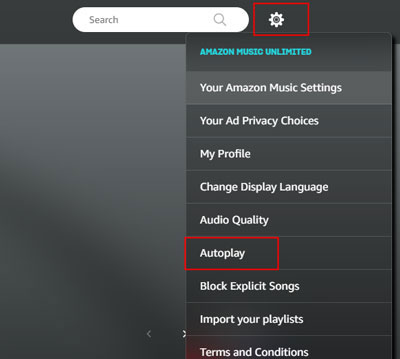 Step 2. When you choose "Autoplay", a tip about this function will pop up. Click the "ENABLE" option on the current page. Then, Amazon Music will reload which means you have enabled autoplay on Amazon Music.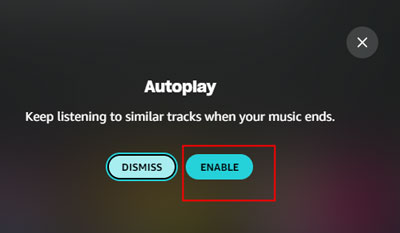 Step 3. If you plan to stop Amazon Music autoplay, operate the similar step to click the "Autoplay" filter and then choose the "DISABLE" button on the pop-up tip to turn off the feature.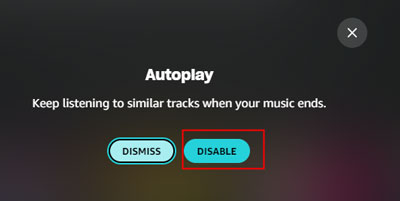 On iOS/Android
There is a method to teach you how to turn on autoplay for Amazon Music on your iPhone, iPad and Android. Also, we tell you how to turn it off.
Step 1. Open Amazon Music and log in to your account on mobile phone.
Step 2. Find and click the menu logo at the top right corner and tap "Settings".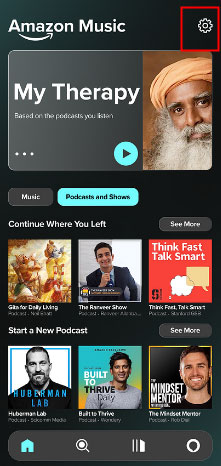 Step 3. After you go to the "settings" interface, tap "Playback" > "Autoplay" to autoplay Amazon Music to play similar songs.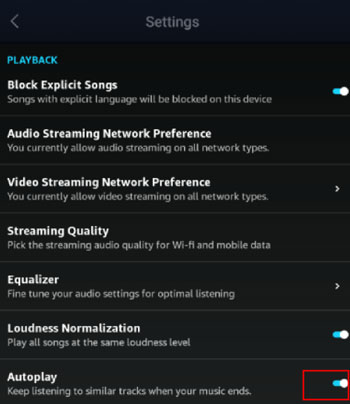 Step 4. Additionally, you are supported to stop Amazon Music from automatically playing by closing the "Autoplay" button on the settings.
On Alexa
Alexa is the authorized device that you can play Amazon Music on Alexa. We also provide the details to show how to enable Amazon Music autoplay on Alexa due to many users' needs.
Step 1. Go to the Alexa app on your device and click the "More" filter at the low line.
Step 2. Tap "Settings" > "Music & Podcasts" > "Autoplay" to enable the function.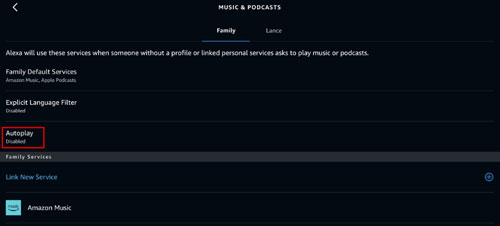 Step 3. When you want to close autoplay, find the option again to turn it off. Also, you can apply it as you wish in this setting.
On Car
If you often play Amazon Music in your car and hope to apply this playback feature to your car player online, please read the following leading steps to achieve the target.
Step 1. First, you should enable Amazon Music autoplay on your mobile device. Then, connect Amazon Music to your car and then open "Settings" on your Amazon Music app.
Step 2. Find and tap "Car Mode" > "Start Car Mode Automatically" to get autoplay for Amazon Music.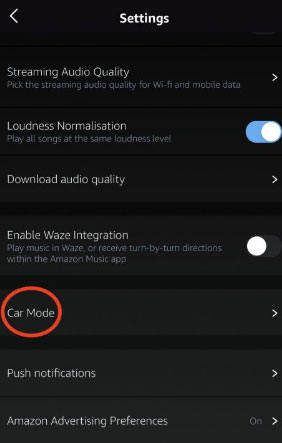 Step 3. Use the same steps to find and turn off the "Start Car Mode Automatically" button to stop it from playing music by itself.
Part 3. Fix: Amazon Music Autoplay Not Working
The methods above to apply autoplay for Amazon Music need your Amazon Music player to stay stable. It means the function is sometimes in trouble because of uncertain situations. This part mainly tells you how to deal with Amazon Music autoplay not working.
Update Amazon Music Player
Please make sure your player is the latest one because we are unable to know if Amazon Music supports the old version to apply its new feature. Therefore, the safest way to make autoplay work is to update the player.
Try It on the APP or Web Player
If you cannot find the autoplay feature on the Amazon Music app, we suggest you use its web player version. Its two versions have some different designs on settings and playing. Additionally, maybe Amazon Music launches its functions on its app and web player at different times. So it is possible that you cannot find the function easily.
Check Autoplay Setting
When you plan to play music by applying this function but you cannot achieve it, you need to make sure whether you turn on the setting or not. Sometimes, the reason why you cannot listen to the recommended songs automatically when the current song is over is that the autoplay setting is closed.
Clear Amazon Music Cache
Amazon Music might have some problems due to its excessive cache. We advise you to clear the Amazon Music cache to get more storage for playing music.
Part 4. How to Save Amazon Music Songs Offline Forever
Although the autoplay for Amazon Music is an intelligent playback feature, it cannot ensure you can use it without limitations in some situations, such as unstable network, missing autoplay button and so on. Therefore, we recommend you save your enjoyable songs to local folders via DRmare Amazon Music Converter and keep them for offline playback forever.
DRmare Amazon Music Converter is a professional downloader which can download and convert Amazon Music to FLAC, MP3, WAV, AAC, M4A and M4B. You are allowed to use it to save songs, playlists, albums and other resources. Besides, after saving the converted files, you can classify them by their original information which the converter keeps lossless.
DRmare Amazon Music Converter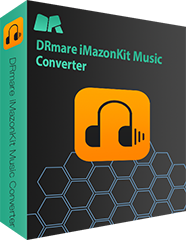 Convert Amazon Music to FLAC, MP3 and more
Save Amazon Music recommended songs forever
5X conversion speed to convert batches of Amazon Music
Retain the full ID3 tags to classify easily
Step 1. Download the DRmare Amazon Music Converter and install it on your computer for converting Amazon Music. Please install the Amazon Music app and then open the converter.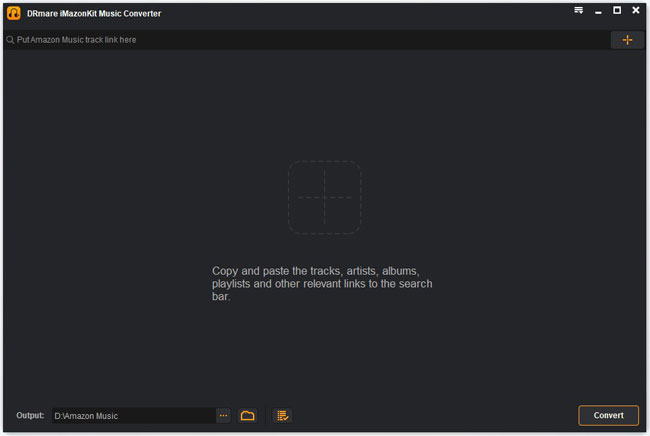 Step 2. Look at the top right corner and you can see a menu logo. Tap it and choose the "Buy" option to purchase a plan to unlock the conversion limitation. We also provide the free version for you to get the first one minute of each song. On the menu icon, find and click the "Register" option to log in to your account if you buy a plan.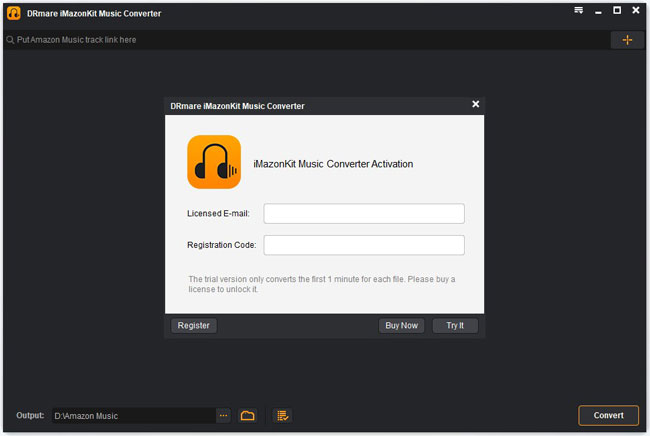 Step 3. Before you start to download and convert Amazon Music, you need to customize the output parameters. Tap "Preferences" > "Convert" to get this step. It offers format, channel, sample rate, bit rate and conversion speed for you.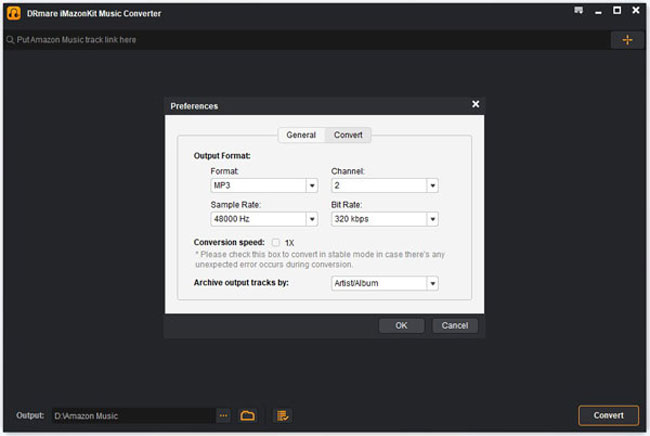 Step 4. If you plan to convert and save the music which is recommended by Amazon Music autoplay, please load it to the converter. Copy and paste the relevant links to the search bar of the converter and then click the "+" icon. Tap "Convert" to proceed with the process.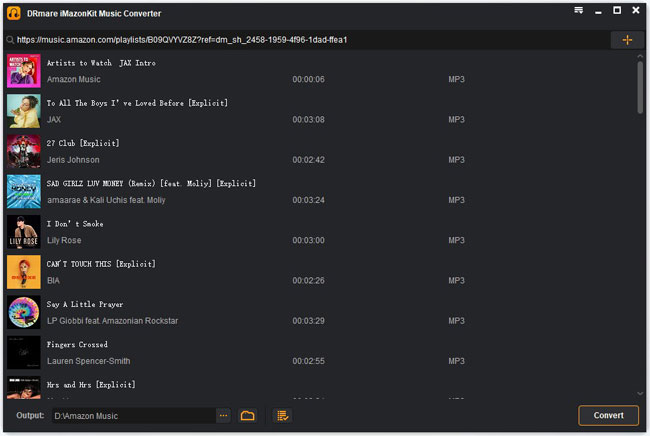 When this step is finished, it means you have got the Amazon Music resources that you converted. Therefore, you can enjoy the converted audio including the recommended music from the autoplay function on your computer.
Part 5. Summary
Amazon Music autoplay gives you a new way to get more enjoyable songs and it can play them automatically. If you want to save them to play without any limitations, DRmare Amazon Music Converter can help you. Although autoplay has endless similar songs, the DRmare professional converting tool can help you convert and save all you want to your computer. It is more reliable because it allows you to play the converted music forever and without your extra cost.