Amazon is the leading digital music streaming service launched by Amazon Corporation in 2007. From offering free subscription plan to paid subscription plans, the streaming service gives music fans access to millions of songs on mobile phones, computers, and even TVs and Alexa devices.
However, many users find that it takes up more and more storage space. This is due to the fact that when you listen to songs on Amazon Music, the app saves a lot of content and data as cache files on your system. So, how to clear cache on Amazon Music without losing your favorite songs on Amazon Music? Here, we'll give you a complete guide. You can also learn how to save your favorite Amazon Music tracks for forever listening.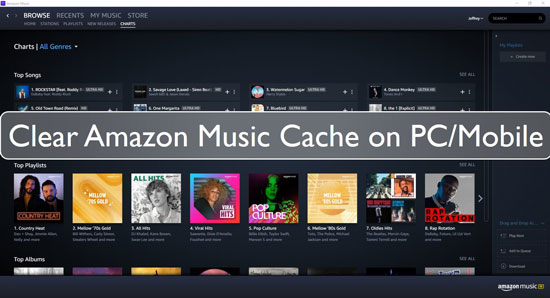 Part 1. What You Should Know about Amazon Music Cache
What Is Amazon Music Cache?
Amazon Music stores cache files to improve performance and to open quickly the next time you play the same song. The cache includes song information, album art, and other playback information.
What Does Clear Cache Mean on Amazon Music?
Clearing the cache in Amazon Music means deleting any temporary files or data that the app has stored on your device. It will not delete your music library or downloaded songs/playlists.

Why Should I Clear Amazon Music Cache?
Over time, the cache can become stale or bloated, which can cause problems for the application. Clearing your cache may be useful if you experience issues with Amazon Music, such as slow performance or playback errors. By deleting Amazon Music cache, you can free up storage space on your device and make sure the app is using the most up-to-date information.
Are There Any Alternative Ways to Clearing Amazon Music Cache?
Yes, you can also reinstall the Amazon Music app or use a cache cleaning app to clear the cache on Amazon Music. However, reinstalling the app will delete all your downloaded Amazon Music songs, and using a cache cleaning app may delete important files or data.
Part 2. How to Clear Amazon Music Cache on iPhone/Android
If the storage space on your smartphone is getting full, or if the Amazon Music app on your phone might crash from time to time, you can try clearing Amazon Music cache. This can greatly improve the performance and speed of your application. Here's how Amazon Music clear cache on iPhone/Android.
For iPhone Users
Step 1. Open a web browser through your iOS device.
Step 2. Visit music.amazon.com/showDebugOptions.
Step 3. Then you can select to clear cache by tapping on "Clear Lyrics", "Clear Image", and so on.
For Android/Fire Tablet Users
Step 1. Open Amazon Music on your Android phone.
Step 2. From the upper right corner, select the "Menu" icon and tap on "Settings".
Step 3. Now, move down to the "Storage" section. Then tap on "Clear Cache".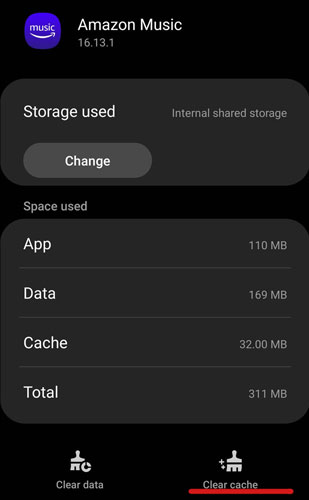 Part 3. How to Clear Cache on Amazon Music on Windows/Mac
If you are using Amazon Music on your computer, you can follow the steps below to clear Amazon Music cache.
Step 1. Open Amazon Music and click on your 'Profile' icon at the top right and select 'Sign Out'.
Step 2. Then sign in to Amazon Music again. This will allow the library to resync and will refresh the data.
Step 3. Find and delete the Amazon Music cache folder on your computer.
For Windows: C:\Users\UserName\AppData\Local\Amazon Music\Data.
For Mac: UserName/Library/Application Support/Amazon Music/Data. (Remember to replace the username with your Amazon profile.)
Step 4. After removing Amazon Music cache files, open your Amazon Music app. Then select the "Profile" > "Settings" > "Reload Library". In the end, press "Continue" to confirm the process.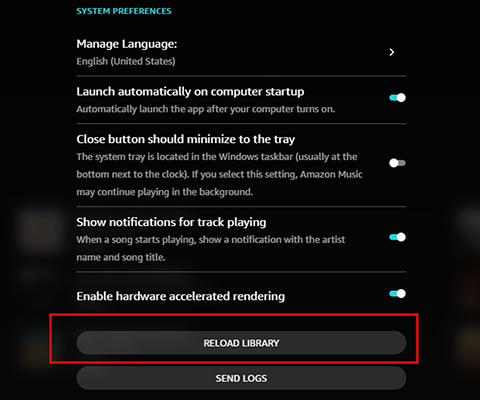 Part 4. How to Download and Save Amazon Music for Playing Forever
If you are worried that clearing Amazon Music cache will delete your downloaded songs, you can use DRmare Amazon Music Converter to download and backup all your favorite Amazon Music songs and playlists. It is a neat piece of software that allows you to download and convert Amazon Music to MP3 or other common formats. There's no need for an Unlimited subscription, so you can use it even with a free Amazon Music account.
It automatically saves your Amazon Music songs as local files instead of cached files on your computer. You can move the downloaded Amazon Music songs to external storage such as SD card for permanent storage. You can also transfer them to other devices and platforms for playback.
DRmare Amazon Music Converter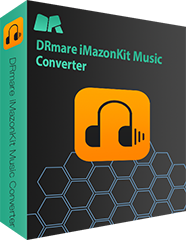 Work at a 5X speed, keep lossless sound quality and ful ID3 tags
Download music from Amazon Music for free without Unlimited
Export Amazon Music to MP3/AAC/M4B/M4A/WAV/FLAC
Transfer Amazon Music to any other device for offline playback
Step 1

Add Amazon Music files you want into DRmare

First, you need to install the DRmare iMazonKit Music Converter on your computer. Then you will see the Amazon Music app disappear at the same time. Now choose Amazon Music tracks or playlists that you wish to download and drag & drop them to the DRmare converter. Or you can copy & paste the Amazon Music link into DRmare's address box and then click on "+". DRmare will load the Amazon Music songs for you.
Step 2

Customize the output parameters for Amazon Music

Open "Menu" from the top-right corner and click on "Preferences". Then click on "Convert" setting option in the new window. Within this window, you can adjust the output format, audio channel, bit rate, etc. and archive your converted audio files by Artist and more. Remember to click on "OK" to save the changes.
Step 3

Start the download process of Amazon Music

Now click on the "Convert" button and DRmare Amazon Music Downloader will start downloading songs for you at a 5X speed. After a while, all the Amazon Music files will be converted to the format you set before and stored on the local folder on your device. You can find them by clicking on the "Output" destination folder or "History" list with red tips. You can then listen to or use these Amazon Music tracks as you want.
Part 5. In Conclusion
Amazon Music stores your listening history as cache files on your device. This can improve the performance of the Amazon Music app, but can cause some problems if there are too many cached files. You can clear the Amazon Music cache by following the steps above. If you're still having trouble after clearing your cache, you may need to uninstall and reinstall the app, or contact Amazon Customer Support for further assistance. It is worth mentioning that you can use DRmare Amazon Music Converter to download and backup your Amazon Music songs for free. With it, you can listen to Amazon Music songs offline on any device you want.