What happened to the equalizer on Amazon Music? Unfortunately, Amazon Music has discontinued the equalizer feature. You cannot access the equalizer settings on the Amazon Music app now. But don't despair, you can find some third-party music equalizers that work with Amazon Music. For your information, we found the top 11 best Amazon Music equalizers. You can use them on Android, iOS, PC and Mac. You'll also learn how to get equalizer on Amazon Music with any music equalizers. Let's see!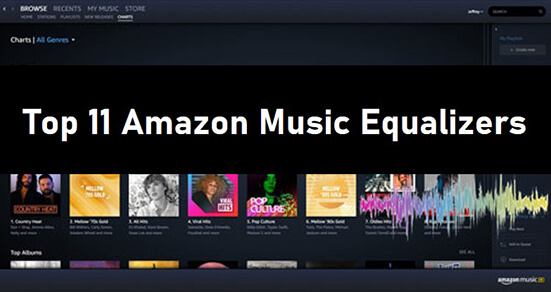 Part 1. Does Amazon Music Have an Equalizer?
Does Amazon Music app have an equalizer? The answer is negative. There used to be a built-in equalizer feature on the Amazon Music app, but it's been removed for no reason. Perhaps it's to secure the original soundtrack for Amazon Music. In any case, you can't change the sound settings on the app like you could before.
If your device has equalizer settings (such as some Android devices), you can use them with your Amazon Music app. But in reality, most devices don't have such a feature. So read on and you'll get more information on the Amazon Music EQ.
Part 2. How to Use Equalizer on Amazon Music with Alexa
While there's no equalizer on the Amazon Music app, you can use a workaround - use Alexa. Alexa has an equalizer to improve your music listening. Thankfully, Alexa is compatible with Amazon Music. You can link your Amazon Music account to Alexa and get access to your entire music library. Afterward, you can use the Alexa app or voice commands to adjust treble, midrange, and more. Now, let's see how to get equalizer on Amazon Music with the Alexa app.
See also: How to Play Amazon Music on Alexa
Step 1. Open the Alexa app on your mobile device and tap on 'More'.
Step 2. Choose 'Settings' and then 'Device Settings'.
Step 3. Then choose your device and then select 'Audio Settings'. You can adjust the bass, midrange, and treble now.
Alternatively, you can use voice commands to ask Alexa to change the settings you want. For example, you can say "Alexa, set treble to 5".
Part 3. How to Get Equalizer on Amazon Music Anywhere
There's a better way to use Amazon Music equalizer than Alexa. That is, you can use DRmare Amazon Music Converter to convert Amazon Music to MP3, FLAC or other local audio files. You can then add these Amazon Music MP3 files to any music equalizer and adjust the equalizer settings.
After conversion, you can also move Amazon Music to other music platforms that include a music equalizer. This is also a workaround you can use. Even better, you won't have to pay monthly for an Amazon Music subscription. Because you can keep the downloaded Amazon Music files forever.
Before starting these steps, please install the DRmare Amazon Music Converter via the 'Download' button below.
DRmare iMazonKit Amazon Music Converter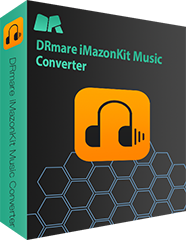 Convert Amazon Music songs to MP3, AAC, M4A, etc.
Use Amazon Music with any music equalizer or device
Work at 5X speed, keep lossless sound quality and ID3 tags
Keep and listen to Amazon Music even without a subscription
Step 1

Launch DRmare iMazonKit Music Converter and set audio parameters

Launch the tool and click on the 'Menu' option at the top right. Now, hit the 'Preferences' > 'Convert' setting and change the audio output format. You can choose from MP3, Lossless, WAV, and more. In addition, you can change other audio parameters as well, such as sample rate, audio channel, etc.
Step 2

Add Amazon Music songs to DRmare Amazon Music Converter

Go to the Amazon Music app and browse through the songs that you want to convert and download. Copy and paste the track link into the address bar of this software and then click on the "Add" option. Then you'll see it adding the song to the DRmare Amazon Music Converter. You can add multiple songs as well because this tool can do batch conversion.
Step 3

Convert and download Amazon Music songs

Please click on the 'Convert' option and the songs will begin to get converted. You will find them in the 'History' tab. Then you can keep these Amazon Music songs forever or upload them to other music equalizers and devices. You can also move Amazon Music to your iPhone or Android phone to use Amazon Music equalizer iOS/Android.
Part 4. Top 3 Amazon Music Equalizer iPhone/iOS
We picked up the top 3 Amazon Music app equalizer iPhone. Once you get the equalizer for Amazon Music, you can start using it in the background while playing Amazon Music songs.
No.1 Equalizer+ HD Music Player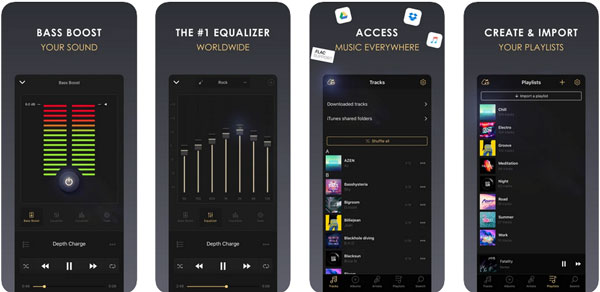 💰 Price: Free Trial/ Weekly: $7.99/ Yearly: $40.99
For all iPhone users, you can try the Equalizer+ HD Music Player. This one works as a music player, bass booster, and also as equalizer. While playing Amazon Music, you will simply have to let it play in the background, and it will optimize the sound.
It works offline, which means it can help you modify the sound effect of local songs available on iTunes. You can customize, mix, and even edit the sounds. It has a 7-band equalizer, ten equalizer presets, supports multiple audio formats, a powerful bass booster, and much more.
All in all, it lets you become the DJ of your songs. This equalizer is not available for free, although it offers a free trial subscription for 24 hours. You can check how it works, and if you like it, you can go for the weekly or the yearly subscription.
No.2 Boom: Bass Booster & Equalizer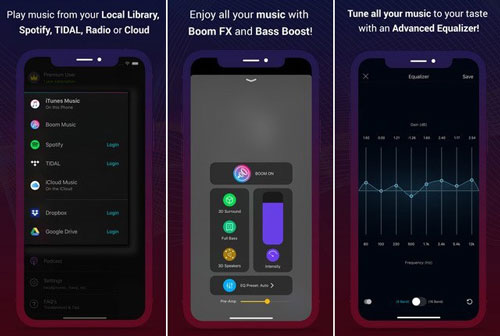 💰 Price: Free trial/ 6 months: $11.99/ 1-year: $23.99
Here's another iPhone and iPad equalizer that works well with all the leading music streaming platforms, such as Amazon Music, Spotify, Tidal, and more. It is designed to redefine the way you have been listening to music.
It comes with a 16-band equalizer that you can customize, 3d surround sound, a clean and user-friendly interface, and more. You can download Boom: Bass Booster & Equalizer and try the free trial version for seven days before deciding whether you should opt for the subscription or not. This powerful equalizer works pretty well and has good reviews on the App Store.
No.3 Equalizer FX: Bass Booster App

💰 Price: Free trial/ Weekly: $8.99/ Monthly: $36
The Equalizer FX: Bass Booster app is available on the App Store for iPhone and iPad. If you like more bass in Amazon Music, then Equalizer FX is for you. In addition to 15 EQ presets, you can also customize your presets.
It provides a music player where you can intuitively browse and organize your complete Amazon music library. Uploading local audio files is also easy. To upload your songs you can use iCloud, DropBox or WiFi. If you upgrade to its premium service, you can watch 8+ audio visualization animations while listening to music.
Note, however, that you can only access its EQ features by upgrading to Premium.
Part 5. Top 4 Amazon Music Equalizer Android
If you want an equalizer app that works with Amazon Music Android, then check the three options below.
No.1 Equalizer and Bass Booster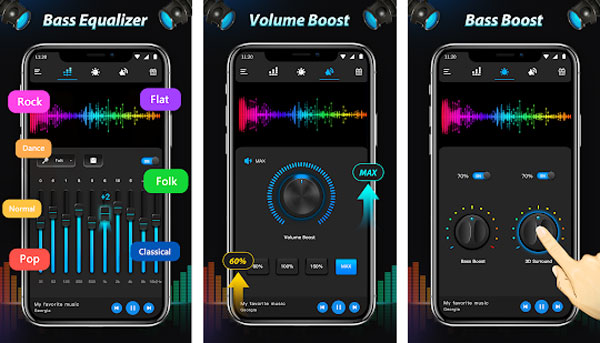 💰 Price: Free
As you can gauge from the name of the app, Equalizer and Bass Booster is relatively self-explanatory. This is a 2-in-1 app that will work as an equalizer as well as a bass booster. It features a bass booster, ten equalizer presets, stereo-led VU meter, virtualizer effect, media volume control, 5-band equalizer, and more.
It works seamlessly with multiple music streaming platforms, including Amazon Music, FM radio, and even video players. It's a simple equalizer to use, and you can get it from the Play Store. The virtualizer effects are pretty impressive too.
No.2 Poweramp Equalizer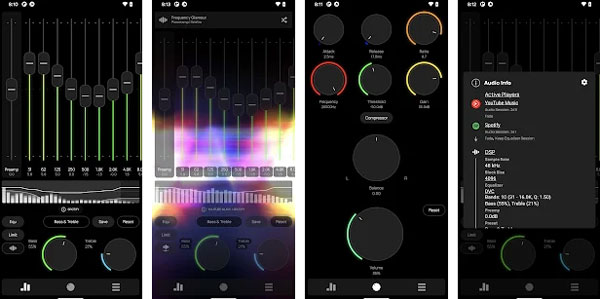 💰 Price: Free/ $1.99
Poweramp Equalizer features itself as an advanced audio processing tool and is the latest addition in the equalizer world. You can get it for free, but we suggest getting some in-app purchases if you want to have a better music listening experience. It has a lot of things that you won't find in other equalizer apps.
Poweramp Equalizer features are treble tone control, customizable number of bands, preamp, built-in presets, preset autosaving, limiter and compressor, and much more. It can easily connect with Amazon Music and other music streaming platforms.
No.3 Music Volume EQ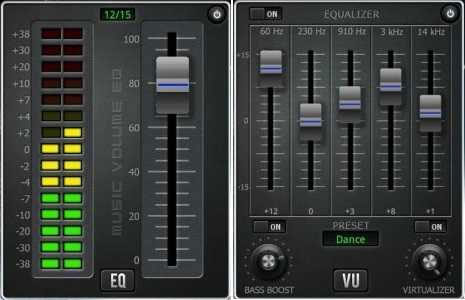 💰 Price: Free
Music Volume EQ is another bass booster and equalizer packed in one. It lets you amplify, control, and boost your Amazon Music listening experience. Not just this, it also enables you to customize the equalizer for your local music files as well.
It features audio control and slider volume, 3D virtualizer, bass boost, amp, five-band equalizer, nine equalizers presets, circular music beat bars, stereo led UV meter, and much more. All you need to do to start using Music Volume EQ is download it on your Android phone. Then, just let it play in the background and adjust the sound effect as per your needs.
No.4 Wavelet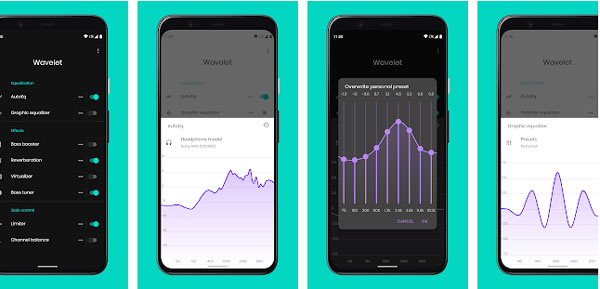 💰 Price: Free/ $5
Wavelet entered the equalizer realm only in 2020, and since then, it has turned out to be one of the best equalizer Amazon Music tool. This is an Android equalizer that works with Amazon Music.
To talk about its features, it provides all the required tools to enhance the music listening experience. It has AutoEQ, a 9-band graphic equalizer, bass booster, reverberation, virtualizer, bass tuner, limiter, and channel balance. In addition, it's a lightweight tool, which won't consume a lot of space on your Android device. To download it, visit the Play Store.
Part 6. Top 2 Amazon Music Equalizer PC
No.1 Equalizer APO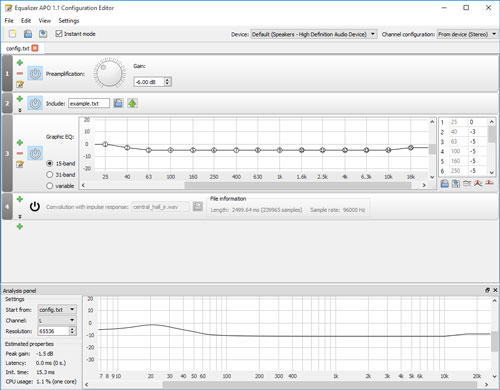 💰 Price: Free Trial/ Monthly: $1.25
Equalizer APO is an open-source audio equalizer for Windows. It can be installed and used free of charge. With an easy-to-use interface, you can adjust your Amazon Music to an optimal level. So, it's suitable for beginners. As a powerful equalizer for Amazon Music, it has features of 3D surround sound, multi-channel usage, and more.
No.2 Equalizer Pro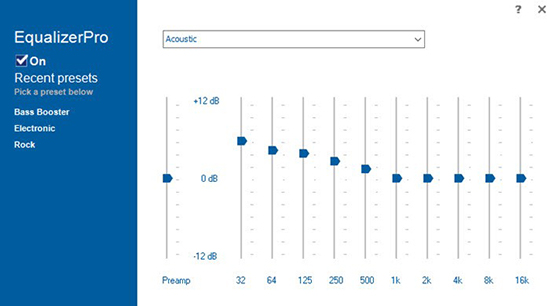 💰 Price: Free trial/ 1 PC: $29.95
Equalizer Pro is also a powerful music equalizer for Windows. With integration with Amazon Music, it allows you to adjust your music listening with 20+ equalizer presets. It is a 15-band audio processing equalizer that lets you create your own music listening boundlessly. However, as a professional tool for mixers of audio, it's not so friendly to users who just want a graphic equalizer emulator.
Part 7. Top 2 Amazon Music Equalizer for Mac
No.1 Boom3D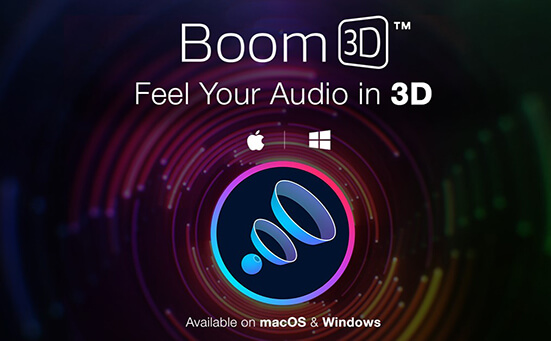 💰 Price: Free Trial/ Monthly: $14.99
Boom 3D is a pro audio enhancement app for both Windows and Mac users. It is compatible with almost all streaming music services including Amazon Music. As its name suggested, you will get a 3D-surrounded listening experience without any headphones. It is a 31-band equalizer and provides many presets to match your different needs. If you use its Mac version, you can even use its volume booster that you can safely increase the volume beyond its limits.
No.2 eqMac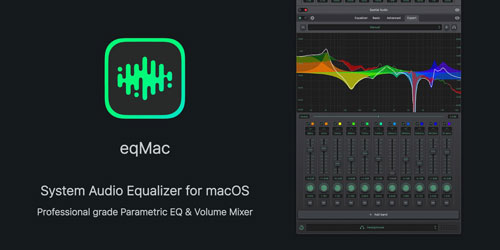 💰 Price: Free trial/ Monthly: $3/ Yearly: $30
As you can infer from the name, eqMac is a music equalizer for Mac. It offers a free version and a pro version. With the free version, you can get 3 main controls including Bass, Mids, and Highs. If you upgrade to the pro version, you can enjoy up to 1000 bands and they are adjustable. Plus, you can control the volume. It is a very good option if you want to find a good equalizer for Amazon Music.
In Summary
If you want to directly use an equalizer for Amazon Music, just choose your preferred equalizer from our selection above. If you want to save money or are a big fan of Amazon Music, we recommend you to use DRmare Amazon Music Converter to get an equalizer on Amazon Music. With it, you can use Amazon Music with any music equalizer or any music player that includes an equalizer setting.