Getting the Amazon Music song sound just right is prudent, not just for a few but for many! And if you are a user of Amazon Music, you may wonder, "does Amazon Music have an equalizer" or "is there any equalizer app that works with Amazon Music"?
Unfortunately, for all the Amazon Music lovers, here's something that you need to know, Amazon Music doesn't have a graphic equalizer. Since this music streaming platform lacks an equalizer, what you can do to enhance your music listening experience is get an Amazon Music equalizer that will let you adjust the music setting and boost the music quality.
Fortunately, there are many good Amazon Music app equalizers that you can go for. So, what you can do is before, or while playing the songs on Amazon Music, you can adjust the music setting on the music equalizer app. So, knowing that you will want to listen to the best Amazon Music songs so that you can enjoy the songs to their best, here are our handpicked Amazon Prime Music equalizer that you can go for.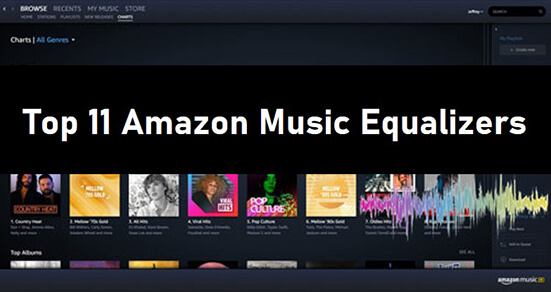 Part 1. Top 6 Amazon Music Equalizer Overview
We bring to you the top 6 equalizer app that work with Amazon Music. Once you get the equalizer for Amazon Music, you can start using it in the background while playing Amazon Music songs. We have handpicked both iOS and Android equalizer for Amazon Music player.
1. Equalizer and Bass Booster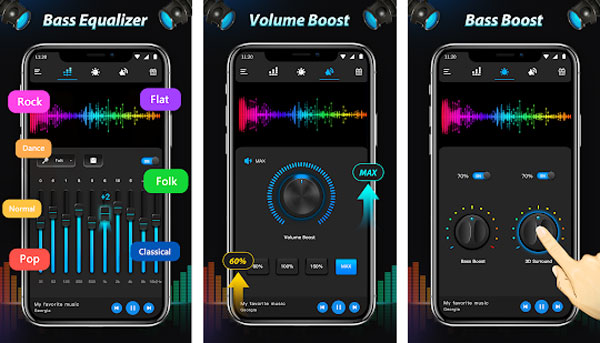 OS: Android
Price: Free
As you can gauge from the name of the app, Equalizer and Bass Booster is relatively self-explanatory. This is a 2-in-1 app that will work as an equalizer as well as a bass booster. It features a bass booster, ten equalizer presets, stereo-led VU meter, virtualizer effect, media volume control, 5-band equalizer, and more.
It works seamlessly with multiple music streaming platforms, including Amazon Music, FM radio, and even video players. It's a simple equalizer to use, and you can get it from the Play Store. The virtualizer effects are pretty impressive too.
2. Poweramp Equalizer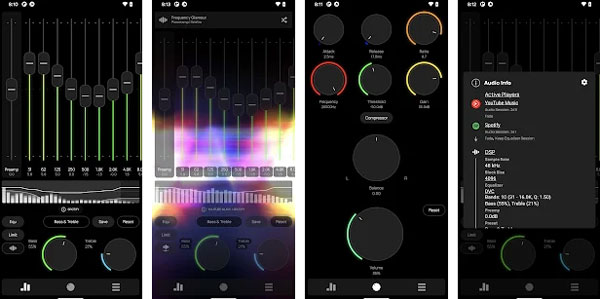 OS: Android
Price: Free / $1.99
Poweramp Equalizer features itself as an advanced audio processing tool and is the latest addition in the equalizer world. You can get it for free, but we suggest getting some in-app purchases if you want to have a better music listening experience. It has a lot of things that you won't find in other equalizer apps.
Poweramp Equalizer features are treble tone control, customizable number of bands, preamp, built-in presets, preset autosaving, limiter and compressor, and much more. It can easily connect with Amazon Music and other music streaming platforms.
3. Equalizer+ HD music player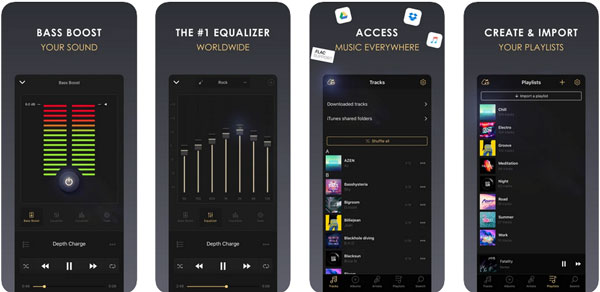 OS: iOS
Price: Free Trial/ Weekly: $7.99 / Yearly: $40.99
For all iPhone users, you can try the Equalizer+ HD music player. This one works as a music player, bass booster, and also as equalizer. While playing Amazon Music, you will simply have to let it play in the background, and it will optimize the sound.
It works offline, which means it can help you modify the sound effect of local songs available in iTunes. You can customize, mix, and even edit the sounds. It has a 7-band equalizer, ten equalizer presets, supports multiple audio formats, a powerful bass booster, and much more.
All in all, it lets you become the DJ of your songs. This equalizer is not available for free, although it offers a free trial subscription for 24 hours. You can check how it works, and if you like it, you can go for the weekly or the yearly subscription.
4. Boom: Bass Booster & Equalizer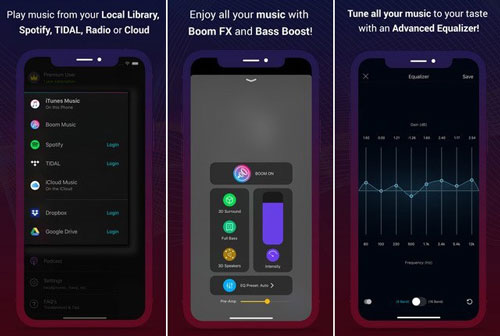 OS: iOS
Price: Free trial / 6 months: $11.99 / 1-year: $23.99
Here's another iPhone and iPad equalizer that works well with all the leading music streaming platforms, such as Amazon Music, Spotify, Tidal, and more. It is designed to redefine the way you have been listening to music.
It comes with a 16-band equalizer that you can customize, 3d surround sound, a clean and user-friendly interface, and more. You can download Boom: Bass Booster & Equalizer and try the free trial version for seven days before deciding whether you should opt for the subscription or not. This powerful equalizer works pretty well and has good reviews on the App Store.
5. Music Volume EQ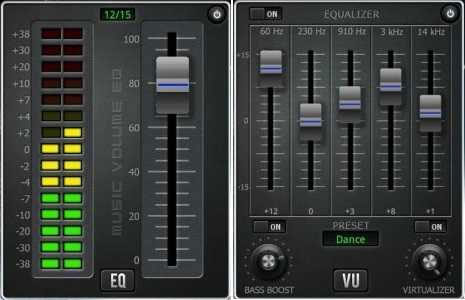 OS: Android
Price: Free
Music Volume EQ is another bass booster and equalizer packed in one. It lets you amplify, control, and boost your Amazon Music listening experience. Not just this, it also enables you to customize the equalizer for your local music files as well.
It features audio control and slider volume, 3D virtualizer, bass boost, amp, five-band equalizer, nine equalizers presets, circular music beat bars, stereo led UV meter, and much more. All you need to do to start using Music Volume EQ is download it on your Android phone. Then, just let it play in the background and adjust the sound effect as per your needs.
6. Wavelet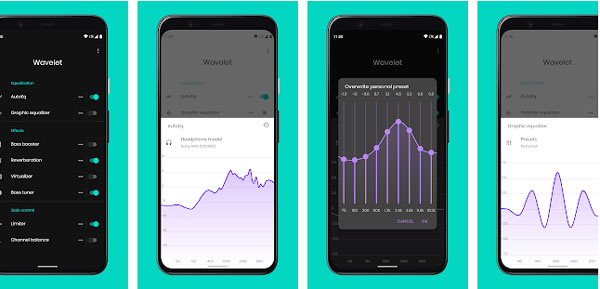 OS: Android
Price: Free / $5.49
Wavelet entered the equalizer realm only in 2020, and since then, it has turned out to be one of the best Amazon Music player equalizers. This is an Android equalizer that works with Amazon Music.
To talk about its features, it provides all the required tools to enhance the music listening experience. It has AutoEQ, a 9-band graphic equalizer, bass booster, reverberation, virtualizer, bass tuner, limiter, and channel balance. In addition, it's a lightweight tool, which won't consume a lot of space on your Android device. To download it, visit the Play Store.
Part 2. How to Play Amazon Music on Any Music Players with Equalizer
Although all the equalizers that we have listed here work pretty well with Amazon Music, you may want to try them out on your local music files as well. Well, if you don't want to pay for an Amazon Music subscription repeatedly and rather want to download the songs to try them out using one of the Amazon Music equalizer PC or else, you can do that efficiently. To download the Amazon Music song files, you need to get a music downloader, and the recommended tool is DRmare iMazonKit Music Converter.
DRmare iMazonKit Music Converter lets you convert Amazon Music songs to MP3 or multiple audio formats, such as FLAC, M4B, AAC, and more that too at 5X speed. Moreover, it can do batch conversions, meaning you can upload all the songs at once and let the converter convert the songs conveniently for you.
This DRmare tool is available for both Mac & Windows users. Using DRmare iMazonKit Music Converter is easy, because by following just a few steps, your songs will be ready to be played as a local file.
Before you start following the steps, please download the DRmare iMazonKit Music Converter and let it get installed. So, visit the official website to do that.
DRmare iMazonKit Amazon Music Converter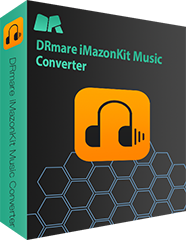 Convert and download Amazon Music songs to computer
Play Amazon Music songs offline on any device you want
Convert Amazon Music songs at 5X speed with lossless quality
Convert Amazon Music playlists to multiple audio formats
How to Use DRmare iMazonKit Music Converter
Step 1

Launch DRmare iMazonKit Music Converter and set audio parameters

Launch the tool and click on the preferences option. Now, hit the Advanced setting and change the audio output format. You can choose from MP3, Lossless, WAV, and more. In addition, you can change other audio parameters as well, such as sample rate, audio channel, etc.
Step 2

Add Amazon Music songs to iMazonKit Music Converter

Go to the Amazon Music Web Player in DRmare and browse through the songs that you want to convert and download. Touch on the track and then click on the yellow "Add File" option that you see to add the song to the iMazonKit Music Converter. You can add multiple songs as well because the DRmare iMazonKit Music Converter can do batch conversion.
Step 3

Convert Amazon Music songs and download them to computer auto

Once you are done adding the song files to the DRmare iMazonKit Music Converter, please click on the Convert option. The songs will begin to get converted, and you will find them in the history tab.
Step 4

Play Amazon Music on any music player with equalizer

Since the songs are downloaded, transfer them to your iPhone or Android phone. Now, play them on any media player that has an equalizer.
Part 3. Conclusion
It's always better to have an equalizer for Amazon Music because this music streaming platform doesn't have an in-built equalizer. Now that you know about the top equalizer download them if you want to have a better sound quality of the Amazon Music songs. And if you want to play the Amazon songs on other media players with equalizer, download DRmare iMazonKit Music Converter and have a try.