Apple Music is a music-streaming service which has plenty to offer. It was not the first tool to provide music streaming services. Some pretty great services already existed.
But under a cut-throat competition, Apple Music app cracked through the music streaming industry, attracting over 40 million monthly subscribers. As a newcomer, Apple Music has achieved great results.
And the question you must be asking yourself is: Why are people willing to choose it? Is Apple Music really worth it? Or it is the best music streaming service in the market today? Let's have a look. And explore Apple Music advantages and disadvantages.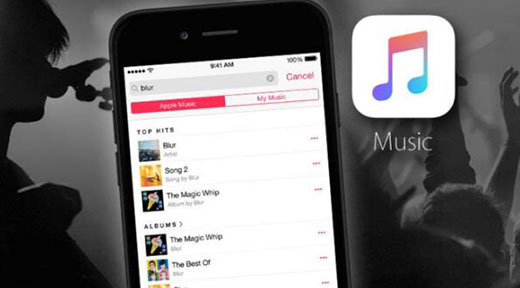 Part 1. Top 6 Pros of Apple Music
For an app to attract millions of users and gain tremendous popularity in only a few years, it must have something that let people choose it over other existing competitors. Here are the reasons why Apple Music stands:
1. Presents Selection in a Pool of Songs
When it comes to music streaming, there are so many songs ready in the streaming library. It can seem daunting to find the music of your taste. And you'd enjoy more if you find a variety of genres that whet your music appetite—whether fast or slow, old or new.
Furthermore, Apple Music appears to understand your need for a specific taste of music in a pool of songs. It presents over 40 million songs from different genres and artists. Regardless of your music taste, you're sure you'll find plenty of songs to listen to.
Immediately after registering, Apple Music will ask you your favorite artists. From your selection, you'll receive the related recommendation.
2. Multiple Features
Among the top benefits of Apple Music, multiple features are part of what makes this streaming service an ultimate music streaming experience. You'll find utilities like:
"For You" Tab
With so many songs at the ready, streaming libraries can appear daunting—because you have a music preference. And you'd like a tool that looks at your library and quickly formulate better recommendations of songs from the type of music you listen to.
The "For You" feature allows the Apple Music algorithm to crawl their catalog and present recommendations based on your favorites, your playlist, and what your friends are into.
Download Option
During music streaming, you'll occasionally love some music. And you will want to download it to listen to it later. And Apple Music has a utility that enables downloads. This saves your favorite music for offline listening.
Beat 1 Radio
And if a world of music, news, and live talk intrigue you, Apple Music presents to you Beat radio. It is 24 hours live radio with real presenters and DJs.
Better yet, it is a powerful discovery tool. Beat 1 radio continually scans through your favorites, showing you what is currently playing on other stations to ensure you don't miss your favorite song. It let you discover and listen in perfect harmony.
Deeper Apple Device Integration
If you're are using an Apple device, Apple Music is now fully integrated to the iTunes library to maximally whet your music desire. Any music you have on iTunes will now appear on your Apple Music library.
Connect Function
Better yet, when you find an appealing song or a playlist that triggers the urge to share, Apple Music presents the "Connect" feature to share your favorites with friends and family.
3. Compatibility with Different Devices
Another advantage of Apple Music that makes it stand in the music streaming world is its best compatibility.
You might be an android user—or a Windows user wondering if Apple Music will work on your device. Here is the thing.
Looking at Apple Music review, the tech giant is available for multiple devices—may be even those you didn't imagine. Here is the list:
* iPhone, iPad and iPad iTouch
* Mac
* Windows PC
* Apple TV (4th generation) with tvOS 9.0 or later
* Android phone with Android 4.3 or more recent
* Smart speakers like Amazon Echos
You can enjoy Apple Music on multiple devices.
4. 3 Months Free Trial
If you're willing to get started with Apple Music but feel you should test it before throwing in some cash, Apple Music gives you a free 3 months trial period. This period offers you plenty of time to decide if Apple Music services are worth your money.
To access the free trial, download the application for your device. Then enter your Apple ID, if you don't have one, you can instantly generate one. Then choose the membership plan and provide your credit cards details. During the trial period, you'll incur no charges.
If you enjoy the services for the 3 months, and you wish to continue using them, you'll be billed automatically every month. If you don't like the services, you can cancel the membership anytime.
5. Avail Different Membership Plan
After the end of the free trial, Apple Music presents different plans according to your need. And there are two main membership plans—Individual and Family Membership.
The individual membership is $9.99 a month and the family membership price at $14.99 per month. But it has a 50% off tier for students.
6. Links Musicians and Fans
If you're a musician or an aspiring one, and you're aiming at getting popular or want to get in touch with your fans, Apple Music makes that possible. It has a social tab; called "Connect" where artists can share feeds of photos, lyrics, videos, and text posts with their fans.
The feature is designed to develop and consolidate the relationship between musicians and fans.
Part 2. Top 4 Cons of Apple Music
1. Country and Region Restrictions
Not everyone can try out the Apple Music app—even when the App Store is available in their country. Users will lack the down option for the software. This is due to digital right management. So before you download the app, please check the availability.
2. It Doesn't Have a Freeware Version
True, Apple Music has a 3-month free trial. But it lacks the free version with limited features and ads like its competitors. This triggers some people to choose Apple Music competitors subconsciously. And it is these people who finally turn into paying subscribers.
3. It Has Counter-Intuitive User Interface
Regardless of Apple upgrading Apple Music, multiple users still complain that navigating through the app is difficult and look confusing. If you're a first-time user, you'll have to interact with the app for some times before you figure you out your way through.
This should not be the case—especially for music streaming services.
4. Apple Music Are DRM Protected
Unlike the songs which you purchased from iTunes, Apple Music are DRM encrypted with M4P format. Generally, you can only play the M4P files on the Music app or iTunes, making it inconvenient if you want to use it on some portable devices without the ability to install the Apple Music app.
Fortunately, many companies have realized the requirement of users and they developed some powerful software to remove DRM from Apple Music in a fast and easy way. DRmare Apple Music Converter for Mac is one of the software that stands out for its high performance. If you are interested in it, you can download it to have a try. By removing DRM, you can distribute Apple Music anywhere.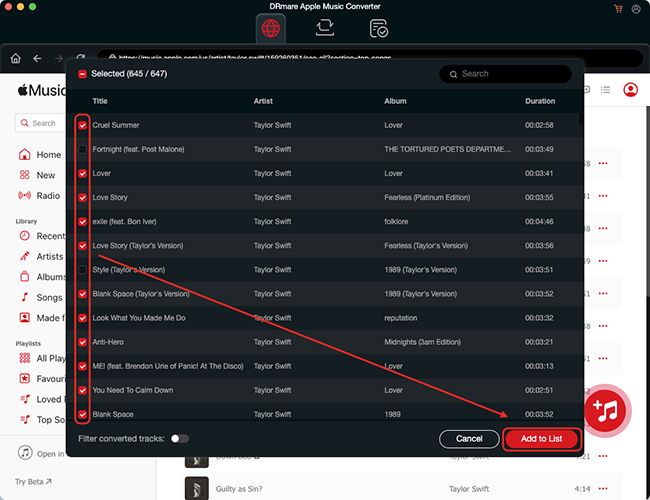 Part 3. The Bottom-line
Apple Music is a thorough piece of music streaming service with features and options that stand. Gearing to the pros and cons of Apple music, it foreshows how its utilities make it easy to discover your favorite artists' recent releases, listen to music curated for every occasion, and finding new music by only seeing what your friend are into.