In the streaming media area, Apple Music launched in 2015 is a young platform compared to its competitors.With impressive 660 million subscribers all over the world as of April 2021, it has been one of the giants in this industry.
For most people, paying for a month's Apple Music subscription cost is not a huge expense. But paying monthly is by no chance affordable. However, it's a dilemma if you don't renew it, you will have no privilege to access Apple Music anymore.
As a result, if you prefer to use Apple's service, why not get free Apple Music? Have you thought of getting Apple Music free? Want to do that, but don't know how to achieve it? Just stray no further, as this article will introduce serval methods on how to get free Apple Music.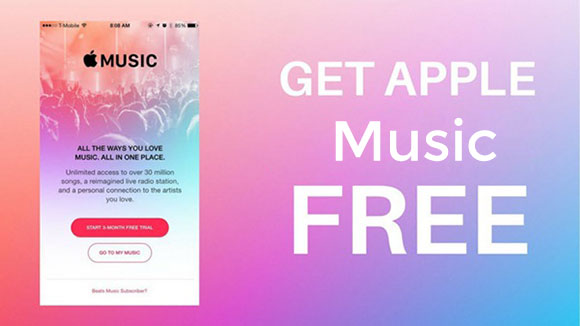 Part 1. Is Apple Music Free
Is there a free version of Apple Music? The answer could be negative. If you have navigated to Apple Music, you were full knowledge of the situation that you will meet. There is no option to access the music library, but it shows that you need to sign up for this subscription.
Unlike other streaming services which offer free tier service with occasional ads, Apple Music never has such an option. You have to subscribe to Apple Music to discover and listen to songs on Apple Music.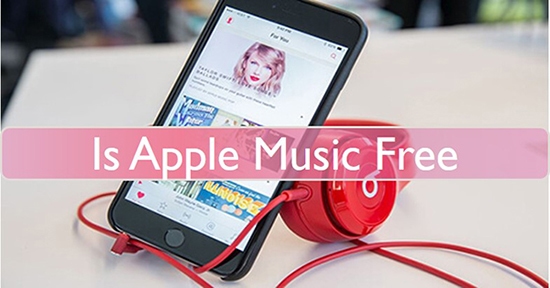 Part 2. Is There Apple Music Free Trial
As a subscription-based service, you have to pay a premium monthly subscription fee to enjoy and download Apple Music streams to PC. There are 3 tiers to choose from, including $4.99 for students, $9.9 for an individual, and $14.99 for a family per month.
Fortunately, there is a free Apple Music subscription for a period. It offers an official Apple Music free trial for all new users in any country. Thus, how long is Apple Music free trial? The regular option is 3 months.
Besides, Apple also cooperates with other third parties to provide a six-month Apple Music free subscription. For example, the special Shazam and Verizon promotion. It's important to note that the Apple Music free giveaway is available on mobile devices only.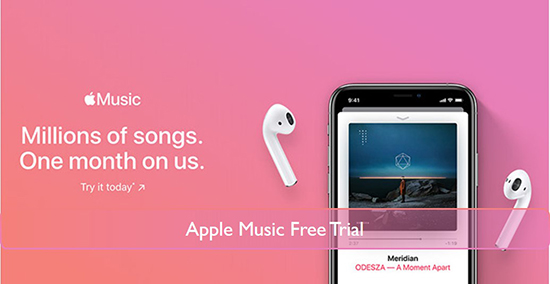 Part 3. Free Apple Music Trial - What You Should Know
When you sign up with a free Apple Music account and password, it means you are one of the Apple Music membership. You can choose one of the Apple Music offers to get started.
You can get Apple Music free trial for 3 or 6 months. But after that, your Apple Music free account will be automatically switched to a paid one. It will charge you the Apple Music cost without noticing you first if you didn't cancel it.
This is different from the items purchased from iTunes which you have ownership of. To avoid being charged, please set an alarm to cancel Apple Music free trial before it expires.
Part 4. How to Get Apple Music Free Trial - 3 Months
Without a doubt, the easiest way to get free Apple Music is by subscribing to Apple Music 3 months free trial. From what we mentioned above, what you need to do is to sign up for the free trial only. And then you can listen to all high-quality content on Apple Music.
You can sign up for a free subscription from the Apple Music app on your iPhone, iPad Pro, or iPod Touch. Or you can do that on iTunes with your Windows computer or a Music app with a Mac. The following are the detailed steps on how to get 3 months free Apple Music on iTunes.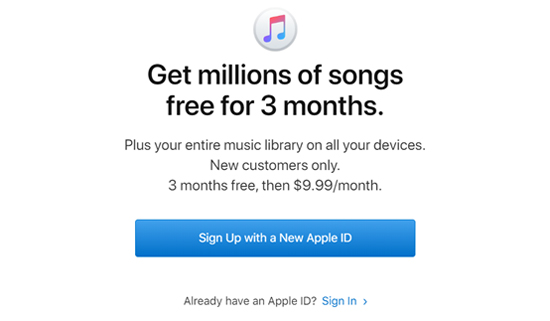 How to Get Apple Music Free Trial
Step 1. Launch iTunes, select the "Music" category from the droplist on the top.
Step 2. Click the "For You" tab menu, you will see the free trial offer, and just click it.
Step 3. Choose the subscription type "Individual", "Family", "College Student"
Step 4. Login with your existing Apple ID and password.
Step 5. Confirm your payment info, you will start to enjoy free 3 months Apple Music.
Part 5. How to Get Free Apple Music with Verizon
Is it not enough to have Apple Music for free for three months? There are some other unique ways to get a free Apple Music trial for six months instead of the usual three. Some of them are promotions in collaboration with other apps or companies.
One of them is Verizon, an American multinational telecommunications conglomerate. Apple and Verizon cooperated together to provide an exclusive bundle package for users.
Only if you have using Verizon Unlimited, you will get 6 months of Apple Music free on your iOS and Android phones. The only thing you need to do is to add Apple Music to your account. No playlists lost when you use the same Apple ID that you subscribed to Apple Music before.

How to Get Verizon Free Apple Music
Step 1. Please activate your Verizon "Beyond Unlimited" or "Above Unlimited" plan on your smartphones.
Step 2. Navigate to vzw.com/applemusic using a web browser on your device. Or you can go to the 'Account' option in your My Verizon app to click the 'Add-on' section.
Step 3. You should choose the plan that you'd like to enroll in Apple Music. Please don't forget to accept the Terms and Conditions.
Step 4. You will receive a text message, in which you can open or download the Apple Music app for iOS or Android.
Step 5. Now, you get free Apple Music with Verizon successfully. You can start to enjoy Apple Music features on your smartphone.
Part 6. How to Get Apple Music for Free on Best Buy
As a multinational consumer electronics retailer, Best Buy provides a variety of products and services for users to buy. Of course, the prices of most of these products are lower than the official prices. Sometimes you can also find some free promotions on it.
If you have searched Apple Music on it, you will find that Best Buy is giving a 6-months free Apple Music. If you haven't ever used Apple Music, it's the best time to start an Apple Music trip.
You don't need to buy anything, but you can ad-free access to over 75 million Apple Music songs. It's also able to download and play exclusive Apple Music offline. Here we go to use Apple Music for free on Best Buy.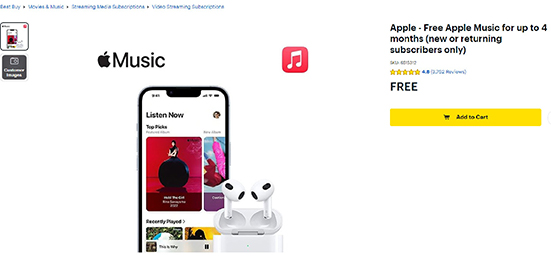 How to Get Best Buy Free Apple Music
Step 1. Enter your Best Buy's official website and log in to your account or create a new one.
Step 2. Search for Apple Music to find Apple - Free Apple Music for 6 months (new subscribers only) page.
Step 3. Click the yellow 'Add to Cart' > 'Go to Cart' > 'Check Out' button.
Step 4. You will get a digital code in the email address related to your Best Buy account to get Apple Music for free.
Part 7. How to Get Apple Music Free Forever
The ways we mentioned easier work well to use Apple Music for free. But they all have certain timeliness. Because Apple Music is under protection, which is different from iTunes song purchases.
When it expires, you will have to pay a certain amount of Apple Music cost. Otherwise, you will no longer be able to use Apple Music. What's worse, all the downloaded songs and playlists will disappear in less than 1 minute. If you'd like to have ownership of the music, you should get Apple Music for free forever.
So is there another way to get free Apple Music forever? The answer is yes. When we say "Free", we mean it is free from any limitations and free of charge. DRmare Apple Music Converter for Windows/Apple Music Converter for Mac can help you to get Apple Music premium free forever. It is achieved by downloading Apple Music locally and removing the protection with your free trial account.
It will cost you a few dollars but worth it. It will save you lots of time and money in the long run compared to monthly Apple Music fees. It guarantees lossless quality and 30X faster conversion speed.
By downloading and keeping Apple Music on your computer, you won't worry about the end of a free Apple Music account anymore. You can cancel it at any time but still, listen to Apple Music offline on all devices.
DRmare Apple Music Converter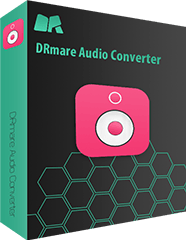 A leading free Apple Music Converter to unlock M4P songs with the best output quality and 30X speed
Convert Apple Music M4P to MP3, AAC, M4A, FLAC, WAV for any other media players
Customize output songs with a preview window, editing music has never been easier
DRmare keeps adding value to the software with lifetime free update and support
How to Get Apple Music Free Forever
It is very easy to download Apple Music for free on Mac and Windows computers. No jailbreak needed. Here are several steps to download Apple Music to your Mac. The user guide for the Windows version is the same as Mac's. So here we won't elaborate again. Note: For Apple Music free download, please make sure your free Apple Music account didn't expire.
Step 1

Import Apple Music free downloads

Please download Apple Music to your local computer with the Apple Music free subscription first. You can sign up for the free trial by following the above ways. And then please drag and drop the songs to the DRmare software main screen. It also provides an easy way to add Apple Music by clicking the '+' button to select many songs simultaneously.
Step 2

Select a new format for Apple Music downloads

Apple Music M4P files are protected. You will lose them at the moment you cancel the subscription. So please just choose one format without protection like the MP3, M4A, M4B, AAC, WAV, FLAC. Thus, you will get unprotected Apple Music songs and keep them permanently.
Step 3

Get Apple Music free forever

There is not a limitation on the songs you can convert at a time. In theory, you can import thousands of songs to convert at a time. Just leave the computer to run by itself. When it is done, all the songs will become common files. Even you cancel the subscription, Apple Music songs won't disappear anymore.
Video Tutorial

How to Get Apple Music Free Forever
Part 8. How to Get Free Apple Music Forever on iPhone/Android
Speaking of getting free Apple Music forever on iPhone and Android devices, you maybe think of Apple Music ++ apps. Besides, there are some other free Apple Music converters and downloaders to use Apple Music without paying. But these methods have some disadvantages, like unstable conversion, and low output quality. So we don't include them in this article.
Instead of getting an Apple Music++ download, is there any other way to make it possible? Luckily, the answer is yes. You don't need to crack Apple Music. You can directly sync Apple Music downloads from your computer to mobile devices. After that, you can listen to Apple Music for free on your iOS and Andriod smartphones.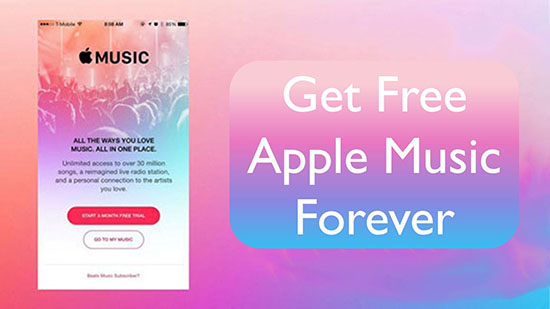 How to Get Free Apple Music Forever on iPhone/Android
Step 1. Please connect your Android or iOS device to your computer via the USB cable or the WiFi connection.
Step 2. Locate and open the converted Apple Music folder on your computer. For iPhone users, please open the iTunes or Music app also on your desktop.
Step 3. You can drag and drop Apple Music downloads to the folder of your Android phone. Or you should transfer them to iTunes or Music app.
Part 9. Final Verdict
With Apple Music free trial, you can experience its highlights in the period. But there are still many people who are unwilling to pay for monthly Apple Music subscription fees after it expires.
So, the best way to enjoy Apple Music could be to combine two of the above methods. That is to use DRmare Apple Music Converter to get Apple Music free forever from the free trial account.
It uses the advanced method to download songs losslessly without jailbreak or cracking. But please note DRmare software is for personal use only and any commercial use is not allowed.
No need to renew the subscription but you can still get free Apple Music. Sounds nice, isn't it? Anyway, you can select your favorite way to have Apple Music for free depending on your situation. Let's know if you have any more questions.