YouTube is one of the most frequently used music and video streaming websites. With a massive collection, it is our go-to site for streaming all kinds of music. However, sometimes we wish to transfer YouTube Music to iPhone and stream it offline or play it in the background while working out. But, YouTube Music cannot be played in the background on Android or iOS, which poses a barrier.
Lucky for you, we have a way out of this issue. Here, we will discuss a smart way to tackle this problem and show you how to download YouTube Music to iPhone with the help of an amazing tool.
View also: Where Does YouTube Music Store Downloads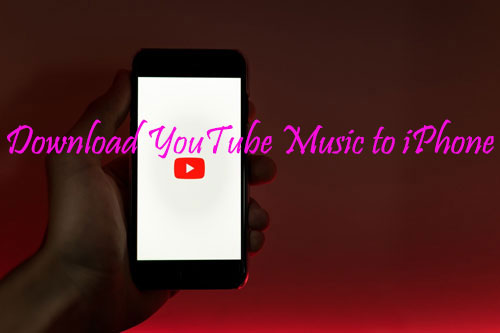 Part 1. Best Tool to Get YouTube Music
Even though the iPhone has an in-built screen recorder, it records the screen while we are looking to record just the audio. For that, we need a tool that extracts the audio from any platform or format of media. Fortunately, we have the perfect solution at hand.
The DRmare Audio Capture is a highly versatile and powerful tool to help you to download YouTube Music to iPhone. Whether you want to record songs, podcasts, or audiobooks, DRmare Audio Capture has got you covered. Plus, unlike other audio recording platforms, the input format and sources are not restricted to one. This means that you can easily capture audio from various streaming platforms, including Apple Music, Spotify, Amazon Prime, and many more. And that's not all. DRmare can also extract audios from videos. Just play your favorite video on YouTube, HBO, Netflix, and use this tool to record.
In addition, it allows users to record audio without compromising quality. The system click and microphone sounds can also be eliminated to record the audio without any background noise giving users a 100% original sound quality. The batch record option is easy to use. Just play all the songs on the web player or on browsers and hit record. The rest will be smartly handled by DRmare.
What's more, your work is not interrupted. You can work as usual on your computer without worrying about hindering the recording process because it goes on smoothly in the background. During recording, the metadata is also retained and saved.
Furthermore, DRmare stands unparalleled due to the fact that it has an in-built audio editor to give users an all-in-one experience. The recorded audios can be trimmed and enhanced to meet user requirements. Users can cut audios to make personalized ringtones. Various audios can also be merged together to create a unique playlist of favorite songs. The metadata data is customizable, as well as the output settings. Users can adjust the bit rate, output format, and channel, etc.
DRmare Music Recorder
Part 2. How to Download Music from YouTube to iPhone
Using DRmare Audio Capture is as easy as playing the music and watching the magic happen. You can effortlessly transfer your favorite YouTube Music to iPhone without any hassle or delay. So let's get right to it.
Here is a guide on how to download music from YouTube to iPhone with the help of this one-of-a-kind DRmare Audio Capture tool.
Step 1

Download and install DRmare Audio Capture

First, download DRmare Audio Capture on your computer. You can download the Windows or Mac version depending on the system you are using. Launch it. On the opening interface, there are some default streaming platforms you can click to start recording. However, if you want to add a source not already displayed, click on the Plus icon to add it. In this case, you can select Chrome to stream music on YouTube.
Step 2

Customize output settings

DRmare allows easy customization of the output parameters. You can tweak up the settings to suit your needs. Click on the Format icon. In the pop-up box, you can adjust the bit rate, channel, format, etc. You can choose from a range of commonly used formats like MP3, FLAC, WAV, etc.
Step 3

Play and start recording

After you have specified the output parameters, and selected the streaming platform, hit play on the songs you want to record. You can also play multiple songs from different browser tabs at the same time. DRmare will automatically and smartly detect the songs being played and start recording them. This way, you can batch record multiple songs while you keep working.
Step 4

Edit and enhance recorded audio

Although you will have lossless recorded audio in excellent quality, you might want to personalize your music by trimming it into short snippets. Or, you can also merge several clips into one. Just click on the edit icon beside a song to make the edits.
Step 5

Save and locate recorded audio

Finally, click on Save to finish the process. All the recorded files will be instantly saved locally to your computer. You can then quickly transfer the audio files to almost any device or platform and enjoy unlimited offline streaming anytime, anywhere. Now, you can move the YouTube Music to iPhone.
Step 6

Move YouTube Music to iPhone

Now that you have the YouTube Music saved to your device in commonly compatible formats, it can easily be transferred to any other device. Just connect your iPhone to the device where you have saved the music files and transfer the YouTube Music to iPhone.
Part 3. In Conclusion
Getting your favorite music accessible all the time has just been made easier. Using DRmare Audio Capture, you can quickly transfer YouTube Music to iPhone without any hassle. It won't take much time or effort, and you don't need to be a tech geek to pull this off. And if you did not know how to save music from YouTube to iPhone, we hope our guide was of great help.
It's time to take advantage of this amazing tool. Download and mix up your favorite tracks for a personalized playlist. Go on and enjoy limitless offline streaming of YouTube songs on your iPhone.