Whether you want to listen to the latest songs, discover new artists, or appreciate your beloved compilations, YouTube has everything. However, what if you wish to download songs from YouTube Music to your phone for offline listening? With a YouTube Music Premium, you can download tracks offline on your mobile device.
Yet, when you download music from YouTube, where does it go? Most people are confused about that. Good thing, this article will show you where does YouTube Music download to. Let's get started!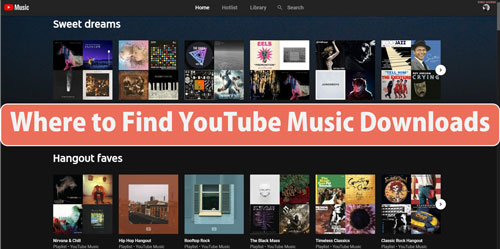 Part 1. Where Are YouTube Music Downloads Stored on Android/iPhone
In order to know where do YouTube Music downloads go on Android/iPhone, you first have to download them on your phone. Not sure how to do that? Worry not. Both Android and iOS have different ways to download YouTube Music tracks. To help you, we have explored easy ways for both devices. Let's start with the detailed steps below.
For iPhone:
Way 1. By choosing and downloading an album, song, or playlist
When you find a playlist or album in the YouTube Music app, tap the 'more' icon and choose 'Download'. The 'download' button can also be on the album or playlist information page. To download a single song, click the desired song's cover image, then choose the 'Download' symbol to begin to download music from YouTube on iPhone.
Way 2. By enabling the Offline Mixtape from the YouTube Music settings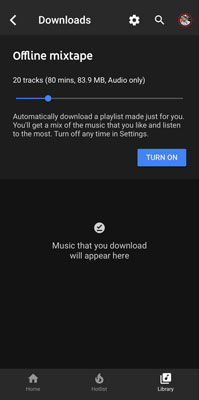 The Offline Mixtape feature on iOS downloads songs for you based on your previous listening pattern. To find and activate this feature, open the YouTube Music app on your iPhone, go to 'Library', and tap 'Downloads'. Then tap the 'Settings' (gear) icon in the top right corner, and enable the 'Download An Offline Mixtape' button.
For Android:
Way 1. By selecting certain songs, playlists, or albums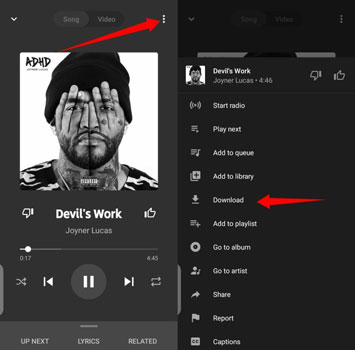 The method of selecting a song or playlist is same for both Android and iOS devices. Like the above mentioned steps, open the playlist or album you want to download, choose 'Menu' and then 'Download'. Alternatively, tap a song's cover image and press the Download icon to download YouTube Music to Android.
Way 2. By switching on Smart Downloads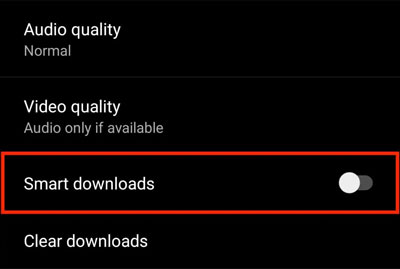 Smart downloads is a similar feature to the Offline Mixtape but with a different name. This feature also automatically downloads files for you according to your interests. To switch on this creative feature on your Android phone, launch the YouTube Music app, head to your Profile, select Downloads > Settings. Turn on Smart downloads now.
Where to Find YouTube Music Downloads
To locate YouTube Music downloads on your mobile device, you must know where they are stored. The location of downloaded YouTube Music depends on whether you use an Android or iOS device.
On Android Phones:
YouTube Music downloads on Android devices are stored in the folder: Android>data>com.google.android.apps.youtube.music>files>music. Access this folder using a file manager program, but only YouTube Music can play the downloaded files. Because YouTube Music encrypts downloaded files to prevent unauthorized duplication or distribution.
On Apple Phones:
Where does YouTube Music download to on iPhone? YouTube Music downloads on iOS devices are stored in a YouTube Music subdirectory within the app. This folder can be accessed by launching the YouTube Music app, touching the Library icon at the bottom of the screen, and selecting Downloads. For the same reason, you cannot access this folder with any other app besides YouTube Music.
Part 2. Extra Tip: How to Download YouTube Music to Mobile Phone
If you want to download YouTube Music to your mobile phone, DRmare Audio Capture is the best choice. This powerful audio recording tool can capture and convert any sound on your computer. Whether you want to download music from YouTube, Spotify, or any other music or video streaming platform, DRmare Audio Capture has got you covered.
This tool is more than just a simple audio downloader. Furthermore, it supports multiple output audio formats, such as MP3, FLAC, M4A, AAC, WAV, and so on. Besides that, you can also edit the audio quality, bit rate, sample rate, and split large audio files into smaller segments.
Moreover, it can preserve high sound quality and full metadata of the recorded audio. Also, you can edit the ID3 tags according to your needs for better management of tracks. Later, you can save recorded YouTube Music files on your computer and transfer them to your mobile phone or other devices for use offline.
DRmare Audio Capture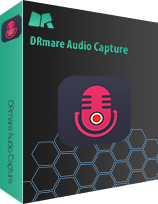 Record and download audio from YouTube Music or any source on your computer
Convert and save the recorded audio tracks in various audio formats
Preserve and output high quality as well as full ID3 tags of the recorded audio files
Support to move local YouTube Music to mobile devices for playing offline
Now, you can follow this quick guide to download music from YouTube Music to mobile phone using the DRmare Audio Capture.
Step 1. Download DRmare Audio Capture and install it on your computer. Then open it and see the app you want to use to play YouTube Music is here or not. If not, then press the '+' icon to import the application.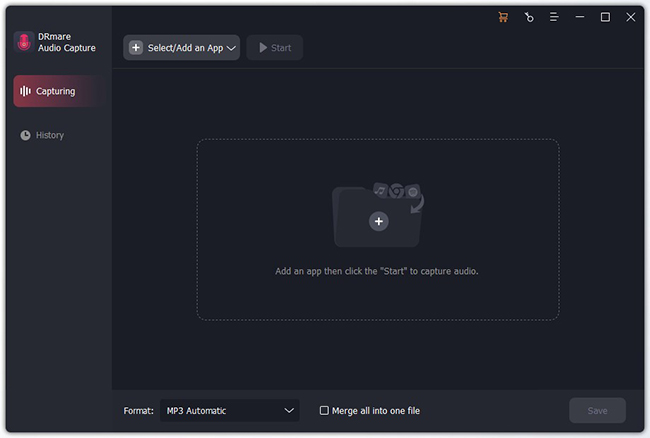 Step 2. After that, click the 'Format' icon to open the output settings window. Then you can start to choose and set the output format of your choice. After that, you can also customize the output audio's codec, bit rate, sample rate, and channel parameters.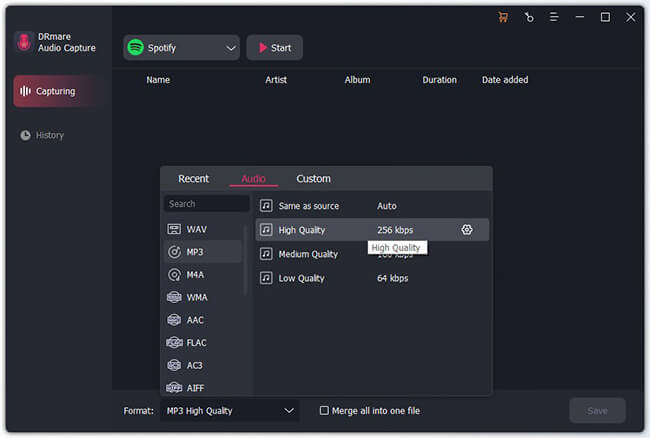 Step 3. Now play the song you want to record from YouTube Music using the app added in the DRmare Audio Capture. Later, the tool will automatically detect and record the sound.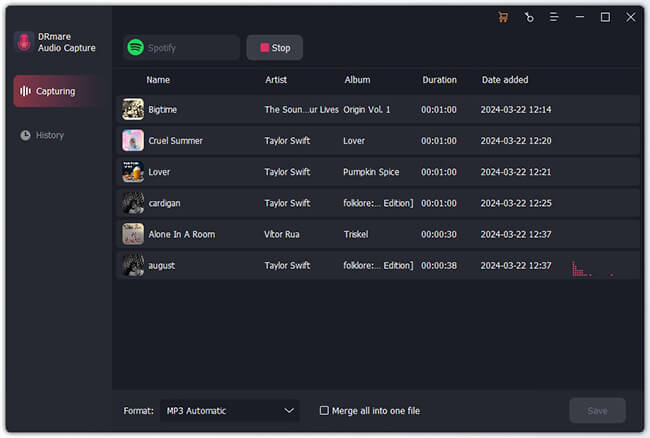 Step 4. As soon as the music stops playing, the recording process will end automatically. Next, select the 'Edit' icon on the recorded audio to trim, cut, delete, and rearrange it.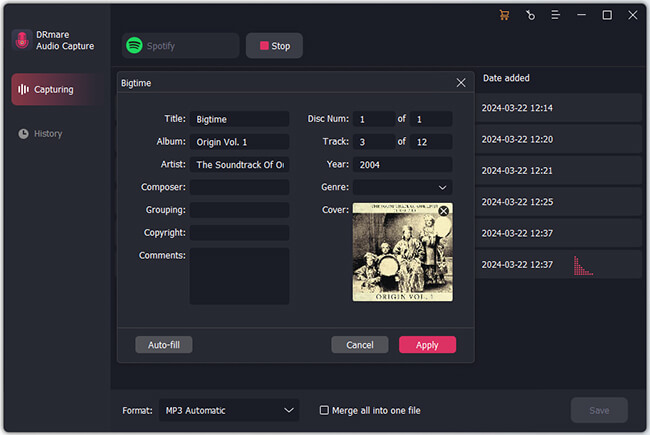 Step 5. Once all editing is completed, hit the 'Save' button to download the captured YouTube Music audio files on your computer. Then, click on the 'history' icon to display and locate the captured YouTube Music songs on your computer. And then you can transfer local YouTube Music files to your mobile phone or other devices. Then you can listen to YouTube Music offline without a subscription.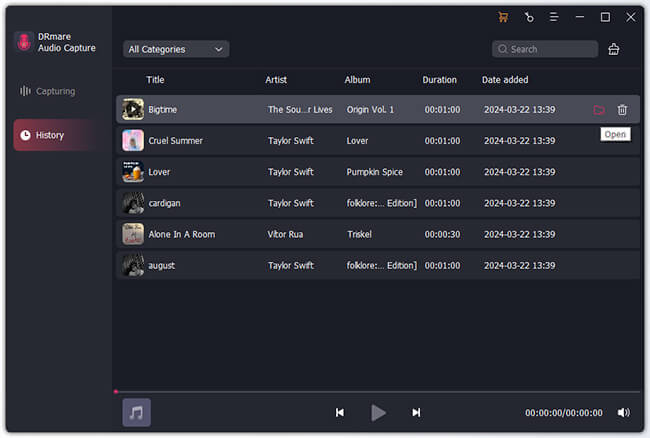 Part 3. In Conclusion
Millions of songs and music videos are available on YouTube Music, making it a popular streaming service. Users also love to enjoy HD quality songs from YouTube offline. However, sometimes it's hard to locate where is downloaded YouTube Music stored on Android or iOS devices.
Nonetheless, now you know where you can find the downloaded YouTube Music on your phone after reading this post. Moreover, to record audio from YouTube Music on your computer and save it as an MP3, FLAC, WAV, or other format, you can utilize DRmare Audio Capture, a powerful and user-friendly program. This app makes it simple to record high-quality songs from YouTube Music and then transfer them to your mobile device for offline playback.