YouTube Music, which was introduced on November 12, 2015, is a personalized music streaming platform providing both free and premium options. With the free version, users can enjoy personalized playlists interrupted by occasional commercials. It can be accessed through both the mobile app and web player. Additionally, by upgrading to a premium, users can enjoy listening without any ads. The premium version supports downloading songs for offline playback.
Keeping the benefits aside, you may encounter the YouTube Music not working issue. The YouTube Music app's unplayable or unavailable download error has caused much frustration to many users. So, keeping this in mind, we have discussed some quick fixes in this article to help you avoid glitches.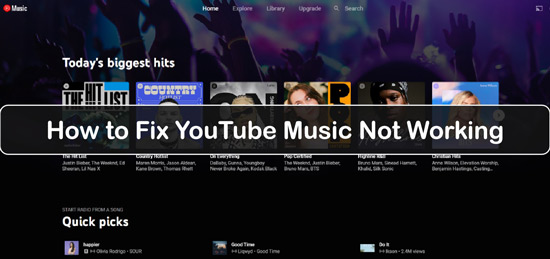 Part 1. Why Is YouTube Music Not Working
YouTube Music has emerged as the most popular streaming platform for music enthusiasts. Still, a few technical problems have been noticed by users and are reported, such as why is YouTube Music not working. However, these issues could be more manageable with the functionality of this streaming service. To better understand the problems, look at some potential reasons behind them:
1. Impact of Server Outages: This service relies heavily on a vast server network to deliver music content to its users. Unfortunately, temporary server outages or maintenance can lead to disruptions and result in the service becoming unavailable or performing poorly.
2. Poor Internet Connectivity: Unstable or weak internet connections can significantly impact the loading and streaming of music on YouTube Music. Buffering issues may arise when the internet speed is too slow or inconsistent, causing interruptions or complete service unavailability.
3. App Version or Browser Issues: App glitches or compatibility problems within the YouTube Music application or the web browser being used to access the service can cause disruptions. These issues interfere with the platform's functioning, leading to errors or crashes.
4. Common Account-Related Problems: Sometimes, issues related to a user's YouTube Music account can prevent the service from functioning correctly. These problems may include account verification difficulties, subscription issues, or account suspension due to policy violations.
5. Device Compatibility: YouTube Music may not support specific devices or operating systems, leading to compatibility problems. Issues related to incompatibility can manifest in different forms, including the inability of the app to launch, freezing, or crashing on devices that are not supported.
Part 2. How to Fix YouTube Music Not Working - Common Solutions
Troubleshooting the YouTube Music app not working can be frustrating when encountering application crashes, music playback failures, or app loading problems. Fortunately, you can try several effective fixes to resolve these problems and get the app to work smoothly again. Try out the following fixes to enjoy uninterrupted music streaming from YouTube Music hassle-freely.
Fix 1. Check Internet Connection
The most common cause behind YouTube Music not working on Android/iPhone/PC/Mac is internet connectivity. To troubleshoot app loading issues on a Wi-Fi network, start by testing your internet connection. Open a browser and attempt to load a website. If the website loads successfully, it indicates that the problem lies not with your device but with your internet connection.
When attempting to use the app on a mobile network, it is crucial to verify the stability of your mobile connection. If your data volume has been used up, the app may need to be faster or load at all. Additionally, the download may fail due to incorrect mobile data settings. To fix this, check your device's mobile data settings and ensure they are correctly configured.
Fix 2. Restart Your Device
Frequently, users encounter issues with the App/Play Store following an update to the Android or iOS operating system. Once the system update is complete, the connection with the login credentials for the respective store may become unreliable. If this occurs, it is recommended to restart your device.
For Android:
Step 1: Keep the power button on the device's side or top edge pressed for a few seconds. Look for the "Restart" or "Reboot" option within the Power menu.
Step 2: To continue this, tap the "Restart" option from the menu. This action will initiate the restart process for your device.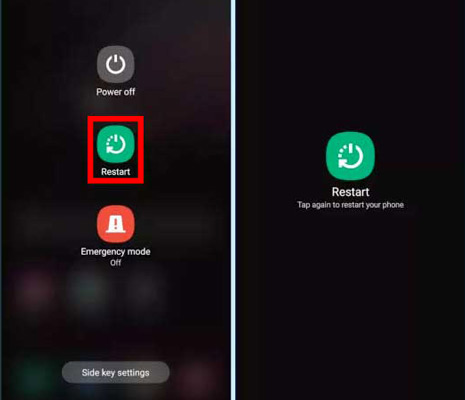 For iPhone:
Step 1: Initially, you must open your device and look for the "Settings" app. Tap on the app, and the settings menu will appear on the screen. Following this, scroll down to find the "General" option and hit it.
Step 2: Again, in the "General" menu, scroll down to the end, press the "Shut Down" option, and move the slide to the right. This will make you power off your device within seconds. To power on the device, wait for a few seconds, then press and hold the power button until the device starts up.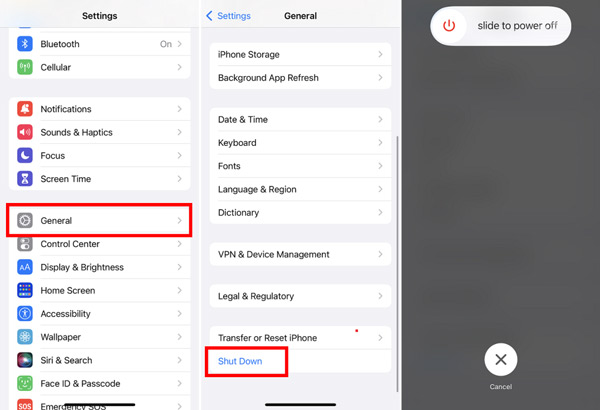 Fix 3. Reinstall YouTube Music App
In case you are encountering persistent problems with your YouTube Music not working on iPhone or Android and wish to reinstall it on your Android or iPhone device, the following instructions will guide you through the process of getting the app back on track:
For Android:
Step 1: Access the "Settings" app on your Android device, typically located on the home screen or in the app drawer.
Step 2: Then, scroll down and tap on "Apps", and from the list of installed apps, locate and tap on "YouTube Music" to open further options.
Step 3: To continue this, tap on the "Uninstall" option, as this will remove the app from your device.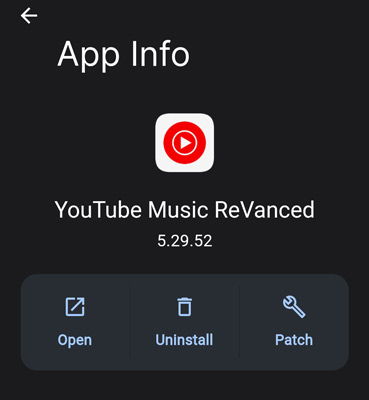 Step 4: Once uninstalled, open the Google Play Store. Type "YouTube Music" in the search bar at the top to search for the app. Initiate the installation on your device by tapping the "Install" option on the app page.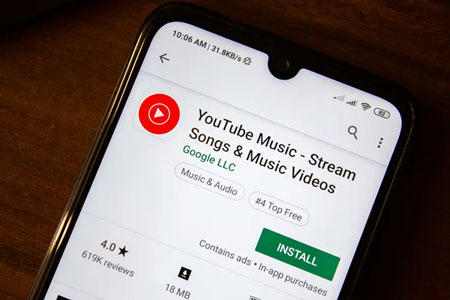 For iPhone:
Step 1: Head to the home screen and locate the YouTube Music app icon. Now, press and hold the app icon until it vibrates, and the options pop up.
Step 2: Hit the "Remove App" option to delete the app from your device. A confirmation message will appear. Then tap "Delete App" to remove it and all its data.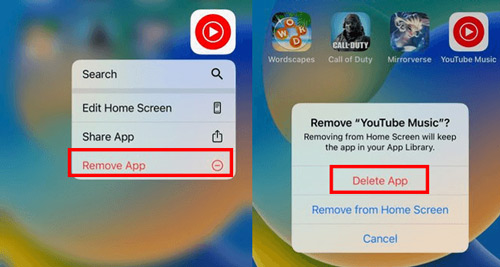 Step 3: Once the app is deleted, open the App Store on your iPhone.
Step 4: Tap on the "Search" icon at the bottom right of the screen. Then type "YouTube Music" in the search bar and tap the search icon.
Afterward, access the YouTube Music app, and then hit the "
Get
" button to download and install the app again on your iPhone.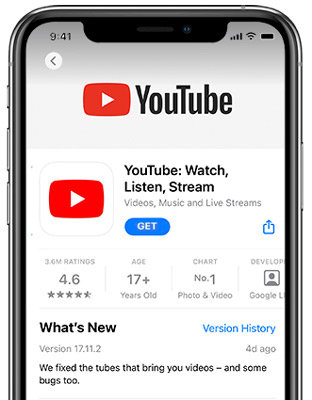 Fix 4. Check Your YouTube Subscription
If you have checked device compatibility and the internet connectivity and everything is working fine, there might be issues with your YouTube subscription. Whether it is related to billing, playback, or access to premium features, follow the below steps to check it out.
For Android:
Step 1: Open the YouTube Music app on your device and tap on your profile picture icon at the screen's top right corner.
Step 2: Then select "Settings" from the menu options. Scroll down and tap on "Purchases and Memberships". If prompted, sign in with the Google account linked to your YouTube Music subscription.
Step 3: Manage your subscription effortlessly by checking its status, expiration date and updating payment and billing details.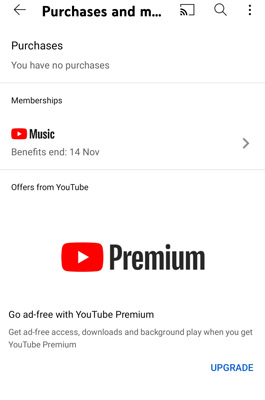 For iPhone:
Step 1: Launch the YouTube Music app on your iPhone. Tap on your profile picture or the library icon located at the top right corner of the screen.
Step 2: Now, scroll down and choose "Settings". Under the "YouTube Music Premium" section, tap "Paid Memberships".
Step 3: If prompted, sign in with your Google account associated with your YouTube Music subscription. You can quickly check the details of your subscription, such as the next billing date, and manage your payment method.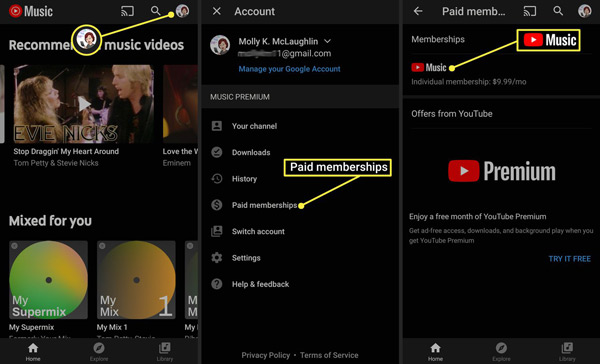 Fix 5. Clear YouTube Music Cache
The slow performance or outdated content may be due to the stored cache. Clearing the app's cache can often help resolve these issues. Clearing the cache removes temporary files that may be causing problems and allows the app to start fresh. However, this only applies to Android, as iOS doesn't offer a clearing cache option.
Step 1: Locate the YouTube Music app on the device's home screen to clear the cache. Tap and hold the app for a few seconds until the options pop up. Hit the "App Info" icon to be redirected to the app info menu.
Step 2: To clear the cache, tap on "Clear Cache" located on the screen's bottom. You may see a confirmation prompt, in which case, tap "OK" to proceed. Allow some time for the cache to be cleared.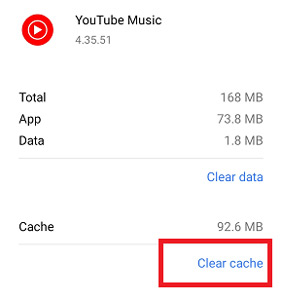 Part 3. Best Way to Solve YouTube Music App Not Working Issue
After we have learned all the reasons behind YouTube Music not working on PC/Mac/iPhone/Android along with fixes, you can follow them. If these fixes don't work out for you, well, then, you should consider trying out the DRmare Audio Capture tool. Unlike other audio downloading tools limited to downloading specific music, DRmare Audio Capture is a highly versatile tool that works with various media sources.
It lets you capture music, radio, podcasts, and audiobooks from various resources such as YouTube Music and many more without purchasing them. In addition, it serves as an excellent audio extractor, enabling you to extract music from videos on platforms like YouTube, HBO Now, and so on. And it will convert and save audio into MP3, WAV and more plain audio formats for use anywhere. Also, you can alter output parameters and edit the track if you want.
With it, you can record music from YouTube Music and keep them on your computer forever. Then you can listen to YouTube Music offline anywhere and anytime without the YouTube Music app. In this case, you won't get the YouTube Music not working on Mac/PC/Android/iPhone issue anymore.
DRmare Audio Capture
Steps to Download and Convert YouTube Music as Local Files
Now you have the basic knowledge about what DRmare Audio Capture is and what features it offers, let's move to how to use this tool and extract audio from YouTube Music.
Step 1

Add the platform to DRmare to extract music from

Head to DRmare's Audio Capture official website on your browser to download and install the software. By default, the tool is ready to record music from some famous platforms with presets. But, if you like to extract songs from YouTube Music or another platform, you can press the '+' button to add the target platform directly.
Step 2

Reset YouTube Music output audio parameters

Now, click on the 'format' icon to choose the most suitable format for your requirements. You can pick up the audio format for YouTube Music to MP3, FLAC, M4A and more. Also, you can alter the codec, bit rate and so on if you want. After that, click 'OK'.
Step 3

Record YouTube Music tracks

Prepare for recording by launching web browser within DRmare Audio Capture. Then head to the YouTube Music official website and find songs you want to download. Once the selected song begins playing, the DRmare Audio Capture software automatically detects it and initiates the recording process. Besides, multiple tracks can be recorded simultaneously, allowing you to repeat the process for additional apps or tabs in your browser.
Step 4

Make any edits to the YouTube Music tracks

The recording process will stop automatically when the song finishes playing. If you wish to make further edits to the track, hover your cursor over the song and click the editing icon. DRmare Audio Capture's audio editor provides tools for your audio files according to your preferences. To preserve your recordings, click the 'Save' button, and all the songs will be saved on your computer.
At last, you can transfer YouTube Music songs to iPhone or any device you want for offline playing. With the local YouTube Music songs on your device, you don't need the YouTube Music app and the internet connection. And you won't face the YouTube Music app not working problem.
Part 4. Final Words
To sum up, if you face issues with YouTube Music not working, various reasons could be causing the problem. In this post, we discussed common reasons like network issues, outdated apps, cache problems, and more. Fortunately, you got a few solutions when encountering this issue, including verifying your internet connection, updating the application, and clearing the cache.
Moreover, we offer a more comprehensive solution that allows you to enjoy YouTube Music without any issues. That is to use DRmare Audio Capture. With it, you can download and save YouTube Music track offline on your device. Then you can listen to YouTube Music anytime and anywhere with ease.