"Hello! I need to use YouTube Music as background music for my videos. YouTube doesn't allow any downloading to the Apple Music option or background music availability. I have been suggested to use third-party software for doing so. Please suggest a useful and efficient tool for recording YouTube Music so I can play it on Apple Music. Thank You!"
Are you wondering how to download music from YouTube to Apple Music? If yes, you are in the right place to have answers to your queries. This article will provide several methods, including DRmare Audio Capture, the best music capture software. Also, we will show you how to transfer YouTube Music to Apple Music via Soundiiz and MusConv. Go through the article and learn more.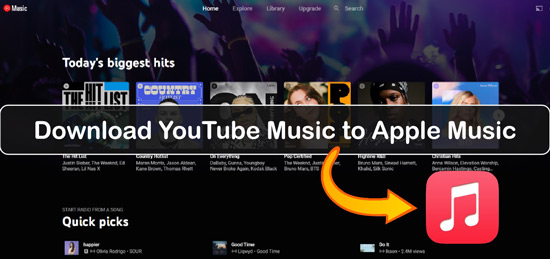 Part 1. How to Convert YouTube Music to Apple Music by DRmare Audio Capture
If you want to listen to your YouTube Music on your Apple Music, you need to download the files in audio format or record them first. Several audio capture apps are available online to convert YouTube Music to Apple Music. Yet, you need to use a converter that provides lossless audio quality and keeps your music in its original ID3 tags.
We recommend you use DRmare Audio Capture to record your YouTube Music so you can listen to it on your Apple Music playlist. DRmare Audio Capture has an easy and user-friendly interface that lets you download music from YouTube to Apple Music easily. You can convert the music tracks into multiple audio formats like MP3, M4A, M4B, WAV, AAC, and FLAC.
DRmare Audio Capture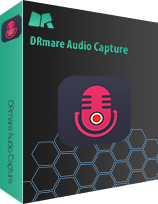 Can detect and record any sound or audio playing on the computer
Convert YouTube Music soundtracks to multiple audio formats, including AAC, MP3, WAV, etc.
Enable you to trim the recorded YouTube Music audio and keep the ID3 tags of the tracks
Provide high sound quality for YouTube Music to Apple Music audio files
Now, follow the given step-by-step guide to use DRmare Audio Capture to download song from YouTube to Apple Music.
Step 1

Download and install DRmare Audio Capture

Install and download the DRmare Audio Capture on your Mac or Windows PC. Then launch it by opening it from the desktop icon. On its main interface, you will see some default streaming platforms. You can choose any of them to start the recording process. If you want to add any other platform, you can click on the "+" sign to proceed. Google Chrome is set as the default program so that you can use it to stream music on YouTube.
Step 2

Set output preferences for YouTube Music to Apple Music

Open the Settings window via the 'audio' icon on DRmare program. And then you can go to customize output parameters for the YouTube Music songs. You can set audio formats such as MP3, WAV, FLAC and more. Also, you can set parameters like bit rate, channel, codec, and sample rate for YouTube Music files.
Step 3

Play and record YouTube Music playlist to Apple Music

After customizing output parameters, head to the main screen of DRmare program and choose the streaming platform to play the YouTube Music songs you want to record. To save time, you can play the songs on multiple browsers. The DRmare Audio Capture will automatically record them separately.
Step 4

Edit and enhance the recorded YouTube Music soundtracks

Although this DRmare program provides high sound quality, you can also edit the recorded audio to enhance them. Click on the edit option alongside each song to edit it. You can trim the songs using the "Start" and "End" times or the time header. Also, you can use the "merge all into one file" option to combine all audio into one file. After making the changes, click on "Save".
Now you have successfully recorded YouTube Music and saved it on your computer. You can locate the recorded files in the local folders of your computer.
Step 5

Add YouTube Music to Apple Music via iTunes

1. To add YouTube Music to iTunes, open iTunes on your Mac or PC.
2. Click on the "File" button at the top of iTunes.
3. You can choose "Add file to library" or "Add folder to library" to add the whole folder of recorded YouTube Music audio. Also, you can drag and drop the files on the iTunes interface.
4. Click OK to add recorded YouTube Music to Apple Music.
Now you have added the recorded YouTube Music files to your Apple ID. You can listen to YouTube Music wherever your Apple ID is enabled.
Part 2. How to Export YouTube Music Playlist to Apple Music via Soundiiz
Soundiiz is a music track, playlist, and album converter that manages the transfer process between several music streaming platforms. It is one of the complete playlist converters that provide an easy-to-use interface. You can easily manage and keeps your playlists and music collection in one place.
For using Soundiiz, you don't need to download any software. You can import playlist from YouTube Music to Apple Music from the web app of Soundiiz. However, if you want to export multiple YouTube playlists simultaneously, you must have a premium subscription to Soundiiz.

The process of transferring YouTube Music to Apple Music is simple. Follow the guide to transfer YouTube Music to Apple Music.
Step 1. Open Soundiiz from its web app.
Step 2. In "Your Library" at the left, choose the "Playlists" option and click on "Let's Go" to connect to YouTube.
Step 3. Now select YouTube Music playlists you want to export.
Step 4. After selecting, click on the "Convert" tools in the toolbar at the top.
Step 5. Now connect the "Apple Music" and choose it as the destination.
Step 6. Soundiiz will start to import playlist from YouTube Music to Apple Music. Once the process is completed, you can locate your YouTube Music tracks on Apple Music.
Part 3. How to Transfer YouTube Music to Apple Music by MusConv
MusConv is an online tool that can transfer all kinds of streaming music, including playlists, albums, liked songs, followed artists, and much more, to multiple destination platforms and services. It supports music from more than 30 music platforms, such as YouTube Music, Amazon Music, and Spotify. To get the best out of MusConv, you can buy its premium plans, including Basic, Professional, and Ultimate.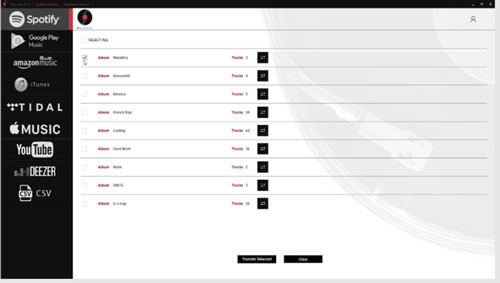 With 4 easy steps, you can add YouTube Music to Apple Music via MusConv. The steps are:
Step 1. Open the web app of MusConv and choose "YouTube Music" as the source.
Step 2. Select the YouTube playlists you want to import.
Step 3. After the selection, choose "Apple Music" as the destination point.
Step 4. Wait for the transfer to complete successfully. Once done, you can now play and listen to YouTube Music on Apple Music.
Part 4. Conclusion
People frequently use YouTube for music and videos. It has a massive music collection and has emerged as the most popular streaming site for all kinds of music. For some reasons, such as internet connectivity issues or using them as background music, people want to add YouTube Music to Apple Music.
As YouTube doesn't provide background music or a direct conversion option, you must use a third-party tool. To do that, you can use the best DRmare Audio Capture to solve issues like how to transfer YouTube Music to Apple Music. Also, it's one of the best MP3 recorder software that you can use YouTube Music on any platform you want.