As there are various of online media services and more and more people like watching movies online, but they may have no idea of which media service is better. Amazon Video and iTunes Store are two giant online movie services, they could be one of the options we buy and watch movies online.
However, for those who are not familiar with the differences between Amazon Video and iTunes Store, we are here to make a comparison between them to help you get a clear understanding of them and make a decision on whether to buy movies from Amazon Video or iTunes Store. In the following post, we compare Amazon Video and iTunes Store on aspects like introduction, price and supported devices.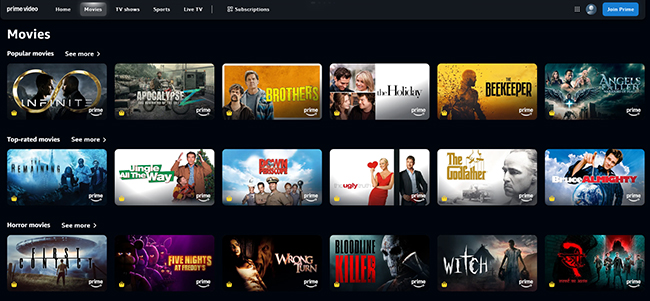 1. Introduction of Amazon Video and iTunes Store
Amazon Video is an Internet video developed and operated by Amazon.com. As part of Amazon's Prime subscription, it provides TV shows and films for people to rent or buy. Amazon offers 150,000 stream able videos, 40,000 of them are available for instant access and unlimited streaming to their prime subscribers. Amazon also sell content. For people who has 4K TV with the 4K-supporting Amazon app and an internet connection of at least 15Mbps, the Originals' Ultra HD content is available under the Prime Video and Prime subscription tiers without any cost.
At present, iTunes Store is becoming one of the most popular platforms to buy online movies, TV shows and stream unlimited music. In iTunes Store, titles are available in 1080p and 5.1 Dolby Digital surround sound, which has been regarded as "near blu-ray" quality. You can download what you purchased and rented at any time or streamed on Apple TV. There are more than 85,000 movies with various kinds for you to buy or rent in iTunes Store. What's more, it has over 300,000 commercial-free TV shows, you could find a series that make you addicted.
2. Comparison between Amazon Video vs iTunes Store
Price
Amazon Prime costs $119 per year, or you can pay $12.99 for per month, but it will cost you about $37 more than the annual option over the year. And you can just get Prime Video for $8.99 per month. In addition, rentals in Amazon range from about $2.99 to $5.99, and movie purchases are from $9.99 to $14.99.
As for iTunes Store, its prices are various. Most of the SD movies in iTunes will cost around $4 for rent and around $15 to purchase. And for HD movies, the prices are about $5 to rent and about $25 to buy. As for TV episodes, the price of the entire series may reach $30 to $40 per season. Rented movies are available for 30 days from purchase. Once you begin watching, you'll have 24 hours to finish. All purchased content remains on your iTunes account and you can stream online or download for offline playback, depending on you.
Supported Devices
You can stream Amazon movies and TV shows to iOS, Roku, Kindle Fire, Amazon Fire TV, Samsung Smart TVs and so on. However, there is no specialized app for Android users, but you also can download their content for you to watch on your mobile devices.
Apple just allows users to stream their purchases and rentals to Apple devices with the same Apple ID they used to buy and rent the video, such as Mac, iPhone, iPod, iPad and Apple TV. Unfortunately, the movies from iTunes Store can't be played on non-apple devices, because they are under the protection of DRM. If you want to watch iTunes videos on Android devices or other devices, you are supposed to remove the DRM from iTunes videos.
In the following part, we will introduce a powerful DRM removal tool for you.
3. DRM Removal Tool for iTunes Videos
DRmare M4V iTunes Video Converter for Mac is a professional DRM removal tool for iTunes videos. It can help you get rid of DRM from purchased and rented iTunes videos and convert them into MP4 or other formats with lossless quality. You also can edit the iTunes videos you want to convert, such as trimming, adding watermark, adding effects and more.
Now you can download the free version and start converting your iTunes videos.
DRmare M4V iTunes Video Converter
4. The Verdict: Amazon Video or iTunes Store
According to this post, you may know some differences between Amazon Video and iTunes Store. As for which is better, it depends on your requirements. For instance, if you want to watch latest movies or classic movies, iTunes Store might be the better for you than Amazon Video. If you think more about the playback devices, you should choose Amazon Video as it can support many devices.