When it comes to on-demand streaming music service, the undisputed two giants must be Spotify and Apple Music. As of January 2018, Spotify had 70 million paying subscribers worldwide with 170 million total active users. As a rising star, Apple Music announced on 2015 recently hit 40 million subscribers featuring with its deeper Apple device integration. There is no doubt that Spotify is the established leader in music streaming industry until the arrival of Apple Music.
However, if you would like to subscribe a streaming music service, Apple Music or Spotify, which one should you choose? The final decision could be harder than you think. So here, we compare the services on price, music library, msuic quality and other features to help you decide which streaming music service is better.
View also: Google Play Music vs Spotify Music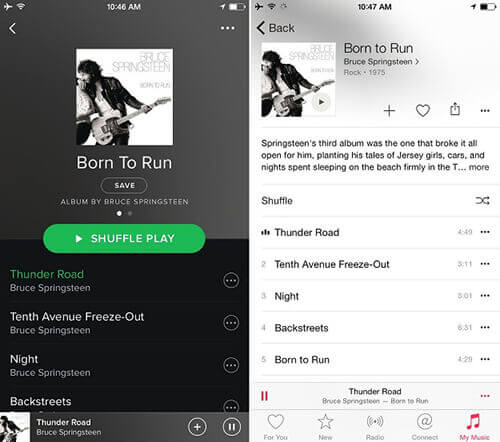 1. What is Apple Music vs What is Spotify
Apple Music is Apple's massive music streaming service, which allows users to listen to favorite ad-free music tracks and stream them to multiple devices. With the full integration into Apple's popular iOS ecosystem, it combines iTunes library on your computer with audio tracks you add from Apple Music's cloud servers. It includes an exclusive catalogue, the Internet radio station Beat 1 that broadcasts live to over 100 countires 24 hours a day. Plus, Apple Music works well with Siri on the HomePod.
Spotify is a music streaming service originally announced in 2006 in Sweden. With a much larger user base, Spotify allows users to listen to music freely with advertisements. Or being a paid subscriber, you are able to enjoy ad-free songs from Spotify offine and online. Spotify allows users to create and share playlists with other users, upload your local music to Spotify library and browse through a catalogue of music. You can easily access to Spotify songs, playlists, albums and other connect on a wide variety of smart speakers, soundbars and other devices via Spotify Connect.
2. Music Library
Spotify and Apple Music music services both have a big music library with tons of catalogues and current content. Although Spotify hasn't officially revealed the number of music in its library, it must have over 35 million songs in Spotify library. Spotify is apt to add more than 20,000 new songs each day. So the real library of Spotify comes with more songs than your ears.
Apple claims it has over 45 millions songs in Apple Music library. Plus, the biggest advantage of Apple Music is its exclusive feature, iCloud Music Library that allows you to add music to iTunes and all added music files will show up in your library. For example, there is a most recent album was released and it can be found on Apple Music or Spotify, if you can purchase this album on iTunes store, it will automatically added to your library. Compared to Spotify content, you can access to music videos on Apple Music, while Spotify doesn't offer this feature.
3. How Music Does It Cost?
Spotify offers two types of digital music streaming service: Spotify Free and Spotify Premium. Put it another, you are able to listen to Spotify music with no cost. But there are a lot of limitation features, like advertisements and lower audio quality and no download link. If you would like to get rid of tiresome restrictions, subscribing Spotify premium could be a great option. Unlike Spotify, which divides to free and paid version, Apple Music only has the paid version. But it provides a free three-month trial and you can cancel it anytime only if you sing up it.
In terms of the subscription fee, Spotify and Apple Music streaming services have the same payment plans that are individual plan for $9.99 per month, family package for $14.99 per month at up to six users and annual plan for $99 per year. If you are a student, you can get a cheaper student discount at $4.99 per month. No matter which plan you subscribe, you are able to listen to ad-free music on Apple Music and Spotify offline.
4. Music Quality
According to different rates, Spotify divides music tracks into three levels: Normal at 96kbps, High at 160kbps and 320kbps respectively. While Apple hasn't officially announced the bitrates, but the locally-saved files are 256kbps AAC files, which is the same as tracks purchased from iTunes store. That's to say, Spotify streams audio tracks at up to 320kbps against Apple Music's 256kbps. But to be honest, we can't make the exact conclusion on which music service has better audio quality unless you enjoy then by yourself with great headphones. But as far as I'm concerned, I prefer to choose Spotify to get highest audio quality for better listening experience.
5. Availability & Compatibility
Apple Music is fully compatible with Apple's ecosystem. As a result, you are able to access to Apple Music on all Apple devices (iPhone, iPads, the 4th Gen Apple TV, iPod Touch and Apple Watch), computers running Mac or Windows operating system, Android devices as well as automobiles with Apple CarPlay. With built-in Apple Music app on the new HomePod speaker, you can use Siri to play songs and playlists directly. But if you would like to stream Apple Music to Amazon Echo or Google Home , you can only do it through Bluetooth with the help of your iPhone or iPad.
On the other hand, although Spotify is not available on Apple's Homepod speaker, you can directly sing in Spotify account to Amazon Echo and Google Home with a Spotify Premium. So you can also request Spotify songs by voice through compatible speakers. Spotify could be much better for avid gamers. Spotify app is available on both Xbox One and PS4, which means that you can listen to songs, playlists or albums when you are playing games.
6. DRM Copyright Technology
Different platform has applied different DRM copyright technology on its music tracks, in order to avoid unauthorized sharing and protect the benefits of content creators. Apple Music and Spotify are no exception. Apple Music songs are encrypted by Apple's FairPlay DRM technology while Spotify music tracks are protected by its own DRM copyright technology. Due to DRM protection, music files downloaded from both two music streaming services are limited to share and offload to selected devices and platforms. Taken Apple Music as example, you can't enjoy Apple Music on Google Home or Amazon Echo.
The good news is that you can use some third-party DRM removal tools to break DRM protection from Spotify and Apple Music tracks. As for Apple Music, you can use DRmare Apple Music Converter to legally remove DRM protection and convert DRM M4P to common MP3, FLAC and other formats so that you can play Apple Music on any device and platform without limitation. And you can refer to the following tutorial to learn how to bypass DRM lock: How to Remove DRM from Apple Music. As for Spotify music, you can make use of DRmare Spotify Music Converter to crack DRM protection from Spotiify tracks and download and convert them to MP3, WAV, FLAC, AAC, etc. for offline listening no matter you are using a free or premium account. Also there is a helpful source page for your reference: How to Remove DRM from Spotify Music.
Final Verdict: Apple Music or Spotify
Obviously, there is no exact answer. Apple Music and Spotify are both extraordinary and popular streaming music services in the market. So which music service is best for you simply depends on your special requirements.
Are you an Apple fan? Do you want to play streaming music on Apple ecosystem, like Apple TV, HomePod and Apple Watch? If the answer is yes of any of those, subscribing Apple Music is a great option than Spotify.
But if you are interested in listening to audio tracks when you are playing games, you own an Amazon Echo or Google Home or you just would like to enjoy streaming music for free, Spotify is the best pick for you.
Apple Music or Spotify, which do you prefer? Let me know in the comments.