Spotify and Apple Music are both good streaming music services. Apple Music allows users to listen to ad-free music tracks and stream them to multiple devices. Spotify, on the other hand, allows users to listen to music for free with ads. Or as a paying subscriber, you can enjoy Spotify's ad-free songs offline and online.
If you are planning to switch to another streaming music service and are confused about Spotify or Apple Music, then this article will be helpful for you. This detailed Apple Music vs Spotify comparison will show you the differences between Apple Music and Spotify in various aspects.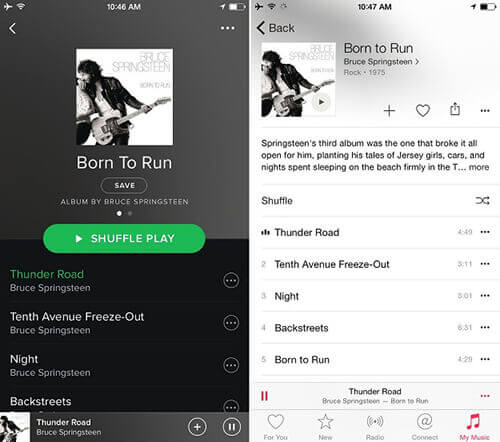 Part 1. Spotify vs Apple Music: Price
If you are going to subscribe to a streaming music service, you must be very concerned about the price. So, how much is Apple Music vs Spotify?
The biggest difference between Apple Music and Spotify costs is that Apple Music does not offer a free tier. Spotify, on the other hand, offers a free plan for streaming music online with ads.
The individual Apple Music plan costs $9.99/month, which is the same $9.99/month cost as Spotify Premium. For other details about the costs, check the below comparison table:
Free Plan
Premium Individual
Premium Family
Premium Student
Other Plans
Spotify
✔
$9.99/month
$15.99/month
$4.99/month
Duo: $12.99/month
Apple Music
✖
$10.99/month
$16.99/month
$5.99/month
Voice Plan: $4.99/month
👍Winner: Spotify
Part 2. Spotify vs Apple Music: Sound Quality
Depending on the rate, Spotify divides music tracks into five levels: Automatic, Low at 24kbps, Normal at 96kbps, High at 160kbps and Very High at 320kbps. The highest, 320kbps, is only available to premium subscribers.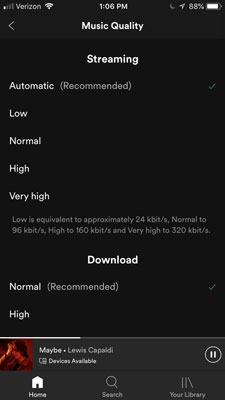 While Apple hasn't officially announced the bitrate, the locally saved files are 256kbps AAC files, which is the same as the tracks purchased from the iTunes store. That means Spotify delivers tracks at bit rates of up to 320kbps, while Apple Music is at 256kbps.
But when it comes to lossless streaming, Apple Music's lossless content beats Spotify. So, if you are an audiophile who prefer Hi-Fi audio streaming, you can choose Apple Music.
In fact, the sound quality of both Spotify and Apple Music satisfies the needs of casual music listeners. But if your Internet connection is spotty, you can go with Spotify because it has variable streaming quality options.
| | | |
| --- | --- | --- |
| | Spotify | Apple Music |
| Automatic | Depends on internet connection | 64kbps-256kbps depends on internet connection |
| Low | 24kbps | ✖ |
| Normal | 96kbps | ✖ |
| High | 160kbps | 256kbps |
| Very High | 320kbps | ✖ |
| Lossless | ✖ | up to 24-bit/38 kHz |
| High-Res Lossless | ✖ | up to 24-bit/192 kHz |
👍Winner: Apple Music
Part 3. Apple Music vs Spotify: Music Library
Spotify has over 100 million songs and 5 million podcasts in its music library. You can also find a number of audiobooks on Spotify. Spotify adds more than 20,000 new songs every day. So there are more songs in Spotify's real library than you can keep your ear to the ground.
Apple claims it has over 100 million songs and 30,000 playlists in the Apple Music library. While you can't listen to podcasts or audiobooks through Apple Music, you can find them on Apple Podcasts and Apple Books, which are free for Apple users. Plus, Apple Music offers radio stations where DJs will broadcast around the clock.
See also: Best Funny Podcasts on Spotify
Also, the biggest advantage of Apple Music is its exclusive feature, the iCloud Music Library, which allows you to add music to iTunes, and all the music files you add will show up in your library. For example, there is a recently released album which can be found on Apple Music or Spotify, and if you can purchase the album in the iTunes store, it will automatically be added to your library. In contrast to Spotify's content, you can access music videos on Apple Music, a feature Spotify does not offer.
👍Winner: Apple Music wins for more tracks/radio, Spotify wins for podcasts/audiobooks
Part 4. Apple Music vs Spotify: Availability
Apple Music is fully compatible with Apple's ecosystem. As a result, you'll be able to access Apple Music on all Apple devices (iPhone, iPad, 4th generation Apple TV, iPod Touch and Apple Watch), Mac or Windows computers, Android devices and cars with Apple CarPlay.
Apart from smart phones and computers, Spotify is also available for cars, TVs, smart watches, and more. For avid gamers, Spotify is probably much better. The Spotify app is available on both Xbox One and PS4, which means you can listen to songs, playlists or albums while playing games. Plus, with the Spotify Connect feature, you can stream Spotify to a wide range of compatible speakers.
👍Winner: Spotify
It's also worth noting that both Spotify and Apple Music have applied copyright protection technology to their music tracks. As a result, music files downloaded from both music streaming services are restricted from being shared and copied to incompatible devices and platforms. This greatly restricts the playback of music.
The good news is that you can use DRmare Apple Music Converter to break this limitation. It allows you to convert Apple Music protected M4P to common MP3, FLAC and other formats. This way you can play Apple Music on any device and platform with no restrictions. And you can refer to the tutorial below to learn how to remove copyright restrictions on Apple Music.
Step 1. Download, install, and open DRmare Apple Music Converter.
Step 2. Add your downloaded Apple Music files to this DRmare Audio Converter by clicking the 'add' button at the bottom-left corner.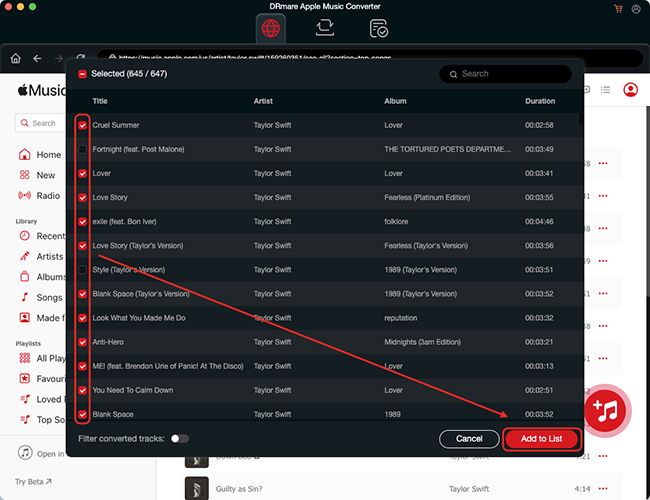 Step 3. If you have a desired output format, you can click on the 'format' icon at the bottom right to reset the output format or other paramters.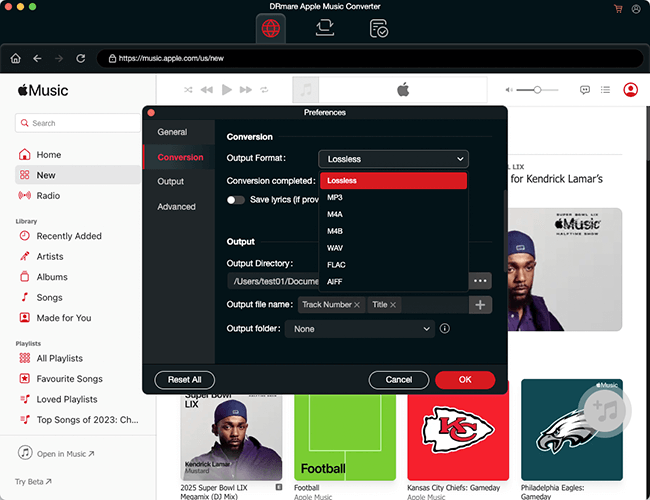 Step 4. Click the 'convert' button to start downloading and converting Apple Music to popular audio files. Once finished, you can click on the 'output' folder to find them. Then you can use Apple Music anywhere without a subscription.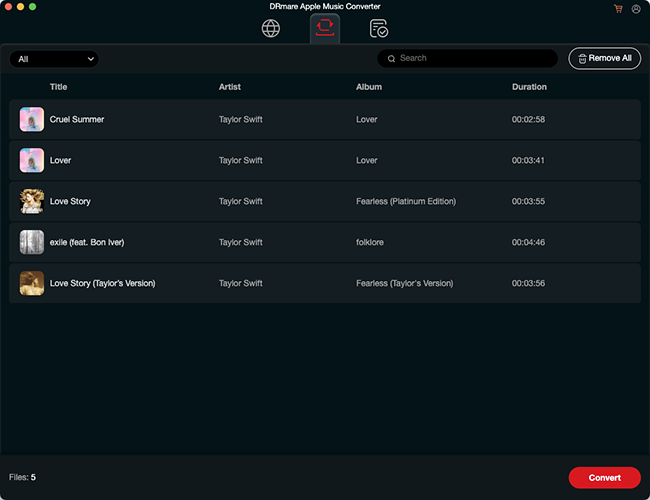 As for Spotify music, you can use DRmare Spotify Music Converter to crack protected Spotiify tracks and download them to MP3, WAV, FLAC, AAC, etc. No matter you are using a free or premium Spotify account, you can use this tool. In other words, you can listen to Spotify offline without Premium.
Part 5. Spotify vs Apple Music: Music Discovery
When it comes to music discovery, is Apple Music or Spotify better? Both apps offer users a variety of ways to discover music. They both have search functions, offer you personalized mixes, and artist recommendations.
When you create an account for Apple Music, you'll be prompted to select some of your favorite artists. This will help it understand your musical tastes and then provide you with recommendations.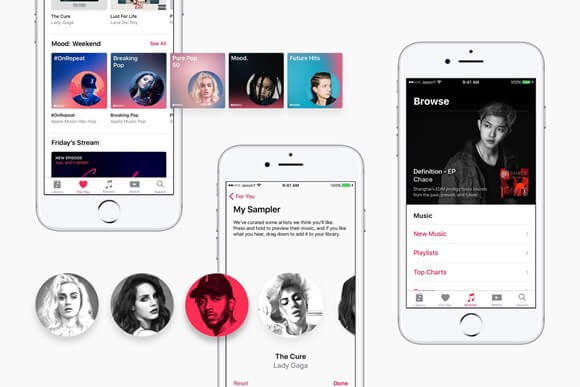 Spotify's music discovery features are much more. For example, there is a Recommended Playlist feature, which is based on the playlists you create to suggest what you might like. As for Apple Music, there is no such feature. On Spotify, you can also create, share and follow your friends' playlists. There is also a Spotify collaborative playlist feature that allows you to create playlists with your friends.
👍Winner: Spotify
Part 6. Apple Music vs Spotify: Sharing Features
Spotify allows you to easily share your playlists with others. You can share Spotify content on social media platforms such as Instagram, Facebook and Snapchat. It can also generate a link or QR that lets you share music on any messaging platform.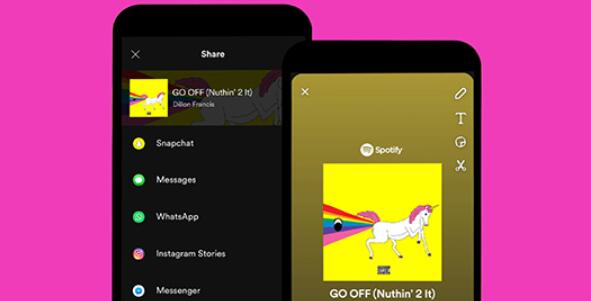 See also: How to Share Spotify Music with Code
As for Apple Music, it lets you share music with other registered users via AirDrop. Or you can create a link for your music and post it where you want. But its social media platform integration isn't as good as Spotify's.
👍Winner: Spotify
Part 7. Apple Music vs Spotify: Artist Payment
Apple Music pays artists about $0.01 per stream, the second-highest per stream after Tidal at $0.013. It's much better than Spotify's $0.0033 per stream, which means you need to play a Spotify song 236 times for your artist to earn $1.
👍Winner: Apple Music
Part 8. Spotify vs Apple Music: User Experience
Spotify's design and layout are cleaner and more organized than Apple Music's. It's also easier to use than Apple Music. Even if you're a new user, you can open the Spotify app and start listening to its music.
Both Spotify and Apple Music offer features that make for a great listening experience. For example, you can sort songs in a playlist by title, artist, date or duration. You can even search within playlists to easily find specific songs in a playlist.
Additionally, both apps have a lyrics feature that you can view while listening to music. But Apple Music is better because it lets you jump to different parts of a song by tapping on a specific line of lyrics. Another standout feature is Apple Music's search function. You can also search for songs by entering lyrics.
See also: How to See Lyrics on Apple Music
But if you want to switch devices while listening to music, Spotify is better because doing so on Apple Music might interfere with your listening.
👍Winner: Spotify
Part 9. In Conclusion: Which Is Better, Apple Music or Spotify?
There is no exact answer. Apple Music and Spotify are extraordinary streaming music services and provide good sound quality. You can choose one of them according to your value.
If you like high-resolution audio and radio, you can choose Apple Music. By the way, the DRmare Apple Music Converter can help you listen to Apple Music on any device without limit. With it, you can play Apple Music songs even without subscribing.
If you like podcasts and audiobooks, but you want to save funds, you can choose Spotify's free plan. The best assistant is the DRmare Spotify Music Converter. It allows you to download Spotify music for offline listening without Premium.
| | | |
| --- | --- | --- |
| | Spotify | Apple Music |
| Price | ✔(Free/Premium: $9.99 per month) | $9.99/month |
| Sound Quality | 24kbps-320kbps | ✔ (64kbps-256kbps, Lossless, High-Res Lossless) |
| Music Library | 100 million songs and 5 million podcasts, audiobooks | ✔ (over 100 million songs and 30, 000 playlists, radio) |
| Availability | ✔ (Android, iOS, Win, Mac, Xbox, PS5) | Apple devices, Android, Windows |
| Music Discovery | ✔ (better music discovery algorithm) | only one music discovery algorithm |
| Sharing Features | ✔ (integrate with more social platforms) | integrate with less social platforms |
| Artist Payment | $0.0013 per stream | ✔ ($0.01 per stream) |
| User Experience | ✔ (more easy-to-use and features) | have features of searching by lyrics, etc. |