It is recommended to spend more time to research TVs before making a decision as a TV usually stays on your room for a long time usually several years. To buy a best smart TV, there are much more things to consider nowadays than before due to the fast technological advancements. The TV platform, brand, remote, resolution, screen size, price, contrast ratio, picture quality and a lot more may vary hugely. How to find a best TV within your budget is not an easy task.
Here in this post we have listed all the top things you need to consider. You can take a look at this guide to help you find a perfect smart TV.
View also: Play iTunes M4V on Smart TVs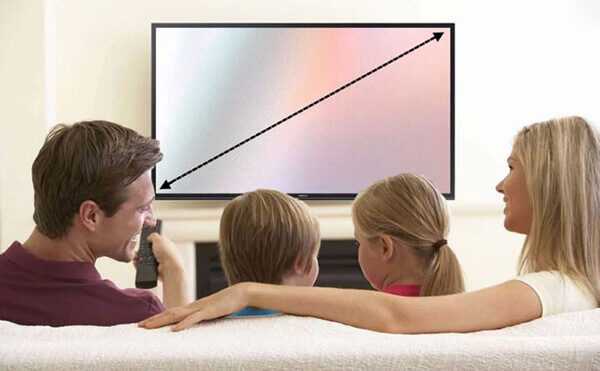 1. Difference between TV types
There are four common types of smart TVs like Plasma, LCD, LED and OLED. Plasma TVs create a picture by sending an electrical charge to a small sheet of tiny plasma cells while LCD TVs create an image by applying an electrical charge to the liquid crystal compressed. LED and OLED are actually the LCD with different LED backlight. Plasma TV has best picture quality on dark environment and the price is super expensive, it has been gradually abandoned by many manufacturers. LCD TV usually displays brighter, it works better in daytime. From LCD to LED and OLED TV, the picture quality is becoming better and the price is higher.
2. Screen size and resolution
The most important thing you need to consider to buy a smart TV depends on your room space. A big screen TV with 65 inches won't fit for a small room and you can't get the best out of the big screen TV. Else if you are choose a TV for a big living-room, you should go with the big screen TV which fits it perfectly.
As for the TV resolution, there are usually 720P, 1080P or 4K UHD and so on. With the development of TVs, 4K TV has become affordable for most users and it is surely to become the mainstream resolution in the near future. We'd recommend you to get a 4K resolution TV if you are planning to use the TV for several years. Besides, you should take a look at other features like 3D, HDR version, Dolby etc. if you are looking for great quality and color depth. These features will surely enhance videos dramatically.
3. Contrast ratio and refresh rate
Contrast ratio describes your TV's ability to display bight and dark images at the same time. Higher contrast ratio usually means higher quality. Most LCD TVs start at a contrast ratio of about 600:1 and the value can reach up to 10000:1. However, there is not an industry standard measure for contrast ratio. So some manufactures may exaggerate the actual contrast ratio of their TVs. Please don't just check the value but also watch it yourself to test it.
Refresh rate describes how often the screen updated with 60-Hz as the standard. It is an important factor for advanced video gaming or watching sport broadcasts. The faster a refresh rate is, the more smooth image you will get.
4. Interfaces and connections
Nowadays smart TV already offer many features for us to stream videos online, playing games, surfing internet online etc., but sometimes we'd really like to enhance the the smart TVs for better entertainment or any other purposes. Such as hooking up an Xbox One/360, a PlayStation 4, a Roku TV or a Chromecast and so on to the TV. If the TV comes with multiple HDMI interfaces, it will help us to extend the features of the smart TVs in an easy way. In general, we'd recommend you to get a smart TV with at least 3 HDMI ports and several USB ports.
5. TV brands
There are couples of different TV brands like the 'big four' brands Samsung, LG, Sony and Panasonic etc. which comes full series of TVs from low price to expensive TVs. In addition, there are other brands like Toshiba, Sharp, Philips, Hisense, TCL and so on. Different brands usually mean different designs and after-sales guarantee. You can pick up the right one of which the design attract you highly.
6. Flat screen TV or curved screen TV
Curved screens are usually used in big screen high-end OLED smart TVs with a much higher price, they look much more fashionable compared to the flat screen TVs. But it is mainly a gimmick of smart TV. Actually the curved screens don't have any technical advantages over the flat ones, instead it may distort the image and reduce the viewing angle. It tends to cause viewer fatigue more easily. Personally I'd go with the flat smart TV.
7. Price
Finally, you should consider the price of the smart TV. Usually the higher price usually means bigger screen, higher picture quality, more features and so on. The point is that you can't spend all your money for only a TV and you have to keep some money for other more meaningful things. So you can setup your budget and compare all the TVs with the things we mentioned above to pick up a best smart TV for you. A 55 inch 4K TV should costs at least $500 and a 65-inch model may costs more than $900.
Summarize
In a world, you'd better buy a 4K flat smart TV with high contrast ratio, refresh rate and many HDMI and USB interfaces for your money. It would be better if it supports 3D, HDR, Dolby version too. Also, if your budget allows, we'd suggest you go with OLED TV instead of LED or LCD TV and please just choose the brand you trust. Have you made the decision which smart TV to buy yet? In case you are still not sure which TV to buy, you can take a look at our top TV review to check if there is one meets your need perfectly: The Best Smart TVs of 2017.
Eventually there is one issue we may encounter in our daily life is that all the Android smart TVs don't have the compatibility to play iTunes purchased and rental movies, TV shows and Extras. If you do want to play iTunes videos on smart TV, there is a dedicated software DRmare M4V Converter you can use to remove DRM from your iTunes M4V movies and TV shows. To learn more, you can refer to this tutorial: Top 5 Ways to Watch iTunes Movies on HDTV.