According to a recent survey online, people spend about average 30 hours watching TV every week. Watching TV is a most comfortable way to relax at home, especially on a wide screen HD Smart TV. Usually we can watch TV programs from many video services such as Amazon instant video, Netflix network TC, cable TV and the built-in TV apps.
However, it is a fact that there is not a direct way to watch iTunes movies, TV shows and other videos on any brands of Smart TVs like Samsung, LG easily without Apple devices like iMac, MacBook , iPad , iPhone, iPod Touch, Apple TV etc. In this post, I will show you the most common ways to play iTunes videos on Smart TVs by using of Apple devices and how to remove DRM so that to play freely.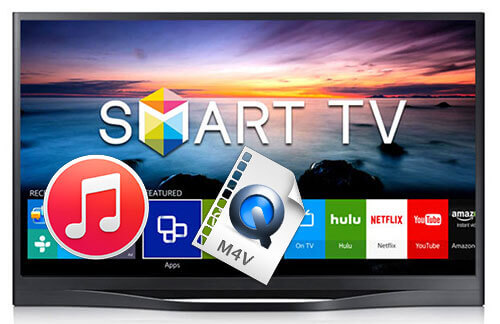 Part 1. How to Watch iTunes Videos on Smart TVs by Using Apple Devices
The following are the top 4 ways to play iTunes videos on Smart TVs:
1. Play iTunes videos on Smart TVs by an Apple TV
By connecting an Apple TV to your Smart TV via a HDMI cable, your Smart TV will become a big library of all kinds of iTunes media files. You just need to browse the video you want and click it to start to buy and play. Please make sure you have a fast internet speed to play iTunes videos easily, 1080p HD movies require 8 Mbps and 720p HD movies need 6 Mbps while SD is 2.5 Mbps. Else if you have a low internet speed, the videos will not be played smoothly.
2. Play iTunes videos on Smart TVs by an Apple computer
Usually most Apple computers support HDMI interface, you can easily connect a Mac computer to your Smart TV via HDMI cable and then play videos on the computer and the video will cast to the Smart TV. After that you can enjoy them with a wider screen and higher resolution and clarity. Also, if some of the Apple computers doesn't come with an HDMI interface but only the Mini DP interface, you can get an extra MiniDP-to-HDMI adapter to help you can connect it to your Smart TV as well.
3. Play iTunes videos on Smart TVs by an IOS device and an Apple TV
IOS device doesn't support HDMI nor Mini DP interface, so it is impossible to connect it to your Smart TVs via an HDMI cable. But don't worry, Apple add the AriPlay technology on its IOS 4.2 and OS X Mountain Lion system which allows you to stream videos, audios etc. to other devices. If you have an Apple TV connected to your Smart TV, you can simply connect your IOS device like iPad, iPhone or iPod touch to your Apple TV via the AirPlay, then the video which is playing on the IOS device will be streamed to the Smart TV.
4. Play iTunes videos on Smart TVs by a computer with iTunes and Apple TV
As iTunes support 'iTunes Home Sharing' feature, you can download the iTunes videos to your local computer first. Then you can turn on the feature 'iTunes Home Sharing' on both the computer and Apple TV. Simply go to Settings > Accounts > Home Sharing. In the end, you should be able to locate the shared content from your Apple TV and please just tap the the video you want to play.
Part 2. How to Remove DRM to Watch iTunes Videos on Smart TVs Freely
Though it is possible to play iTunes videos via the Apple devices, sometimes it is not so convenient. Is there another way to play iTunes videos like local videos without Apple devices? Of course. The reason why iTunes video can only be played on Apple devices is that they are integrated with the FairPlay DRM copyright protection. Therefore, to take away this trouble, you are required to get a software to eliminate the FairPlay DRM.
Generally speaking, there are couples of such DRM removal software available in the market like DRmare M4V Converter, Aimersoft DRM Media Converter etc. All of them can help and you can download any one you like best. But if you care about the output quality much, I would recommend DRmare M4V Converter since it is the one I found which can really export lossless video without trans-coding. Quick tutorial on how to remove DRM from iTunes videos:
DRmare M4V to Smart TV Video Converter
Step 1

Install and launch DRmare M4V Conveter

Please click the link above to download the right version according to your system. As I am using a Mac now, so I will take the Mac version to show you how does it work. After installing the software, you can double click to launch it, you will see DRmare M4V Converter for Mac main screen.
Step 2

Add your iTunes media files

There are two ways to import iTunes media files. You can go to your iTunes and drag your iTunes media files from the iTunes library to the software to import easily or click the adding-files button '+' on the bottom left to browse the files you want.
Step 3

Specify the output format for Smart TVs

You can check if your Smart TV shows up on the devices tab, if yes, you can simply choose the exact device. Else you can choose 'MP4' from the 'HD Video' or 'General Video' tab panel, which is a universal format for any devices.
Step 4

Remove DRM and convert M4V videos

Hit the start button slightly at the bottom right, the software will convert the source videos to the new videos you set for your Smart TVs quickly, please allow a few minutes for it to complete.
Finally, you will get the common output videos without DRM, you can put them to a USB flash drive and then connect it to your Smart TVs to play directly. By converting the videos, you can get a better control over your iTunes videos and play them freely as you want. It really worth spending the extra steps to remove DRM.