When talking about the best iTunes DRM removal tool, Requiem might be the first option that would come out from our minds. As a free iTunes DRM cracker, Requiem is well known by most of iTunes users for it can losslessly unlock DRM encryption from any iTunes media file, including iTunes movies, music, books and convert the protected files to DRM-free formats so that we can enjoy the iTunes content on any device for free.
Have you ever heard of this magic iTunes tool? Or are you just looking for the solution to remove DRM from iTunes movies with Requiem? Here in this article, we'll discuss Requiem in details and show you everything about Requiem, including how to download and install Requiem 4.1, how to use Requiem to remove FairPlay DRM, what's the best replacement for Requiem DRM removal, etc.
View also: Top 6 iTunes Video Converters of 2018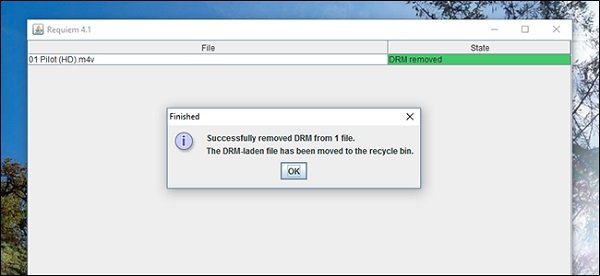 Part 1. What's Requiem: Everything about Requiem DRM Removal
What is Requiem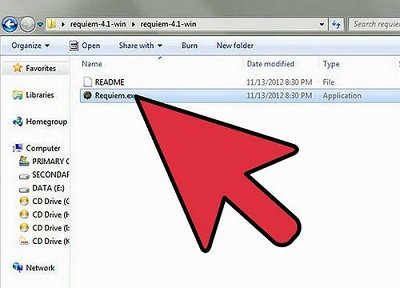 Requiem is a free iTunes DRM removal program specially designed to remove Apple's DRM FairPlay from songs, videos, and books purchased on iTunes Store. The DRM removal process of Requiem is lossless as it's merely decrypting the file, instead of decoding or re-encoding it. In result, there won't be any quality loss in the DRM-free iTunes files. Thanks to Requiem, we can freely enjoy and play any content purchased on iTunes with any non-Apple-approved device, like Android, Windows phone and other popular mobile devices or media players. Requiem DRM removal works fine on Mac, Windows as well as Linux.
However, due to some legal problems regarding FairPlay DRM policy, Requiem finally lost the war with Apple in late 2012 since the release of iTunes 11. Then Requiem developer confirmed that Requiem 4.1 is the last official release with no more updates. Therefore, you have to downgrade your iTunes to the ancient v.10.7 or lower if you still want to use Requiem to remove DRM from iTunes.
How Does Requiem Work
Generally speaking, Requiem adopts the exactly same way of iTunes does to the audio and video data in order to crack the DRM from the files. Firstly, it authenticates with the DRM library using the secret credentials used by iTunes.Then it uses the decrypt routines in the DRM library to decrypt all of the audio and video data. And that's why it could keep the lossless original quality for the output files when the DRM is removed.
Part 2. Download Requiem 4.1 and Remove iTunes FairPlay DRM with Requiem
Tools & Requirements You Should Pay Attention To
Before we get started to remove iTunes DRM with Requiem, there are some requirements you need to be clear with:
1. iTunes 10.7 or lower version;
2. If you are running Requiem on Windows, you must install Java to make Requiem work properly.
Note: If you want to decrypt DRM protection from iTunes movies and music, Requiem 4.1 is required. To decrypt iBooks DRM, the best combo would be Requiem 3.3.6 and iTunes 10.5.3.
Guide to Use Requiem to Remove DRM from iTunes Movies
Step 1. Run Requiem on your computer. Then it will scan your iTunes directory for any protected files and begin to remove the DRM protections.
If you get any errors, make sure you've authorized iTunes and that the videos are playable.
Step 2. Remove DRM. When the DRM removal process is done, Requiem will delete the protected versions of your iTunes videos and replace them with entirely unprotected versions.
Step 3. Play the converted movies. Head to your media folder in Windows Explorer and open the converted files with non-iTunes player to confirm they can work well.
Congratulations! You've successfully removed the DRM from your iTunes video, and can now play it with whatever media player you want.
Part 3. Best Requiem Alternative to Remove DRM from iTunes Movies
As you can see, it's a little bit complicated to bypass DRM from iTunes movies with Requiem. Besides, it's not convenient to install the old iTunes versions since iTunes has already been upgraded to version 12 now. What if we can find out a best alternative that works perfectly with the latest iTunes to replace Requiem?
So here we go. Now you meet DRmare M4V Converter/Windows, a similar iTunes DRM remover to Requiem, that can also losslessly delete DRM copy from iTunes movie purchases and rentals while converting the iTunes M4V videos to common MP4, MOV, MKV, AVI compatible with any popular device. It's fully compatible with iTunes v.12.6 and the latest Mac and Windows OS. For more details about this powerful iTunes M4V Converter, please visit: Complete Guide/Review to DRmare M4V Converter.