Which is the best iTunes DRM removal tool? Requiem might be the first option that comes to our minds. As a free iTunes DRM cracker, Requiem is well-known by most iTunes users. That's because it can losslessly unlock DRM encryption from any iTunes media file. That includes iTunes movies, music, and books. And it can convert the protected files to DRM-free formats. So, we can enjoy iTunes content on any device for free.
In this article, we'll discuss Requiem in detail and show you everything about it. You will learn how to download and install Requiem 4.1 and how to use Requiem. Also, you will get what's the best alternative to Requiem DRM removal and so on. Now, just check out the following paragraphs and learn more.
View also: Top 6 iTunes Video Converters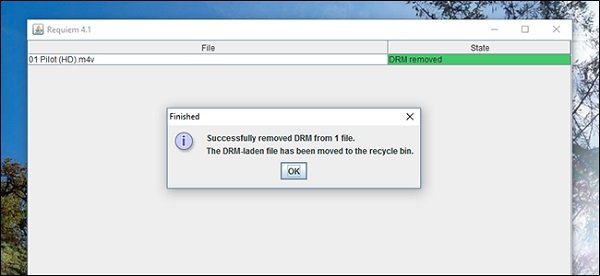 Part 1. What Is Requiem: More about Requiem DRM Removal
What is Requiem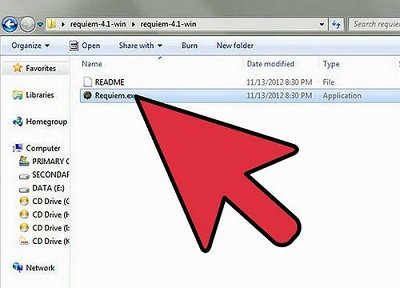 Requiem is a free iTunes DRM removal program. It is designed to remove Apple's DRM FairPlay from songs, videos, and books purchased on iTunes Store. The DRM removal process of Requiem is lossless as it decrypts the file, instead of decoding or re-encoding it. As a result, there won't be any quality loss in the DRM-free iTunes files. Thanks to Requiem, we can play any content purchased on iTunes with any non-Apple-approved devices. Also, Requiem DRM removal works fine on Mac, Windows and Linux.
Yet, due to some legal problems regarding FairPlay DRM policy, Requiem lost the war with Apple in late 2012 since the release of iTunes 11. Then Requiem developer confirmed that Requiem 4.1 is the last official release with no more updates. So, you have to downgrade your iTunes to the ancient v.10.7 or lower to use Requiem to remove DRM from iTunes.
How Does Requiem Work
In general, Requiem adopts the same way iTunes does to the audio and video data in order to crack the DRM from the files. First, it authenticates with the DRM library using the secret credentials used by iTunes. Then it uses the decrypt routines in the DRM library to decrypt all of the audio and video data. And that's why it could keep the lossless original quality for the output files when the DRM is removed.
Pros and Cons of Requiem
Here we will list some pros and cons of Requiem. You could check them out one by one.
Pros:
Remove DRM from any iTunes content
Keep the original quality of the output files
It is available for Windows, Mac and Linux OS
Easy to use and it is free
Support to play iTunes M4V videos on more devices
Cons:
Can only support iTunes 10.7 and lower
Required to install Java to run on Windows PC
Can't work with the latest version of macOS
No update since 2012
Can't convert iTunes rented video files
Part 2. Get Requiem 4.1 Download and Remove iTunes FairPlay DRM with Requiem
Tools & Requirements You Should Pay Attention To
Before we get started to remove iTunes DRM with Requiem, there are some requirements you need to be clear with:
1. iTunes 10.7 or lower version required;
2. If you are running Requiem on Windows, you must install Java to make Requiem work well.
Note: If you want to decrypt DRM protection from iTunes movies and music, Requiem 4.1 is required. To decrypt iBooks DRM, the best combo would be Requiem 3.3.6 and iTunes 10.5.3.
Guide to Use Requiem to Remove DRM from iTunes Movies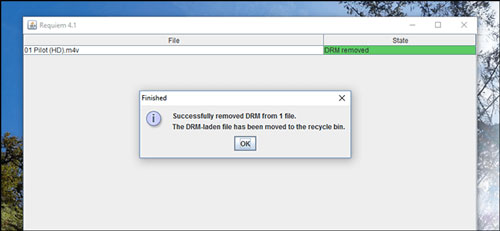 Step 1. Open Requiem on your computer. Then it will scan your iTunes directory for any protected files. And it begins to remove the DRM protections.
If you get any errors, make sure you've authorized iTunes and that the videos are playable.
Step 2. When the DRM removal process is done, Requiem will delete the protected versions of your iTunes videos and replace them with unprotected versions.
Step 3. Now, head to your media folder in Windows Explorer. Then open the converted files with the non-iTunes players to confirm whether they can work well.
Congratulations! You've removed the DRM from your iTunes video. And now you can play it with whatever media player you want.
Part 3. Best Requiem Alternative to Remove DRM from iTunes Movies
As you can see, it's a little bit complicated to bypass DRM from iTunes movies with Requiem. Besides, it's not convenient to install the old iTunes versions as iTunes has already been upgraded to version 12 now. What if we can find out the best alternative that works well with the latest iTunes to replace Requiem?
So here we go. Now you meet DRmare M4V Converter. It is a similar iTunes DRM remover to Requiem. And it works on both Windows and Mac computers. It can delete DRM copies from iTunes movie purchases and rentals. And it can convert iTunes M4V videos to common MP4, MOV, MKV, AVI and other video formats compatible with any popular device. It's compatible with iTunes v.12.6 and the latest Mac and Windows OS.
With this tool, you can edit the video before converting. You can add the watermark, video effects and more for the video files you like. Also, it can keep the original video quality after the conversion. So, you can watch your video on any device with a better experience without any issues.
How to Use DRmare M4V Converter - the Best Alternative to Requiem
In this section, we will show you how to remove DRM from iTunes movies with the DRmare program. Please check the steps below and start. Also, you need to prepare the iTunes videos first. So, you need to download them before converting.
Step 1. Download and install the DRmare M4V Video Converter on your computer.
Step 2. Open the DRmare program. Then click on the 'add files' button to load the iTunes movies to it.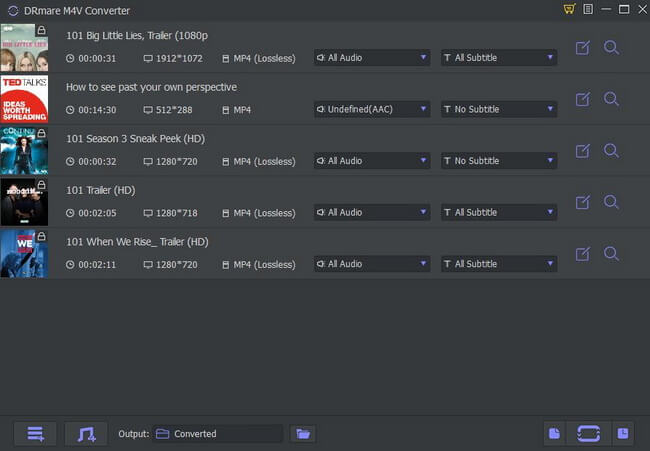 Step 3. Hit on the 'format' icon to reset the output video parameters. You can change the video format, and so on according to your needs.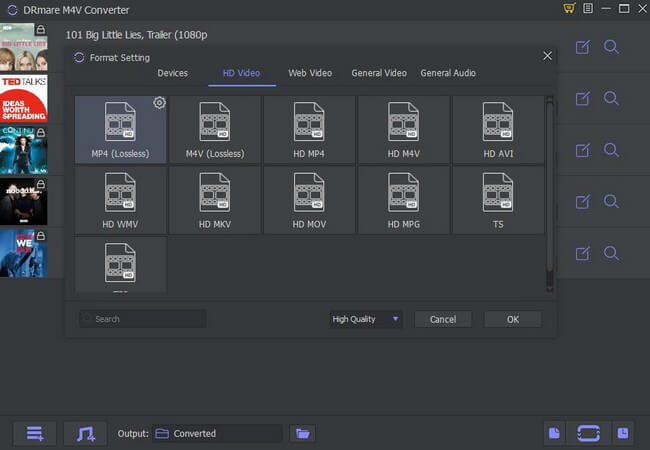 Step 4. If you want to modify your video before converting, then you can hit on the 'edit' icon next to its title. Then you can add effects and more to your videos.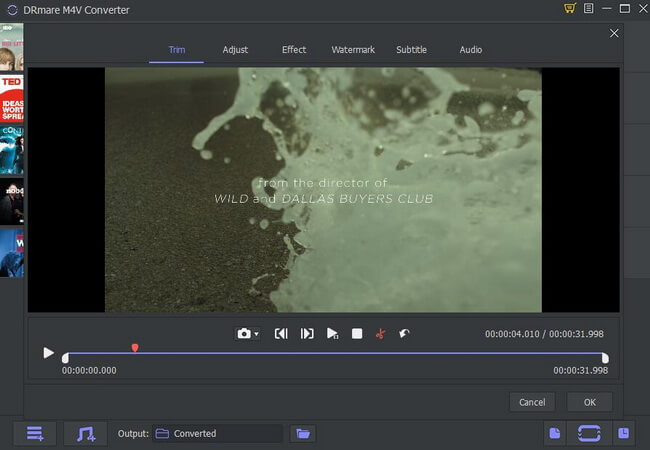 Step 5. Now, touch the 'Convert' button to start to remove DRM from iTunes videos and convert them to plain video files. After the conversion, you can locate the local iTunes video files via the 'history' icon. Then you can move iTunes movies to any device or platform you like for playing.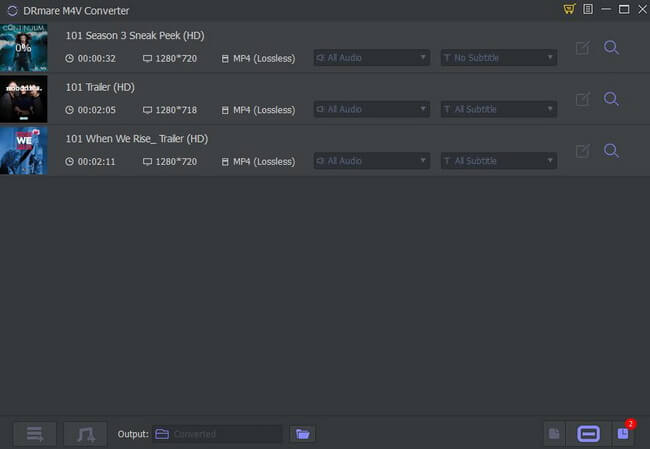 Part 4. Another Alternative to Requiem to Remove DRM from iTunes Music
The Requiem alternative above is for iTunes movies. If you want to remove DRM from iTunes music, then you can check the tool in this part.
It is DRmare Audio Converter for Windows and Mac computers. It can get rid of the protection from iTunes music, Apple Music as well as Audible audiobooks. With it, you can get the common audio files of iTunes songs you like. And it can convert iTunes music to MP3, FLAC and more audio formats. Besides, it can keep the full ID3 tags and the original quality of the iTunes audio files.
Also, you can alter the audio channel, bit rate and else for your iTunes songs with it. Moreover, it can run at a fast conversion speed. So you can save time. After that, you will get the common audio tracks of iTunes songs on your computer. And then you can move them to other devices for use offline.
Now let's learn how to use DRmare Audio Converter to convert music from iTunes step by step. Also, you need to download iTunes songs in advance for conversion.
Step 1. Install the DRmare Audio Converter on your desktop. Then open it.
Step 2. Touch the 'add files' button to import the downloaded iTunes songs to the DRmare program.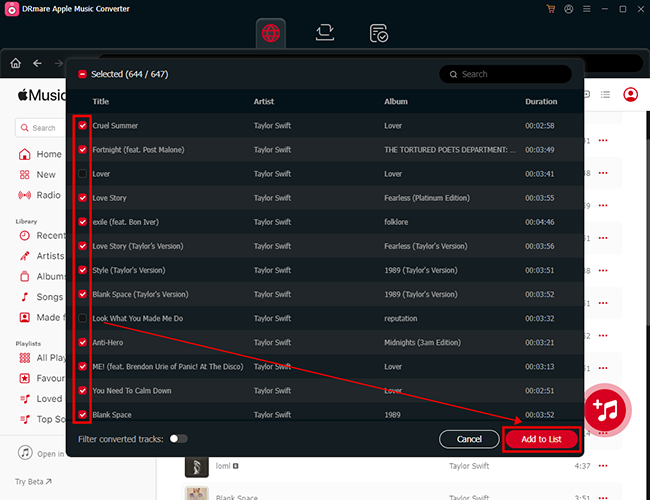 Step 3. Click on the 'audio' icon to load the Format Setting window. Then you can reset the audio format and other parameters for your iTunes audio files.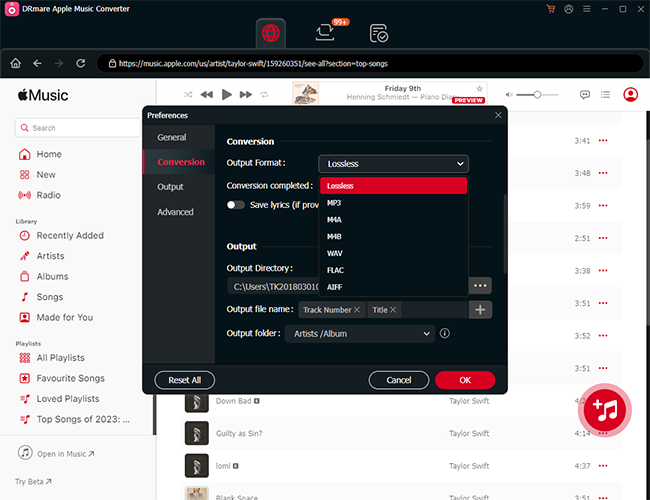 Step 4. Press the 'Convert' button to convert iTunes songs and remove its DRM protection. After a while, the process is done. You can find the local iTunes music files via the 'history' icon on the DRmare tool.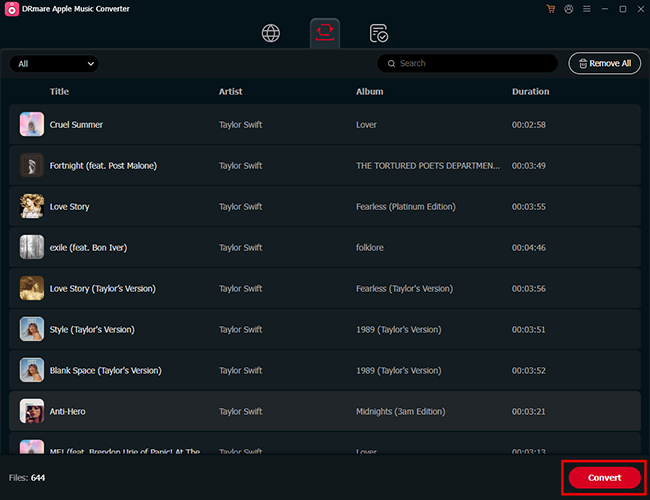 At last, you can move and access the common iTunes songs on any device you like.
Part 5. The Verdict
In this post, you learned what is Requiem iTunes DRM removal and how to use it. Also, you got two Requiem alternatives to help remove DRM from iTunes movies and music. They are DRmare M4V Converter and DRmare Audio Converter. With them, you can convert movies, songs, playlists and more from iTunes to plain files. And you will get the original quality of the media files. At last, you can enjoy iTunes videos and songs on any device and platform you like with ease.