To protect the copyright of the digital media content distributed online, DRM (Digital Rights Management) technology, or copy protection is widely used and adopted by most digital content providers, such as Apple, Amazon, Spotify, etc. The initial purpose of applying DRM protection is to prevent piracy and unauthorized sharing of those digital items for any commercial use.
But on the contrary, we can't ignore the unavoidable inconvenience and restrictions brought by DRM to people who are buying those protected videos or music.
View also: 4 Best DRM Removal Tools for iTunes

How DRM Destroys Our Digital Life
Take Apple's iTunes Store for instance. If we buy a movie from iTunes that's encrypted with DRM, we don't really own the film as we only have limited access to playback the iTunes movie. All iTunes movies and TV shows are authorized to play on iTunes compatible devices and platforms, namely, Apple's ecosystem. We will only get unsupported errors when we try to put these files via any other device or application, such as Plex Media Server, VLC, PS4, etc. Clearly enough, DRM has helped Apple to build a special world where customers have no right to decide how they should use those movies. And that definitely does no good to us who want to enjoy our legally purchased movies on any non-Apple-made player.
Requiem vs. DRmare M4V Converter: Lossless Solutions to Bypass iTunes DRM
Fortunately, oriented by the growing demand on eliminating iTunes DRM, there are a lot of iTunes DRM removal tools being developed to help us permanently get away from the DRM trap. Currently, those DRM removal tools for iTunes movies are mainly divided into two parts, including the ones use video recording technology, and the others use lossless DRM decrypting method. Here, we'll focus on the latter method that strips off the DRM from iTunes movies with no loss in video quality. Among all these lossless iTunes DRM crackers, we'd highly recommend Requiem, the best free iTunes DRM converter for old iTunes, and DRmare M4V Converter, a much updated and easier to use iTunes video converter shareware. Now we're going to go over both tools from design, ease-of-use, conversion performance, quality, speed, etc. so that you can decide which method works better for you in removing DRM from iTunes videos.
Before getting started, you should beware of the situation that in late 2012, Requiem developers hung up their gloves and retired due to the more complicated DRM enforcement included in iTunes 11. Therefore, Requiem stops at v.4.1 that only works with iTunes 10.7 or lower versions. At the same time, DRmare M4V Converter is fully compatible with the most up-to-date iTunes 12.6.2.
* Ease of Operation: DRmare Works Better than Requiem
First of all, we need to install both programs on the same machine in order to have a thorough comparison between the two head to head. Although both tools are available for Mac and Windows, considering the fact that Requiem won't work easily on a Mac due to the system identity protection, we'll install DRmare and Requiem on a Windows PC for testing.
As for DRmare M4V Converter, it's easy to install via the straightforward setup package. Once installed, you'll discover the user interface is well designed with clear layout and neat buttons as below.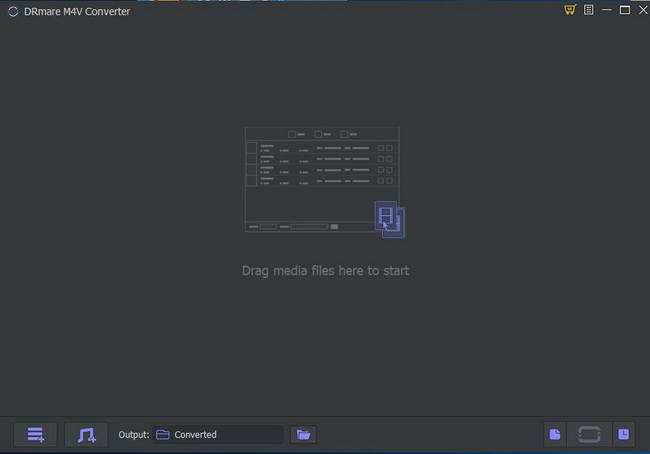 The DRM removal process could be done within only a few clicks. Make sure all iTunes videos you want to convert are currently downloaded and authorized to play on your computer. When you launch DRmare, it will load iTunes automatically, or warn you to close iTunes if it's already open. Then simply add your DRM-protected iTunes movies or TV shows, either by dragging and dropping the files onto the DRmare window, or by navigating a list from within the app itself. Choose a output format as MP4 (lossless) or M4V (lossless) from the Format panel. Currently DRmare M4V Converter for Windows only supports two lossless formats, while the Mac edition supports other popular formats and preset devices as well, including MOV, AVI, FLV, MKV, DVD, iPhone, Samsung Galaxy, HTC, Xbox, etc. By selecting the Lossless MP4 or M4V, it will preserve the 100% lossless quality of the iTunes movies, including AC3 5.1 audio tracks, CC subtitles, and much more.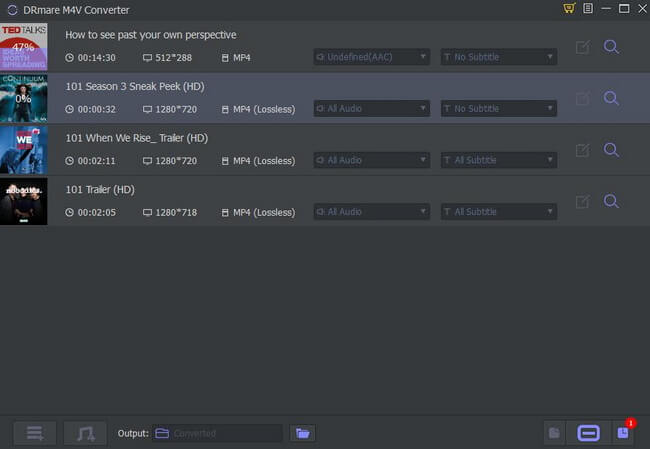 At last, you just need to click the "Convert" button to let it work. Once the DRM removal process finished, you'll get new copies of your iTunes movie purchases or rentals sitting on your computer hard drive, free of any restrictions and able to be played via any app or on any device.
When it comes to Requiem, the DRM removal process would be more complicated and time consuming as you have to install the old iTunes 10.7 version and Java Runtime environment in order to make it run as expected. Besides, if you want to keep subtitles and other metadata, you're going to need to run mkvtoolnix and CCExtractor before launching Requiem. Once the preparations are done, the conversion progress would be easier to handle.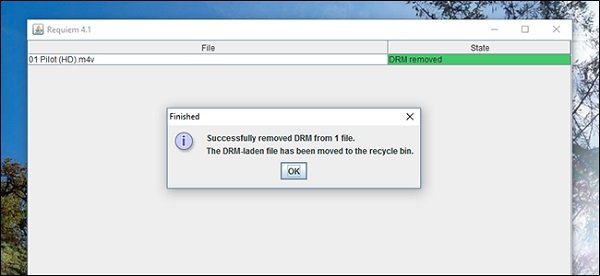 Now run Requiem, it will then scan your iTunes library for any protected files, then remove the DRM encryption. When the process is done, Requiem will delete the original iTunes movies and replace them with the DRM-free versions playable with whatever media players and devices.
* Video Quality: Requiem is Completely Lossless
There is one small thing to note regarding the output video and audio quality when using both tools. For DRmare, the DRM removing is lossless for video and 5.1 audio track, which means you won't lose any quality in the converted unprotected iTunes movies. However, when it comes to stereo AAC track, or the iTunes video with a stereo track only, DRmare will encode the AAC track somehow. Therefore, there will be a small loss in audio quality. In this case, you'll find that the file produced by DRmare is not exactly the same size as the original file, usually slightly smaller. But it's likely that most users won't be able to hear the difference.
On the contrary, Requiem's video and audio conversion for iTunes are completely lossless. That's to say, there won't be any loss in video and audio quality, no matter which audio track the original video contains. It has something to do with the method Requiem uses to remove DRM from iTunes movies. Generally speaking, Requiem accesses a user's unique iTunes authorization keys and actually removed the DRM from the original file itself, similar to the process of decrypting an encrypted file, which result in a DRM-free file that was identical in quality to the original.
So if you really care about audio quality, make sure you're using the 5.1 Dolby track, but not the 2-channel AAC track with DRmare. Otherwise you'd better turn to the Requiem method.
* Conversion Speed: Hang in the Balance
The conversion time is actually not a big matter as the conversion environment is different for each tool. Since Requiem is running with an ancient iTunes version, theoretically the DRM algorithm is supposed to be much easier to be cracked. Thus we would expect the time it costs to remove off the DRM from iTunes movies by Requiem should be shorter, and it does.
Specifically speaking, take a 4 GB iTunes source movie for example. The time Requiem takes to produce the DRM-free copy is around 5 minutes, while DRmare M4V Converter takes 8 minutes to do the same task.
Given that DRmare M4V Converter is fully compatible with the latest version of iTunes, it makes sense that it converts slightly slower than Requiem as the DRM enforcement of new iTunes is much complicated and difficult to decrypt than older iTunes. But it's still worth mentioning that DRmare is currently the fastest iTunes video converter among similar software that supports latest iTunes v.12.6, approximately at 30X faster speedy processing.
Conclusion: Requiem or DRmare - Which iTunes DRM Solution is Better
As we can see from the head-to-head comparison, both iTunes DRM removal solutions are not perfect with their own superiority and weakness. DRmare is much easier to handle than Requiem and it's more compatible with all modern machines and OS. Besides, it's more versatile as it supports more ready-made video containers and devices. That's much friendly for people who have a lot of iTunes video files to convert. But Requiem, as the best free iTunes DRM unlocker is, in a sense, more perfect than DRmare as it gives users exact copies of their original iTunes files. But that's all. So to summaries, from an overall consideration by far, we'll recommend DRmare M4V Converter the better option to complete DRM removal job for iTunes movies. You can have a test of this smart app by installing the proper free version as below.