"Can you add your own music to Spotify?" Spotify has over 80 million of songs and users can listen to them online for free. This makes it one of the best sources to locate almost any song you want. But sometimes there are still some tracks that you can't find on Spotify. So, you may want to import local files to Spotify.
But can you do that? Yes, Spotify has this fantastic feature. It allows users to add MP3, M4P and MP4 audio files to its app. In this post, you will see how to add local files to Spotify mobile and computer in detail.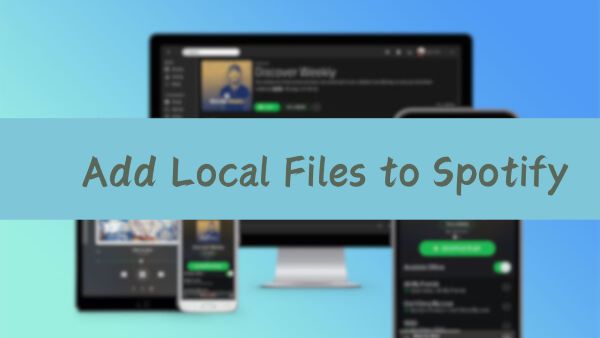 Part 1. How to Upload Your Own Music to Spotify on Windows and Mac Computers
Spotify desktop app supports to import music from iTunes, Windows Media Player and other music folders on your computer. Here let's learn how to put local files on Spotify.
Step 1. Launch the Spotify app from your Windows or Mac computer. If it is the first time you use it, please sign in with your account name and password or sign up for a new account.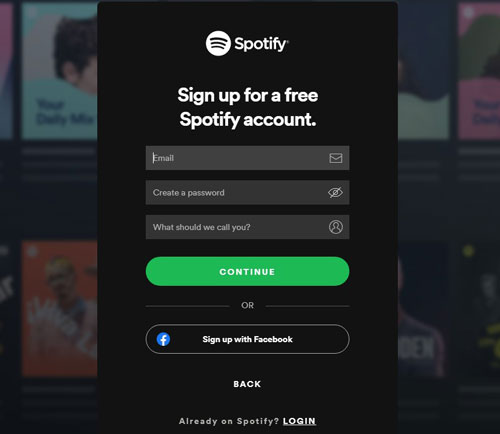 Step 2. On the top of the software main screen, you will see the downward arrow icon. Please click it and select "Settings".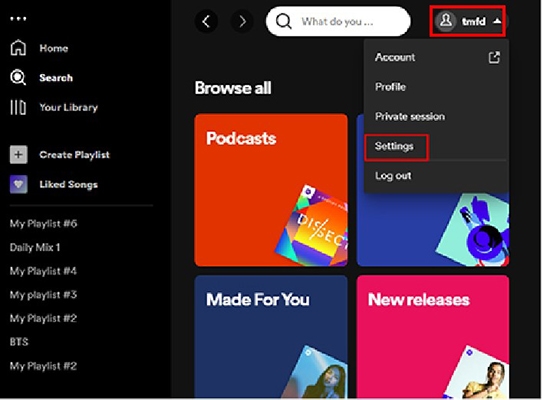 Step 3. Scroll down the settings window until you see the "Local Files" menu. You should see the sources of music "iTunes", "Downloads", and "Music Library". If you don't want them to show up, just switch the toggle buttons off. Also, please turn on the 'Show Local Files' button.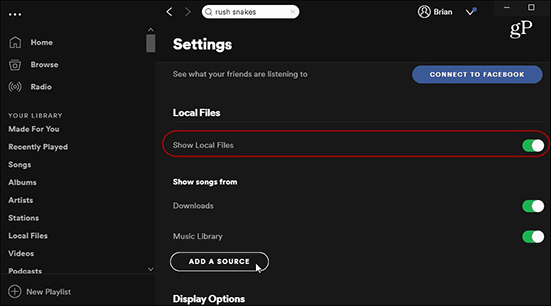 Step 4. To add a new folder of songs, please click the "ADD A SOURCE" button. Then browse to select the folder where you saved your local music and click "OK".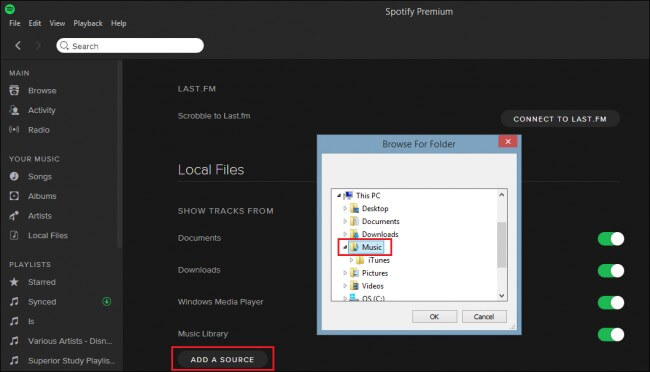 Step 5. Go back to the main menu of Spotify and click "Local Files" and you should see the music you imported. Then you can start to play them on Spotify.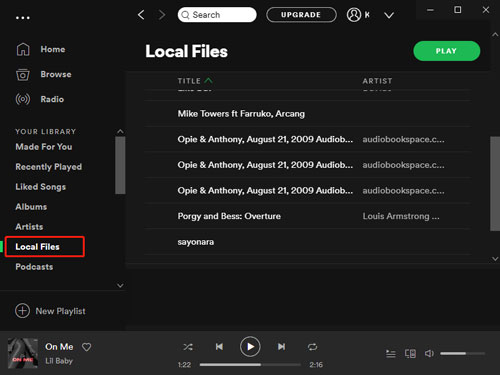 Note: Spotify only supports to import MP3, M4P and MP4 music files. If your files are in other formats or with DRM encryption, they won't be supported.
Part 2. How to Add Local Files to Spotify on Mobile Devices
On Spotify mobile app, you can play local music. But you can't access the Local Files feature. Yet, with Spotify Premium membership, you can put local files on Spotify on your mobile devices. Here is how to upload local music to Spotify on Android and iPhone devices.
How to Get Local Files on Spotify Android
Spotify can't recognize the local audio files from your Android device. But you can add local files to Spotify desktop app first. You can follow the steps in the last part. After then, you can sync them to your Android phone. Now, let's learn how to do that.
Step 1. On your Spotify desktop app, click the "New Playlist" menu. Then insert a name and description for the playlist and click the "Create" button to generate it.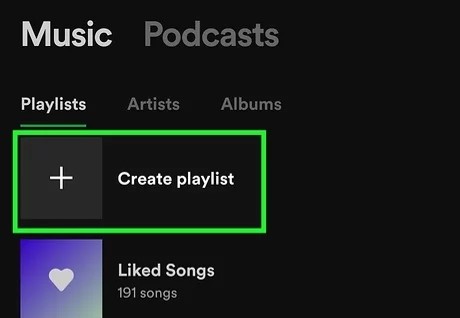 Step 2. To add the local songs you want to sync, right-click the songs under your local files tab. And then choose "Add to Playlist" > select the playlist you have just created.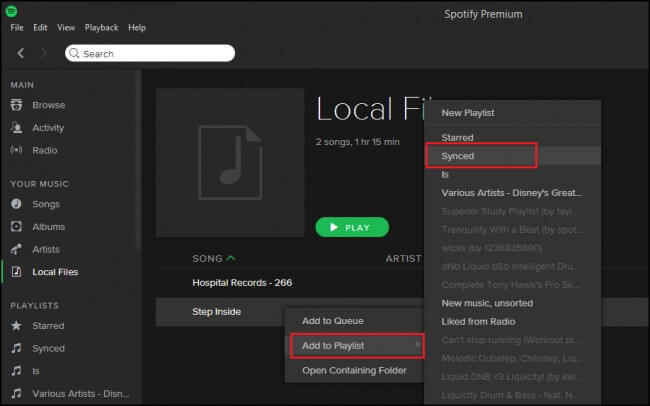 Step 2. Log in to the same Spotify account on your Android device. Also, make sure that your Android phone and computer are connected to the same WiFi connection.
Step 3. Locate and open the playlist containing the local files. Then toggle the 'Download' button on.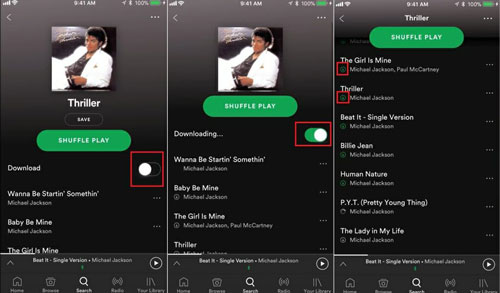 Step 4. After that, you can make the playlist available offline by toggling the "Play Offline" button. Then you can listen to local files on Spotify mobile Android offline.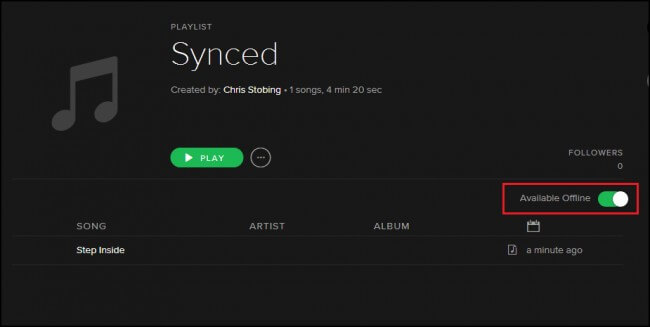 How to Download Local Files on Spotify iPhone
To start, please add your own music to Spotify desktop app first. After that, you can check the detailed steps on how to add local files to Spotify iPhone.
Step 1. After getting local files to Spotify on the computer, then add them to a new playlist.
Step 2. Sign in to Spotify on your iPhone. And make sure that your phone and desktop are in the same network connection.
Step 3. Head to 'Settings' > 'Local Files' on Spotify for iPhone. Then turn on 'Local audio files'.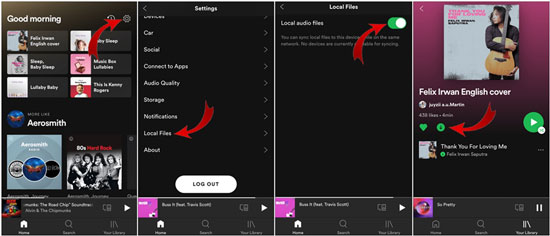 Step 4. Find the playlist that has the local files and download it.
After that, you get local files on Spotify on iPhone. And you can begin to play them on your phone.
Part 3. How to Keep Spotify Music as Local Audio Files
Above are the tips for you to add local files to Spotify on computer and mobile devices. Here you may wonder whether I can get Spotify songs as local files. In general, the downloaded Spotify songs are encoded in a special audio format. And they are only the cache files on the Spotify app. If you want to save Spotify tracks as local files, then you can check the tool here.
DRmare Spotify Music Converter is a tool that can help you convert and store Spotify songs as local audio files. With it, you can download and decode Spotify audio tracks with ease. Also, you can set Spotify to MP3, FLAC and other common audio formats. And you can adjust Spotify audio channel, bit rate and more if you want.
Besides, DRmare Spotify Converter can run the conversion process at a rapid speed. In this case, you can quickly get Spotify music converted. Moreover, it will keep the original sound quality and complete metadata of Spotify audio tracks. After converting, the Spotify audio is saved as local files on your computer. Then you can move and use them on your desired platforms and devices offline without any limitations.
DRmare Spotify Playlist Converter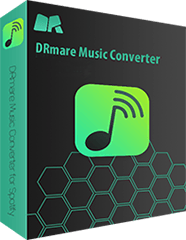 Support to download and convert Spotify songs to local audio files
Extract Spotify music at a fast speed and keep the original quality
Convert Spotify to MP3, M4A, WAV and more common audio formats
Allow to use Spotify tracks on any device and platform offline
How to Convert and Save Spotify Music as Local Files Forever
This section will show you how to download and keep Spotify content as local files via DRmare Music Converter. Now, follow the steps below and learn how to do that.
Step 1

Load Spotify playlists to DRmare

Please get the DRmare Music Converter on your computer and then open it. Then you can see the main screen of the DRmare tool. Also, the Spotify app will show once started the DRmare program. Next, you can enter the Spotify app to search for songs you like to convert. Then drag and drop the track to the DRmare tool in one-click.
Step 2

Choose the right output format for Spotify music

DRmare allows you to change the audio format for Spotify files. In this case, you can put Spotify songs on different platforms for use without any issues. Now, please click on the Menu icon on the DRmare tool and choose 'Preferences'. It will then show you a new window. There you need to touch the 'Convert' tab to get the audio parameters options. Then you can head to choose the audio format, sample rate and more for Spotify music files.
Step 3

Download and save Spotify music as local files

At last, press the 'Convert' button to begin to download and convert Spotify to local files. Later, you can get the common audio files from Spotify on your computer. Then click on the 'history' icon to check the Spotify songs in the DRmare tool as well as on your computer. At last, you can move and add local Spotify files to other devices or platforms for playing offline.
Part 4. FAQs about Uploading Music to Spotify
Adding local files to Spotify is easy. But sometimes you may still encounter some problems like Spotify audio files not syncing. Following are the FAQs which should be helpful for you.
Q1: Why Do I Always Get the Error "Song Not Synced" When Syncing Local Files to Spotify from Computer to Phone?
A: This may be caused by the local Antivirus or Firewalls. They may block the communication between your phone and computer. You can turn off the security software temporarily. Or you can enable the UPnP services on your computer.
Q2: Why the Songs on My iTunes Library Don't Show up on Spotify?
A: In general, the iTunes playlists should show up well on the local files tab on your Spotify. If they don't, maybe you haven't shared the library files with other apps or your files are DRM-protected. You can launch iTunes > click "Preferences" > "Advanced". Then select the option "Share iTunes Library XML with other applications". For DRM-protected files such as Apple Music, you should get rid of any DRM protection first. For more detail, you can visit: How to Import Apple Music to Spotify.
Q3: What Formats of Local Music Are Supported by Spotify?
A: Spotify supports MP3, M4P and MP4 audio files. Also, MP4 with video track won't be supported. And the other formats FLAC, WAV, M4A, and OGG are not supported either. If you have other formats of files, you have to transcode them to MP3 files first by DRmare Audio Converter.
Q4: Why Are Local Files Not Showing on a Mobile Phone on Spotify?
A: When meeting such an issue, you can check the following things:
Check whether your phone and your computer are connected to the same WiFi network connection.
Whether your mobile phone is the latest version.
Whether your Spotify app on your device is updated.
Whether you have enabled your local files on the Spotify desktop app.
Whether you use the same Spotify account.
Q5: Why I Can't Move Downloaded Spotify Songs to My Device for Listening?
A: The songs you download from Spotify are cache files. They can't be transferred and used on other devices. In this case, you need to download Spotify audio to local files by the DRmare Music Converter. Then you can put Spotify music files anywhere for use offline.