Spotify has over 40 millions of songs and about 200 millions of active users. This makes it one of the best sources to locate almost any songs you want. But ometimes there are still some exclusive albums missing from famous artists. Such as the Beyonce Lemonade album which only exists on Tidal. Furthermore, you may have couples of music purchased from other sources like iTunes.
So is there a way to upload your own music to Spotify to listen to anywhere you want instead of dutch them? Yes, Spotify has this fantastic feature. Let me show you how does it work.
View Also: How to Import Apple Music to Spotify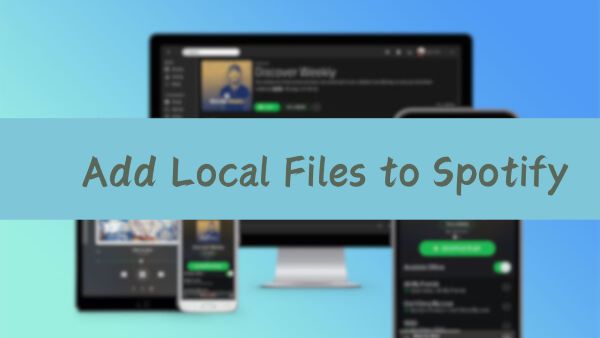 Part 1. How to Add Your Own Music to Spotify on Computers
Spotify desktop client supports to import music from iTunes automatically. And it is same for the Windows Media Player. If you have already import your songs , then you don't have to do anything else. But if your tracks are located in different folders, please follow the steps to add them to Spotify.
Step 1. Launch Spotify app from your Windows or Mac computer. If it is the first time you use it, please sign in with your account name and password or sign up a new account.
Step 2. On the top of the software main screen, you will see the downward arrow icon, just click it and select "Settings".
Step 3. Scroll down the settings window until you see the "Local Files" menu. You should see the sources of music "iTunes", "Downloads", "Music Library". If you don't want then to show up, just switch the toggle buttons off.
Step 4. To add a new folder of songs, please click "ADD A SOURCE" button. Then browse to select the folder where you saved your local music and click "OK".
Step 5. You can go back to the main menu of Spotify and click "Local Files" and you should see the music you imported. Note: Spotify only supports to import MP3 and MP4 music files. If your files are in other formats or with DRM encryption, they won't be supported.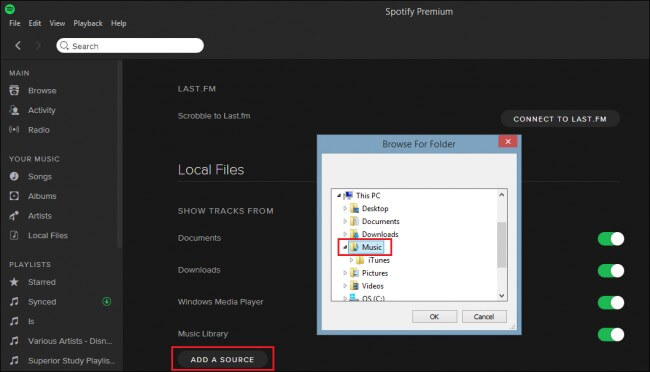 Part 2. How to Sync Your Local Files to Spotify on Mobile Devices
With Spotify Premium membership, you can your local files to your mobile devices. Such as iPhone, Android phone or any other devices.
Create A New Playlist
You can click the "New Playlist" menu first. Then you can insert a name and description for the playlist and click "Create" button to generate it. To add the songs you want to sync, right click the songs under your local files tab. And then choose "Add to Playlist" > Select the playlist you have just created.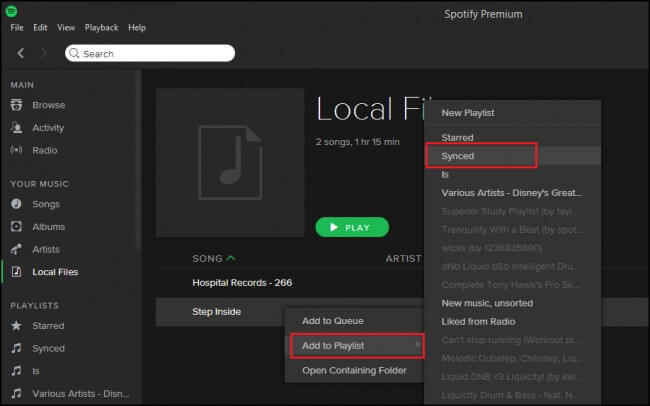 Sync Spotify to iPhone/Android
You can connect your mobile devices to your computer through USB cable or Wifi. Then your iPhone or Android phone will show up on the "Devices" tab. Next, you can click the button "Manually choose playlists to sync". And then select the playlist of your local files. It may take a while to sync depending on how many songs you added to the playlist. Please just be patient for it to complete.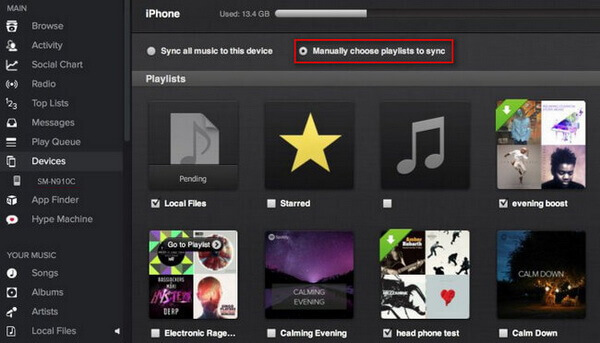 Make the Playlist Offline
After syncing the music to your mobile, they maybe still greyed out on your devices. You can make the playlist available offline by toggle the "Play Offline" button. Either from your phones or computers. Once you have done the settings on one device, it will sync them to the Spotify app on all the devices on the same Wifi.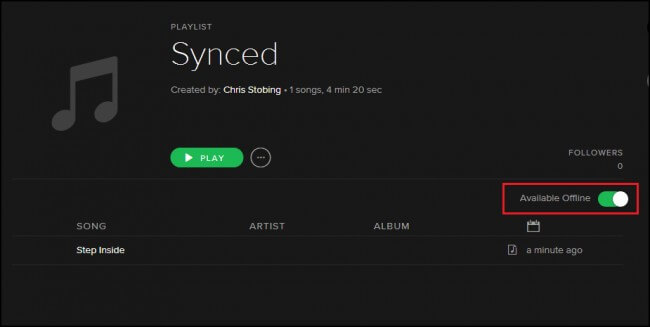 More Tips: Troubleshooting the Problem You May Encountered
Adding local files to Spotify is easy. But sometimes you may still encounter some problems. Following are the FAQs which should be helpful for you.
Q1. I have tried times to sync the local songs from computer to my mobile. Why I always get the error "Song Not Synced"?
A1: This may be caused by the local Antivirus or Firewalls. They may block the communication between your phone and computer. You can turn off the security software temporarily. Or you can enable the UPnP services on your computer.
Q2. Why the songs on my iTunes library don't show up on Spotify?
A2: Generally the iTunes playlists should show up well on the local files tab on your Spotify. If they doesn't, maybe you haven't shared the library files with other apps or your files are DRM protected. You can launch iTunes > Click "Preferences" > "Advanced" > Select the option "Share iTunes Library XML with other applications". For DRM protected files such as Apple Music, you should get rid of any DRM protection first. For more details, you can visit: How to Import Apple Music to Spotify.
Q3. I have tried to import my FLAC files, but nothing seems to work. What formats of local music are supported by Spotify?
A3: Spotify supports MP3 and MP4 audio files. MP4 with video track won't be supported. And the other formats FLAC, WAV, M4A, OGG are not supported either. If you have other formats of files, you have to transcode them to MP3 files first by DRmare Audio Converter.