Spotify is one of the most important music players available on the market. If you are staying abroad with your family or on an extended vacation, you'll likely have a smartphone with access to it. In this case, using Spotify abroad is an excellent choice because you can use your existing account log in and still listen to millions of songs!
However, you can only use Spotify abroad for 14 days. It's simple as that! But how do you actually use this feature after the end of those two weeks? "Does Spotify work abroad?" And if it does, how? That's what this article is about: How to use Spotify abroad after 14 days.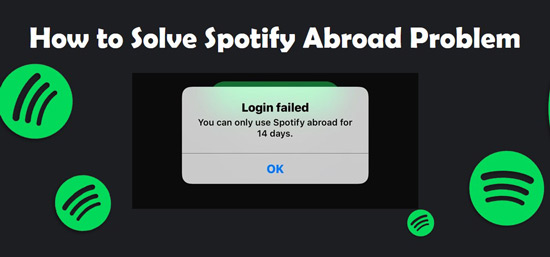 Part 1. Can You Use Spotify Abroad after 14 Days?
Yes, you can use Spotify abroad after 14 days. The only problem is that you'll have to wait until your first billing cycle in order to get the benefits of Spotify's free and subscription-based plans.
If you want to cancel your plan at any time before your 14-day trial ends, you can do so by contacting customer service at Spotify.com/cancel.
After 14 days, if you still want to use Spotify abroad, you can download the mobile app and log in with your account information from your home country. If you don't already have one, you can sign up for an account on Spotify.
Part 2. How to Listen to Spotify Abroad by Changing Your Country
If you're a Spotify Premium subscriber, you can listen to your favorite music from anywhere in the world. But what if you're traveling to a different country and want to enjoy your music? How do you get around that?
Changing your country will allow you to access all the same content as before, but it will also let you enjoy the services of local streaming services too. You can change your location by clicking on the gear icon next to your profile picture on the Spotify app. And then you can select "Country Settings" under Account Settings.
To change your location permanently, simply log into Spotify with your account details and click on "Settings" in the menu bar at the top of any page. Then select "Change Country" from the drop-down list and enter your new location in the box provided.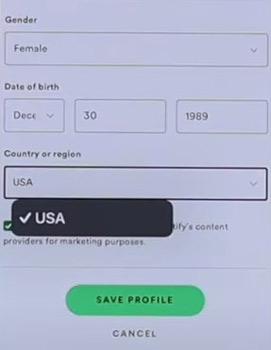 After doing this, you will have accessed Spotify Premium abroad.
Part 3. How to Use Spotify Abroad after 14 Days by Upgrading to a Spotify Premium Plan
Not familiar with how you can use Spotify Premium after 14 days? Well, you can use Spotify's Premium plan for 14 days at a time. After the 14-day period, you will be required to upgrade your account to Premium if you want to continue using Spotify outside of your country.
To upgrade your Spotify account:
Step 1. Go to the 'My Account' page in the Spotify app.
Step 2. Select 'Upgrade'.
Step 3. Select 'Premium' as your desired subscription plan.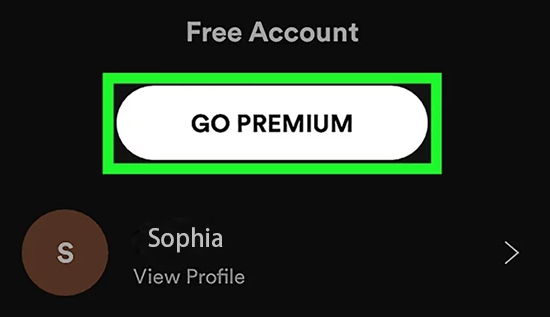 Part 4. Spotify 14 Days Abroad Hack by Using a VPN to Change Your IP Address
There are many people who want to find out how they can use an online VPN service to change the location of their Spotify account from one country to another country. This will allow them to access their accounts from different countries, thus saving them from spending money on subscribing to different subscriptions for accessing their accounts in different countries.
How does Spotify 14 Days Abroad Hack by using a VPN work?
If you have ever used Spotify before, then you know that it is very easy for you to use the service. However, it may not be as easy if you have never used the service before or if you are coming from another country where Spotify does not have an account available. This might cause problems when trying out the 14 days abroad hack method mentioned below:
Step 1. First, download the abroad hack by using a VPN.
Step 2. Run the downloaded file and then follow the instructions carefully.
Step 3. Once installed, open Google Play Store and search for Spotify 14 Days Abroad Hack by using a VPN work.
Step 4. Install it and then run it for one-time setup.
Step 5. Now open your Facebook account which you want to use for streaming music.
Step 6. Now go to Settings > Security & Location on your device and then select "Unknown Sources" from there (this allows apps from outside Google Play Store). Press on "OK" button when asked for permission to allow installation of apps from unknown sources.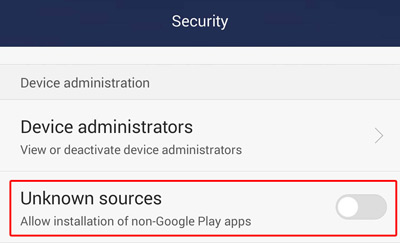 Part 5. Using Spotify Abroad with DRmare Spotify Music Converter
If you're spending a lot of time abroad, you know it can be tough to keep up with all the local music. If that's the case for you, DRmare Spotify Music Converter might be just what you need. This is a program that allows users to listen to playlists from Spotify's catalog of songs in different countries around the world offline.
This program can help download and convert millions songs from the Spotify app. Then you can save those Spotify songs as local file on your device. Then you can move them to your portable device for use anywhere and anytime.
Moreover, it can help output music from Spotify to FLAC, MP3, M4A and more plain audio formats. Besides, you can alter the output audio parameters for your Spotify songs you like. You can make changes to the bit rate and so on. Also, the DRmare Spotify Music Converter can work at a fast speed and keep full ID3 tags of Spotify files.
Additionally, you'll need to know about how to use DRmare Spotify Converter to convert and download Spotify music as local files on computer and here's how:
Step 1

Install the DRmare Spotify Music Converter

The first thing you need to do is to download and install the DRmare Spotify Converter to your computer. Once done, launch it and it will automatically open your Spotify app. Go to your library to find a list of all the songs you want to download. Now simply drag and drop them on the converter.
Step 2

Select output format for Spotify songs

Once you have added song/artist from Spotify to DRmare program, then go to set the output format for it. Click on the menu icon on DRmare and choose 'Preferences'. You will then be taken to a new window where you will be able to choose which format you want to download it in. There are six options for you to select from on DRmare. They are M4A, MP3, M4B, WAV, AAC and FLAC. Also, the bit rate, sample rate and more can be reset as you want.
Step 3

Convert and download your Spotify songs

Simply hit the "Convert" button and the converter will download Spotify songs free on your computer. Once done, find the converted Spotify songs via the 'history' icon. And then you can move and listen to them on any device when you go abroad or else.
Part 6. In Conclusion
It's not that hard to use Spotify abroad. In this post, there are some ways for you on how to solve Spotify abroad problem. You can follow them above step by step. Besides, it is better to use DRmare Music Converter to convert and download all your favorite Spotify songs and podcasts for listening to offline from anywhere in the world.