How to Burn CD from Spotify in 3 Ways
How to burn Spotify playlist to CD? According to Spotify's official support team, there are no usage limits of Spotify songs if you are a premium user. You can download the music for offline listening on the Spotify app. But it's still not able to burn CD from Spotify as Spotify songs can't be taken out from its app.
So is there any way that can burn a CD from Spotify? Please don't worry. In this post, you will find 3 workarounds to do that. Just check this article out and see how to do that.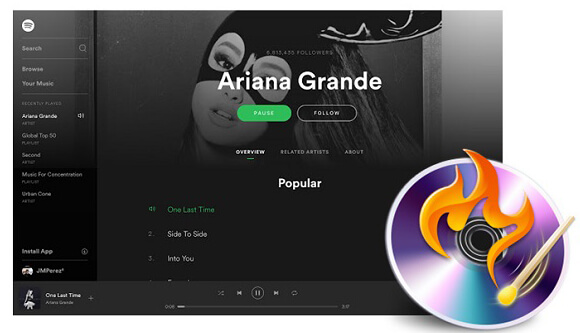 Part 1. How to Burn CD from Spotify - Tools Required
To burn a CD from Spotify, it doesn't require much. For common digital audio files, the following are the tools you need.
A Computer: A computer running Windows OS or Mac OS.
A CD/DVD Burner: Normally most computers are equipped with a built-in burner that can burn CDs. If your computer doesn't have one, you can buy an external one directly like the Apple USB SuperDrive, Verbatim External Slimline CD & DVD Writer. Then connect them to your computer's USB port.
A Blank CD disc: You can get the CD-R or CD+R for one-time burning or CD-RW/CD+RW for multiple times use.
A Free Burning Software: You can use iTunes, Windows Media Player to burn Spotify to CD for free. Besides, you can also download other professional software online to burn CDs from Spotify.
Spotify Digital Music Files: You need to download Spotify playlists as local files.
DRmare Spotify Music Converter: Spotify music is cache files. So you can't directly burn a CD with Spotify. You need to use the third-party tool to download the Spotify tracks locally.
The latest version of Spotify.
Part 2. How to Convert Spotify Music for Burning to CD
No matter you are using a free or premium account, you can't download and locate Spotify playlist on your computer. DRmare Spotify Music Converter is a professional music downloader for Spotify songs. It can download Spotify songs on a computer locally.
Besides, it can encode the original OGG Vorbis format to MP3, M4A, M4B, AAC, FLAC, and WAV for better burning. After that, all CD burners can be compatible with all Spotify files. And then you can easily make a mix CD from Spotify.
DRmare Spotify Music Converter
Steps to Convert Spotify Music to Make a CD
Before burning CDs from Spotify, please follow the steps below to download Spotify music as local files with DRmare Software. Please make sure you have installed the Spotify latest desktop version on PC/Mac, other mobile versions won't work.
Step 1

Import Spotify songs/playlists to DRmare

When you start DRmare Spotify converting tool, it will launch the Spotify app as well. Then you can drag and drop the songs, playlists, artists to the DRmare software main screen. Both the free and premium accounts are supported.
Step 2

Customize Spotify output format for CD Burner

Generally, you can select any of the output formats you want. MP3, M4A, M4B, AAC are supported best by iTunes and most CD burning tool. So, you can burn CD from Spotify for free. FLAC and WAV are two lossless formats which mean the quality won't be reduced during converting. Besides, to keep the highest fidelity, please select the bit rate as 320Kbps.
Step 3

Convert Spotify to CD

Click the "Convert" button, all the songs you imported will be converted for burning to CD in batch. A progress bar will show beside the converting songs. When it is done, you can locate the output files which are ready for burning to CD from your computer folder.
After getting the universal common Spotify MP3 files, it will be a breeze to burn them to a CD. You can try the following three methods we showed below to do that.
Part 3. How to Burn a CD from Spotify via VLC
Step 1. Open the VLC player on your computer.
Step 2. Create a new playlist on VLC to store Spotify music files.
Step 3. Drag and drop Spotify audio tracks to the Playlist dock.
Step 4. Hit on the 'Media' menu and choose the 'Convert/Save' option.
Step 5. Touch on the 'Disc' button and then input a blank CD or DVD into the disc drive.
Step 6. Press the 'Audio CD' > 'Browse' to select the inserted CD and click on the 'Convert/Save' button.
Step 7. Click on the 'Browse' button to define the burning location and hit on the 'Convert/Save' button to begin to burn a CD from Spotify.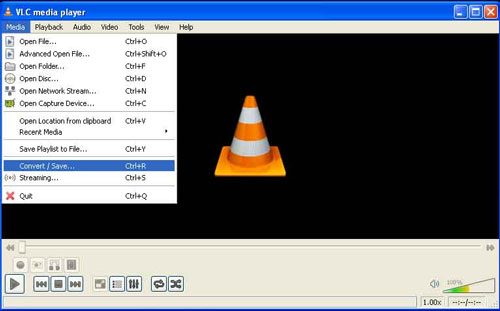 Part 4. Burn Spotify Playlist to CD by Windows Media Player
Step 1. Insert a blank CD to your PC and launch the Windows Media Player.
Step 2. Hit on the 'Burn' option at the top right corner to create a burn list.
Step 3. Find the converted Spotify tracks on your computer and drag them to the burn list.
Step 4. Touch on the menu in the Burn panel and choose 'Audio CD' from the drop-down menu.
Step 5. Once finished, press on the 'Start burn' button to burn Spotify playlist to CD 2020.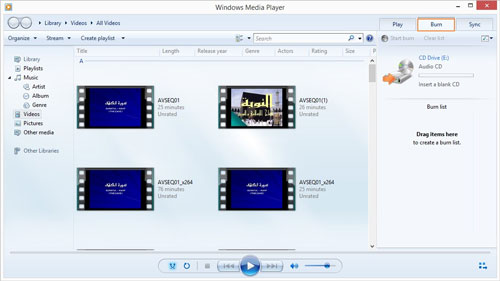 Part 5. How to Burn a Spotify Playlist to CD via iTunes
Step 1. Import the converted Spotify songs to iTunes library. Please open iTunes and click the 'File' menu > 'Add to Library' and then select the Spotify files to import. In addition, you can create a playlist on iTunes. Just go to 'File > New > Playlist' to create a playlist.
Step 2. Insert a blank physical CD into the CD-ROM.
Step 3. Start to burn a Spotify playlist to CD. You can tap your playlist > "Burn Playlist to Disc" from iTunes, then it will pop up a window for you to customize the settings and click "Burn". A CD has a 700Mb size, please make sure the size of your playlist is less than 700Mb.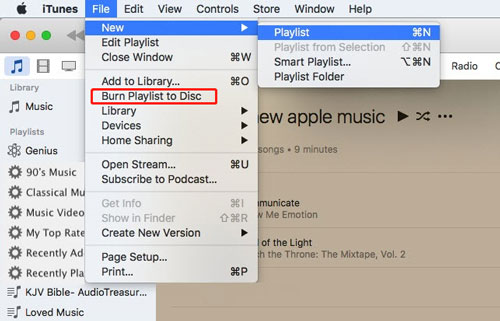 Part 6. In Conclusion
Video Tutorial: Burn Spotify Playlist to CD
In this video, you can get a more intuitive tutorial to burn music from Spotify to a CD in 3 ways.
Why You Need to Burn CD from Spotify
#1. CD is more convenient. When you are driving on a road trip or having a party outside, the CD is easier to access.
#2. CD has the highest audio quality. Beside Tidal, all the streaming music like Spotify has only up to 320Kbps fidelity.
#3. CD supports offline playing. When we may not get access to speedy internet in rural areas or else, burning music to CD is a nice option.
What's your Spotify to CD burner to burn Spotify Playlist to CD? Just share with us in the comment area.