The internal storage space of computers/mobile devices has become bigger and bigger today, but it is still limited. If you install multiple apps or cache too many temporary local files, you may end up running out of space one day. Take the Spotify app for example, which is the most popular streaming service, it use the cache files to help you stream the music files online more quickly or play the files locally without using the cellular data of your mobile devices. Generally it takes 10% of your disk space for cached data. When the space is full, your phone may freeze. So do you want to delete the temporary files to free up more space?
It is not difficult to do that, however, if you haven't done that, you may have no idea on how to get started and have questions like what happens if I delete Spotify cache and where is the data folder. Here I will offer the ultimate tutorial for you. No matter what devices like Windows, Mac, Linux, Android, IOS devices you have, you will find the right way to do that.
View also: Solutions to Spotify Web Player Not Working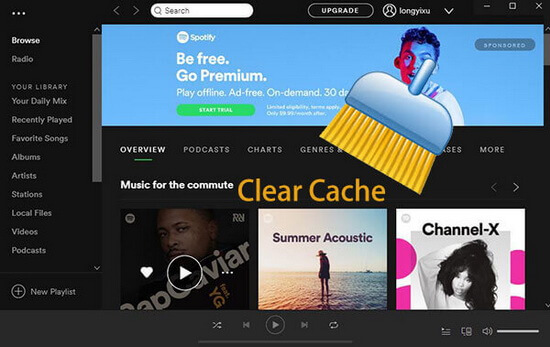 Part 1. How to Remove Cached Data on Computers
There are two kinds of Spotify caches, one is for the downloaded songs of premium account and the other is general cache such as temporary files, snippets which are created to prevent playback interruptions. For the former one, you can follow the steps to clear your cache on desktop.
Step 1. Click the downward arrow icon in the top-right corner of the app and then select "Settings".
Step 2. Scroll down to find and click "SHOW ADVANCED SETTINGS" menu.
Step 3. Check the the item "Offline songs storage" to see where your cache is stored, you may change this to another folder as you want.
Step 4. Go to the folder to select and delete all the files manually.
For the latter one, there is not such as option to locate the folder, but usually you just need to follow the steps to delete files from the following folders on your computers accordingly.
Clear Spotify Cache Windows 10
C:\Users\[Your User Name]\AppData\Local\Spotify\Storage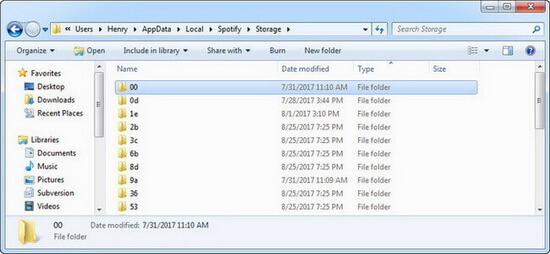 Clearing Spotify Cache Mac
/Users/[Your User Name]/Library/Caches/com.spotify.client/Storage/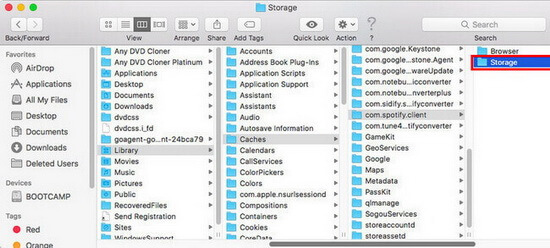 Part 2. How to Delete Spotify Cache on Mobile Phones
Similarly, you can also delete the downloaded playlists and Spotify app junk files on your Android mobile like Galaxy s9/Note9, LG G7, Huawei P10, Google Pixel 2 and iOS devices like iPhone, iPad and iPod Touch. To delete the downloaded Spotify songs and playlists, you just need to switch the button "Available Offline" off beside the playslists you want to delete. Regarding the Spotify app cache, the instructions to delete it vary on different devices.
Reduce Spotify Storage on iPhone
iPhone app doesn't have the one-click button to delete junk files, the best way is to reinstall it.
Step 1. Locate and hold the Spotify app from your iPhone main screen until it shakes.
Step 2. Tap the "X" sign beside your app to delete it directly and restart your computer.
Step 3. You can logon to the App Store to search and reinstall a fresh copy of Spotify client.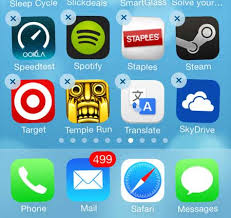 Clear Spotify Data Android
Unlike iPhone, Android offers an elegant way to delete cache easily, you can do that easily without reinstalling.
Step 1. Go to "Settings" > "Application Manager".
Step 2. Locate your Spotify app and click to open the app management window.
Step 3. Click "Storage" > "CLEAR CACHE" to delete the data directly.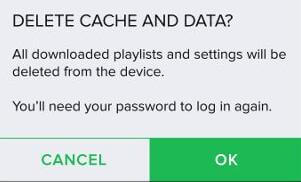 Extra Tips: How to Download Music from Spotify to Android Phone
The above solutions do help us to free up space on our desktops, mobile phones. But it is not an once and for all solution. This means the cache files may return again quickly if you continue to listen to Spotify songs. What is worse is that if you are using cellular data to stream songs online, it could end up costing you an arm and a leg. Someone around me suggests that to change the audio quality on the settings to reduce the data consumption. Well, why would I want to sacrifice the audio quality considering that I am an audiophile?
Take it easy, here is a best alternative. DRmare Spotify Song Converter for Windows/Mac is an exquisite tool to extract the songs from Spotify app so that you can transfer the files to other media player for playback or any other purposes. For more info about it, you can check the following features.
View also: Top 6 Best 2018 Spotify Song Downloader
Dedicated Recorder for Spotify Music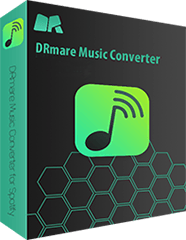 User-friendly interface, it takes only a few clicks to backup the songs for offline listening
Powerful enough to keep 100% quality of all Spotify tracks, playlists, radio and so on
Convert Spotify files to MP3, AAC, M4B, M4A, FLAC, WAV for any mobile devices
One stop solution to download, convert, tidy up and archive the music by album/artist
After converting, you can put the local songs to any devices like mobile phones, game consoles, streaming boxes, smart TVs for playback. Here I will take Android phone to show you how does it work quickly.
Step 1

Import the link of Spotify playlist

Launch DRmare Spotify Converter, then drag and drop the link of your playlist from the Spotify app to the DRmare software main screen. This is by far the most efficient way to import the files. You can import up to 100 songs at a time.
Step 2

Set output music format

Undoubtedly, MP3 is a best format for any Android devices, so we'd highly recommend you to keep the default "MP3" and its settings. Of course, you can't go wrong with other formats too such as WAV, FLAC if you like to listen lossless songs.
Step 3

Download Spotify songs offline

After that, you can navigate the bottom of the software and click "Convert", it should start to save all the Spotify music to your local computer in batch with up to 5X speed. Finally, you can move the downloaded songs to your Android via USB cable and you can delete Spotify app from your device completely so that it won't generate any cache to occupy extra space and save your monthly subscription fee.