"I've subscribed to Premium for a long time, and recently I found that I can't listen to Spotify music offline. Why is my Spotify Premium not working offline?"
Downloading songs and listening to Spotify music offline are Premium subscriber privileges. But if you find that Spotify is not available offline, first check if your Premium membership has expired. If you have an active Premium subscription but still can't listen offline, don't worry. We have summarized some possible causes and solutions for you. Read on and check them out.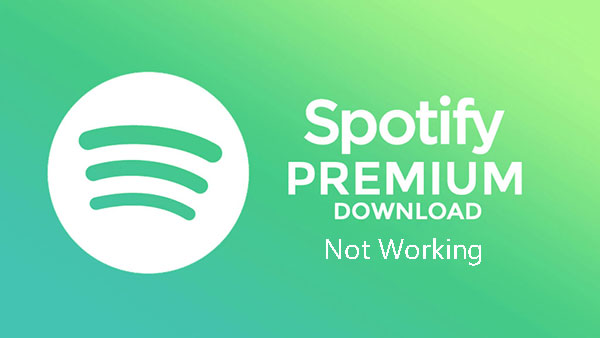 Part 1. Why Is My Spotify Premium Not Working Offline
"Why does my Spotify Premium not work offline?" There are some reasons that cause this issue. Here we list some of them, you can check them out below.
1. Spotify Premium Subscription Has Expired
Spotify only allows Premium members to listen to music offline. So, if your subscription expired, you won't be able to access the downloaded songs offline. Moreover, Spotify will verify your account by connecting to Spotify servers. If you've taken songs offline, you'll need to log in to your Spotify Premium account at least every 30 days.
See also: How to Download Spotify Music without Premium
2. Reached Spotify Download Limit
Spotify has a download limit, you can only download up to 10,000 songs in total, or on up to 5 devices. If you exceed this limit, Spotify will prevent you from continuing to process music downloads.
See also: How to Bypass Spotify's Download Limit
3. Not Enough Storage Space
If your device is low on storage, Spotify will delete some of your downloaded tracks. That's probably why you can't listen to music offline.
4. Play Spotify Music with Other Players
Spotify fetches songs in OGG format from its servers. When you download a song offline, you don't get an OGG file, just an encrypted cache file. They can only be decoded and played by Spotify players. So you can't find those files and play them on other players.
See also: How to Convert Spotify OGG to MP3
Part 2. Spotify Premium Offline Not Working: Common Solutions
Here is a list of common solutions to help fix the Spotify offline not working issue. Please learn more about them below.
1. Use a Secure and Stable Network Connection
First, you need to check the network connection on your device. If you are using a low network speed, you might face Spotify downloads not working and Spotify Premium not working offline issues. So, if your current network is weak, you can switch to a more secure, stable network.
2. Restart Your Device
If your device is running for too long or has multiple apps in the background, it may be overloaded. As a result, Spotify and other applications cannot function properly. So, to fix Spotify not working offline, you can try restarting your device. Just restart your device and log in to your account again. Then see if the problem goes away.
3. Log Out and Log In to Your Spotify Account
You can try logging out and then logging in to your Spotify account to refresh your account.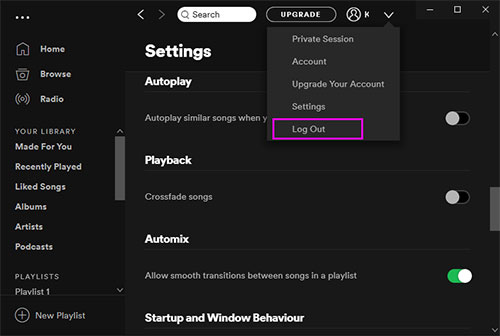 Open the Spotify music app. Then click on the 'gear' icon.
Go ahead to log out of your Spotify account.
Restart the Spotify app and log in to your account.
Check whether the Spotify Premium not playing offline is fixed or not.
4. Check Spotify Payment Status
If you just pay for a Spotify Premium plan, then you can check whether the payment has been processed well. If not, then you will get the Spotify Premium not working issue. So, go to check your payment status via Spotify's website or its mobile app.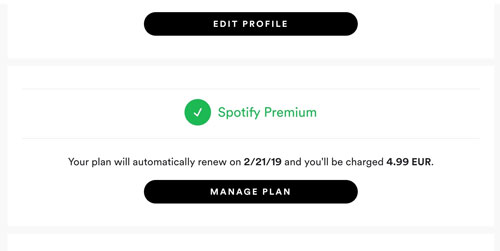 Head to the Spotify app on your mobile device.
Sign in to your account.
Go to the 'Account' section and choose 'Your plan'.
Now, you can view the status of your subscription payment. Please check whether it is activated or not.
5. Uninstall and Reinstall Spotify
Maybe there are some corrupt cache files on the Spotify app and it caused Spotify not to work normally. Plus, if you haven't updated the Spotify app for a long time,
You can resolve the Spotify Premium not working issue by uninstalling and reinstalling the Spotify app. But the music data will be deleted and you can't recover them anymore.
6. Re-download Spotify Music
If you find that the downloaded songs are not available, you can try to delete them and download them again. Remember to use a strong and stable internet connection to download songs. Then check if Spotify Premium not working offline works now.
See also: How to Download Spotify Music on Computer
7. Clear Device Storage
As mentioned above, if you do not have enough storage space, Spotify may delete your Spotify downloads, and then you will find that Spotify Premium does not work offline. Therefore, you can free up storage space on your device to solve the problem. Likewise, you can clear Spotify cache to free up space on your device.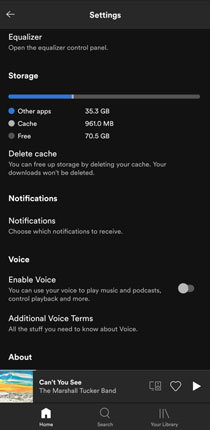 Open the Spotify app.
Navigate to the 'Settings' section.
Scroll down and choose 'Storage'.
Tap on 'Delete cache'.
Part 3. Spotify Premium Not Working Offline: All-in-One Solution
If you've tried all the common solutions above and the problem persists, here's the ultimate solution.
What you need is DRmare Spotify Music Downloader. This powerful software can download Spotify music for offline playback without Premium. It will download Spotify songs as local files on your device so you can keep them playable forever. Plus, it supports converting Spotify to MP3, M4A, M4B, AAC, WAV and FLAC formats. You can change the audio channel, sample rate, etc. if you wish.
Also, the program can run at a fast 5X speed. Downloaded Spotify files will retain 100% original sound quality and 100% original metadata. With this amazing tool, any Spotify offline not working issue can be solved. You can even cancel your Spotify subscription after using this tool. Then you can enjoy Spotify music offline anytime, anywhere without any problem.
DRmare Spotify Music Downloader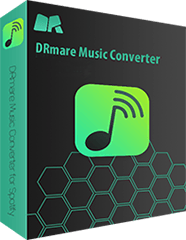 Support Spotify songs, playlists, albums, podcasts, and more
No need for Spotify Premium, keep lossless sound quality
Work at a 5X speed to batch converting Spotify songs
Convert Spotify songs to MP3, AAC, M4A, etc.
Here, let's see how to fix Spotify Premium offline not working by DRmare Music Converter. You can first install this software for free via the 'Download' button above.
Step 1

Import Spotify playlists to DRmare

Open DRmare Spotify Music Converter on your computer. In the auto-opened Spotify app, please drag & drop tracks or playlists to DRmare's main screen. You can add multiple playlists to this tool. You can also get the shared link address to the playlist. And then put it into the search box on the DRmare tool. After that, click on the 'plus' icon and your playlist will be imported.
Step 2

Reset output format and other settings for Spotify songs

To change the output parameters, you can click the top 'menu' icon and choose 'Preferences' > 'Convert'. From there, you can choose the output format, channel, sample rate, bit rate, and so on. Then click on the 'OK' button.
Step 3

Download Spotify music to your local computer

Now you need to click on 'Convert' to start downloading. With the 5X running speed, DRmare software will download all the Spotify music to computer. When it is done, you can listen to downloaded Spotify music with any players or devices. Now you can successfully fix Spotify offline mode not working issue and never worry about it bothering you again.
Part 4. FAQs about Spotify Premium Not Working
Q1: Can Spotify Premium Work Offline?
A: Yes. If you have a Premium membership, you can download songs in advance and then turn on the offline mode to listen to Spotify songs offline.
Q2: Why Does My Spotify Not Work Offline?
A: Please first make sure you have an active Spotify Premium subscription, as only Premium members can use Spotify offline. Or there might be a problem with the Spotify app. Therefore, please update the Spotify app on your device first to see if the issue is resolved. To know all possible reasons, you can go to Part 1.
Q3: How to Fix My Spotify Premium Not Working on iPhone?
A: You can follow the common solutions in Part 2 and if they don't work, skip to Part 3 to get the ultimate solution.
A: Yes, you can. To make it, you will need the DRmare Spotify Music Converter. With it, you can download and save Spotify songs to computer without Premium. Then you can enjoy Spotify music offline without a Premium plan for free.
Part 5. In Conclusion
"Why is my Spotify not working offline?" Now you know the reason and how to fix it, right? Just follow our steps to get Spotify working offline. We recommend you to use DRmare Spotify Music Converter as it enables you to download songs without Premium and listen to Spotify anywhere you want. Also, you will no longer worry about Spotify offline not working offline.