"Can you import songs to GarageBand from Spotify?" You can't make it without the help of other tools. Why? For GarageBand, we know that it only works with iTunes. To use Spotify in GarageBand, you have to buy and download the exact same songs in Spotify playlist from iTunes Store. After that, you can download those music to GarageBand for editing. If you want an easy way to get Spotify GarageBand to work, you need to use a third-party tool.
In this post, we will share the best way for you to do that. And we will guide you on how to import songs from Spotify to GarageBand for use. Now, please follow the tutorial below and see how to make GarageBand Spotify work well.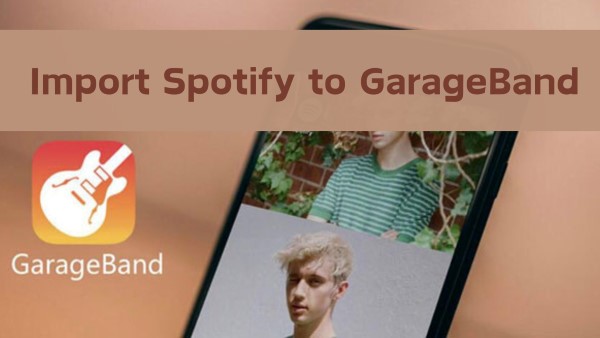 Part 1. Can You Import Songs from Spotify to GarageBand
"Can you import songs from Spotify to GarageBand?" In the beginning, we had discussed that you can't do that. Now, in this part, we will show you more details of why you can't import song from Spotify to GarageBand.
What Is GarageBand
GarageBand is a full-function music creation studio for your Mac OSX and iOS devices. It comes with a series of great features for creating music projects. It includes instruments, presets for guitars, special audio effects, voice recording, and more. This tool is completely free. And it is pretty easy to use for junior artists, music fans, and students.
Besides, GarageBand is also a ringtone maker. It allows you to create iPhone ringtone without using iTunes. And it can support a wide range of paid and free plugins.
What Audio Is Supported by GarageBand
Apple GarageBand adding files by recording or importing. When recording in GarageBand, it will record the songs with 16bit/44.1KHz. If you have music at 48KHz, GarageBand won't support recording these songs.
For the importing format, GarageBand supports AIFF, CAF, WAV, AAC, MP3, and so on. It's worth mentioning that it doesn't support protected AAC files but iTunes music.
Why You Can't Import Spotify to GarageBand
There is no Spotify GarageBand app to stream Spotify in GarageBand. And like other streaming music services, Spotify has encrypted its audio files. What's more, Spotify tracks are Ogg Vorbis files. Even if you have downloaded Spotify songs, you still couldn't add Spotify to GarageBand. The Spotify audio format is not supported by GarageBand. In this case, how to add songs from Spotify to GarageBand? It's necessary to convert Spotify to common files.
But how? Here let's move on next part to get the solution.
Part 2. How to Get Spotify GarageBand to Work - Tool Needed
From above, we know that there is no direct way to add a song from Spotify to GarageBand. But you can use a third-party tool to get Spotify GarageBand work.
DRmare Spotify Music Converter is one of the best Spotify to GarageBand converters. It features the lossless audio encoding technology and 5X converting speed. It makes Spotify music download easier than ever.
As the name suggests, it can convert Spotify songs to MP3, FLAC, WAV, AAC, M4B, and M4A. With this all-in-one music converter, you can see how to put Spotify songs into GarageBand for use.
by the way, in this tool, you can define the audio channel, bit rate, and more if you want. Then you will get a better listening experience of Spotify songs. And you can listen to Spotify music offline on any device.
DRmare Spotify Converter for Windows/Mac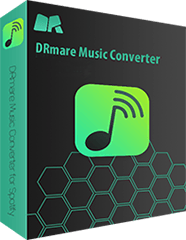 Support to download music from Spotify to GarageBand
Convert Spotify music to GarageBand supported formats, like WAV, MP3, AAC, etc.
Enable you to distribute Spotify songs to other editing tools like GarageBand, Camtasia
Capture the Spotify ID3 tags and metadata while working at a fast rate
How to Convert Spotify to GarageBand Supported Formats
Wonder how does DRmare Music Converter work to download Spotify music for GarageBand? No problem. Click the "Download" button to install the DRmare Spotify Converter onto your computer. After that, let us walk you through how to do that. And then you can take songs from Spotify to GarageBand.
Note: DRmare Spotify Music Converter is only for personal use. So, please don't use it for commercial.
Step 1

Import Spotify songs or playlists to DRmare

DRmare Spotify Converter supports to download songs from the Spotify server. So, you can use it to download Spotify into GarageBand by doing a few clicks. Drag & drop the songs, albums, playlist from the Spotify app to the DRmare software main screen. Or you can input the Spotify URL link to DRmare's search box. And then press "+" to add files to DRmare to convert for editing in GarageBand.
Step 2

Choose a GarageBand compatible format for Spotify music

DRmare supports six different formats, including MP3, M4A, WAV, FLAC, M4B, AAC. Please click 'DRmare Spotify Music Converter for Mac' from the Apple's top menu icon. Then click "Preferences" to choose the best format WAV as the output format. It is supported perfectly by GarageBand. Also, please change the bit rate as "16bit".
Step 3

Save Spotify as WAV songs for GarageBand

Finally, you can choose an output folder and click the "Convert" button to launch the process. It will export the Spotify music to WAV to your local computer. The time it takes may vary depending on how many songs you imported. When it is done, the songs will be ready to be used anywhere including GarageBand.
Video Demo

Convert Spotify songs for GarageBand

In this video, it shows a clear guide for you to convert Spotify to GarageBand. You can take a look at it.
Part 3. How to Import Songs from Spotify to GarageBand on iPhone/Mac
In this post, we know that GarageBand is a great tool to get started in the realm of music editing. With GarageBand, you can start a project on one Apple device and continue on another one. Adding instrument effects like drummer, guitar, recording vocals is just a breeze.
Now, you can create your musical masterpiece with Spotify songs. It's easy to get Spotify to GarageBand. Just follow a certain guide to edit songs from Spotify on GarageBand on Mac and iPhone.
How to Import Spotify Songs to GarageBand on Mac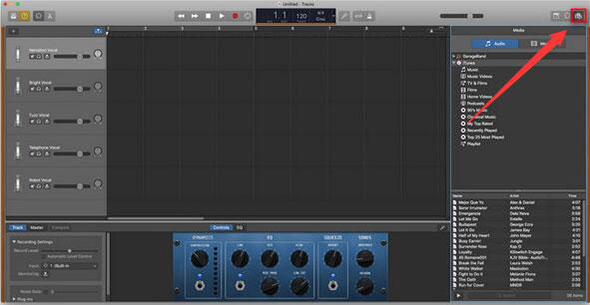 Open iTunes, click "File" > "Add Files to Library". Then import the Spotify songs you downloaded.
Open GarageBand on your Mac computer and open the Media Browser.
You can select a Spotify song from iTunes and drag it into the screen.
From there, you can edit the songs such as adding effects and so on.
When it is done, you can export the song as a ringtone or share it with your friends.
How to Import Songs from Spotify to GarageBand on iPhone/iPad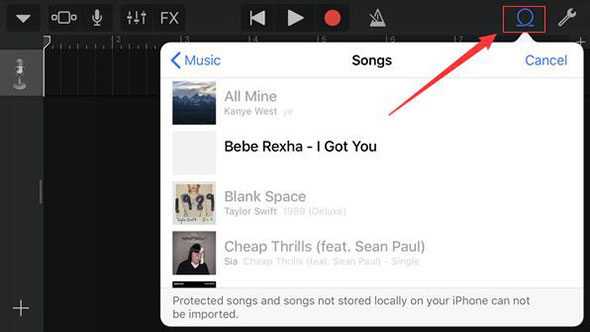 Import converted WAV Spotify songs to the iTunes library. Please select the "Edit" > "Preferences" >"General" tab to activate the "iCloud Music Library".
Your Spotify songs will be synced to other Apple devices, including your iPhone. Please make sure the 'iCloud Music Library' turns on well on your iPhone.
Launch the GarageBand for iOS app on your iPhone. Navigate to the "Tracks View" > "Loop Browser" > "Music" section. The Spotify songs that are available to import will show up. You can choose your favorite songs to import.
Extra Tip: How to Create Spotify Music as iPhone Ringtone through GarageBand
GarageBand can help create ringtones for iPhone. So, here we will show you how to create Spotify music as an iPhone ringtone. Let's go on.

Launch the iTunes program from your computer. Then sync the downloaded Spotify songs to iTunes.
Open the GarageBand app on your iPhone.
Hit on the 'Audio Recorder' on GarageBand.
Touch on the '+' icon at the top-right corner and change 'Section A' to 'Automatic'.
Click on the 'loop browser' in the upper right. Then you can see the audio files on your iPhone.
Press on the 'Music' tab to find the converted Spotify music tracks from iTunes.
Drag and drop the Spotify music to GarageBand window.
Hit on the 'play' button to play the song. Then touch on the down button menu > My songs to store the audio onto your iPhone. To set the selected song as a ringtone for iPhone, you need to cut it in 40 seconds.
Touch and hold the stored audio track. And then press on the 'Share'. Then you can choose the song as an iPhone ringtone or others.
Conclusion
With DRmare Spotify Music Converter, Spotify songs are local files and saved on your computer. No matter you have a Mac or iOS device, you can refer to the above guide to import songs from Spotify to GarageBand.
In fact, you can not only edit Spotify music on GarageBand but also any other music editor. Also, you can play Spotify music on multiple devices at the same time. And you can use Spotify music files on any device and platform offline as you like.