Does Rekordbox work with Spotify? No. There is currently no Rekordbox Spotify integration.
Rekordbox is a music management software developed by Pioneer DJ. It helps DJs organize their music collections. It now also offers additional tools that can be connected to a laptop or linked to other hardware. Rekordbox users can now access their local music library on their computer to mix DJ music.
Spotify is a streaming music service that saves songs in a special format called Ogg Vorbis. Therefore, Spotify songs can only be played in the Spotify app. Even if you download them with a Premium account, you can't use them on other devices.
But don't worry, you can convert Spotify OGG to MP3 or other formats supported by Rekordbox. And then, you can easily import Spotify music to Rekordbox. In this article, we will show you more details about how to connect Spotify to Rekordbox for mixing.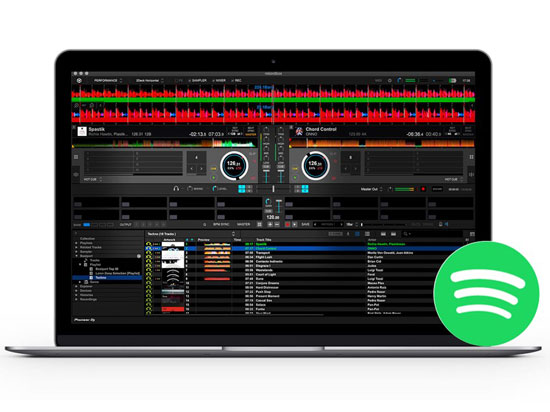 Part 1. Best Spotify to Rekordbox Converter You Can Use
Rekordbox allows you to import audio files into its library, and supported file formats include MP3, AAC, WAV, FLAC, ALAC, and AIFF. However, Spotify music files are encoded in OGG format. Therefore, you need to convert the special OGG format of Spotify music to one of the common audio formats supported by Rekordbox.
Thankfully, DRmare Spotify Music Converter is the best software you can use to help you do this. It enables Spotify Free and Premium users to download Spotify music to MP3, AAC, WAV, FLAC, M4A and M4B. It will not affect any sound quality and all ID3 tags will be preserved losslessly. Additionally, you can customize the output parameters by changing the bitrate, sample rate, etc. of your Spotify files. And this smart converter operates at 5x lightning speed. With it, you can easily use Spotify with Rekordbox DJ or any other DJ software.
DRmare Spotify to Rekordbox Converter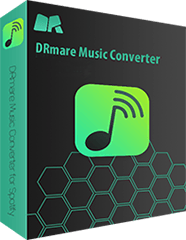 Convert Spotify to MP3, FLAC, AAC, and other common formats for Rekordbox
Batch download Spotify tracks without Premium at a 5X faster speed
Keep raw ID3 tags/lossless sound quality and save Spotify files at local device
Transfer and use Spotify on Rekordbox DJ, Serato DJ, and more
Part 2. How to Convert Spotify Music for Rekordbox
Please first install DRmare Spotify Music Converter on your computer. You can do that by clicking the 'Download' button above. Also make sure you have installed the Spotify app. Then let's see how to use this converter to get Rekordbox-supported Spotify music files.
Step 1

Drag and add songs from Spotify to DRmare

Open the DRmare Spotify Music Converter on your PC. Then the Spotify app will open. Drag and drop the song or the playlist from Spotify to the main interface of DRmare. Wait a bit while until all tracks are loaded into DRmare. You can also copy the link to Spotify music and then paste it to the search bar of DRmare. Finally, hit the '+' icon to load Spotify songs.
Step 2

Adjust the output settings for Spotify Rekordbox

To make Spotify audio compatible with Rekordbox, please reset the output audio format to MP3, AAC, WAV, or FLAC. On the Windows device, please check the top title bar of DRmare. Then click the 'Menu' icon to open the 'Preferences' window and choose the 'Convert' tab.
On the Mac device, please direct to the top-left corner where you can find the 'Menu' tab of Mac. Then choose DRmare Spotify Music Converter to open the 'Preferences' page. There, you can reset the output format, bit rate, sample rate, channel and so on. Don't forget to click the OK button to commit the results.
Step 3

Convert Spotify music for Rekordbox

Now, you can hit the big 'Convert' button to start to download music from Spotify to computer. After the process goes end, please find and check your 'Output' music library. You can also click on the 'History' list to find them. Now, all converted Spotify songs are in Rekordbox-supported formats. You can easily transfer them to Rekordbox.
Part 3. How to Connect Spotify to Rekordbox
Now you have Rekordbox-supported Spotify files, you can easily transfer them to Rekordbox for mixing. Now let's see how to import music from Spotify to Rekordbox on computer and mobile devices.
For PC/Mac:
Method 1. From the Hard Drive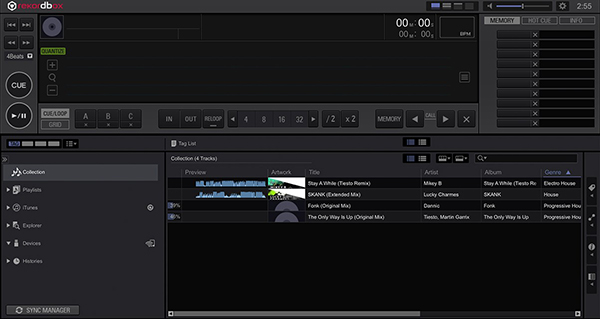 Step 1. Find the folder on your computer where the converted Spotify songs are saved. Then select the Spotify music files you want to import to Rekordbox.
Step 2. Open the Rekordbox program. Then make sure the 'Collection' icon to the left of the playlist is highlighted. Next, drag the Spotify audio into the tracks window at the bottom of the Rekordbox screen.
Step 3. After Rekordbox analyzes the files, you can drag them into Rekordbox's playlist. Now, the process of getting Rekordbox and Spotify running together is here.
Method 2. By File Importing Option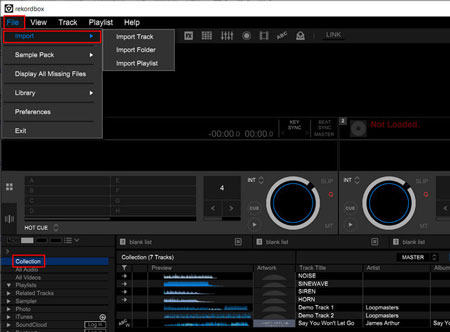 Step 1. Please hit 'File' > 'Import' on Rekordbox DJ program.
Step 2. Then choose 'Import Track / Import Folder / Import Playlist' to add local Spotify files. You can locate and choose the files at the pop-up window.
Step 3. After that, hit the 'OK' button. Then your Spotify music files will be in Rekordbox.
Method 3. Via iTunes
Step 1. Please first transfer Spotify songs to iTunes Library.
Step 2. Open the Rekordbox DJ program and go to the 'iTunes' icon from the left side. Then tap the arrow to see the detailed selections.
Step 3. You can search for songs in your entire music collection, or in the playlists that made in iTunes.
Step 4. Once found the Spotify music you need, Rekordbox will upload them to its music collection. Also, it will add the track data, waveforms, and so forth.
For Mobile Devices: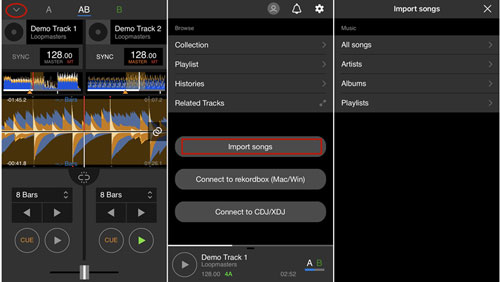 Step 1. Link your mobile phone with your PC/Mac via a USB cable. Then you can transfer the local Spotify music to Android phone/iPhone first.
Step 2. Launch the Rekordbox DJ program on your mobile device. Then log in to your Rekordbox account.
Step 3. Touch the arrow icon from the top-left corner on the Rekordbox's screen.
Step 4. Choose the 'Import songs' option. Then click on 'All songs' to locate the local Spotify music you moved on your device at Step 1.
Step 5. Select the Spotify songs and import them to Rekordbox program. Then head to 'Collection'.
Step 6. At last, you can mix Spotify music with Rekordbox DJ tool you want.
Part 4. Extra Tips: How to Export Spotify Music Files from Rekordbox DJ
Once finished to mix Spotify music on Rekordbox DJ, you can export them to your local device for use. In this section, we will show you how to export Spotify songs from Rekordbox DJ program.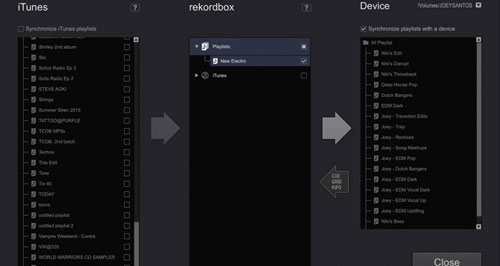 Way 1: Export Single or Multiple Songs from Rekordbox
Step 1. Plug a USB flash drive into your computer.
Step 2. Open Rekordbox and select the 'Sync Manager' option on the bottom left.
Step 3. Search for the song you want to export by hitting on a playlist or finding it. Or hold the 'Shift' keyboard and choose multiple songs.
Step 4. Right-click on one of the chosen song and choose 'Export Tracks'. And then choose your USB drive.
Way 2: Export All Songs in the Playlist from Rekordbox
Step 1. With your USB drive plugged into your computer, hit on the 'Sync Manage' button on Rekordbox.
Step 2. Choose a playlist and touch the 'Playlist' option.
Step 3. Choose 'Export playlist' and hit the option of your USB drive.
Step 4. After that, you will get Spotify music to the USB drive from Rekordbox. And then you can use the files on other platforms you like.
Part 5. FAQs about Spotify Rekordbox DJ
Q1: Can You Use Spotify on Rekordbox?
A: You can't directly link Spotify to Rekordbox. You need to convert Spotify music to an audio format that can be imported into Rekordbox.
Q2: What Audio Formats Do Rekordbox Support?
A: Rekordbox can support audio files in FLAC, MP3, ALAC, WAV, AAC and AIFF audio formats.
Q3: How Do I Import Music from Spotify to Rekordbox?
A: To do that, you need to use DRmare Spotify Music Converter to get Rekordbox-compatible Spotify music files first. Then you can drag and drop these Spotify audio files to Rekordbox for mixing.
Q4: Can I Transfer My Spotify Playlists to Rekordbox Using iTunes?
A: You cannot use iTunes as an intermediary to transfer Spotify playlists directly to Rekordbox. This is because Spotify songs are protected by digital rights management. You need to remove protection from Spotify music before you can import those songs from iTunes to Rekordbox.
Part 6. In Conclusion
Based on Spotify's limitations, it seems that using third-party software is the best solution for using Spotify with Rekordbox. DRmare Spotify Music Converter is one such excellent software that allows you to convert Spotify music into a format that can be imported into Rekordbox. It's a reliable and efficient solution for those who want to DJ with their favorite Spotify tracks on Rekordbox. Moreover, it will also help if you want to use Spotify music offline on any other platform or device.