"Does Rekordbox work with Spotify?" Now, many users want to make unique DJ playlists they want. However, they can't use Spotify on Rekrodbox now. For Rekordbox and Spotify, currently, there is no Rekordbox Spotify integration. So, any solution on how to connect Spotify to Rekordbox?
Today, in this post, we will introduce a way to you. You can use a smart Spotify to Rekordbox converter to make it. For more details, you can move on reading as below and see how to do that.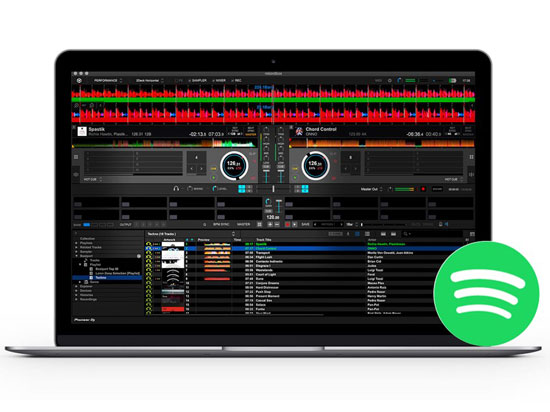 Part 1. Can You Use Spotify with Rekordbox?
"Can you connect Spotify to Rekordbox?" Generally, you can't do that. Why? Here, it is necessary to learn why you can't connect Rekordbox to Spotify.
Rekordbox was originally used as a music analysis and management system. It can help DJs organize their music collection. Then it updates to a music controller. It provides extra tools that can connect to the laptop or link to extra hardware. Now, Rekordbox users can access the local music library on the computer for mixing DJ music.
Spotify is a streaming music service that saves songs in a special format called Ogg Vorbis. Meanwhile, this format is protected by Spotify. As a result, they are only playable in the Spotify app. Besides, you can't use them on other devices even you download them with your Premium account.
However, Rekordbox supports local tracks, while Spotify songs are cache files. Spotify songs are Ogg Vorbis, while Rekordbox supports ALAC, FLAC, MP3 and so on. And Rekordbox doesn't work with Spotify as they are not compatible. Under these circumstances, you can't directly get Rekordbox Spotify work.
Part 2. Best Spotify to Rekordbox Converter to Get Rekordbox Spotify Work
From the last part, we know why you can't get Rekordbox DJ Spotify work. Thus, to get Spotify to Rekordbox, you need to download Spotify songs locally. At the same time, you need to convert the special format of Spotify music.
Thus, you need this DRmare Spotify to Rekordbox Converter to help you. It is an all-in-one Spotify music converter. It can convert Spotify to MP3 and more for Rekordbox without losing any quality.
To use this tool, you don't need to update to Spotify Premium subscription. The highlight of this tool is it can get Spotify Premium free. It's able to download songs from Spotify without Premium.
You can choose to keep exactly the same metadata as the original in the converted songs. It can save the complete ID3 tags (artists, album, title, tracks number, etc.). Or you can customize the output parameters by changing its bitrate, sample rate, etc.
Besides, this intelligent converter runs up to 5X lightning speed in the process. The numbers of converting tracks could reach to 100 after once manual addition.
With DRmare Spotify Music Converter, you can get local Spotify files for Rekordbox. Then you can import Spotify playlist to Rekordbox for mixing as you like.
DRmare Spotify to Rekordbox Converter
Part 3. How to Download Music from Spotify to Rekordbox
With DRmare Spotify Converter, it is easy to transfer Spotify playlist to Rekordbox. Now let's see what the concrete steps are to make the Rekordbox Spotify work.
Step 1

Drag and add songs from Spotify to DRmare

Install DRmare Spotify Music Converter on your PC. After that, open the program. Then the Spotify app will open automatically. Here you can choose the Spotify songs you like to convert for Rekordbox. Just copy the link of the song or the playlist from Spotify. Then paste it to the search bar of DRmare. And then hit the '+' icon at the end. Or you can directly drag the song or the playlist from Spotify to the main interface of DRmare. Wait a bit while until all tracks are loaded into DRmare.
Step 2

Adjust the output settings for Spotify Rekordbox

To make Spotify audios compatible with Rekordbox, please reset the output audio format. On the Windows device, please check the top title bar of DRmare. Then click the menu icon to open the Preferences window. Then choose the Convert tab. On the Mac device, please direct to the top-left corner where you can find the menu tab of Mac. Then choose DRmare Spotify Music Converter to open the Preferences page. There, you can reset the output format, bit rate, sample rate, channel and so on. Don't forget to click the Save button to commit the results.
Step 3

Convert Spotify music for Rekordbox

Now, you can hit the big Convert icon to start the conversion. After the process goes end, please find and check the local music library. All converted Spotify songs are Rekordbox supported formats now.
Video Tutorial

Download Spotify to Rekordbox

In the video below, you can see how to download music from Spotify to Rekordbox clearly. After then, you can get ready to make Rekordbox Spotify work.
Part 4. How to Connect Spotify to Rekordbox
After you have downloaded tracks from Spotify, it's time to use Spotify on Rekordbox. There are ways for Rekordbox Spotify music streaming. Directly transfer Spotify playlist to Rekordbox DJ's collection from the local folder. Or add Spotify music to Rekordbox vie iTunes. Or open File > Import > Import Track / Import Folder / Import Playlist in Rekordbox DJ. The following is the detailed instruction.
Method 1. Using Spotify with Rekordbox from the Hard Drive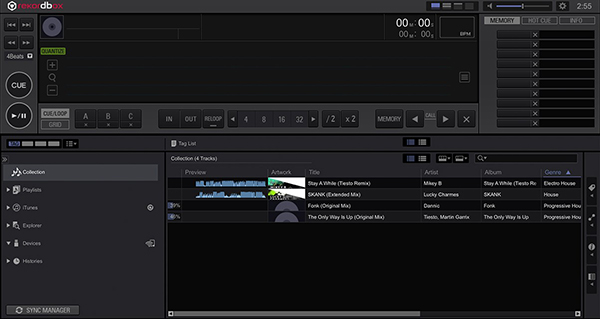 Step 1. Locate the folder that saved the converted Spotify songs on your computer. Then select Spotify music files that you want to import into Rekordbox.
Step 2. Open Rekordbox program. Then confirm the 'Collection' icon on the left of the playlist is highlighted. Drag Spotify audios into the track window at the bottom of the Rekordbox screen.
Step 3. After Rekordbox analyzed the files, you can drag them into the playlist of Rekordbox. Now, the process to get Rekordbox Spotify run is all here.
Method 2. Get Spotify on Rekordbox via iTunes
By using this way, you need to transfer Spotify songs to iTunes Library in advance. Once done, then you follow the steps as below.
Step 1. Open the Rekordbox DJ program on your PC.
Step 2. Go to the iTunes icon from the left side. Then tap on the arrow to see the detailed selections.
Step 3. You can search for songs in your entire music collection, or in the playlists that made in iTunes.
Step 4. Once found the Spotify music you need, Rekordbox will upload them to its music collection. Also, it will add the track data, waveforms, and so forth.
Method 3. Import Spotify Playlist to Rekordbox via File Importing Option
Besides these two methods, you can also add Spotify music to Rekordbox directly.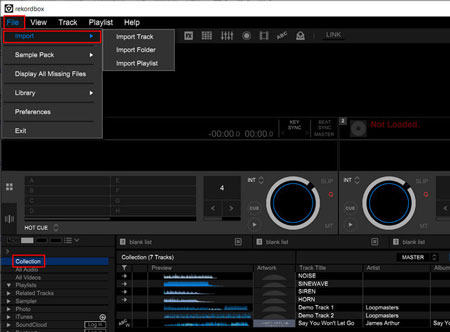 Step 1. Please hit 'File' > 'Import' on Rekordbox DJ program.
Step 2. Then choose 'Import Track / Import Folder / Import Playlist' to add local Spotify files. You can locate and choose the files at the pop-up window.
Step 3. After that, hit the 'OK' button. Finally, your Spotify music files will be in Rekordbox.
At last, you can get Rekordbox Spotify work without any limit.
Part 5. In Conclusion
From the ways above, it's easy to get Spotify Rekordbox work, right? Now download the DRmare Spotify Music Converter to try it out. With it, you can use Rekordbox with Spotify for mixing DJ playlists. Or, you can directly play Spotify on Rekordbox offline for free. Moreover, you can use Spotify on MP3 player, Galaxy Watch and more devices offline as you like.