"How to decrypt Spotify songs?" Spotify had encrypted its music files in a special OGG audio format. In this case, users are not able to take Spotify music and playlists outside the Spotify app. So, users want to find a way to break these limits.
Spotify encrypts its music with protection to prevent unauthorized distribution, protect artists and labels, maintain quality, secure transmission, comply with copyright laws, prevent tampering, and content availability control. But it's legal and acceptable to decrypt Spotify offline files for offline playback for personal use. In this post, we will walk you through the solutions to decrypt Spotify downloads and extract music from Spotify with ease. Now, let's move on.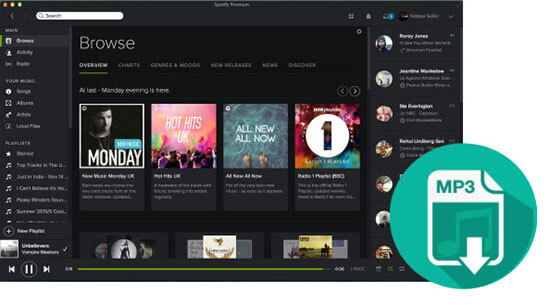 Part 1. How to Decrypt Spotify Offline Files on Computer
Option 1. DRmare Spotify Music Converter
To decrypt Spotify files, it is more than to download Spotify music on a computer via a third-party Spotify decoder. There are many tools to decode Spotify offline songs in the market. But after research, the best one is DRmare Spotify Music Converter. With the built-in high performance, this powerful tool works at 5X or faster speed.
It can decrypt Spotify cache files and extract music from Spotify to MP3 and other 5 common formats. It can download songs from Spotify without touching the raw music files. And you can modify the audio channel, bit rate, and more for Spotify audio files. Once decrypted and extracted Spotify music, you can get Spotify music files on your computer. Then you can use the decoded Spotify tracks on other platforms and devices as you want.
DRmare MP3 Extractor for Spotify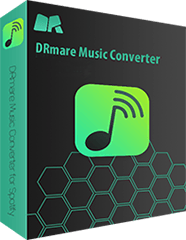 Decrypt Spotify songs and extract audio from Spotify within a few clicks
Fast convert Spotify music files while keeping original quality and ID3 tags
One-stop solution to download and convert Spotify songs to AAC, M4A, MP3, etc.
Archive the output files by artist/album, manage your tracks with ease
How to Decrypt Spotify Songs via DRmare Spotify Music Converter
DRmare Spotify Music Converter provides a one-stop solution to decode Spotify offline songs. Then it converts and saves Spotify songs on your computer. Now let's check how to get Spotify decrypt offline files with it step-by-step.
Step 1

Import the link of Spotify songs to DRmare

First, install and open the DRmare Spotify Music Converter software to begin to decrypt Spotify downloads. The Spotify app will be launched on your computer. If you have the link to the tracks you want to convert, you can find them. And then paste them to the address bar of DRmare software. Next, click on the '+' button and the songs will be loaded. Or, you can drag them to DRmare main screen with ease.
Step 2

Reset Spotify to MP3 format

To extract playlist from Spotify, you also need to choose the output format for them. DRmare Spotify Music Converter supports MP3, M4A, and more formats. But the best one is MP3. It is the default option on this tool. It has a lot of pros compared to other formats. It has a small size, high quality and wild compatibility. In general, you don't have to do anything to select the format. But if you have changed the settings before, you can go to the Menu icon. Then choose the 'Preferences' > 'Convert' to set it back. Once done, click 'OK'.
Step 3

Decrypt Spotify offline files

When everything is ready, please tap 'Convert'. Then DRmare program will start to decrypt Spotify audios you have imported. And it will encode the proprietary OGG format to a popular audio format. It takes only a few minutes for a few songs. Once completed, you can hit the 'history' icon to check the local Spotify songs. Then you can move Spotify music files to an SD card, USB, or any other devices for playing.
Option 2. DRmare Audio Capture
There is another tool, called DRmare Audio Capture for you to extract playlist from Spotify. It uses the capturing technology to decode Spotify music. You can play the Spotify songs and it will capture the sounds for you.
By using this tool, you can save Spotify files as MP3, FLAC, WAV, M4A, M4B, and more. Besides, you can also alter the output audio format, bit rate, and more. The highlight feature of tool is to capture audio from Deezer, Pandora, YouTube and so on.
After recording, you can cut music from Spotify and edit the metadata. Then you can store Spotify music files onto your computer for use on any device you like.
How to Extract Spotify Downloaded Songs with DRmare Audio Capture
Step 1. Install the DRmare Audio Capture on your computer. Then launch it from your computer desktop.
Step 2. Add the Spotify app or web browser that you'll use to access Spotify library to the DRmare program.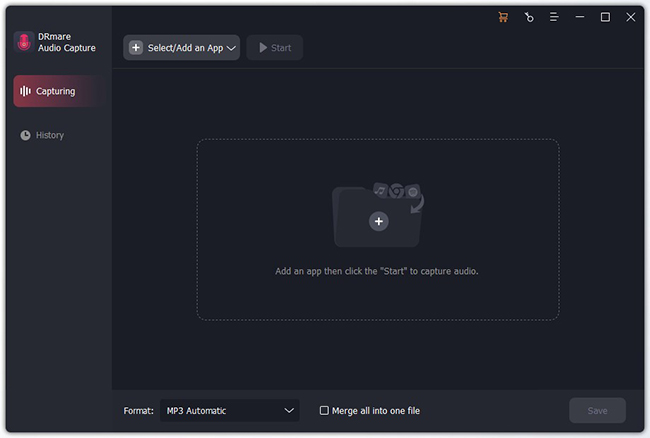 Step 3. Hit the 'Format' icon to set the output audio format for Spotify downloaded songs.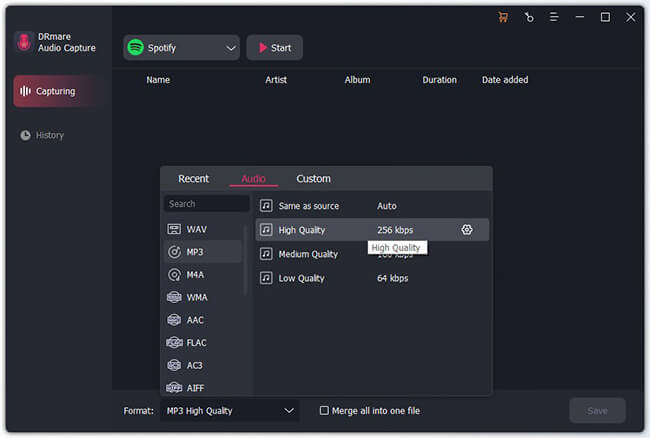 Step 4. Click on the Spotify app or a web browser and play Spotify songs you like. Then DRmare Audio Catpure will record and extract Spotify playlists.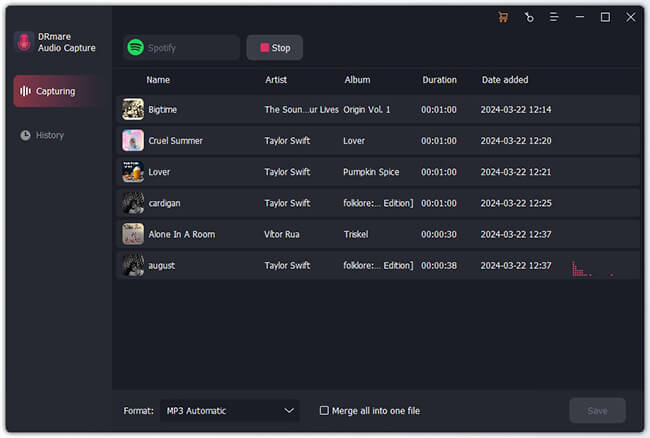 Step 5. Touch 'Save' to store Spotify music files on your computer. At last, you had finished to decrypt Spotify files by the DRmare program.
Option 3. Audacity
Want to decrypt Spotify downloads free? No worry, Audacity is the positive answer. Audacity is an excellent and free, open-source audio editing software. It has the ability to record, edit, and manipulate audio files with ease. With a versatile and user-friendly platform, you can easily extract and download Spotify songs to your computer.
It has robust editing capabilities, which allow you to cut, copy, paste, and delete Spotify segments, as well as adjust volume levels, pitch, and more. There are also lots of built-in audio effects and plugins, such as equalization, reverb, noise reduction, and compression to enhance Spotify's quality.
How to Extract MP3 from Spotify for Free
Step 1. Launch the Audacity program on your Mac or Windows computer once you downloaded and installed it.
Step 2. Press the 'Edit' button from the toolbar. Then head to the 'preferences' page.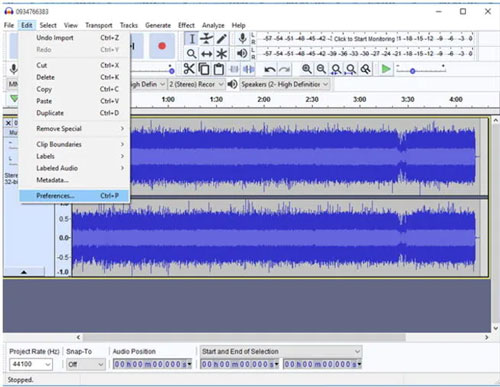 Step 3. Choose the 'Host' section and then select the 'Windows WASAPI' option.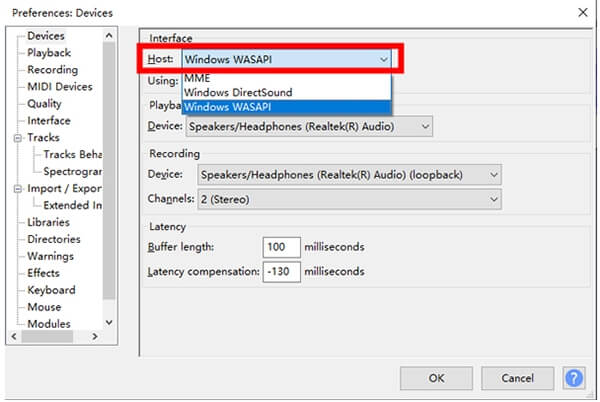 Step 4. Hit on the 'Recording' option to enter the recording options page. And then toggle playthrough off.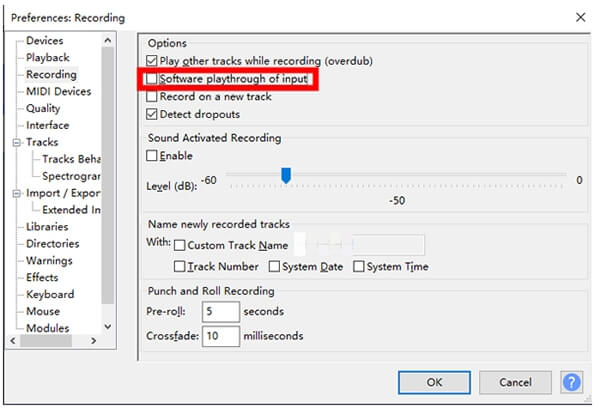 Step 5. Touch the 'Record' button. Then go to play Spotify music and Audacity will begin to record and extract audio from Spotify. When finished with the recording, hit on the 'Stop' button.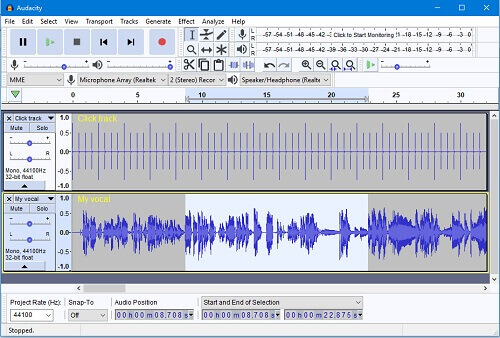 Part 2. How to Extract Spotify Downloaded Songs on Android
If you want to know how to extract Spotify offline files on Android devices, then you can read this part. Here we will introduce a tool to help you extract Spotify music. Please check it out and learn more.
Option 1. SpotiFlyer
To decrypt Spotify songs on Android devices, you can use the SpotiFlyer app. SpotiFlyer is a music downloader for Android, Windows, Mac and Linux. It can download music from Spotify, Gaana and YouTube. With this Spotify MP3 extractor for Android, you can download albums, tracks, and playlists from Spotify via the URL. Moreover, you don't need to sign in to your Spotify account.
How to Extract Music from Spotify Android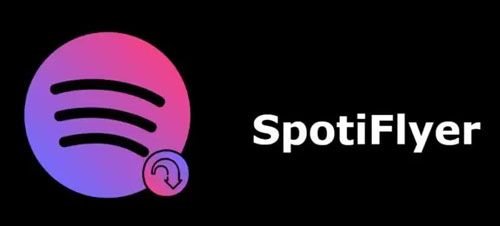 Step 1. Download and install the SpotiFlyer app on your Android device from its official website.
Step 2. Get the link address of the Spotify tracks you want on the Spotify platform.
Step 3. Put the copied link address to the search bar on SpotiFlyer. Then click on the 'Download' button to start the decryption process.
Part 3. How to Extract Spotify Songs from iPhone
If you are an iPhone user, then you can follow this part to see how to decrypt Spotify downloaded songs on iPhone. Here we will introduce two tools for you to make it.
Option 1. Telegram
For users who use an iPhone with iOS 17 or below version, you can use Telegram bot to download Spotify songs. Telegram is a free tool for iOS and Android devices. It can output Spotify music to MP3 via a Telegram bot. So, it is easy to decrypt Spotify songs on iPhone with this tool.
How to Extract Audio from Spotify on iPhone via Telegram

Step 1. On your iPhone, iPad or other iOS devices, go to the App Store. And then download and install the Telegram app.
Step 2. Launch the Telegram app. And go to the Spotify app to get the link to the song you like.
Step 3. On the Telegram app, type Spotify Music Downloader in the search bar. Then find the bot.
Step 4. Choose the 'START' option and put the copied track's link t the chatting box.
Step 5. Click on the 'Send' button. Then hit on the 'Download' icon to download Spotify playlists on iPhone without protection.
Part 4. FAQs about Spotify Encrypt Offline Files
Q1: Are Spotify Songs Encrypted?
A: Yes. All Spotify songs are under encryption. Only premium users can listen to Spotify offline on approved devices.
Q2: How Does Spotify Encrypt Music?
A: Spotify employs encryption techniques to protect the music files it streams to users. It uses Digital Rights Management (DRM) technology and AES encryption to encrypt its music.
Part 5. In Conclusion
In this post, we listed 3 ways for you to decrypt Spotify offline files on Windows and Mac computers and 2 methods to extract songs from Spotify on Android phones and iPhones. You can try out them to find the best one according to your needs. By the way, the DRmare Spotify Extractor should be the best. It is easy to decrypt, extract, and download music from Spotify as frequently-used audio formats, like MP3. Then you can transfer and play Spotify tracks on any portable device without hassle.